Saginaw Medical FCU Hosts 5th Annual "Stuff a Bus" Event for Send Santa to the Troops Program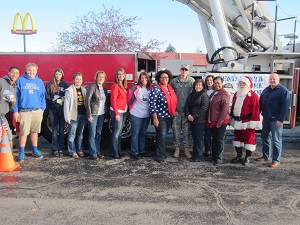 For half of a decade now, Saginaw Medical Federal Credit Union has hosted an annual event to raise awareness of and contributions for the Send Santa to the Troops group. The group is dedicated to making a difference in the lives of our men and women who serve in the military.
Saginaw Medical FCU collects helpful items at the credit union's "Stuff a Bus" event to be packaged and shipped to our local troops for the holiday season. A vast array of donations are accepted, from deodorant and band aids to granola bars and games.
Send Santa to the Troops also provides mailings for deployed soldiers all year long as well as reaching out to children of fallen soldiers, veterans, wounded soldiers and military families. Send Santa to the Troops is all about making life easier for soldiers and their families.
The "Stuff a Bus" event will be held on Friday, Nov. 6, 7am.-6pm. at Saginaw Medical FCU's 1430 N. Michigan Avenue location.
For a complete list of accepted and non-acceptable donation items, please go to www.smfcu.com or call Nancy Jackson at (989) 791-7070 ext. 2225.
Go to main navigation