Credit Union Leaders Discuss Key Issues During 2015 Capitol Day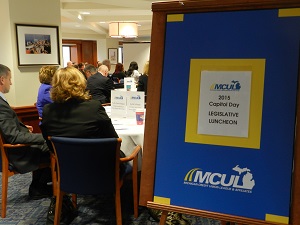 The MCUL & Affiliates' biennial grassroots lobbying event Capitol Day had a strong turnout Wednesday, Oct. 13. Michigan credit union officials took the opportunity to share lunch with their state lawmakers and discuss issues that are top priorities to the industry.
Conversations focused primarily on the proposed revisions to the Michigan Credit Union Act and how those revisions would benefit credit unions and further strengthen Michigan's state charter. Also discussed were a number of other state issues critical to Michigan's state and federally chartered credit unions. These include the need for regulation addressing data breaches as well as changes to the Principal Residence Tax Exemption laws.
Approximately 75 credit union leaders representing every corner of the state were on hand to greet more than 160 lawmakers and staff who attended the luncheon in the Mackinac Room of the House Office Building, near the state Capitol in Lansing.
"Capitol Day is an important event for the credit union community to maintain relationships and help accomplish goals that will benefit our members. This year, the event is all about gaining flexibility—something Members First CU cares about, significantly," said MFCU President and CEO Eric Brubaker.
Brubaker, who came with three other MFCU employees, thinks events like Capitol Day are a great opportunity to keep MFCU's core staff involved, "Bringing employees along gives them a better understanding of the credit union process and fosters a more unified environment."
Greta Zumbaugh, manager of 4Front CU, made the trek to Lansing from Boyne City because she believes it's important to help legislators understand the need to serve the underserved. "Capitol Day offers us a venue to have face time with legislators, which makes for a great chance to spread what credit unions mean to the public."
Kirk Hanna, MCUL & Affiliates Vice President of Government Affairs, accepted resolutions from Senator Peter MacGregor in honor of credit unions for their dedication to the more than 4.7 million members in Michigan. House Financial Services Committee Chairman Rep. Anthony Forlini (R-Harrison Twp) and Senate Banking Committee Chairman Sen. Darwin Booher (R-Evart) were also in attendance.
Go to main navigation