Why an Extra $100 for Teachers Could Make a Huge Difference in Students' Lives
It may not be a lot of money, but Honor Credit Union is betting that an extra $100 in the classroom can make a big difference in students' lives.
This fall, the St. Joseph-based credit union is giving 30 teachers $100, with the only requirement being that the educators use the money to enhance their classrooms.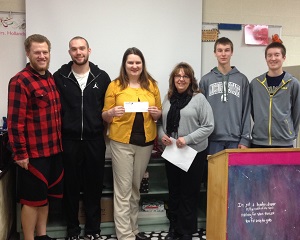 In the Gwinn Area Community School District, Ms. Hollands purchased books and supplies for students to complete a project showcasing their passions, with the goal of enabling students to achieve breakthroughs with their learning while following their passions.
"We originally were and still consider ourselves to be an educators credit union—a teachers credit union," explained Scott McFarland, CEO of the $627 million institution. "We looked back at our heritage and those that started the credit union and said we need to give back to those that gave to us. Not to mention that it's a great cause."
Applicants must fill out a short application on Honor's website outlining what they teach and where, and how they plan to spend the money. Membership at the credit union is not necessary to be eligible to win. The prize pool has grown since the program's inception, when only 10 $100 awards were issued. Last year the credit union had more than 150 applicants vying for twenty $100 awards, and McFarland said Honor is already exploring whether to expand the field next year.
The credit union's staff winnow down the applications by examining which requests will impact on the greatest number of students.
"It's only $100—I'm sure they could use a lot more," said McFarland. "But you get these letters saying 'Here's what I did,' and it's amazing how resourceful these teachers are in their classrooms. … It's a catalyst to say 'What do you want to do and how can we help?'"
One previous winner wanted to create a reading library for her preschool class, recalled McFarland. She had the funds for the library itself, but wanted a large "reading rug" the entire class could sit on and use when enjoying the library. The funds from Honor paid for that rug.
Another teacher was doing a recycling program for her students, and the Honor money "allowed her to buy materials to enhance it that she would've had to pay for out of her own pocket," said McFarland.
The prize money "is not the solution entirely, but it's a supplement to help enhance the learning experience," he said. "If we can be part of that, then everybody's better in the long run, and that's really our goal with the program."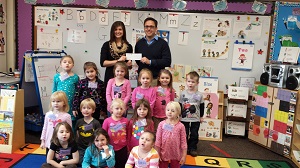 Teacher Cassandra Harris at Hollywood Elementary used her funds to purchase an eight-position child-size headphone listening center that would allow students to work together and share ideas.
While a total of $3,000 isn't much in the eyes of a large credit union, McFarland said Honor definitely still sees a business case for the program.
"It comes down to walking the talk," he said. "When we work with teachers who are educating our youth who will hopefully someday be our new members or even team members who work here at the credit union, the business case is that we're making an investment back into the communities that support us and use us as a resource."
With a few years of these awards already under its belt, Honor has also seen residual benefits. McFarland said that not only does he occasionally have past winners approach him to say thanks, but it also helps lay the groundwork for future business at the credit union.
"Part of it is about putting yourself top of mind," he said. "I'd rather be top of mind for something we're doing that's the right thing to do rather than just an ad campaign."
While there's nothing wrong with ad campaigns, he added, it means more when consumers bring their business to the credit union because of something they saw Honor do in the community that meant something to them.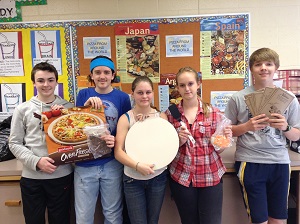 One teacher in the Mattawan school district used her funds to purchase supplies for a lesson called "Pizza Around The World." Students learned about different cultures and spices from those cultures and then made pizzas using those spices.
"We're not shy," professed McFarland. "We're going to promote the fact that we gave to these teachers and that we are giving back. Who else is doing that? Do you see that coming from the mega banks or other institutions? Part of it is a differentiating factor. People like to know that company that says it's in your community is willing to give back to the community and it's not just lip service. If you do the right thing, you do see returns, even if people aren't always paying attention."
Go to main navigation