In Brief...
United Federal CU Wins Dora Maxwell Award and is Considered for National Title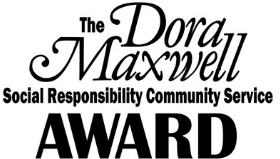 UFCU has taken first place in the Dora Maxwell Social Responsibility Community Outreach Award competition for credit unions and is under consideration for the national title. The Dora Maxwell Award recognizes credit unions that have excelled in community relations and are committed to ongoing charitable program within the community.
The competition is administered at the state level by MCUL and at the national level by CUNA. State winners are automatically entered in the national competition. UFCU is being recognized for its Pay It Forward program. The idea for Pay It Forward came from employees during the 2008 economic downturn when they requested that funds set aside for annual holiday parties be used to help the needy instead.
UFCU gave each employee a set amount of funds to donate to the individual, family or charitable organization of their choice. Donations in 2014 were made to 24 charitable organizations and 120 families or individuals.
Marshall Community CU's 'CU In School' Kicks Off Year 14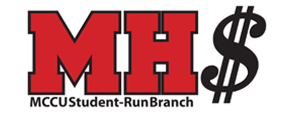 In the fall of 2001, Marshall Community CU opened its first student-run branch at then-named Sherman Elementary School. Since then that one branch has grown into eight while birthing an entire financial education program titled "CU In School."
MCCU's "CU In School" program is designed to teach young people the importance of saving money through a fun, easy and accessible program. The program, which extends from kindergarten through high school, offers students the opportunity to learn valuable money management skills, good work ethics and an understanding of how a credit union operates.
"We are very excited to kick off year 14 with our eight partner schools," MCCU's Financial Education Coordinator Andrea Tucker said. "Financial literacy is important and it's great that we have teachers, school administrators and parents that understand that. Without them, the CU In School program would cease to exist."
For more information on MCCU student-run credit union branches and the "CU In School" program, click here.
Credit Union Week Resolution
The Michigan Senate adopted a resolution that designates October 12-16, 2015 as CU Week throughout the state of Michigan on Thursday, October 8. The resolution was sponsored by Senator MacGregor of Rockford. Senate Resolution 103 highlights the strong tradition of innovation and leadership the Michigan credit union movement has among the nation's credit unions. It also commends credit unions for the commitment we have shown to serving our communities and promoting social responsibility. We appreciate the Senate's efforts for recognizing the hard work of those in the credit union industry.
Virtual Conference Offers Real Insights
CUNA Mutual Group will hold its 6th annual Discovery Conference on Wednesday, October 21. This no-cost conference will provide valuable insights pertaining to key topics and trends in the credit union industry—to help credit union leaders move forward with even more confidence. Designed to fit into busy schedules, this conference also features a unique collaborative environment where credit union leaders can network and discuss important topics. Register today.
Marshall Community CU Hosts Winter Coat Drive, Sponsors High School Arts Programs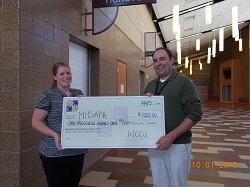 Marshall Community CU is partnering with Charitable Union of Battle Creek to collect winter coats for those in need. Donation bins are available at both MCCU locations now through the end of October.
"We are proud to once again partner with Charitable Union," MCCU Financial Education Coordinator Andrea Tucker said. "MCCU believes in giving back to the communities we serve. It's a credit union philosophy, people helping people."
All the winter items collected will be available to residents living throughout the Battle Creek area, Albion and Marshall.
The credit union is also the season title sponsor for Marshall High School Auditorium for Performing Arts. The first act, coming up on Nov. 20, will be Three Men and a Tenor. And, a Gilmore Young Artist Piano recital is happening in May.
Director of Bands for Marshall Public Schools, Jeremey Root, said "On behalf of Marshall Public Schools, we thank MCCU for their continued support. I'm excited to be able to work with them to present what I think will be a great season of entertainment at the high school."
MCCU will receive eight free tickets to each event held at the Auditorium for Performing Arts. The credit union decided to raffle tickets off to interested community members throughout the year. To see when tickets will become available, and how you can enter to win, follow and like MCCU on Facebook.
Alloya Corporate FCU Announces New Board Chair
Alloya Corporate FCU announced its board of directors has elected Leanne McGuinnes to serve as Chair. Additional updates to the board's table officers include the election of new Vice Chair Cheryl DeBoer, President and CEO of Advia CU.
Dow Chemical Employees' CU Staffers Raise Money, Revitalize Homes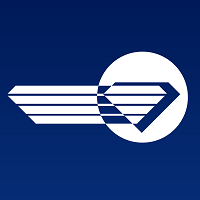 Staff members at Dow Chemical Employees' CU raised more than $650 for two local nonprofits through recent "Jeans Day for Charity" fundraisers. For each of the one-day fundraisers throughout the year, participating DCECU employees donate a minimum of $5, which entitles them to wear blue jeans, tennis shoes and logoed attire to work that day.
The "Jeans Day for Charity" events contributed to the Humane Society of Midland County and to Humane Shelterhouse, a nonprofit organization that provides safety, shelter, advocacy and counseling to survivors of domestic violence and sexual assault in Midland and Gladwin counties.
Thus far in 2015, DCECU employees have raised more than $2,700 for charitable and community organizations through regular "Jeans Day for Charity" fundraisers.
Members of the credit union's management team were also among the 600 community volunteers for Midland County Habitat for Humanity's 2015 Neighborhood Revitalization Initiative, which rehabilitated the exteriors of 25 homes in Midland's Fournie Park/Central Middle School neighborhood. DCECU staff and management also cleared trash from a section of boulevard near the credit union and cleaned up litter along US-10.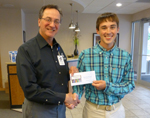 Gerber FCU Conducts Facebook Friend Drawing
Gerber FCU conducted the annual Facebook friend drawing. President and CEO John Buckley awarded a $50 Visa Gift Card to credit union member and Facebook friend Derk Smith after he was randomly selected.
Connect with Gerber FCU on Facebook.
Oscoda Area United Way Names Northland CU for Business Partner Award
Northland Area FCU accepted the 2015 Business Partner Award from the Oscoda Area United Way last month. The credit union was recognized for outstanding partnership efforts in providing contributions of time, talent and treasure to Oscoda Area United Way.
"Northland supports our organization through financial contributions as well as in-kind donations of staff hours," said OAUW board chairman Paul Fredenburg; "Not many businesses would donate the time of both the CFO and an AVP to conduct an independent audit, as well as allow a third staff member time to serve on a community board during business hours. It's been a successful partnership, and Oscoda Area United Way hopes to develop many such partnerships to serve our community in the years to come."
Northland CEO Pete Dzuris and board chairman Mike Palumbo accepted the award. Certificates of Appreciation were also given to staff members recognized for their service to OAUW and the Oscoda community.
CASE CU Honored by CUNA with Excellence Award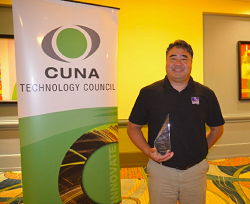 CASE CU was recently honored by CUNA with an Excellence Award. The award recognizes outstanding approaches to technology challenges with potential for universal application across the credit union movement.
Awards are given in each of six categories including: technology infrastructure, information security/ privacy, member service/convenience, sales management/marketing automation, leadership and miscellaneous.
CASE CU won the Technology Infrastructure category for its entry, titled Outstanding Approaches to Technology Challenges for its custom information systems dashboard solution. The solution provides CASE a centralized location for many information technology tasks, including scripts that perform file transfers and complex processes and provides links to commonly used sites and applications.

Award winners were recognized at the CUNA Technology Council's 20th annual conference held Sept. 27- 30 in Orlando.
Credit Union Collection Consortium Meeting Covers Garnishment Laws
The Credit Union Collection Consortium kicks off its all-star line-up of speakers this year at its first monthly meeting on October 14 from 2-4 p.m. at Our Credit Union located at 3070 Normandy in Royal Oak. New garnishment laws went into effect on October 1. The new laws will be reviewed by Brenda Gehringer-Grima and John Butler from Butler, Butler and Rowse-Oberle. Brenda and John will also discuss changes to the bankruptcy forms. The Consortium meets on the second Wednesday of every month and the annual agenda will be published in the next few weeks. If anyone would like to get meeting notifications and/or attend meetings, simply send an email request to Jhoff@zealcu.org. All lending, loss prevention and collection professionals are encouraged to attend these free educational events. Meetings are held at a different credit union each month. We'll see you there!
Go to main navigation