Connecting with the Community: MSGCU Celebrates 60th Anniversary with Giving Back Program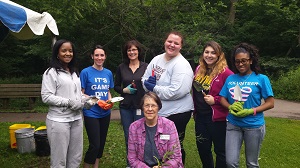 In celebration of their 60th year, Michigan Schools & Government CU got their hands dirty by volunteering for Clean-Up Day at the Troy Nature Center.
"Our team enjoyed helping maintain the trails and learning about the invasive weeds that are so devastating to our natural environment," said Nakia Powell-Thomas, assistant branch manager in Troy. "Everyone who volunteered for this initiative felt strongly about their experience with the Giving Back program."
Alongside the dirty work, the Troy office is also sponsoring several educational programs at the nature center for the coming year. These programs will focus on community engagement and appreciating the great outdoors.
The Sterling Heights branch volunteered to support Utica Community Schools for the launch of the district's inaugural "Blessings in a Backpack" program, this fall. "Blessings in a Backpack" provides students on the "Free and Reduced Meal" program by providing them with much needed food. Their volunteer efforts accompanied a generous $1,000 donation.
"As a credit union that supports education, 'Blessings in a Backpack' really hit home for us," branch manager Nicole Parnell said. "Learning cannot happen if students are battling hunger, so we are very proud to support this organization and to help less fortunate students in our communities."
MSGCU's Madison Heights branch decided to celebrate 60 years by donating bicycle helmets to the city's "Bike Rodeo" event. As a result, 200 helmets were given to neighborhood children as part of the event's push for safety.
"This is a great community initiative and we were happy to do our part to make sure the kids in our neighborhood are riding their bikes safely," Branch Manager Brett Maki said.

On their 60th anniversary, MSGCU exemplified what credit unions are all about--giving back.
Go to main navigation