In Brief...
Community Financial Helps Fight Local Hunger with "Feed the Need"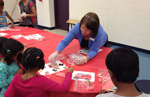 This past summer, Community Financial CU (CFCU) along with an array of local community organizations worked to support Feed the Need, a nine-week program for lower-income students that included ongoing activities and healthy lunches. CFCU donated $1,000 to the program as part of its "Summer of Sharing" initiative.
Many of the students who participated in the program were from the Novi School District, where 9 percent of all students receive a free or reduced-cost lunch based on federal guidelines. CFCU was part of a community-wide coalition of organizations including Novi Rotary, Novi Interfaith Church, Novi Public Library, Novi Public Schools and other local businesses that supported Feed the Need this summer.
"This was truly a community event – with so many caring people involved to make it a great summer for these children," said CFCU community relations manager, Natalie McLaughlin. "There were healthy lunches and the program ran all the way until the end of the summer."
The activities and lunches were held at Village Oaks Elementary, Novi Ridge Apartment Community and Oakland Glens mobile home community. More than 1,750 lunches were served to Novi schoolchildren this summer, translating into an average of 160 children served per week. This is CFCU's fifth year donating $60,000 total to various charitable organizations and causes as part of its "Summer of Sharing" program.
Click here for additional information about Feed the Need.
Kellogg Community FCU Participates in Multi-Community Coat Drive
Kellogg Community FCU (KCFCU) has begun its annual coat drive to help the members of its communities stay warm.
KCFCU is partnering with Charitable Union (Battle Creek), TRAM (Three Rivers Area Mentoring), Salvation Army ("Share the Warmth" – Kalamazoo County), and MACS (Marshall Area Community Services) again this year to help members of these communities have a warm winter. Both new and gently used coats in good condition will be accepted by these community partners, and then distributed to local families in need for the upcoming winter season. Coats of all sizes are welcome, from adults to infants, and everything in-between.
"As we have done in previous years, we will again be collecting coats for various organizations who are all working towards a common goal: to help members in the communities we serve," said Tracy Miller, CEO of KCFCU. "KCFCU strongly believes in giving back to the community, and participating in these coat drives is just one way we can do that."
For more information on how to participate in these coat drives, contact Toni Muchez, marketing specialist, at (269) 968-9251, ext.2282 or by email.
Lake Trust CU Recognized as One of the Best CUs to Work For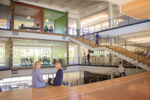 Lake Trust CU was recognized as one of CU Journal's 2015 Best CUs to Work For. CU Journal partnered with Best Companies Group to find organizations that excel in quality workplaces. Organizations were selected based on employee responses to workplace policies, practices, demographics and experiences within the organization.
"The sole reason for our existence is to help our members, our team and our communities be wildly successful-that's what it's all about," Lake Trust CU President and CEO David Snodgrass said. "The opportunity to achieve that day in and day out is extremely rewarding. We're excited to make a difference in this way and honored to be included along with these outstanding financial cooperatives."
Visit cujournal.com to check out the complete list.
CO-OP Financial Services Announces CO-OP EMV Subsidy Program
CO-OP Financial Services, CUSG's card partner, assisted with the move toward EMV adoption by creating the CO-OP EMV Subsidy Program. The program is designed to help debit and in-house credit processing client credit unions issue EMV cards more efficiently.
"Our goal was to craft a program that would enable as many clients as possible to qualify for the subsidy," said Michelle Thornton, Director, Product Development, for CO-OP.
The subsidy is available immediately and credit unions are eligible to sign up through the end of next year. In order to qualify, credit unions must have an in-house credit, signature debit or PIN debit payments processing contract with CO-OP.
For more information on the CO-OP EMV Subsidy Program, CO-OP processing clients can contact their CO-OP Strategic Relationship Manager or CUSG's Card Program Advisor, Nangela Piersall via email or phone: 800.262.6285 ext. 538.
CUNA Mutual Group Hosts 6th Annual Discovery Conference
CUNA Mutual Group will hold its annual Discovery Conference on Oct. 21. The free conference will provide valuable insights, covering topics and trends in the credit union industry.
The conference also features a unique collaborative environment where CU leaders can discuss important topics and network. Register today.
TLC Community CU Youth Financial Literacy Conducts "Kick Off"
TLC Community CU Youth Financial Literacy staff conducted "kick off" assemblies in schools to start the school year. The program is aimed at promoting children's interest in hearing about how they can get involved in TLC's in-school savings program.
TLCCU currently has 16 student-run branches established in Lenawee County. Each branch simulates the functions and roles of a real branch but is run by student volunteers at their school, weekly.
The objectives of the program are to create a new generation of savers by showing the importance of setting realistic savings goals, to increase youth's knowledge of the different types of services available at a credit union and to create an educational environment in which students will have hands on experience in a financial setting.
"TLC's program encourages good saving habits at an early age, promotes financial responsibility and is a great partnership opportunity with local school districts," Youth Financial Education Supervisor Lilly Wolcott said.
PAC FCU Changes Name to Polish-American FCU
PAC FCU changed its name to Polish-American FCU (PAFCU) on Oct.1. In 1976, the Michigan Division of the Polish-American Congress sponsored the formation of the credit union. The credit union's board of directors decided the new name should clearly recognize the heritage of its evolving membership.
"We are Polish-Americans," said PAFCU President John Swidwinski. "Our future lies not only with our current members but with their children and their grandchildren – as well as the thousands of Polish- Americans who are eligible to join our credit union. With that said, we express our deepest appreciation to the Polish-American Congress Michigan Division. Quite simply, we would not be here today if not for them."
TruNorth FCU Loses Longtime Volunteer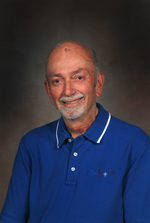 TruNorth FCU volunteer Neil Anderson passed away on Sept. 30. He first became involved with the credit union in 1972 when he was elected to serve on the credit committee. He was later elected to serve on the Board of Directors in 1975 and served as Board Chairman from 1989 to present.
"Neil was very active in our credit union community," TruNorth FCU General Manager George Isola said. "Our credit union experienced tremendous growth and success under Neil's leadership. He was a strong advocate for the credit union philosophy and spirit, especially supporting credit unions and serving people of modest means. His passing will leave a significant void at TruNorth."
Go to main navigation