Deadline Approaching for MCUL/MCUF Awards Application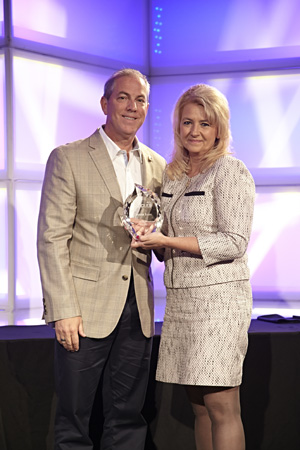 The MCUL Awards honor credit unions and accomplished CU individuals who have impacted the industry in a phenomenal way. If you know of a credit union or individual who is deserving of an award, make sure to submit a nomination by Oct. 30.
Awards for nomination from MCUL include the following: CU Professional of the Year Award, Distinguished Service Award, MCUL Chapter Effectiveness Award, Outstanding CU of the Year Award, Young Professional of the Year Award, CU Youth Advocate Award and the Innovation Award.
The Michigan Credit Union Foundation also recognizes exemplary credit union professionals through the Award for Excellence in Consumer Education and the Credit Union Community Volunteer Award.
Michigan Schools & Government CU won the 2015 Outstanding CU of the Year in the large asset size category. With a 50% increase in loans, a 10% increase in assets and a 12% boost in membership, MSGCU had a year for the books.
Vice President of Marketing and Business Development, Lorie Dietz gave insights on MSUGCU's application process. "The managers of certain departments sit down and think of events worthy of an award. We think about what judges would think is worthy of an award, such as events and fundraisers like our flood recovery loan or year of giving back that won the Philosophy in Action."
Credit unions should focus on applying for awards in aspects they thrive in, or for community events they enjoy participating in. Dietz went on to add, "MSGCU has applied for the MCUL/MCUF Awards for years. We focus on consumer education and strive to complete our mission which is to serve members. Always think about consumer education and what is worthy."
Questioning whether or not you should submit an application for your credit union or deserving CU individual? "Everyone's plate is full," Dietz said. "I'm certain members would appreciate what you do for your members along with the board. It's a peer selective process. It is worth the effort to put something together. Some tips: 1. Use monthly board reports. 2. Use press releases. 3. Use employee recognition programs. Employees enjoy the MCUL/MCUF Awards, recognition is powerful."
Click here to watch MSGCU's winning Outstanding CU of the Year Large Asset Size presentation.
The 2016 MCUL Awards will be presented during next year's Annual Convention and Exposition, which at the Detroit Marriott at the Renaissance Center, June 9-11, 2016.
Users can upload photos, videos, audio, links and other documentation here.
Go to main navigation