Chips & Dip: As Liability Shift Hits, Michigan CUs Readying for EMV Cards
The big day has finally arrived. Starting on October 1, in the event of a fraudulent transaction, liability shifts to whichever party in the transaction—the retailer or the financial institution—is the least secure. Just as retailers have been converting to EMV-enabled point-of-sale terminals, credit unions are also in the process of converting to EMV cards, or chip-and-pin-enabled plastic.
Earlier this year, St. Joseph-based United FCU launched an EMV pilot program and is nearing a decision on whether to reissue EMV-enabled plastic at members' request, as part of the natural reissuance cycle or to reissue all at once. According to acting marketing director Charles Spilman, it's largely an economics decision.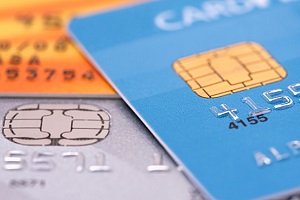 "The member is not going to be at risk," he said. "Their situation really doesn't change very much with EMV until everybody's got it. There was a study done by Visa recently that estimated that only about 4% of purchase locations are going to be EMV-ready by [the October 1 liability shift date]. When we have card-present fraud, most of that fraud takes place at big box retailers that are going to be EMV compatible. We're still going to have the liability as an issuer."
But even if the entire credit union industry adopted EMV tomorrow, said Spilman, that would only go so far to reduce fraud. That's because it's going to take time–maybe a year or more, he said–for smaller mom-and-pop retailers to put EMV-enabled point-of-sale terminals in place.
One reason United FCU and many other Michigan CUs may have taken a slow-but-steady approach on EMV is that they simply haven't heard a demand from their membership for chip-enabled cards.
"We really have not fielded a lot of requests from our members," said Spilman "We have a set of members who travel internationally and they have asked for it ... but other members, we haven't had any outcry of 'Where's my chip card?'"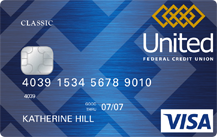 An early look at United FCU's EMV-enabled cards
Spilman said he hasn't polled his peers to see where other CUs stand with EMV readiness, but suggested that the collaborative nature of the CU system may well put credit unions in a better position than some of the competition.
"Because credit unions use service organizations, they probably are going to be in front of many of the community banks, because they have the benefit of taking advantage of the service organization's scope and scale, and they're going to take care of it for them," he said. "If there are credit unions out there that haven't begun talking to their processor or their core system provider, they should begin doing that."
Other Michigan CUs, such as Brighton-based Lake Trust Credit Union, have already begun issuing the cards. Lake Trust is reissuing EMV plastic to all new members who apply for a new credit card and for expiring cards, as well as at member request.
Still Protected, Even Without EMV
Kalamazoo-based Educational Community CU is also preparing a pilot program, using employees to test EMV-enabled credit cards in order to give ECCU a better understanding of how the cards work and any issues users might encounter. Once that pilot program wraps up, ECCU plans to do a mass reissuance for its entire membership, but Card Services Supervisor Ryan Holmes said that most likely won't get underway until the first half of 2016.
"We've obviously been thinking about EMV for quite some time, and I think a lot of Michigan credit unions are kind of restricted in that they don't have the economies of scale to do it on their own, so they're kind of reliant on their card processors," said Holmes. "We tend to fall into that category as well."
Holmes said that with more and more news outlets reporting about the change, ECCU has fielded a few inquiries via social media as to when members can expect to receive their new cards.
"There's definitely a member education component to it," he noted. "Further down the line as we get closer to actually putting cards in hand, there will be an education campaign we'll have to do to explain the nuances and differences between a magnetic stripe card and an EMV card. Some transactions take longer, it actually holds the card instead of swiping it—things that the general public wouldn't know unless you're going to tell them how to use it."
That's where the staff pilot program comes into play, he added. In addition to more formal EMV training for members, "Our frontline staff will be great once they have the experience to help educate our members."
In the meantime, ECCU is making sure members understand that even though they may not have an EMV-enabled card yet, they're still fully protected.
"We've been trying to tell our members that they still have the Visa zero liability, whether they have a magnetic strip card or an EMV card, so they're covered from fraud protection," said Holmes, adding "We're trying to let the membership know that while they won't have new cards on October 1, they're still secure with us, and the cards they're using still have fraud protection."
MCUL member credit unions may be eligible for subsidies to help with EMV conversion through the CO-OP EMV Subsidy Program. The subsidy is available immediately and credit unions are eligible to sign up through the end of 2016. In order to qualify credit unions must have an in-house credit, signature debit or PIN debit payments processing contract with CO-OP.
For more information on the CO-OP EMV Subsidy Program, CO-OP processing clients can contact their CO-OP Strategic Relationship Manager or CUSG's Card Program Advisor, Nangela Piersall, at 800.262.6285 ext. 538 or via e-mail at nangela.piersall@mcul.org.
Go to main navigation