Communicating Arts CU is now One Detroit CU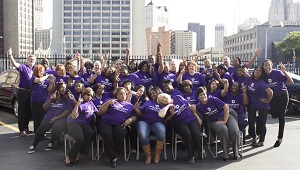 Staff of One Detroit CU celebrate the new name
On Oct. 1, Communicating Arts CU became One Detroit CU.
The name change symbolizes the credit union's focus on attracting members who live or work in the Detroit area.
The credit union started with the name Detroit Newspaper Industrial Credit Union and became Communicating Arts CU in 1970 to represent the membership at the time which included Detroit newspaper, television, radio and print publishing professionals. Since the membership base has changed so too should the name, One Detroit CU CEO Hank Hubbard said.
"We determined that we needed to change our name to something that does reflect what we do," Hubbard said.
Hubbard added that name Communicating Arts CU tended to cause confusion and detract from the message of what the credit union does. People would get the name wrong and would wonder if it was only for artists, Hubbard said.
"Instead of talking about the good things that we do, we're talking about all these crazy things about our name," he said.
Hubbard hopes a new name will provide clarity and help the credit union do what it does best – serve the Detroit community.
Go to main navigation