Michigan CU Reps Head to DC for Annual 'Hike the Hill' Event
WASHINGTON—A delegation from Michigan's credit unions and the Michigan Credit Union League has been hard at work in Washington during MCUL's annual "Hike the Hill" event.
Credit union representatives and league staff met with NCUA Chairman Debbie Matz and members of her senior staff to discuss the agency's revised risk-based capital proposal and small changes CUs would like to see made prior to a final rule being issued.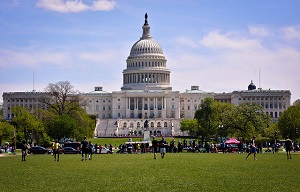 When that rule will be issued remains up in the air, as Congress is currently marking up a "Stop and Study" bill which would require the regulator to stop and study its risk-based capital proposal before issuing the final rule, and report back to Congress on the impact a two-tiered risk-based capital rule would have on CUs and their members.
Matz also discussed field of membership expansion and NCUA's FOM Working Group. She told the Michigan delegation that while NCUA does not plan to amend the FOM statute, the agency is planning several workable amendments to enable federally chartered credit unions greater opportunity to expand their fields of membership beyond what is allowed in the current statute.
With cybersecurity a top concern at CUs these days, the topic of cyber risks and the threat of attacks from foreign hackers was also discussed. Matz reminded that NCUA examiners have been trained on Federal Financial Institutions Examination Council (FFIEC)-issued cybersecurity assessment tools and can assist CUs in assessing cyber threats.
In addition to meeting with Matz, a smaller group from Michigan also met via video conference with NCUA Board Member J. Mark McWatters, as well as with his Senior Policy Advisor, Sarah Vega, to discuss FOM expansion for federally chartered credit unions and the risk-based capital rule. McWatters emphasized his belief that CUs shouldn't be treated as "too big to fail," and that credit unions and their members must continue to keep up a dialogue with Congressional representatives they have relationships with.
Lastly, Michigan's CU delegation met with representatives from the Consumer Financial Protection Bureau's (CFPB) Office of Financial Institutions for a favorable discussion regarding the impact of potential overdraft regulation on credit unions. Credit union representatives shared stories of how overdraft and courtesy pay programs have helped members get out of debt cycles incurred by payday lending. CFPB officials said they appreciated the work credit unions do providing financial education for their members and outreach through financial literacy initiatives.
Go to main navigation