Michigan CUs Making the Most of GM Discount's Final Days
All good things come to an end, and that's the case with the GM Credit Union Member Discount. But some Michigan CUs are making one last push on the program before it sunsets on September 30.
Macomb County Community Credit Union in Clinton Township has promoted the discount on Facebook and Twitter in recent days, as well as posted about it on the website and sent e-mail blasts to members, and has seen a slight uptick in requests for discount authorizations.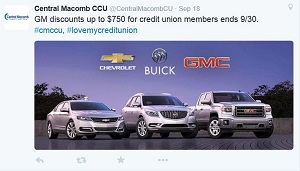 Central Macomb Community CU and other credit unions across Michigan took to Twitter to promote the final days of the GM Credit Union Member Discount.
"By promoting it and letting people know that that discount is disappearing … maybe it'll help us get a little bit of traction to help get that discount," said Paula Rose, VP of marketing at the $176 million-asset credit union.
Since the discount was launched in 2008, MCCCU has seen more than 60 authorizations for the discount, with nearly 50% of those authorizations turning around and bringing that business to the credit union.
The credit union's new-auto loan portfolio expanded by three vehicles between Q1 and Q2 of this year, so if those five authorized discounts all bring their business to MCCCU it could represent a big boost to Macomb County Community's bottom line.
Rose said the discount had been "a win-win" for both GM and the credit union.
"We know that our membership has appreciated that that was out there as an option," she added.
Though the GM Credit Union Member Discount may be ending, Rose chose to look on the sunny side. Thanks to the Love My CU Rewards program, she said, "there's still lots of other options for members to save with credit unions."
Lansing's LAFCU sent out a targeted email blast to members who might be in the market for a new car, as well as promoting the final days of the discount on social media, including paying to boost a Facebook post so that the promotion shows up in more members' Facebook news feeds.
Kelli Ellsworth Etchison, VP of community and business development, said that LAFCU has always been a strong supporter of the program and always promoted it on its website, so she believes the final few days will see a good response from the membership.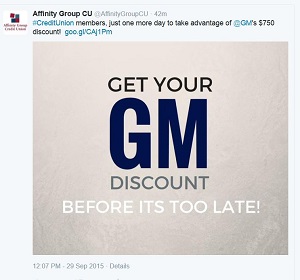 Pontiac-based Affinity Group CU used Twitter to promote the GM discount's final days.
One other element that could benefit LAFCU is its history as an autoworkers' credit union
"Manufacturing and the auto industry go hand-in-hand in Michigan, and GM was our core group before we became a community credit union, so [the GM discount] has been very strong always," said Etchison. "We pride ourselves that we've done a good job. … It's been very successful for us."
Go to main navigation