In Brief...
Zeal CU Reveals Hardest Working Town in Metro Detroit
Zeal CU announced Allen Park was voted "Hardest Working Town" in metro Detroit during an online campaign. The online campaign started in June and ended on Labor Day. According to Zeal CU's Vice President of Marketing, Lisa Fawcett, more than 50,000 votes were cast with Allen Park receiving more than double the votes of second place.
"When we invited people to vote in June, we didn't realize how much metro Detroiters would fight for their towns," Zeal CU CEO Tony Carnarvon said. "We know that all of metro Detroit works hard, though it is 'hats off' to Allen Park, which fought for the title."
Zeal CU hosted a "Hardest Working Town" party on Sept. 26. The family-friendly event was free and open to everyone throughout metro Detroit. The party began with a celebrity softball game featuring Detroit Tigers legends along with local radio and TV personalities. Complimentary food and drinks were provided along with carnival-style games and music.
"We are very happy that Allen Park was selected," said Allen Parks Mayor William Matakas. "Our residents take great pride in their city and work very hard to keep our institutions working for the betterment of all."
LAFCU's WHEEL Scholarship Enables Women to Pursue College Education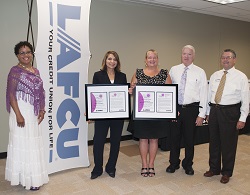 LAFCU's Women Helping Educate Every Lady (WHEEL) scholarships have been announced. The awards were given to three recipients, all of whom are mothers, to help them pursue their college education. These women put their education on hold for their families but are now ready to pursue their goal, and LAFCU wants to show their support for such selfless and strong-willed women.
The winners are: Yvette Donahue, Elsa Gallegos and Michelle Cunningham. Each received a $1,000 scholarship to attend Lansing Community College this fall.
"The women who received the WHEEL scholarships this year are inspiring; they demonstrate, once again, it's never too late to complete an academic degree," said Kelli Ellsworth Etchison, LAFCU vice president of community and business development. "These mothers of varying ages are juggling more complex lives than traditional college students. It's also difficult to find the resources to return to school for that second chance at preparing for a successful career. We are happy to help them financially, and hope their stories motivate others in similar situations."
The WHEEL program was made to encourage women to pursue education that is needed to enter or re-enter the workforce or to advance their careers. "Two surgeries have delayed my progress at college," said Donahue, who is pursuing an education degree. "But, they've also helped me realize that I may have physical limitations in the future, and I've been able to change my career focus to one that will work for me if I do have limited physical abilities. Thank you, LAFCU; the scholarship is extremely helpful to my pursuit of financial stability."
Gallegos is pursuing an associate degree in business with a focus in computer programming. "I had the qualifications, but not a degree," she said. "I eventually got a job, but realized I'll need a degree to advance. I have been attending LCC part time since then and am thankful for this scholarship. It will pay off a portion of my student loans and allow me to focus on the task at hand – continuing to move forward and complete my degree."
Cunningham decided to return to LCC to complete an associate degree she started 29 years ago. Her education will focus on data analytics and its applications to learn warehouse and supply chain management, which will be supplemented with Spanish courses. "I have worked diligently to be proficient in new technology, but I know there's a lot more to learn," the soon-to-be grandmother said. "Part of my job is supporting company sales in Mexico, in which I interact with many Spanish-speaking people. Learning the language will be beneficial to me and my company. I appreciate the scholarship, but am even more grateful for the 'push' I needed to return to college to reach my goal of earning a degree."
Filer CU Teams up with Packaging Corporation of America for 5k Run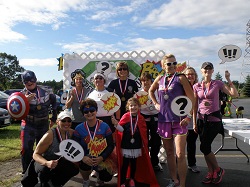 Filer CU teamed up with Packaging Corporation of America to host a 5k fun run where participants were asked to come dressed as their favorite superhero. The proceeds from the run were donated to the Filer Township Fire Department.
"The main thing I wanted was to see everyone having fun, and I think we definitely accomplished that," Event Organizer Kaci Kamaloski said. There was no shortage of Batman, Flash and Captain America lookalikes.
The event attracted 57 participants and over two dozen volunteers, raising more than $2,000 for the fire department.
MSUFCU Named one of The Principal 10 Best Companies for Employee Financial Security
MSUFCU announced that they were recognized as one of The Principal 10 Best Companies for Employee Financial Security. Judges from Principal selected MSUFCU because of its commitment to employee financial security through outstanding employee benefits.
The credit union will be featured in the October issue of Inc. Magazine for the achievement.
"Companies like MSUFCU are role models and provide inspiration of other growing businesses that want to become an employer of choice," said Luke Vandermillen, vice president at the Principal Financial Group. "These companies stand out not only for their commitment to their employees but also for their innovation in creating a workplace culture that fosters total employee financial security."
The national program honors five growing companies for their commitment to their employees' financial security. Along with award recognition, Principal awards a donation to a charity selected by each company recognized. MSUFCU chose the Lansing Symphony Orchestra to receive the $2,500 donation.
"We're proud to receive this award; it validates the measures we've taken to provide our employees with the best resources to achieve financial security, their goals and ultimately, their dreams," explained MSUFCU President/CEO April Clobes.
Great Lakes First FCU Earns Bauer's Elite 5-Star Rating
As a recipient of Bauer Financial's coveted 5-Star Superior rating, Great Lakes First FCU has been recognized as one of the strongest credit unions in the nation. The credit union warranted the prestigious award particularly for their excellence in such areas as capital, loan quality and profitability.
"We don't have to tell you how difficult it has been for financial industries these past eight years, but Great Lakes First Federal Credit Union has not only survived, it has thrived." remarks Karen L. Dorway, president of Bauer Financial. "Being able to maintain the highest level of financial performance, even in the most difficult of environments, Great Lakes First FCU was able to keep its focus on its members while others were trying to stay afloat. Great Lakes First FCU deserves this commendation."
"Our goal is to serve our members' needs in an ever changing financial world," remarked a representative of Great Lakes First FCU.
West Michigan CUs Merge
Big Dutch Fleet CU merged with AAC Credit Union. The merger offers benefits to the members of both credit unions, including mortgage services, an additional 7,500 ATM locations and expanded electronic services.
"We are excited to introduce ourselves to the members of Big Dutch Fleet, our neighbors and community," said AAC Marketing Director Velvet Fuller. "We look forward to bringing our brand of service to the new south location."
When asked about the connection between a transportation credit union and a credit union founded in furniture manufacturing, Brian Turmell, AAC CEO, responded, "We believe it is our shared philosophy of helping our members that brought Big Dutch and AAC together. While we have different beginnings, both organizations grew from a sincere desire to do good business with good people. It is this matching principle that will make this a successful partnership."
Credit Unions 4 Kids Jean Day Donations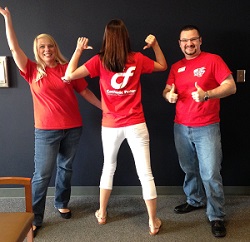 Catholic FCU employees went casual for the cause and raised $155 to support the Credit Unions 4 Kids' efforts during the Miracle Jeans Day campaign! Catholic FCU has matched the donations for a grand total of $310 donated to the Children's Miracle Network of Hospitals.
Miracle Jeans Day is a national fundraising campaign in support of Children's Miracle Network Hospitals. Every year, CU4Kids encourages credit union employees nationwide to wear jeans to work in exchange for a small donation of at least $5.
Every dollar raised will go to local CMN Hospitals, benefiting both members and local communities. The Miracle Network hospitals in Michigan include Beaumont Children's Hospital, Hurley Medical Center, Helen DeVos Children's Hospital, and Sparrow Hospital.
Michigan Credit Unions Receive Crystal Performance Award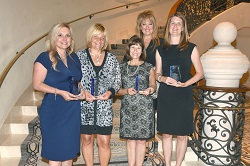 Four Michigan credit unions received Raddon Financial Group's 2015 Crystal Performance Award. The award, given to the top three percent of all high performing credit unions nationwide, recognizes these credit unions for achieving high ranks for growth, income, efficiency and margin management.
The following Michigan credit unions were awarded: Cornerstone Community Financial CU, ELGA CU, Frankenmuth CU and Marshall Community CU.
"The Crystal Performance Award honors the best practices that credit unions rely on to achieve impressive financial results," said Bill Handel, vice president of research, Raddon Financial Group. "As the credit union industry continues to grow and meet the everyday needs of more than 100 million Americans, these winners stand out for their strong leadership, innovation and commitment to their members."
To be eligible for the Crystal Performance Award, credit unions must participate in Raddon's CEO Strategies Group program for an in-depth analysis of the credit union's financials, sales, products and member household relationships.
MSUFCU Volunteers Participate in Walk to End Alzheimer's
MSUFCU was proud to join the Greater Lansing community at the Lansing State Capitol in supporting this month's Walk to End Alzheimer's. Credit union volunteers participated by walking at the event, helping out with the kids' table and donating to the cause. Team MSUFCU raised $680, contributing to the walk's total of more than $164,000.
Funds raised from the event will go toward the Alzheimer's Association and their fight to eliminate the disease through the advancement of research.
MSUFCU president and CEO April Clobes commented, "We're proud to have employees who are passionate about making a difference by supporting a cause that impacts many people. It's an honor to have the opportunity to stand alongside the families and individuals affected by Alzheimer's in hopes of one day finding a cure."
Go to main navigation