MCUL's 2015 AC&E Wins Top Honor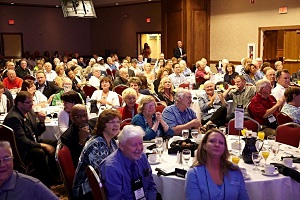 A packed room enjoys the MCUL Honor Awards Breakfast at the 2015 AC&E
The Michigan Credit Union League & Affiliates recently received the highest accolade for its Annual Convention and Exposition (AC&E) - MCUL's premier event.
The Michigan Society of Association Executives (MSAE) honored MCUL with its most prestigious honor — the Diamond Award— for the 2015 AC&E in the category of Meetings and Expositions of organizations with budgets over $1 million.
"The AC&E is the one event each year that allows MCUL and CUSG to shine with a collaborative effort by our staff from one-end of our organization to the other," Adams said. "The AC&E showcases the best we have to offer and the best side of who we are."
MCUL & Affiliates CEO David Adams challenged staff to reinvent the AC&E, based on the book The Road to Reinvention, by Michigander Josh Linkner. Staff took the message to heart. No detail was left untouched as extreme attention was given to every touch point from visual presentation to the taste, smell, sound and feel of the entire experience.
Some of the 2015 AC&E highlights included a hilarious performance by the Water Coolers at the MCUL Honors Awards Ceremony, first-ever online auction bidding, and an entirely new networking reception, the "Taste of Traverse City."
More than 1,100 people attended the event which was held in Traverse City.
Plans are underway for the event to reconvene next year at the Detroit Marriott at the Renaissance Center, June 9-11, 2016.
For more information about the event, or participating as a sponsor or vendor, contact educate@mcul.org.
Watch the Water Coolers perform at the 2015 Honor Awards Breakfast below.
Go to main navigation