Diversified Members CU Hosts Visit with Freshman Lawmaker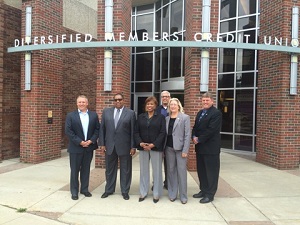 Diversified Members CU leaders, MCUL staff and Rep. Lawrence pose outside Diversified CU
Diversified Members CU leaders and MCUL & Affiliates are working together to share the credit union difference with a freshman Congresswoman.
Rep. Brenda Lawrence, D-Southfield, recently toured the Diversified Members CU Downtown Detroit headquarters. She was joined by members of the Diversified Members CU executive team including CEO Kathie Trembath, and Chairman of the Board Albert Patrick, Jr. along with MCUL's government affairs staff.
The tour provided Rep. Lawrence with an insider's perspective into the inner workings of a credit union, including compliance, human resources, lending, the call center, and other important departments and functions. The Diversified Members CU team also shared their commitment to serving their community through community focused lending programs and civic events.
After the tour, credit union leaders and MCUL sat down with Rep. Lawrence to explain how some regulations can adversely impact credit unions. The conversation focused on the need for data security reforms, the costs associated with recent data breaches, and Consumer Financial Protection Bureau regulations.
Go to main navigation