Financial Educators to Find Inspiration, New Ideas at YOUTHIFY! Event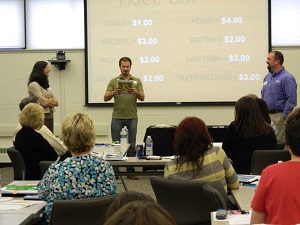 YOUTHIFY! organizer Jeremy Cybulski teaches a financial education class.
With the new school year right around the corner, an upcoming event hopes to inspire financial educators through new ideas to get young people excited about managing their finances.
YOUTHIFY! Michigan is a one-day event created to educate, and energize area credit union financial educators to engage kids through the sharing of best practices, technological innovations, and spotlighting partnership opportunities, according to Jeremy Cybulski, the youth and community development coordinator at Zeal CU and YOUTHIFY! organizer.
The event will take place on August 19th from 9:30 a.m. to 4 p.m. at CASE CU, located at 2400 West Rd. in East Lansing.
YOUTHIFY! is an excellent way for financial educators who often work alone, to connect with others who are also passionate about financial education outreach, Cybulski said.
"We're taking all the information that we have, that we've used, that we've discovered that works for us and sharing it with everybody else," Cybulski said.
Financial education experts will cover a range of topics from youth accounts to student-run branches to incorporating new technology such as video game programs to entice young people.
"It's something people can apply to their websites or can put on their mobile sites," Cybulski said.
The event costs $65 per person, and includes a continental breakfast, lunch, and materials. After August 7th, the cost goes up to $85.
YOUTHIFY! formerly operated under the name Youth Extravaganza!, which sponsored youth-focused events throughout Michigan over the past six years, Cybulski said.
Other YOUTHIFY! organizers include Sheryl Hogle, the director of financial education for Harbor Light CU and Brenda Scramlin of COPOCO Community CU.
For more information call Brenda Scramlin at (989) 460-3625 or contact her via email.
Go to main navigation