Vote for MSUFCU's Jeff Jackson for Sparrow Dapper Dads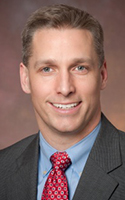 Jackson
Michigan credit union supporters have already helped propel MSUFCU's Jeff Jackson into the top 13 in Sparrow Hospital's Dapper Dads Challenge fundraiser contest. With voting ending on Wednesday, it's time to make a final push to get a credit union person into the contest's top 10.
Jackson, senior vice president of business lending and operations for MSUFCU, is taking part in a fundraiser contest benefiting Sparrow Foundation and the Herbert-Herman Cancer Center at Sparrow Hospital in Lansing.
Votes cost $5 and are tax deductible.
Online voting ends at 3 p.m., Wednesday. Final votes may be cast at the Dapper Dads Fashion Show at Kositchek's in downtown Lansing on Thursday. Fashion show tickets are $30 and VIP tickets are available for $60.
Visit dapperdads.sparrow.org for more information, to donate and to buy tickets for the fashion show.
Go to main navigation