David Adams: Let's Do More to Tell the Credit Union Story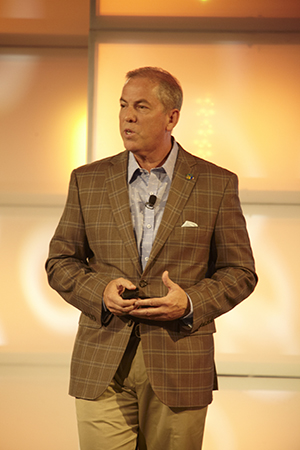 "We need to tell our story," says MCUL & Affiliates President/CEO David Adams.
ACME – MCUL & Affiliates President/CEO David Adams told those gathered for the Annual Convention and Exposition that Michigan credit unions have a lot to be proud of, but there is more they can do to tell the story and help more consumers.
Michigan credit unions hold 19 percent of financial institution assets in Michigan, a number that surpasses all other large, industrialized states. Also, Michigan's 47 percent penetration rate is higher than any other large state. But there's more work to do because there are still people in Michigan who struggle to keep a handle on their finances.
"One half of all households believe they could not cover an (unexpected) $400 expense," Adams said.
He said MCUL wants to help credit unions do even more for their members, but the trade association needs the help of member credit unions to help with advocacy.
"We're listening and we get it. There's a regulatory burden that prevents you from doing what you want to do," Adams said.
"Don't take for granted the importance for your credit union to weigh in on these regulations."
But beyond telling the credit union story to lawmakers and regulators in Washington and Lansing, Adams said MCUL wants to do more to inform consumers about the credit union difference.
That's why MCUL is revamping the league's dues structure. Starting in 2016, MCUL will have a two-tier dues structure. The dues formula for Premier members would be permanently reduced by 50 percent. To be eligible for Premier membership, a credit union would need to make a minimum voluntary contribution to the cooperative advertising program. Regular members will pay dues under the current dues structure and the annual rebates will be discontinued.
While every credit union is strongly encouraged to pay their full fair share amount, in order to qualify for reduced dues, the minimum contribution would need to be made by each participating credit union.
"We need all of our credit unions to put something into the campaign," Adams said.
He added that he believes every credit union should create a budget line item for the CU Link campaign contribution so that the marketing department doesn't feel that it is losing part of its budget to the statewide campaign.
Adams pointed out that credit unions that make full-share contributions to the campaign can get up to half the money back if they integrate CU Link branding into their own marketing.
Go to main navigation