McPharlin Calls on Credit Unions to Help Members Obtain Refunds from Western Sky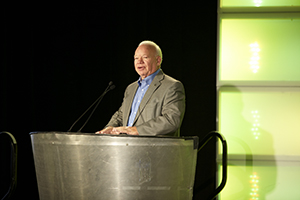 DIFS Director Patrick McPharlin addresses the AC&E Thursday. (Photo by Mike Drilling)
ACME – Speaking on stage at the Annual Convention and Exposition, Patrick McPharlin, director of the state Department of Insurance and Financial Services, called on credit unions to help their members who may have taken out loans with Western Sky.
As many as 17,500 Michigan residents could be eligible for refunds from Western Sky because the company exceeded the state's maximum interest rate rule.
In May, Michigan Attorney General Bill Schuette and former DIFS Director Ann Flood announced that the state had reached a $2.2 million deal requiring Western Sky, a short-term lender based in South Dakota, to reduce its interest rates and refund overcharges.
McPharlin said Western Sky had been charging rates that could add up to 300 percent annually. The multi-state settlement requires the company to reduce rates to 7 percent.
"This is thousands and thousands and thousands of dollars that can be refunded," McPharlin said.
McPharlin said MSUFCU found that some of its members with high credit scores had loans through Western Sky, indicating that the issue affected people at all economic levels.
To receive refunds, those who took out the loans need to file a claim with Western Sky, McPharlin said. Credit union employees can watch for Western Sky to pop up on members' credit reports and help them file claims.
McPharlin, the retired CEO of MSUFCU, took over at DIFS in May.
Go to main navigation