Zeal's Cybulski Wins Big on Wheel of Fortune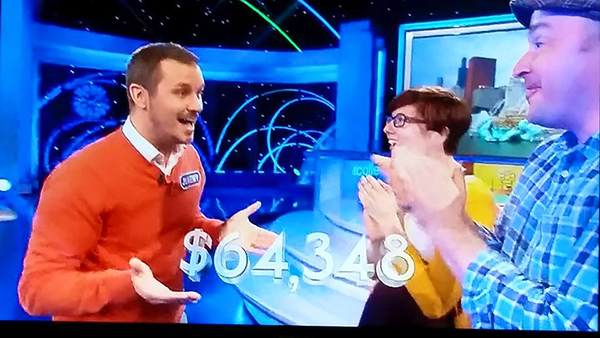 Jeremy Cybulski, left, shares his winning moment on "Wheel of Fortune" with Michigan friends Kristen Schroeder and Jon Wilkins.
Jeremy Cybulski spun the wheel and walked away with a big chunk of change for his appearance on "Wheel of Fortune," which aired May 13.
Cybulski, youth and community development coordinator for Zeal CU, won $64,348 on the show, including a trip to Ireland. In addition, he helped raise more than $300 for the National Youth Involvement Board's youth financial education efforts. NYIB sponsored a contest for the closest guess to his actual winnings.
Despite hitting the "bankrupt" spot twice, Cybulski was the big winner, totaling $24,348. He then went on to win the bonus round, figuring out the phrase "phased out."
Cybulski said he has a variety of plans for the money, including home improvements, paying off student loans, furthering his education and putting some away for his son's education.
He said the reaction has been a little overwhelming. Because the show was taped in advance, Cybulski was required to keep secret how much he won.
"Despite coming into the office yesterday, I had a very difficult time getting any work done. Everyone was so excited," Cybulski said. "I walked into one of my schools (Cybulski operates several student-run branches) and a number of students and staff were waiting at the door clapping and screaming 'Wheel … Of … Fortune!'
"Ultimately, I got to fulfill a life-long dream and it was nice to have so many people to share it with."
Go to main navigation