MCUL-Supported Bill Receives Statewide Media Attention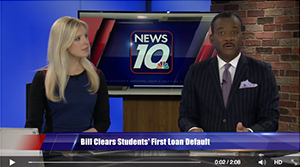 A MCUL & Affiliates-supported bill introduced by U.S. Sen. Gary Peters that would help student loan borrowers with a one-time opportunity to rehabilitate their credit is receiving a lot of statewide media attention.
At least three media outlets quoted MCUL & Affiliates President/CEO Dave Adams including: Gongwer News Service, the Lansing State Journal, and MLive.
Several other media outlets covered the story including The Detroit Free Press, Michigan Radio, The State News (MSU's student newspaper) WWMT, WJRT, WILX and WLNS. Peters' bill, the FAIR Student Credit Act, co-sponsored by Sen. Shelley Moore Capito, R-West Virginia, would allow a borrower with private student loans to enter a program that would remove defaults on their credit if they are able to make nine consecutive monthly payments on the loan.
"It really amounts to a second chance for students," said Peters, D-Bloomfield Hills at a press conference on Monday.
Peters spoke at an event at Michigan State University's MSU Union, where he was supported by several students as well as MCUL & Affiliates President/CEO David Adams and MSUFCU CFO Sara Dolan.
To read more about Peters' bill and watch a short video featuring Peters and Adams, click here.
Go to main navigation