Workshop Designed to Inspire a Sales and Service Culture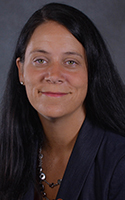 VanDenBerghe
Paving the Way to Culture Reinvention: Inspiring Your Dynamic Sales and Service Culture, a two-day workshop led by Stacie VanDenBerghe, will focus on ways the industry is changing and what credit unions need to do to compete in the financial industry today and in the future.
This dynamic workshop will take a look at the industry, how industry leaders are adapting to the changing environment and what everyone can do to impact their department, branch or entire credit union. In addition, this workshop will help move sales programs further through leadership and coaching.
The conference is Thursday, Aug. 20, and Friday, Aug. 21, at Island House Resort on Mackinac Island. Cost is $699 per person. The event is limited to the first 50 who sign up.
To register, contact VanDenBerghe, Michigan Consulting Services director for CU Solutions Group, at Stacie.VanDenBerghe@cusolutionsgroup.com or (517) 204-8858.

Go to main navigation