United FCU CEO, Chairman Announce Retirement Plans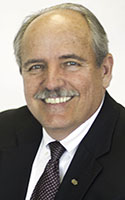 Easterling
United FCU President/CEO Gary Easterling will retire in late 2015. In addition, United board Chairman J.B. Hoyt announced his plan to retire in June.
In a career spanning 32 years, Easterling joined UFCU as president/CEO in 2007 after holding a variety of senior-level positions elsewhere in the credit union industry. As part of a detailed plan that has been reviewed and approved by UFCU's Board of Directors, Easterling will remain at the helm of UFCU until his successor has been identified.
"Gary has been a great, principle-based leader at United FCU," MCUL & Affiliates President/CEO David Adams said. "He and his team have grown the credit union and have made tremendous, positive contributions to communities in Western Michigan, as well as five other states. We will miss Gary but we will remember Gary's many accomplishments with deep appreciation. He has been a passionate advocate for United FCU and all credit unions."
UFCU's Vice Chairman Mr. Mike Hildebrand said: "UFCU's board is extremely grateful to Gary for the leadership he has provided to the credit union. Under his leadership, the credit union has made great strides in bringing new services to our members and in achieving the kind of growth that will ensure the company's stability and soundness for years to come."
Easterling, a native of Fairborn, Ohio, came to UFCU from his former position as president/CEO of Century FCU in Cleveland. Easterling's additional experience in the credit union industry includes a variety of leadership positions at Wright-Patt CU in Fairborn.
Easterling is a member of the Credit Union Executive Society and was recently elected to the National Association of Federal Credit Unions' Board of Directors. He was also named by MCUL as 2015 "Credit Union Professional of the Year." Easterling's volunteer activities have included the Harbor Habitat Development Committee, MCUL, Cornerstone Chamber of Commerce, United Way of Southwest Michigan and Michigan's Great Southwest Strategic Leadership Council. Easterling plans to continue to represent the credit union in his current volunteer activities.
Easterling said of his planned departure, "Succession planning for senior roles here at the credit union is a regular, ongoing activity between our leadership team and our board. So, it's not unusual for us at UFCU to know years in advance when someone in a director or officer position might plan to move on. By announcing my plans now, I can give our board the opportunity to seek my successor in a transparent way that provides for the smoothest possible transition."
Hildebrand said, "Gary shared his retirement objectives plans with the board almost a year ago and so we have been collaborating closely with him on our planning calendar. This announcement is part of that plan and clears the way for us to move ahead with a selection process that includes current employees of UFCU as well as external candidates. The board has retained the services of DDJ Myers, an executive recruitment firm specializing in the credit union industry, to assist us in this process." He added, "The board has complete confidence in Gary. His expertise and accomplishments speak for themselves and we will rely heavily on his leadership as we work to find his successor."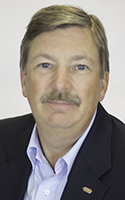 Hoyt
Meanwhile, Hoyt will retire from the credit union's board on June 30 after 28 years of service. Hoyt announced his intentions to retire two years ago as the next step in a multi-year plan aimed at advancing the board's management and governance capabilities.
Hildebrand, UFCU's vice chairman, will become chairman.
"I am honored to assume these responsibilities during this transitional period," Hildebrand said. "I want to extend my thanks to J.B. Hoyt for his nearly three decades of service to UFCU and for the many, many contributions that he made to setting the direction for the credit union. J.B. Hoyt played a key role in leading UFCU to growth, better service to members and industry recognition. It is precisely because of J.B's far-reaching vision and planning to improve this board's effectiveness that we are now in a position to move ahead with further evolving the board's mission and methods."
During his tenure as a director and his nearly six years as chairman, Hoyt helped lead the credit union to an expansion in scale from $90 million in assets to more than $1.8 billion today – a 20-fold increase. Similarly, UFCU has grown from four branches to nearly 30 locations in six states. Hoyt's approach put UFCU's members' needs first; expansions in operations were always aimed at growing the credit union's product and service offerings and improving convenience.
Hoyt's tenure led to a number of firsts for UFCU and the credit union industry. Picking up the reins as chairman to carry on the vision of John Steinke and the board, Hoyt successfully oversaw the culmination and final integration of the then largest voluntary credit union merger in U.S. history. His personal impact on UFCU also included the first acquisition of a bank by a federally chartered credit union, industry recognition in 2013 as National Federal Credit Union of the Year and Michigan Outstanding Credit Union of the Year and UFCU's recent ranking in the Top 100 U.S. credit unions as measured by assets.
"I first became interested in the credit union as a member, it was a place where you were treated as a person, not as a number," Hoyt said. "Later, in 1987, I joined the board to make a personal contribution to improving member service. I thought I'd serve for just a few years, but the challenges of the financial services industry and UFCU held my interest and gave me new ways to deepen my contributions, year after year."
Hoyt is a graduate of the Credit Union Executive Society Leadership Institute. He is also a director and founder of Michigan's Great Southwest Sustainable Business Forum and was a founding director of the Alliance for Water Efficiency. A graduate of Michigan Technological University and the University of Michigan, he also served as a director of the Michigan Tech Fund. Hoyt's professional career was capped as director of government relations at Whirlpool Corp. where he retired in 2012.
Regarding his decision to end his service to UFCU, Hoyt said, "I'm very pleased with how the other directors have supported the initiative that I introduced two years ago to evolve the board into an even higher-performing team. With the progress that we have already made as part of that plan, I concluded that now was a good time for me to open up my board seat in order to bring in more diversity of experience and thought to UFCU's board at an even faster rate."
Go to main navigation