Money Smart Week Kicks Off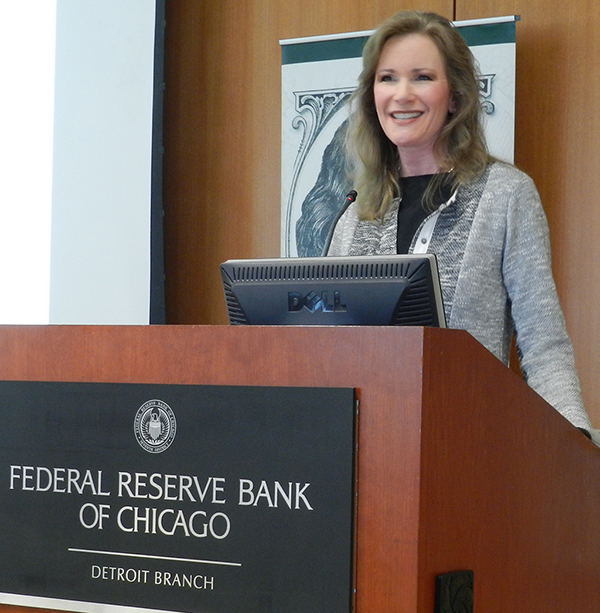 Kelly Masters thanks promoters, partners and sponsors for their work in making Money Smart Week a success.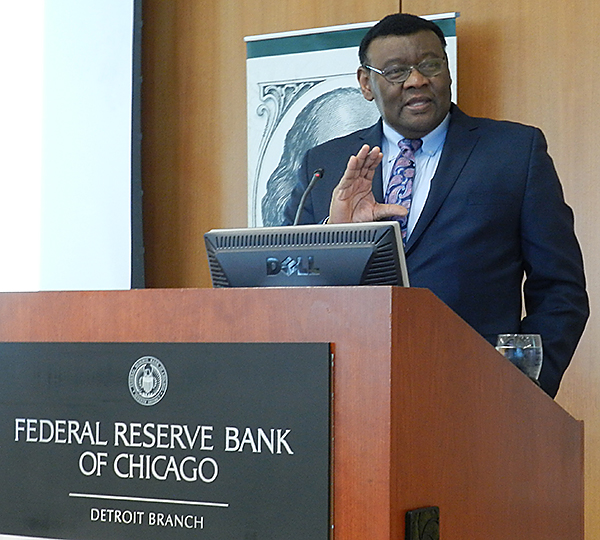 "My passion is helping young people," said keynote speaker Ike McKinnon, Detroit deputy mayor.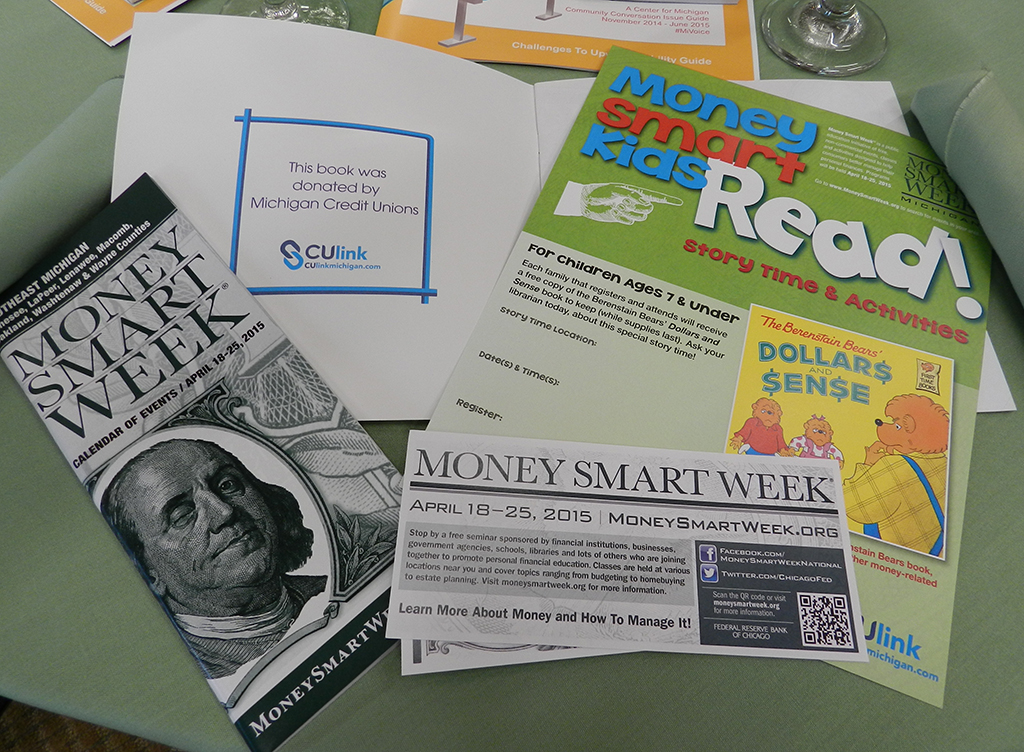 Copies of the Berenstain Bears' Dollar$ and $en$e were donated by Michigan credit unions and CU Link.
DETROIT – More than 500 Money Smart Week events are scheduled across Michigan April 18-25, representing more than 10 percent of the events that are scheduled across the country.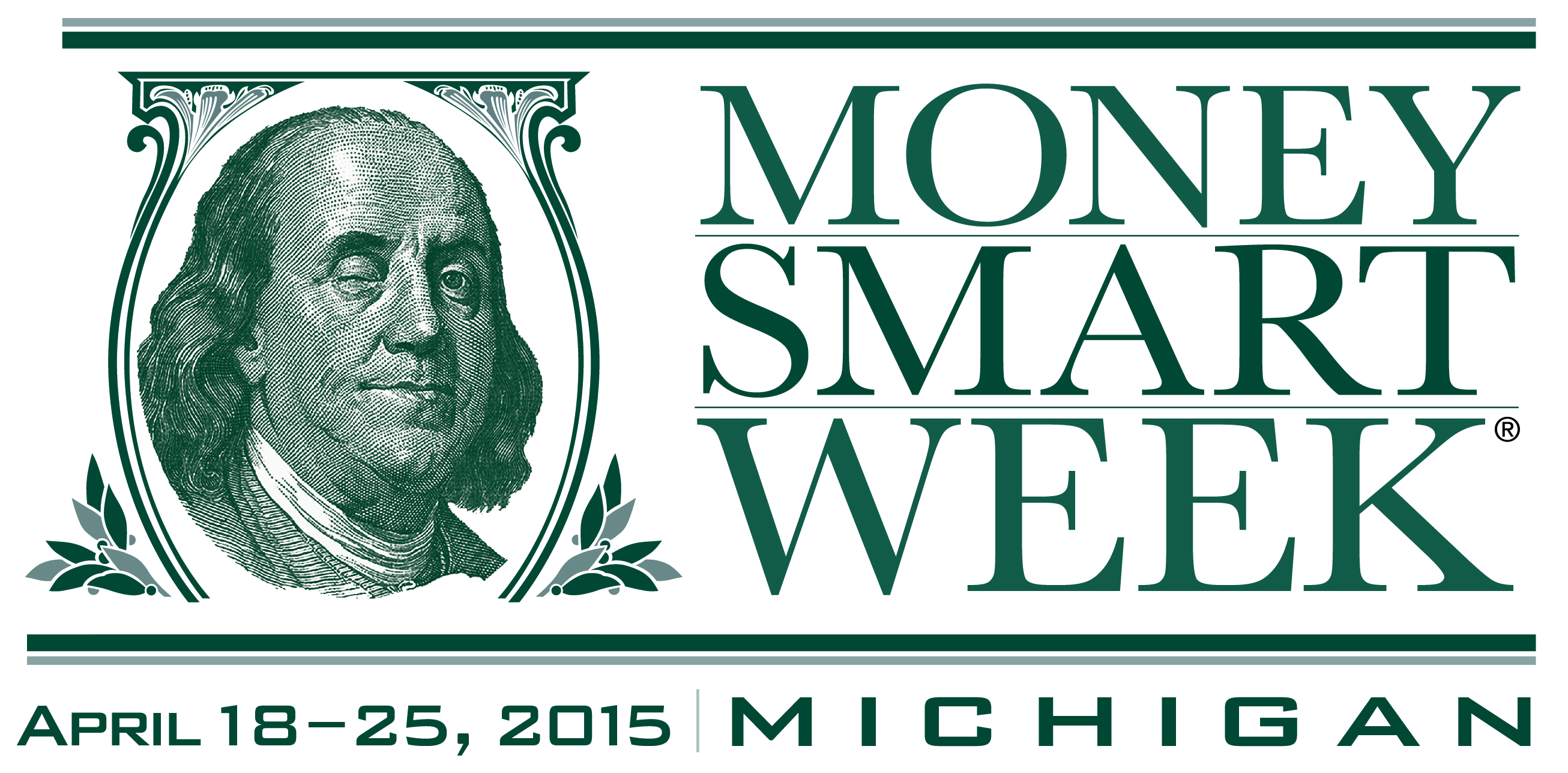 Promoters of Money Smart Week kicked off the week of events with a Friday breakfast for promoters, partners and sponsors at the Detroit Branch of the Federal Reserve Bank of Chicago.
"The word is getting out," Money Smart Week Chairwoman Kelly Masters said.
She said that Money Smart Week had 14,000 participants in Michigan last year, but that's still just a small fraction of the overall population.
"We have a lot of room for growth as well," Masters said.
Keynote speaker Ike McKinnon said Money Smart Week is an opportunity for supporters to impact the lives of young people.
"I was fortunate that I had people – starting at the age of 10 – teach me about life, teach me about responsibility," said McKinnon, who is Detroit's deputy mayor.
For the second straight year, the MCUL & Affiliates sponsored books to be given to families as part of the Money Smart Kids Read initiative during Money Smart Week, this year donating 6,500 copies of the Berenstain Bears' Dollar$ and $en$e book, which will be read to children at more than 200 libraries across the state. Each book includes a note saying the books were donated by Michigan's credit unions and CU Link. Families will be able to take the books home.
Masters implored everyone at the breakfast to become a partner with Money Smart Week so they will receive communications from the organization.
Visit the Money Smart Week website to find events in your area, resources and contact information.
House Resolution 56 declaring April 18- 25 as Money Smart Week in Michigan was adopted on April 15. The resolution was sponsored by Rep. Henry Yanez, D-Sterling Heights, as requested by the MCUL & Affiliates. Click here to download the resolution.
Go to main navigation