Former MSUFCU CEO to Lead DIFS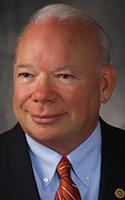 McPharlin
Former MSUFCU President and CEO Patrick McPharlin didn't sit idle for long in his retirement. Just a few weeks after he officially hung up his hat at MSUFCU, Gov. Rick Snyder announced Tuesday McPharlin will be leading the Department that oversees Michigan state-chartered credit unions.
McPharlin will become the director of the Department of Insurance and Financial Services starting next month, according to a press release from Snyder's office.
McPharlin's resume includes extensive service to the credit union industry. He served as CEO at MSUFCU for 14 years after starting his career at the credit union in 1973. His achievements include: growing MSUFCU's assets from $546 million to more than $2.6 billion and increasing membership from close to 97,000 members to more than 183,000 members across the country, according to MSUFCU. During his tenure, MSUFCU was also recognized as the Top Large Workplace by The Detroit Free Press and as one of West Michigan's 101 Best and Brightest Companies to Work For by the Michigan Business and Professional Association.
McPharlin's breadth of experience and expertise make him the ideal candidate to oversee credit unions and financial institutions as the leader of the state's regulatory body, said David Adams, President and CEO of MCUL & Affiliates.
"Michigan will be well served with Pat McPharlin at the helm as the new director of DIFS," Adams said. "Pat's extensive financial services experience and his knowledge of what constitutes an effective 'safety and soundness regulatory balance,' will equip him to help financial services companies and their customers thrive in Michigan's growing economy."
"Pat has an exemplary record of service in the private financial sector," Snyder said in a press release. "His leadership in growing a company based on customer service and strong community relationships will bring great value to this role that connects directly with residents and employers. With Pat at the helm, we can continue to ensure strong consumer protection and information while helping position the insurance and financial services sectors for continued economic growth statewide."
Ann Flood, the current director at DIFS, will be leaving office on May 15 to return to the private sector. McPharlin will start May 18.
Go to main navigation