MCUL's Adams Honored with Farley League Leadership Award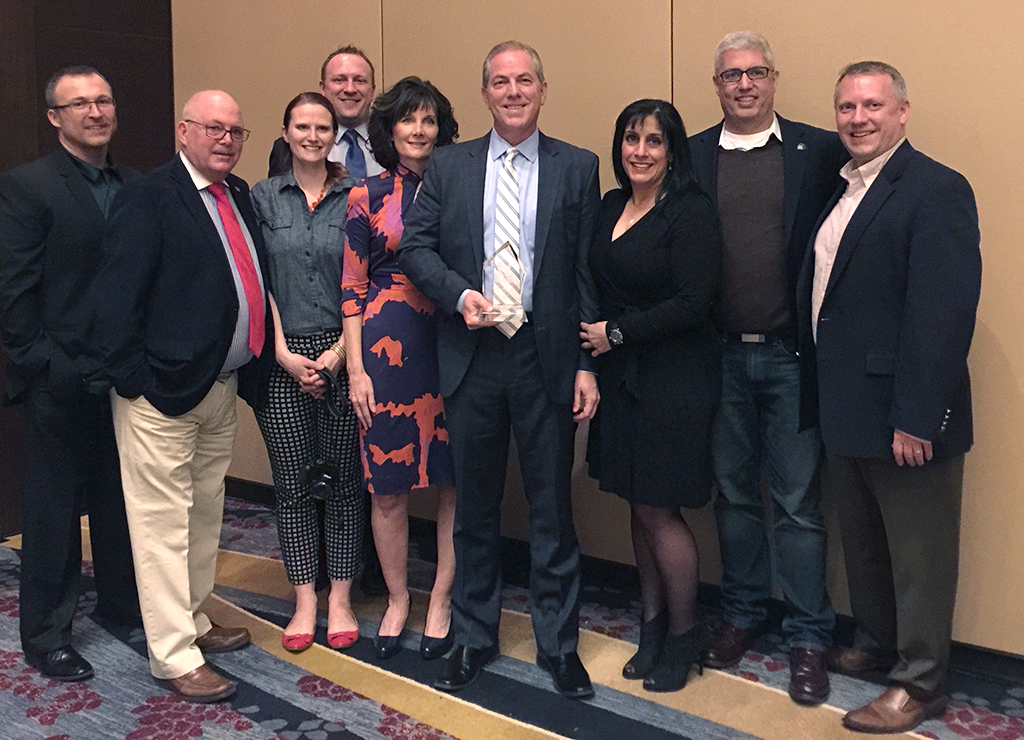 David Adams, center, accepts the Farley League Leadership Award at the CUNA GAC.
WASHINGTON – MCUL & Affiliates CEO David Adams was awarded the 2015 Farley League Leadership Award Saturday prior to the opening of the CUNA GAC.
The American Association of Credit Union Leagues presented the award to Adams at a reception Saturday.
"We are pleased to recognize Dave's enormous achievements with this award," says Rick Pillow, Virginia League CEO and member of the Farley Award Committee.
Adams has been MCUL CEO since 1997. Prior to joining MCUL, Adams was CEO of the Washington CU League, now the Northwest CU Association, and LSI Inc. for six years. He also was on the staff at the Utah CU League for eight years, including the last three as president/CEO.
Tony Carnarvon, chairman of the MCUL board, said Adams is very deserving of the award.
"What an honor it is for Dave to be recognized with the prestigious Farley League Leadership Award," said Carnarvon, president/CEO of Zeal CU. "I couldn't think of a better person to receive this honor, as Dave embodies all of the qualities that this award represents. He is truly a visionary leader who takes care of the present but always looks toward the future to provide Michigan Credit Unions with significant value and innovative programs.
"Dave is a man of integrity with a persistent drive for improvement and growth both at the state and national levels with his cooperative spirit. Michigan Credit Unions are well served with Dave at the helm. On behalf of all Michigan Credit Unions, congratulations Dave on receiving this award and thank you for all you have done for Michigan Credit Unions."
Long-time friend and colleague Drew Egan, president and COO of CU Solutions Group, said Adams is a visionary leader.
"I would like to congratulate Dave Adams as he receives the prestigious Gene Farley League Leadership Award for his life-long contributions to the national credit union system," Egan said. "He has been my leader, mentor and friend for 30 years. During this time I have been an observer of his vision, leadership and entrepreneurial spirit. I think he is one of the greatest visionaries of our time and most deserving of this honor and recognition."
MCUL EVP/COO Ken Ross said Adams deserves the award because of his exemplary service to the credit union industry.
"This award is well deserved and long overdue," Ross said. "Dave has spent his career as a relentless advocate for credit unions in Utah, Washington and Michigan and the results of his passion to advance the movement speak for themselves."
A native of Utah, Mr. Adams received a bachelor's degree in finance from the University of Utah before earning his master's degree in business administration from Utah State University.
Adams led the creation of CU Village, a web services company that later became CU Solutions Group. He spearheaded the creation of what has become Love My Credit Union Rewards, an affiliate marketing program designed to help members save money on goods and services such as cellphones and General Motors cars, as well as help credit unions earn noninterest income.
The award is named for Eugene H. Farley, who served the Virginia CU League for 40 years, including 33 as CEO.
Judges evaluate nominees for qualifications including: visionary leadership at the state level; focus on cooperation with the CU system; display of personal values of commitment to purpose, service to others and integrity; and substantial participation as a leader (and "co-operator") at the national level.

Go to main navigation