Community Financial CEO Testifies Before Financial Literacy and Education Commission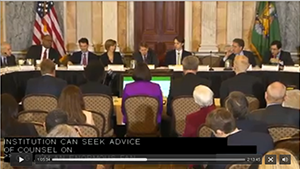 WASHINGTON – Bill Lawton, CEO of Community Financial in Plymouth, said financial education has been a hallmark of his credit union's service to the community for decades.
Community Financial operates 41 in-school credit union branches at area schools, with the first opening in 1990. Lawton shared that Community Financial is just part of the effort of 49 Michigan credit unions that operate 308 school credit unions in the state.
"Our board recognized this as important work we do in our communities and asked us to do more," Lawton said.
In addition, Community Financial takes part in teaching Junior Achievement and offers financial literacy life skills workshops. It also hosts Teen Financial Reality Fairs at local schools.
Besides learning financial life skills, more than 1,700 student volunteers got their first opportunity to interview for a job and probably their first work experience in the last school year.
"Our student volunteers get a real-life work experience, which has been invaluable to them," Lawton said.
While Lawton knows that in-school credit unions are good for financial literacy, there is at least some evidence that it is good for business as well. He said 58 percent of the 11,562 accounts opened in schools are still active. More than 10 percent of Community Financial's current accounts were active in a student run credit union over the last 20 years.
Still, Community Financial invests about $250,000 each year into its financial education programs.
"The return is very long term and has not been validated," he said.
Tracking effectiveness can be a challenge as well.
"We get the best value from this program if our focus is on the wellbeing and success of the youth we are working with, Lawton said. "If we tried to commercialize the program by selling to parents or students, we risk jeopardizing the trusting relationship we need to teach financial literacy successfully."
Lawton told the commission that he thinks it should look for financial literacy success stories, then promote them. The commission can also help provide turnkey solutions for credit unions to teach financial literacy.
"Help make teaching life skills a part of our schools' financial success," Lawton said.
Go to main navigation