St. Joseph/Benton Harbor Chamber Recognizes Honor CU with Two Awards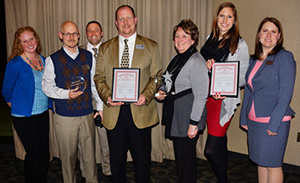 From left are Megan Hendrix, project manager/executive assistant; Jeff Pisarsky, vice president of marketing; T.J. Kempf, vice president of lending; CEO Scott McFarland; Shari Weber, chief administrative officer; Kaylee Williams, public relations coordinator; and Tanya Urias, St. Joseph branch manager.
Honor CU was recognized as Large Business of the Year 2014 and as a Platinum Stake award winner by the Cornerstone Chamber of Commerce, presented at the chamber's Annual Business Recognition night Feb. 12.
The Cornerstone Chamber of Commerce awards the Large Business of the Year to a local organization that has excelled in a variety of areas including response to adversity, commitment and contribution to the local community, and business growth. Honor's focus on the relationship with members and the communities they serve contributed to the credit union being selected for this prestigious award.
Honor logged more than 2,200 volunteer hours by team members and invested more than $200,000 in local communities in 2014.
Honor was also recognized by the Cornerstone Chamber of Commerce with the Platinum Stake award. The Platinum Stake award is given to local businesses that show a dedication to Michigan's Great Southwest through business growth and capital investment. A 25 percent growth in Honor team employment in the Southwest marketplace and capital investments totaling more than $1 million within the local Southwest Michigan community contributed to Honor's receipt of the Platinum Stake Award. Included in those capital investments were construction projects in Dowagiac, acquisitions and renovations in Decatur and initial construction of a centralized operations center in Berrien Springs.
Go to main navigation