Retired Social Worker Wins $10,000 in Save to Win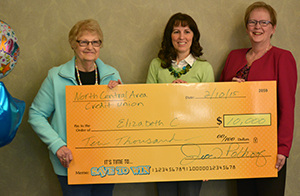 From left: Elizabeth C. of Higgins Lake accepts a check for winning one of six Save to Win Grand Prizes from Tammy Schwalm and Jacci Pothoof of North Central Area CU.
HOUGHTON LAKE – Staff at North Central Area CU honored Elizabeth C. of Higgins Lake on Tuesday as a Grand Prize winner of Save to Win.
Elizabeth, a retired social worker and a member of the credit union since 1978, said the payout is by far the largest prize she's ever won.
"The most I've ever won was cake in a cake walk when I was a kid," she said.
North Central CEO Jacci Pothoof said the credit union was proud to have a Grand Prize winner.
"It's just exciting, it's a good program and it's just exciting to have a winner this year," said Jacci Pothoof, CEO of North Central Area Credit Union in Houghton Lake.
Elizabeth has a prize-linked savings account through Save to Win. The program rewards people for saving by entering them for a chance to win up to $10,000 for each $25 they save. Members can contribute $250 a month. That's how much Elizabeth has been socking away. She plans to use the money to replace her septic system.
"It's just going to go down the toilet," she said laughing.
Members open Save to Win accounts by making opening deposits of as little as $25. That contribution gives members their first entry into the drawings, and every subsequent $25 deposited gives them another chance to win. Members can contribute up to $250 a month and winners are drawn every month.
The Save to Win Week of Winning continues all week as the MCUL & Affiliates Prize Patrol next heads to the Upper Peninsula with visits to TruNorth FCU in Ishpeming and Peninsula FCU in Escanaba on Wednesday. The Prize Patrol makes it's final visit of the week Friday at First General CU in Muskegon. The Prize Patrol also visited a Lake Trust CU branch in DeWitt and People Driven CU in Southfield on Monday.
Save to Win recently shifted to a multi-state format in which Michigan, Nebraska and Connecticut are combining their resources to expand the program to a larger national platform for 2015. With this new model, more members will win money with monthly and quarterly prizes ranging from $25 to $5,000.
Go to main navigation