CMCCU's Drema Isaac Wins MCUL's Distinguished Service Award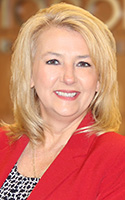 Isaac
MCUL's 2014 Distinguished Service Award recipient Central Macomb Community CU's President/CEO Drema Isaac has centered her career on service to the credit union industry.
The Distinguished Service Award recognizes contributions to the Michigan credit union movement.
Isaac has served at the helm of CMCCU since 2002. During her tenure, assets at CMCCU have more than tripled growing from less than $50 million to more than $170 million.
Isaac's experience in credit unions spans about 20 years. She began her career as an accounting manager and was promoted to vice president at Northland Area FCU.
Some of Isaac's member service accomplishments include: Fresh Start Loans and Fresh Start Accounts to help serve members who've had financial difficulties.
Isaac is also committed to serving outside of work through Make a Difference Day, where she encourages all her employees to volunteer in places like soup kitchens and retirement homes.
Isaac has served as the chairwoman of the Metro East Chapter, which encompasses 35 credit unions, for several years. As chair, Isaac helped form a Charity Committee in 2008 with the goal of combining efforts of several credit unions to make a much larger charity donation. To date, the Charity Committee has donated more than $250,000 while raising awareness of the need to support those in the local community.
Isaac was also selected to participate in Leadership Macomb XVII, which is centered on civic leadership and strengthening community. Isaac graduated in July 2014 alongside 50 other Macomb County leaders.
Isaac will receive her award at the MCUL Honors Awards Breakfast on June 6 at the Annual Convention and Exposition at the Grand Traverse Resort & Spa near Traverse City.
Go to main navigation