There's Still Time to Register for the 2015 CUNA GAC in Washington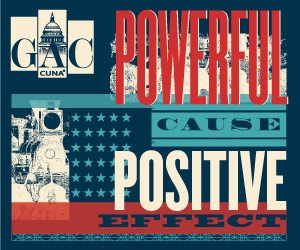 Registration is still open for the 2015 CUNA GAC, taking place March 8-12 at the Washington Convention Center in the nation's capital. The GAC will once again feature a full program of nationally recognized speakers, exhibits, and Capitol Hill visits with federal lawmakers.
The MCUL & Affiliates' CUNA GAC Web page has information on the hotel, tentative event schedule, registration, the 2015 Michele Myrick CURE scholarship application, as well as links to CUNA's GAC website for additional information. http://www.mcul.org/cuna-gac
New in 2015, The MCUL & Affiliates' hotel room block is in the new Washington Marriott Marquis, located across the street from the convention center. It is connected to the convention center by an underground concourse.
Hotel reservations under the MCUL's discounted block may be made by booking online and using the access code Diamond2015 until Feb. 11, 2015, or until all rooms are utilized. As a reminder, any hotel changes and cancellations had to be made by Jan. 12, 2015, to receive a full refund.
Questions regarding the 2015 CUNA GAC should be directed to Political Affairs Coordinator Melissa Osborn Melissa.Osborn@mcul.org.

Go to main navigation