As 2016 comes to a close, the Michigan Credit Union League & Affiliates has a lot to be proud of. In the last year, MCUL lead the way toward dues choice within the CUNA/League system, attained 100 percent MCUL affiliation and orchestrated the signing of our State MCUA update at our Annual Convention & Exposition (AC&E) in June.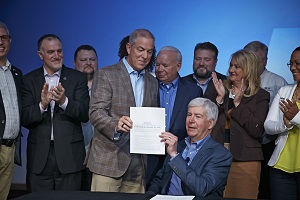 Now, we've begun planning our steps for 2017, as I'm sure you're planning your budget for the coming year. We encourage you to continue to affiliate with the CUNA/League system. It's your support that allows us such successes as the MCUA update, expands reach in cooperative advertising and paves a smoother path on the fight for regulatory relief.
Our partnership with CUNA exemplifies a strength in unity, and the League's 100% affiliation provides a unified front to represent to lawmakers when we gather on the Hill, as well as the Capitol in Lansing.
Speaking of heading to the Hill, at the end of this month we're heading to Washington for our annual Hike the Hill event. We're excited to bring 45 credit union leaders along with us to meet with their lawmakers. This event goes a long way toward making sure legislators and regulators at the state and federal levels understand how important credit unions are in their communities and the real value of the credit union difference.
Lawmakers tell us again and again how important it is to hear your personal stories. This helps them put a face to the legislation they are considering. You can make a big impact by participating in a grassroots event.
Your participation makes all the difference. I encourage you to share your stories of how your credit union is helping people in the communities you serve to meet their financial needs.
For example, we have an open Congressional seat in the 10th district. MCUL is supporting Paul Mitchell for the seat against former state Representative Frank Accavitti. I encourage you to invite him into your credit union in order to campaign on behalf of the credit union movement.
Besides talking with legislators, there are other ways you can help our industry. You can continue to support MCUL's advocacy efforts by promoting our PAC programs, including our Lapel Pin program and the Grand Raffle. There's still plenty of time to purchase tickets, so place your orders today.
Going forward, our advocacy efforts are focused on asking the Consumer Financial Protection Bureau to reconsider their recent rule proposals. Last month, I mentioned the CFPB has three proposals out that may impede regulatory relief for credit unions. One of those is the rule "Payday, Vehicle Title, and Certain High-Cost Installment Loans."
The CFPB's proposed rule has the potential to affect credit unions that participate in the NCUA's Payday Alternative Loan program or those that offer small-dollar or short-term loans at state-chartered institutions. It also has the potential to affect those that offer auto refinance loans.
The Bureau's aim with the proposal is to restrict lenders from giving out loans that consumers do not have the ability to repay. For instance, there would be restrictions on loans that target customers with current or recent outstanding loans.
While the rule is intended to prot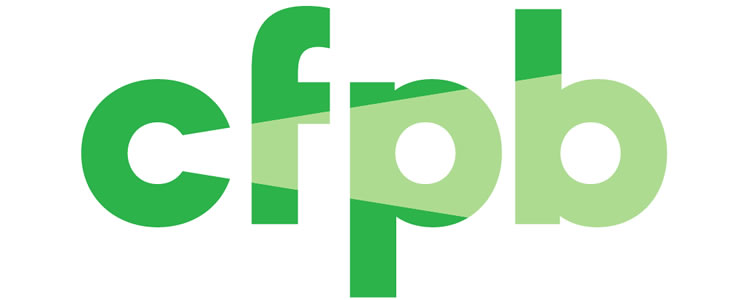 ect consumers, CUNA is concerned that the Bureau's proposal is misguided due to how it may adversely affect core products and services of the credit union industry, which would in turn negatively impact consumers.
Both CUNA and MCUL are advocating for the CFPB to continue protecting consumers without threatening credit union services, such as payday loans. We're happy to say that Congress has shown us overwhelming support on this rule proposal. A letter requesting the Bureau to exempt credit unions from certain rules that should only target predatory institutions was signed by 70 U.S. senators, including Michigan's Gary Peters and Debbie Stabenow. An earlier letter that circulated in the House of Representatives was signed by 12 of Michigan's 14 members of Congress.
This Senate letter asked that the CFPB more carefully consider the work that community banks and credit unions do for their members and tailor their rules accordingly, instead of disrupting the healthy financial services that we provide to their communities. The U.S. Senate specifically cited how credit unions help members start small businesses, buy homes and cars and send kids to college.
How can you help? Our Governmental Affairs department is requesting comments from consumers regarding payday loans, until its deadline on October 7th. Following that, MCUL will be sending an official comment to the Bureau.
Whether it's by attending events or being proactive in writing and soliciting comment letters on important issues, we need to present a unified front. There is power in numbers, and 4.9 million credit union members can speak with a powerful voice.
One of the most important pieces in highlighting the strength of the credit union difference is our cooperative advertising campaign, CU Link. Our 2016 Steps campaign is currently being refreshed for 2017. Our goal is simple:
Serve as a voice for Michigan's credit unions
Encourage a deeper share of wallet and
Give millennials a path to finding a credit union near them
So far, the 2016 Steps campaign has accomplished this goal within all advertising arenas.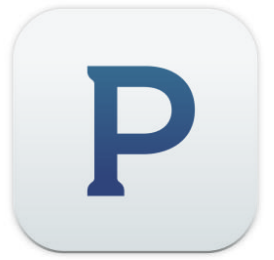 While many of you may have watched our ads on cable or heard them in your car, we've expanded our reach into the digital space with great success. Our sponsored listening buys in Pandora have resulted in more than 124,000 consumer engagements, higher than the financial/banking benchmark of other advertisers. Adding our sponsored listening to our banner ad placement, we've received more than 216,000 clicks just from Pandora alone.
Additionally, our digital display and paid search are resulting in a positive ROI. The click thru rate for digital ads is performing 24% higher than the industry standard and paid search is performing 10% higher than the industry standard. But where do we go from here?
As we move into 2017, we're expanding our campaign into the social media space. We hope you make a point to "like and follow" our Facebook and Twitter pages. As we engage with our nearly 20,000 Facebook followers, feel free to share our posts and engage with us on social media. The viral expansion of our collective message benefits all of us.
While these are great successes, we cannot do it alone. As you're planning your 2017 budgets, I encourage you to participate with CU Link at a full share level. It's in this cooperative participation that we are able to reach the greatest number of people and promote the CU Difference.
Moving on to Education, our team is wrapping up a month full of exciting events, which is capped with MCUL's Intentional CU Leadership, presented by the People and Performance Institute. By working with industry-experts Tim Harrington, Mark Arnold and Kevin Smith, attendees will have the opportunity to refine their Individual Development Plans in conjunction with their peers.
In other news, the CU Solutions Group CUBE TV team just returned from a trip to the east coast where they filmed five new segments for the forthcoming documentary Just Getting By. With stops in Massachusetts, New York and Washington, D.C., the team was able to capture some truly powerful footage. As many of you will remember from the AC&E, Just Getting By tells the emotional story of everyday Americans as they struggle through financial hardship. Credit unions like yours often prove to be their last and best hope, and it's important that this be visible to more Americans.
With this documentary as its cornerstone, Just Getting By will be a full-scale, marketing initiative available to credit unions nationwide. All credit unions will have access to the full-length documentary, a series of short vignettes, turnkey video customization, social media assets, co-branded microsites and marketing collateral. The documentary and marketing pack are scheduled for release in the first quarter of 2017, and I urge all credit unions to start making plans around this powerful new initiative.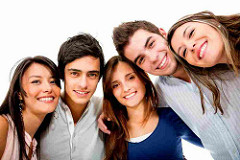 Our Marketing Solutions team has also been busy collaborating on production work for the upcoming LifeSteps campaign. LifeSteps, set to release in October, is a turnkey marketing campaign that focuses specifically on millennials. Through a series of focus groups and other qualitative inquiry, we've uncovered some interesting findings. With this age group, there exists a prevailing belief that credit unions only cater to mature account holders and the wealthy…that credit unions limit access to ATMs and that you need to be a part of a closed group even access services. You and I know that this couldn't be further from the truth, but there's a substantial portion of this generation that doesn't have an accurate perception of credit unions. We need to change that.
Through the LifeSteps campaign, all credit unions will have free access to a consumer-facing microsite and a social media network connection. Credit unions will also be able to purchase an array of campaign materials including action plans and playbooks, turnkey video customization, marketing collateral, curated social media content and co-branded microsites for local use.
For more details and product videos for both Just Getting By and LifeSteps, visit CUSolutionsGroup.com/New.
Credit unions are well aware of the importance of staying visible with current and potential members, but as new and innovative channels continue to emerge this is becoming more and more difficult. If your credit union would like to amplify its social media presence, but isn't able to allocate the resources in-house, FocusIQ has a new social media service for credit unions.
Whether you're preparing to launch your first social media profile or are in search of advanced engagement tactics, Social Accelerate is scalable to the budget and needs of all credit unions. Through this service, we're offering tools like Social Snapshot, an initial audit and evaluation of your current presence; Social Playbook, an underlying social strategy tailored to your credit union's needs and opportunities; and Community Management—a complete hands-on administration of your credit union's social media accounts.
In other developments, Performance Solutions and Technology Solutions are finalizing a new batch of updates to Performance Pro. Expected to release at the end of October, Performance Pro 3.8 will include enhanced filtering tools aimed at increasing efficiency, self-service tools that expand client accessibility, and a new advanced search feature. Updates will continue as the teams work toward our highly-anticipated, large-scale release of Performance Pro 4.0 in late 2017.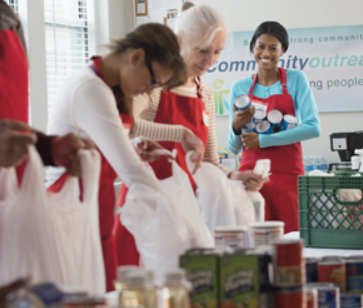 We have good news for credit unions currently offering the Sprint Credit Union Member Discount to their members. Effective September 2, the Love My Credit Union Rewards Sprint Credit Union Member Discount is the only Sprint affinity program offering a $100 rebate. That means that in addition to the 10% discount on monthly Sprint service, credit unions will be the only place that consumers will be able to access a rebate. This exclusive promotion runs September 2 through December 31, so if you've been waiting to market Sprint to your members, this is an excellent opportunity.
Finally, an update on our second annual Love My Credit Union Campaign. Consumer viewing and voting goes live at VoteLoveMyCU.org on October 1. If your credit union or credit union support organization has already submitted a video, make sure to encourage your members to vote early and vote often. For every vote cast, they're automatically entered to win a $500 gift card and a $500 charitable donation made on their behalf to a charity of their choosing.
Credit unions and support organizations that haven't uploaded a video—there's still time! With state-level prizes, and monthly prizes based on asset size category, there are plenty of chances to win. At the very least, you're able to show your members the positive impact that you're making in your community, so we encourage you to submit your video as soon as possible. To access helpful tips, official rules, webinars, free marketing materials or to upload your video, visit LoveMyCUCampaign.org.

Looking ahead to 2017, I want to ask that you keep the League's annual spring conferences on your radar. Our Government Affairs Conference will be coming up April 26 & 27, in Lansing, and our Annual Convention & Exposition, held June 8-10, is moving to Grand Rapids, next year.

We look forward to seeing you there. Thank you for watching, we'll see you next month.