By Dave Adams
Welcome to this month's Priority Report. This is my opportunity to update you on some of the most important issues facing the Michigan credit union industry and to tell you what MCUL & Affiliates is doing to help your credit union thrive in a changing industry. As usual, it's been a busy and exciting few months.
As I have been saying for some time now, here in Michigan, we encourage our credit union community's strong support for an interdependent CUNA/League System.
However, after listening to the needs of our membership, we made the decision to allow credit unions to affiliate solely with MCUL instead of requiring credit unions to affiliate with both CUNA and MCUL. Still, we strongly encourage all MCUL member credit unions to affiliate with CUNA, and we trust that credit unions will do so.
Dues Choice Decision
Starting in 2016
MCUL-member credit unions can choose membership with MCUL independent of CUNA affiliation
99 percent of MCUL-member credit unions choose League/CUNA membership option
Strength in Unity campaign encourages dual membership
What this means is beginning in 2016, Michigan credit unions will have the freedom to choose membership with the MCUL or with MCUL and CUNA as a package. The latter is the option 99 percent of our credit unions currently choose. In Michigan, there are only four credit unions that don't affiliate with MCUL. We hope that our direct-membership option will move the needle closer to 100 percent credit union affiliation in Michigan. Wouldn't't that be a demonstration of Strength in Unity!
Speaking of "Strength in Unity," that is the name of a communication campaign we are unveiling. The campaign will reinforce the benefits of the CUNA/League System, our interdependence and our desire to deliver results in removing barriers, promoting the credit union difference and providing solutions for service excellence. This campaign will include several facets.
First, we hope to have a special conference call within the next three weeks that will invite our credit union leadership to discuss the recent membership changes and the positive implications for credit unions. I strongly encourage you to participate in this informal conversation with me and my senior team.
Second, our League Representatives will be actively talking with each of you on the phone and in-person to share information and to answer any questions.
Third, we will continue to work in lockstep with CUNA to deliver exceptional value in all areas including advocacy, public relations, education offerings and information solutions as well as any fee-based services.
Strength in Unity begins with affiliation. So, while it is true that the National Association of Federal Credit Unions (NAFCU) has opened up its membership to state-chartered credit unions and is offering free or reduced-cost affiliation, I simply ask you to consider that if something appears too good to be true, it may well be.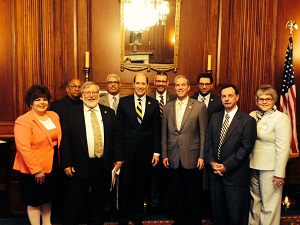 Former Rep. Dave Camp (fifth from left) meets with MCUL and credit union advocates during Hike the Hill in 2014.
No other association framework can compare with the CUNA/League System. Local, grassroots-driven advocacy efforts get results. And you know that because you've supported this for many years. Think of our successes working alongside former Committee on Ways & Means Chairs Rep. Dave Camp (R-Midland) and Rep. Sandy Levin (D-Royal Oak) and how we have contributed to the preservation of our tax exempt status. Also consider how our successful CUNA/League lobbying efforts have helped achieve exemptions from the Consumer Financial Protection Bureau and from the reduced debit interchange schedule in the Dodd-Frank Wall Street Reform and Consumer Protection Act. In addition, consider the good work that CUNA and MCUL have done in Lansing and other state capitols to achieve a stronger, better charter for our state-chartered credit unions.
With the MCUL Board's announcement that direct membership is now permissible in Michigan, we have addressed the controversial dual membership issue in Michigan and now its time to move on with stronger, more effective execution on your behalf in all that we do.
Strength in Unity begins with affiliation, but it also includes support for the MCUL CU Link cooperative advertising campaign, support for our state and federal PAC funds, support for the A Stronger Financial Michigan Defense Fund that can take corporate contributions and your personal engagement in grassroots lobbying and networking.
The strength that comes from unity is a hallmark of the credit union movement, and we need it now more than ever.
So, here are a few exciting changes in our membership requirements and our dues schedule for next year. This information below applies to both MCUL and CUNA.
First, as MCUL continues to reduce its membership dues - which by the way are now just 20 percent what they were a dozen years ago - beginning in 2016, we will no longer be paying dues rebates. Instead, if our credit unions support CU Link at just a minimum level ranging from $5 to $2,000 based on size, credit unions' dues will be 50 percent less than they were in 2015. In other words, our board has committed to 50 percent lower dues levels for credit unions that support cooperative advertising. This effectively codifies the dues rebates that we have been paying for the past four years.
CU Link
Dues rebates replaced with CU Link discount
Dues 50% less than in 2015
Second, for our approximately 33 credit unions with assets under $10 million, nominal membership dues of $10 will be assessed. Just $10! In some cases, this will save these small credit unions as much as $1,400 per year in annual dues. This is an example of the MCUL's commitment to help small asset size credit unions.
Third, as I previously stated, the MCUL Board has heard your input and has authorized direct membership with the MCUL regardless of CUNA affiliation. Again, this isn't a license to not pay your CUNA dues, or an encouragement to disaffiliate from CUNA. We simply trust that you will continue to support CUNA voluntarily on the merits of that decision, just like you do for MCUL and for CU Link, and for PAC giving. You do it because it has value, not because you're required to do so. A voluntarily funded trade association system engenders trust and satisfaction with the membership. Long-term, that means Strength in Unity!
Fourth, CUNA CEO Jim Nussle recently announced that reductions in CUNA dues are coming in 2016 as well. We're excited to hear that and this will also contribute to greater member satisfaction nationally.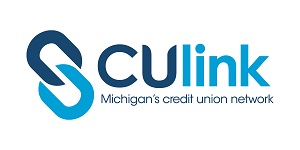 These are just a few positive developments that will contribute to the Strength In Unity message that we continue to foster as CUNA and MCUL work together in lockstep.
On a related note, I sometimes hear concerns that we have two competing national associations, CUNA and NAFCU, that sometimes create duplication in services and even compete against each other in trying to "one-up" each other on policy issues versus finding ways to unite. I think there is some truth to that concern. However, I don't think that the leadership of these organizations will ever solve that problem. The only way to achieve strength in unity nationally is to have all credit unions support one national association.
CUNA requires and deserves our Michigan industry support now and in the future if we are to be successful in our advocacy efforts. And although CUNA dues are lower than NAFCU for the vast majority of credit unions, it is true that for larger credit unions, the price of membership with CUNA is higher than NAFCU's. And I'm pleased that CUNA is working to reduce its dues beginning next year. But low-cost providers don't always provide the best services and achieve the best results. We all know that we usually get what we pay for.
This is true of CUNA as well. Only an interdependent CUNA/League System can achieve long-term advocacy results that include the preservation of our tax exemption, real regulatory relief and updates to our state and federal chartering laws. If your credit union chooses to support NAFCU in addition to the CUNA/League System, that is a separate matter. There certainly may be benefits to considering that option.
In addition to this update on membership, here are some quick highlights of other activities.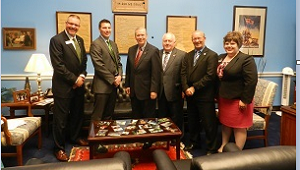 Rep. Tim Walberg (third from left) meets with credit union advocates during HTH 2015.
More than 30 Michigan credit union leaders joined with CUNA recently in Washington to meet with lawmakers and regulators from NCUA and CFPB to address important issues like our tax status, reducing regulatory burden, the need for data breach legislation, expansion of MBL authority and concerns about proposed NCUA and CFPB regulations associated with risk-based capital and courtesy overdraft fees.
We're also preparing to introduce our next update to the Michigan Credit Union Act in Lansing that will seek trust power authority and important fixes to the supervision and examination process for state chartered credit unions.
The MCUL is introducing its next CU Link creative with the new Steps campaign. We enjoy close to 70 percent participation currently with this strong, effective, well-funded campaign. More than 66 credit unions participate at the full, fair-share funding level and we hope to drive that even higher. As we get our message out there promoting the credit union difference, it helps all of our credit unions build their service usage and it also helps us with our advocacy e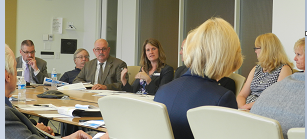 Credit union advocates meet with representatives from the CFPB during HTH 2015.
And by the way, we're moving the needle together. Our Strength in Unity via cooperative advertising has helped fuel the strongest membership growth in 27 years and the strongest loan growth seen in over 20 years, according to the latest NCUA call report data.
In our education area, we're coming off a very successful Fall Leadership Conference, Executive Summit and Chapter Leaders conference. Our team is looking at ways to partner with neighboring states to expand and enhance our offerings and to deepen our partnership with CUNA for remote learning opportunities.
CU Solutions Group continues to innovate and expand programs in all departments and we're looking forward to another strong financial year that will enable us to pay a dividend to our credit union owners and to add value to the MCUL by helping to keep dues low.
This CUNA/League System that you have supported through Strength in Unity will continue to get better and better and as it does our industry will continue to grow and prosper.
Thanks for reading and thank you for helping us all achieve Strength in Unity. Through that strength, we hope to achieve improved laws and regulations, more effective messaging and greater access to all that credit unions offer.
Together, we can.