Federal | State | Regulatory | CU Link | MCUF | Education | CUSG
October 2020
Welcome to the October 2020 Priority Report. We hope this report finds you healthy and energized as we find ourselves in another beautiful fall season. This is a busy month for our team as we are wrapping up our "Hike from Home" where we were able to connect with our Michigan Congressional delegation virtually. Thank you to those who joined our Zoom calls as we continue to push forward on our key issues. The advocacy we engage in is a cornerstone of our association and it can only be successful with your engagement. While we missed visiting our nation's capital this fall due to the pandemic, the virtual visits have been a success. While most lawmakers are focused on the Supreme Court and the election, we are still beating the drum for PPP forgiveness, support for the Hardest Hit fund, data breach and BSA reform, among others.
This month has really been unprecedented in DC and here in Michigan as it seems almost daily we awake to another big news story. Trying to secure a Phase 4 stimulus package during an election has unfortunately evolved into a very partisan issue. While some lawmakers are optimistic that some additional legislation will make it through, at the time of recording this message, whether that would be successful is unknown. We will, of course, continue to monitor and work with congress.
On the state side, with the Executive Orders now overruled, we have continued to monitor requirements from the Department of Health and Human Services. Several requirements relating to masks and public gatherings that were previously in the Executive Orders have been included in the DHHS order. We update our MCUL COVID resource section when new orders come forward and highlight how they impact credit unions. Our team also continues to work with Michigan lawmakers on e-notary to make sure that credit unions can continue to support members in the virtual environment.

Our CU Link campaign continues to have high engagement as we continue to connect with members and Michiganders, communicating how credit unions are here for them during these challenging financial times. The number of connections we have made with the campaign has been impressive and couldn't have been done without credit union support. We are working on the campaign for 2021 and are excited to share the new theme with you in the coming weeks.
Finally, on the CU Solutions side, I will talk about our new LMCUR Resource Center and Technology Solution's new financial stability index tool, as well as details on plenty of new updates for Planning Pro, Performance Pro and the CU Risk Intelligence suite.
Once again, we have broken each section out to its own video segment. I encourage you to navigate each department's section for thorough updates on everything I mentioned here. As always, thanks for watching this month's issue of Priority Report.
---
Starting with our advocacy agenda, MCUL's annual Hike the Hill, dubbed "Hike at Home" for 2020 due to the virtual nature of this year's event, kicked off on Oct. 5 and concluded on Oct.15. Participation in this year's Hike was up significantly from previous years, with approximately 80 credit union leaders registered. Typically, our in-person Hike on Capitol Hill usually garners around 45-50 advocates. We're pleased by the increased interest in the event and will work to ensure new participants stay engaged in the credit union grassroots advocacy movement in Michigan.
Credit union leaders met with 13 of our 14 U.S. House offices. Congressman Amash, who is not seeking re-election in 2020, was not available to meet. We also met with U.S. Senators Gary Peters and Debbie Stabenow. Advocates discussed pressing legislative priorities, such as PPP forgiveness legislation, the creation of a housing assistance fund and increased CDFI funding with the offices, along with priorities that have been with us for a while now, including: the credit union tax status, data security, updating the Federal Credit Union Act and cannabis banking.
In addition to our meetings with the congressional delegation, we also met with NCUA Chairman Rodney Hood on Oct. 7. Our advocates discussed the examination environment and net worth concerns, share insurance fund issues and some specific issues caused by COVID-19-related deposit influx. Chairman Hood was joined by NCUA's Eastern Regional Director, John Kutchey.
The 2020 Hike was a success as credit union advocates were able to educate federal policy makers and their staff on our issues. We received a number of commitments from members of the delegation to co-sponsor legislation that's important to our movement both in the current Congress and in 2021 when the new Congress is seated.

For more details on the event, go to MCUL.com.
Before I turn to state advocacy issues, I did want to mention briefly that Congress and the White House are continuing to discuss potential Phase 4 legislation. Nothing is certain at the moment, but we will continue to monitor progress on the bill and will keep you apprised of any developments.

On the state side, the Michigan Supreme Court ruled in favor of the legislature and held that the Governor does not have unfettered ability under the 1976 Emergency Management Act and 1945 Emergency Powers of Governor Act to continue to institute Executive Orders following the legislatures refusal to extend the state of emergency and state of disaster orders on April 30, 2020. This means that all of the Executive Orders issued from April 30 until present day are unenforceable.
The Supreme Court also held that this finding by the court is effective immediately. DIFS has issued a bulletin on the matter as well. The legislature returned to work with the Governor to put in place certain protocols for COVID-19.The issues addressed during their return pertain to nursing home measures, unemployment insurance, e-notary/remote notary, and COVID employer liability legislation. The Michigan Department of Health and Human Services has issued emergency orders under their authority which reinstates much of what was in the Governor's Executive Orders pertaining to the usage of masks and limitations on gatherings. For the summary and full text of this Emergency Order and the DIFS bulletin, please visit our website.
On the legislative front, our team is continuing to push the legislature to enact common sense data breach notification legislation (HB 4186-4187) with that being said the legislation was given an initial hearing in the Senate Regulatory Reform committee and met with a new point of opposition from the retail and manufacturing sectors, as it relates to a financial institution exemption to the legislation. Our team is meeting with members of the committee and members of the Senate to explain why that exemption is in place. A second hearing on the legislation is expected following the November election.
The team, along with a coalition of over 40 other trade associations and business groups was able to further legislative actions aimed at protecting employers from liability during the COVID-19 pandemic. Legislation was passed and is expected be signed by the Governor which would grant immunity to a business from liability for contraction of COVID-19 if the entity complied with all federal, state, and local requirements and standards. The legislation is retroactive so businesses would be covered from March 1, 2020 going forward. Also included in the legislation, is a provision in the event that there is a de minimis deviation from strict compliance with the previously mentioned guidance which would still afford the employer some protections. The legislation is a great step towards protection employers in the state and we are thankful to have been a part in getting this legislation to the finish line.
Finally, legislation addressing criminal justice reform specific to expunction was signed by the Governor (Public Acts 187-193 of 2020). The bi-partisan package addresses when low level crimes should be automatically expunged as long as a number of factors are met. Our teamwork with others in the business community to ensure that crimes that were eligible for this new automatic expunction were not ones of dishonesty, financial crimes, or moral character. The legislation also has safeguards built in for employers. We are very thankful to have had a part in shaping this legislation.
On the appropriations front, we were successful in getting both of our budget requests included in the FY21 budget. $600,000 for e-recording funding was included, as well as, $1 million for the Michigan Saves program were include in the budget. Our team is extremely grateful for the inclusion of both of these appropriation priorities.
On the Regulatory side, our team is preparing our regulatory advocacy agenda and regulatory priorities for 2021-2022. We will be assisted by the State and Federal Issues Committee and the Government and Political Affairs Forum on determining the most important issues to our membership.

We have also been working in conjunction with Strategic Advisory Solutions to provide top-notch compliance resources, as well as to determine what helpline issues may be addressed via legislative action. A video outlining how and where to find compliance resources has been produced and will be available shortly to assist credit unions in more easily finding answers to their compliance questions.

During our Hike at Home event, we had the pleasure of meeting with NCUA Board Chairman Rodney Hood. He was able to touch base with credit unions on a number of topics of importance and answered some key questions during the meeting. He addressed ongoing COVID-19 crisis issues, including capitalizing interest on mortgage loans, the delay of the risk-based capital rule and executive orders to reduce regulatory burdens. He also touched on virtual examinations, the share insurance fund and subordinated debt among other topics.

Our team and the Compliance Network is working on a meeting pertaining to the implementation of ELT with the Secretary of State and DIFS. This meeting will take place in Q4; more details on this will be sent out shortly.
We will have more to share on these virtual meetings in the near future. And as always, you can find detailed information on all of these issues on our website, MCUL.org.
---
In Consumer Awareness, I want to give you an update on our latest direction with the CU Link campaign.
The MCUL marketing team is working in tight collaboration with our partners DP+ and CUBE TV on developing new 2021 CU Link campaign creative. Messaging is highly focused on Michigan-based consumer needs, such as loan modifications and credit union resources by emphasizing a sense of togetherness and community, while highlighting the benefits of the credit union difference in their everyday lives. I look forward to showing you a preview of the new campaign in next month's report.
Our MCUL marketing team is also working in tandem with the Michigan Solutions team to identify benefits and resources that will maximize support and outreach for credit union marketing teams in the year ahead. From consumer awareness research to customizable video assets or social media collateral, our teams are collaborating to not only launch a new campaign but offer top-of-the-line integration products and services to engage members and bolster marketing activities.

We look forward to showing the new collateral and benefits next month on our MCUL website, in the November Priority Report video and across social media.
---
Regarding the Michigan Credit Union Foundation, this month, the foundation is funding solutions for remote financial education. The new school year is already in swing, and we know there are limited opportunities for in-person student interaction.
Modifications have been made so that the Financial Reality Fair can be conducted remotely with the student app and a credit union facilitator. A series of four virtual Financial Reality Fairs is being conducted in October for teen participating in the Detroit Police Athletic League (PAL) fall baseball teams with the cooperative involvement of financial educators from seven Michigan credit unions.
Elsewhere, nine MCUF Community Reinvestment Grants totaling $25,250 have been approved so far this year. These are for unique credit union community financial health initiatives that the Foundation will help expand. This is in addition to the 28 Community Crisis Grants given earlier in 2020 to help credit unions with COVID-19 community assistance.
Funding is still available this year for MCUF Community Reinvestment Grants to be used to help grow and continue your unique community financial health initiatives, especially those assisting underbanked, low income and underserved areas. Please contact us to discuss any impact ideas you have for this grant opportunity.

EDUCATION
Now for an Education update. In 2020, more than any prior year, Michigan credit unions have needed timely information and training that recognize our environment is rapidly changing. So far this year, 85% of our affiliates have benefited from valuable training delivered by our Education team, which included dozens of remote sessions to support COVID-19 related issues -- many of which were offered free to members.
I am proud of how we've adjusted this year to support Michigan credit unions and I'm excited about what lies ahead in 2021. We'll be bringing you training that continues to adapt and work within the parameters of a new normal.
But 2020 isn't over yet! We've just wrapped up this year's Leadership@Eleven in-person series and are still looking forward to the virtual Lending School, supervisory training and panel discussions on diversity, equity and inclusion, as well as human resources and law topics.
Conference dates are also being filled for next year, so watch MCUL.org for more information on the 2021 virtual compliance, lending and marketing conferences all slated for first quarter.
---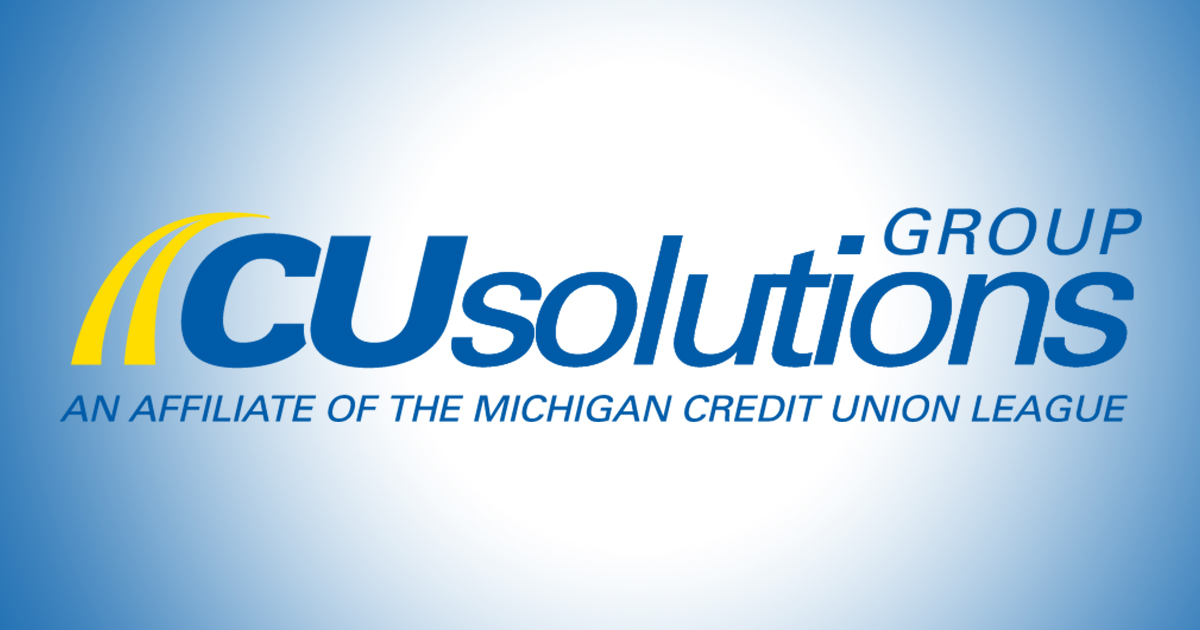 Hello and thank you for joining me for the CU Solutions Group October Priority Report. This month, I'll provide an update on our expanded resources for membership enhancement, new capabilities in our core performance solutions and the latest on some of our recently announced partnerships.
The Marketing Solutions team has just launched a brand new LMCUR Resource Center, where credit unions can register for product and industry webinars, enroll in the Love My Credit Union Rewards program, access partner insights and more. Content will be continually updated to share the best ways to use the LMCUR offers to increase member engagement. If you haven't already, be sure to check out this new resource.
LMCUR is also excited to announce the addition of a new product offering in IdentityIQ, an identity, data and credit theft protection service. Ongoing news reports of identity theft and fraud have many consumers asking their financial institutions what they can do to protect themselves, and this provides an award-winning answer that is only available through LMCUR-participating credit unions.
The new Sentiment and Comment Categorization feature of MemberXP's MemberView successfully launched last month for a beta group of select credit unions. This feature captures and quantifies qualitative data – information that is often overlooked due to challenges of interpretation and reporting. These richer insights into the member journey are already allowing the beta group of credit unions to prioritize efforts for member experience improvement.
Our Technology Solutions team is finalizing the integration of CalcXML's proprietary API with our CMS so that we can offer their highly customizable financial calculators and Financial Stability Index tool (FIST). The FIST tool offers members an instant snapshot of their financial risk exposure in retirement, protection, liquidity and debt management, and includes ongoing recommendations to improve financially stability tied to credit union service offerings and financial educational materials.
The Performance Solutions division has continued to roll out additional updates to our core HR performance platforms. Performance Pro now has an auto welcome email that can be sent to all new users, with the ability to create their password from the email; and it has single sign-on capabilities, allowing users to toggle between Performance Pro and Planning Pro.
Speaking of Planning Pro, we've updated this solution to include an expanded project management functionality that allows non-assigned team members to watch plan components and receive email notifications when updates are approved, and a collaboration tool enhancement so plan participants can send private comments and track the number of unread comments and tasks.
The Strategic Advisory division has moved the CU Vendor Management solution into our CU Risk Intelligence suite. They've also been hard at work mapping out a ComplySight and AffirmX integration, so stay tuned for the announcement when that integration is complete. Strategic Advisory and Performance Solutions collaborated together to create additional compliance courses within The Learning Center.
That's all for our October Priority Report. Thank you for making time to join me and hear about our latest developments and offerings. If you have questions about any of the solutions I've covered, please reach out to us. I'll see you in November with more updates.