Priority Report — Q3 2018
In addition to this month's update on the Michigan Credit Union League (MCUL), the October episode of Priority Report provides a quarterly expanded update of MCUL and CU Solutions Group's (CUSG) year-to-date progress and future priorities.
In the report, President/CEO Dave Adams provides several high-level updates on MCUL and Credit Union National Association (CUNA) efforts before turning to MCUL's new COO, Patty Corkery, for more detailed updates before providing highlights from CUSG.
Michigan Credit Unions Continue to Outpace National Growth in Q2 2018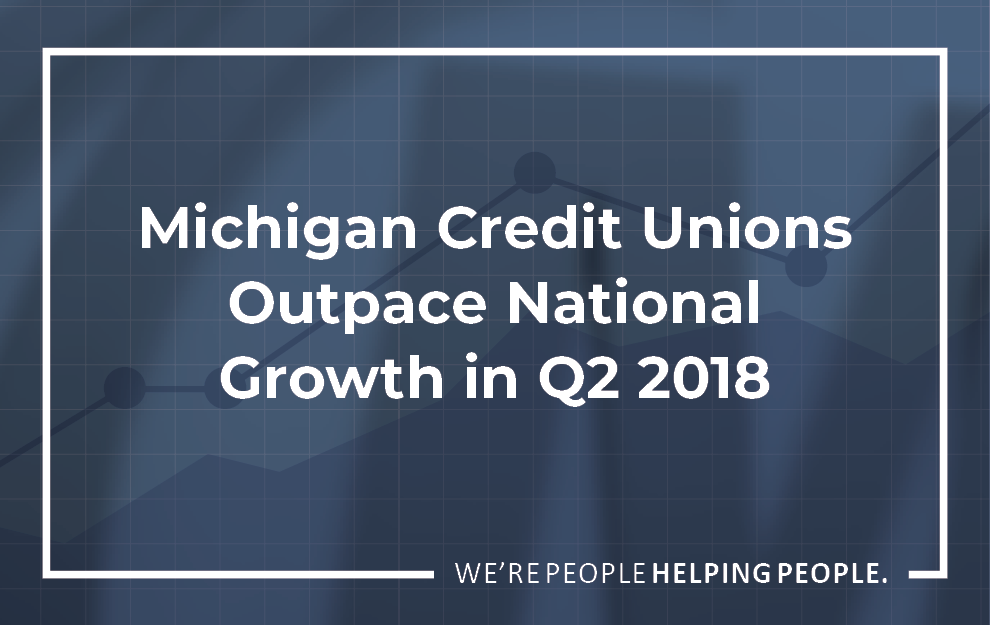 Every quarter, MCUL provides its membership with an economic and statistical update in cooperation with CUNA. In Q2 2018, CUNA reported that the U.S. economy grew at a very strong pace and that strong economy was mirrored in Michigan credit union operating results. Membership growth, loan growth and earnings results were all solid.
More specifically, Michigan credit unions reported a 0.7 percent increase in total memberships during the second quarter this year. This represents an increase of 3.6 percent for the year ending June 2018, which is above the 3.5 percent full-year growth in 2017. As a result, Michigan credit unions now proudly report a total of 5.3 million memberships. This means about 500 Michiganders join a credit union every day, or nearly 200,000 people every year.
Additionally, credit union loan portfolios in Michigan are also steadily growing. In the second quarter, they rose by 4.6 percent — a solid 18.4 percent, well above the 1.6 percent first quarter gain. New auto loans and mortgages led the way with a three-month gain of 5.2 percent (20.8 percent annualized) each. Loan growth in the year ending June 2018 came in at 12.6 percent, which is higher than the 11 percent loan growth for the year ending June 2017.
According to CUNA, the second quarter saw Michigan credit unions providing an estimated $400 million in direct financial benefits to members every year through better rates and lower fees. To view a full copy of the Q2 2018 report, click here.
2018 CUNA Award State-Level Winners Announced
On the subject of outstanding credit union performance, last month, MCUL announced state-level winners for the 2018 Louise Herring, Dora Maxwell and Alphonse Desjardins Awards. These award programs recognize credit unions for exemplary community service and financial education efforts.
First-place state level winners will go on to compete for the CUNA National Awards. 2018 CUNA National Award winners will be honored at the CUNA Governmental Affairs Conference, March 10–14, 2019, in Washington, D.C.
A complete list of winning credit unions in each asset size category can be found here. Congratulations again to all our winning credit unions here in Michigan, and good luck at CUNA Nationals.
MCUL and MCUF Award Nominations Now Open
In other awards news, MCUL and the Michigan Credit Union Foundation (MCUF) have opened the nomination process for the MCUL/MCUF Awards. These awards recognize both credit unions and individual credit union employees for industry innovation, chapter effectiveness, community leadership and more.
Feel free to contact your credit union's League Representative or one of MCUL's Lansing team members with any questions. Winners will be honored at the 2019 Annual Convention & Exposition Awards Breakfast at the Renaissance Center in Detroit. Nominations are accepted until Nov. 16 and can be submitted here.
Has Your Credit Union Taken the #KekeChallenge?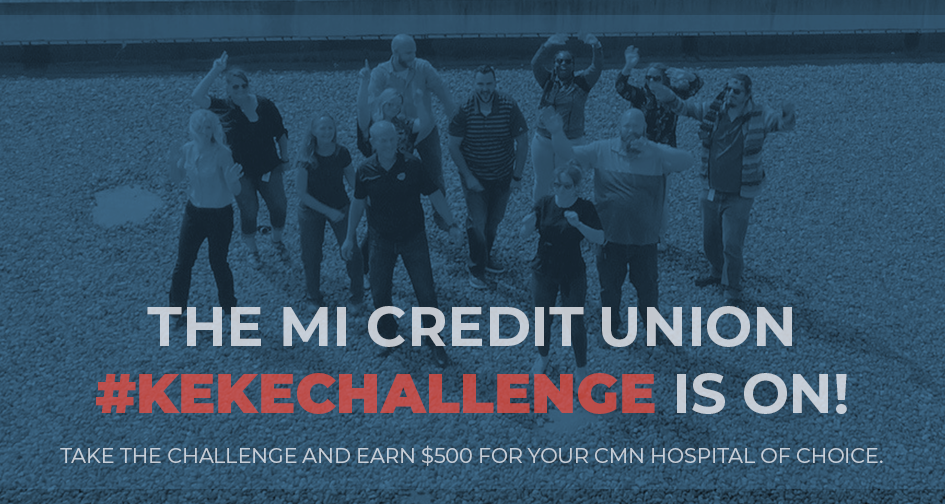 If your credit union hasn't already, remember you have until Dec. 15 to submit to MCUL's #KekeChallenge, benefiting the Children's Miracle Network "Credit Unions for Kids" initiative. The MCUL team has had so much fun seeing credit unions throughout the state get creative for a great cause and showcasing their dance moves to Drake's "In My Feelings."
For more information on how to submit your credit union's video, and to view previous submissions, click here.
Support Credit Union-Friendly Candidates this November
With midterm elections just a few weeks away, MCUL encourages the credit union community to vote in support of MCUL-endorsed candidates. In addition to all Congressional incumbents, MCUL has endorsed Andy Levin and Rashida Tlaib in two of the three open rases. The League has also endorsed Senator Debbie Stabenow.
In particular, MCUL urges support for incumbent Mike Bishop, who is running in a hotly-contested race in the 8th Congressional district. Bishop is a Republican candidate on the Ways & Means Committee who has repeatedly gone to bat in support of credit union issues.
MCUL encourages continued financial support, volunteerism and votes for these credit union-friendly candidates in the last stretches of this election season. A full list of MCUL-endorsed candidates can be found here.
In the gubernatorial race, MCUL has not made an endorsement but encourages the credit union community to attend fundraisers and get involved in support of either candidate of choice. Both Attorney General Bill Schuette and former Senate Minority Leader Gretchen Whitmer are strong supporters of credit unions and the issues that affect them. Regardless of who prevails, MCUL will continue to cultivate strong relationships and support for whoever takes the Governor's seat in November.
CU Link 2019: Stronger Together with CUNA
As CUNA refines its plan for the national awareness campaign, MCUL is working with CUNA to be very clear on the go-to market strategy in Michigan. CUNA does not intend to ask Michigan credit unions for duplicate dollars for a national campaign given the success of MCUL's state campaign, CU Link. Rather, MCUL is working to sync up messaging with CUNA for their 2019 "Open Your Eyes" campaign.
MCUL encourages continued support for the MCUL CU Link campaign as a means for strengthening our advocacy efforts and to promote the credit union brand in Michigan. MCUL looks forward to alignment with CUNA very soon.
The MCUL Government Affairs Team Continues to Cultivate Relationships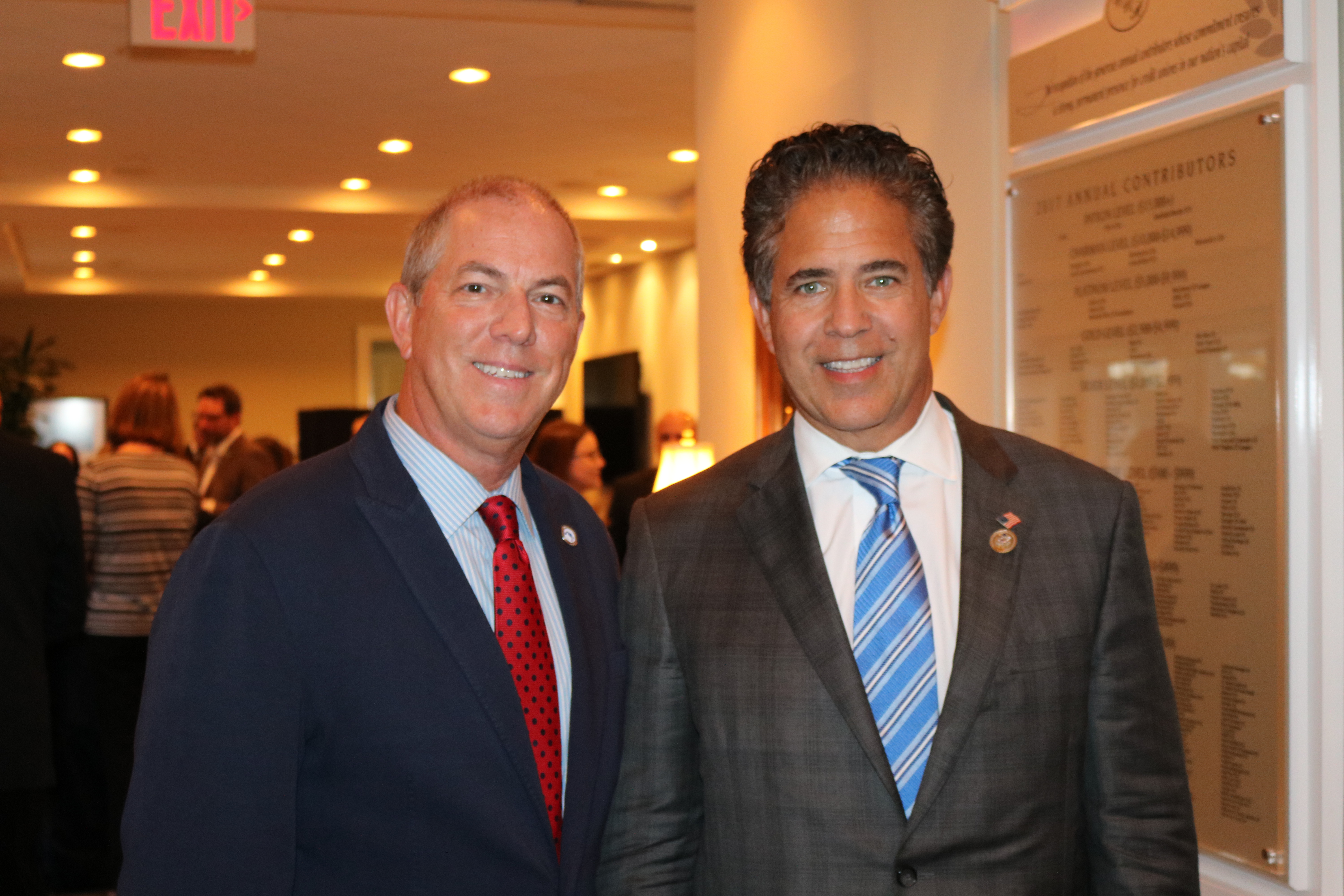 The MCUL Government Affairs team continues to build and foster relationships with legislative leadership and MCUL-endorsed candidates. Emphasis has been placed on endorsed candidates in both Democrat and Republican seats to help foster early relationships with those forcased to become Michigan's incoming legislators.
The Government Affairs team continues to attend in-district events and will also include endorsed candidates in any fall chapter legislative events. Again, MCUL encourages continued involvement in local events and fundraisers to support state and federal endorsed candidates.
HB 5181, Lienholder Notification Legislation, Heads to the Governor's Desk
In September and early October, MCUL met with state representatives and senators to discuss key issues for the rest of the year including e-notary, data breach and payday lending. During those two weeks, HB 5181 on lienholder notification was passed and now heads to Governor Snyder to be signed into law.
Once signed, HB 5181 will guarantee that credit unions will have access from tow yards to inspect collateral vehicles that have been impounded for a minimal fee and will have the right to contest the reasonableness of towing fees in court. MCUL anticipates that this legislation will allow credit unions to make informed decisions when it comes to collateral for loans and also prevent the exorbitant fees of the past.
Michigan Credit Unions Hike the Hill, Continue Grassroots Advocacy Efforts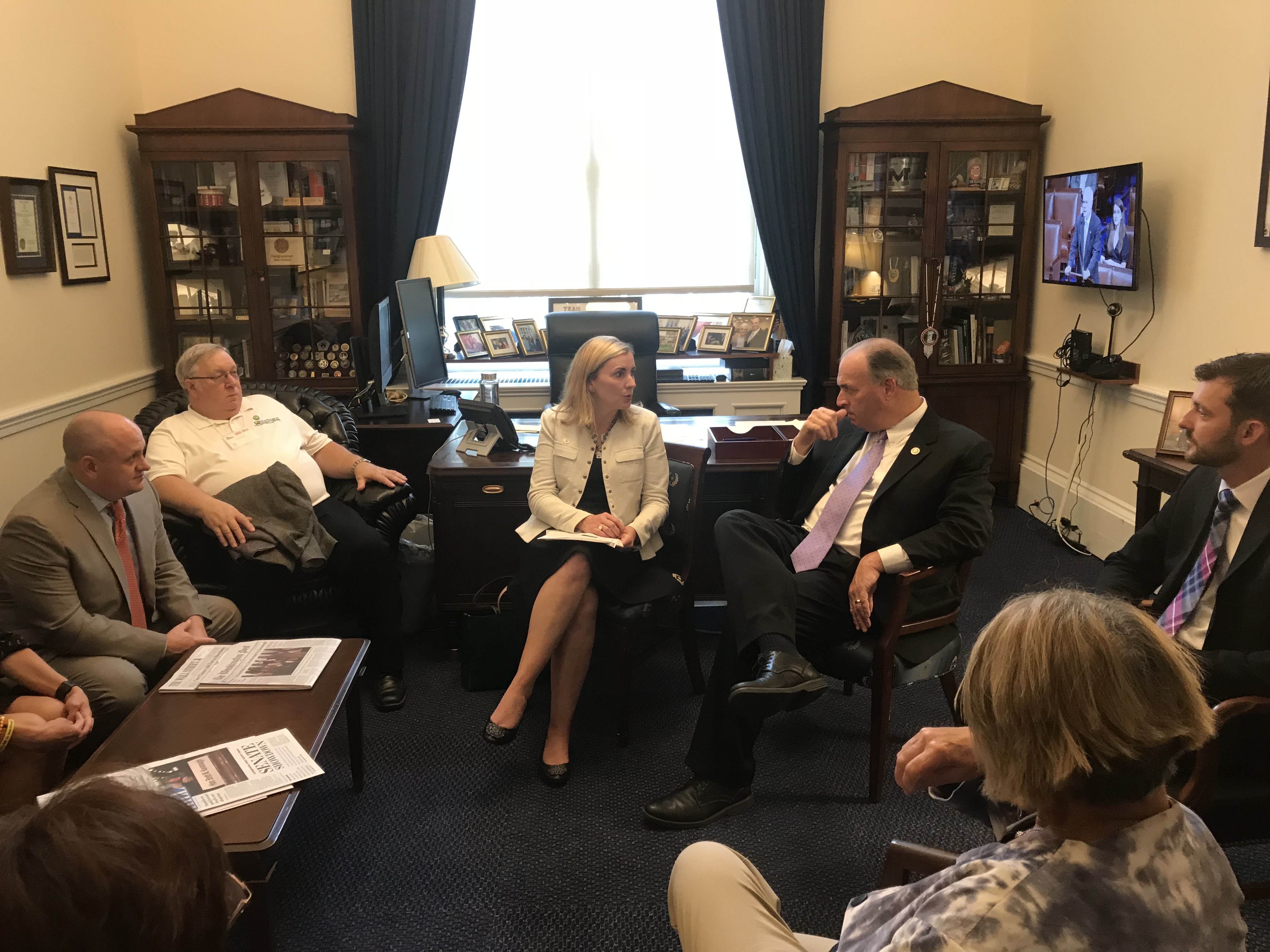 The MCUL Government Affairs team continues to focus on key members of the delegation, so far having in-district/state meetings with Senator Peters and Representatives Bishop, Kildee, Mitchell and Moolenaar. In addition, MCUL has had very positive interactions with Representative Huizenga at various in-district events and with Senator Stabenow and her top staff.
Also in Q3 2018, MCUL had another successful Hike the Hill. Attendees met with 12 of Michigan's 13 U.S. House offices and both U.S. Senators and were pleased to welcome Rep. Bishop as a special guest at the reception at the Credit Union House. Bishop personally called MCUL and CUSG President/CEO Dave Adams to thank the League for the opportunity and for its support of his tough reelection bid.
As always, MCUL appreciates all credit union representatives who attended Hike the Hill to tell their credit union's story in this important practice of meeting face-to-face to discuss pressing credit union issues like data breach and courtesy pay.
MCUL also continues to include members of the Congressional Advisory Group and local credit union leaders in meetings with delegation members and keep them involved with grassroots advocacy efforts. The League also appreciates credit unions inviting elected officials to legislative breakfasts and other events. MCUL will continue to look for opportunities to meet with members of the delegation, especially key targets, in the final months of 2018.
MCUL Regulatory Affairs Meets with Bureau of Consumer Financial Protection
During Hike the Hill, members of Michigan's credit union delegation, Alex Monterrubio from the CUNA Regulatory team and MCUL staff met with representatives of the Bureau of Consumer Financial Protection (BCFP, formerly the CFPB). The group discussed the impact of HMDA regulations, changes imposed by S. 2155 and its implementation.
Also discussed was the Bureau's upcoming rulemaking agenda and overdraft programs. Representatives of the Bureau expressed the importance of meetings like this and look forward to future meetings with our delegation.
MCUL, CUNA Address Issues with FinCEN's Beneficial Ownership Rule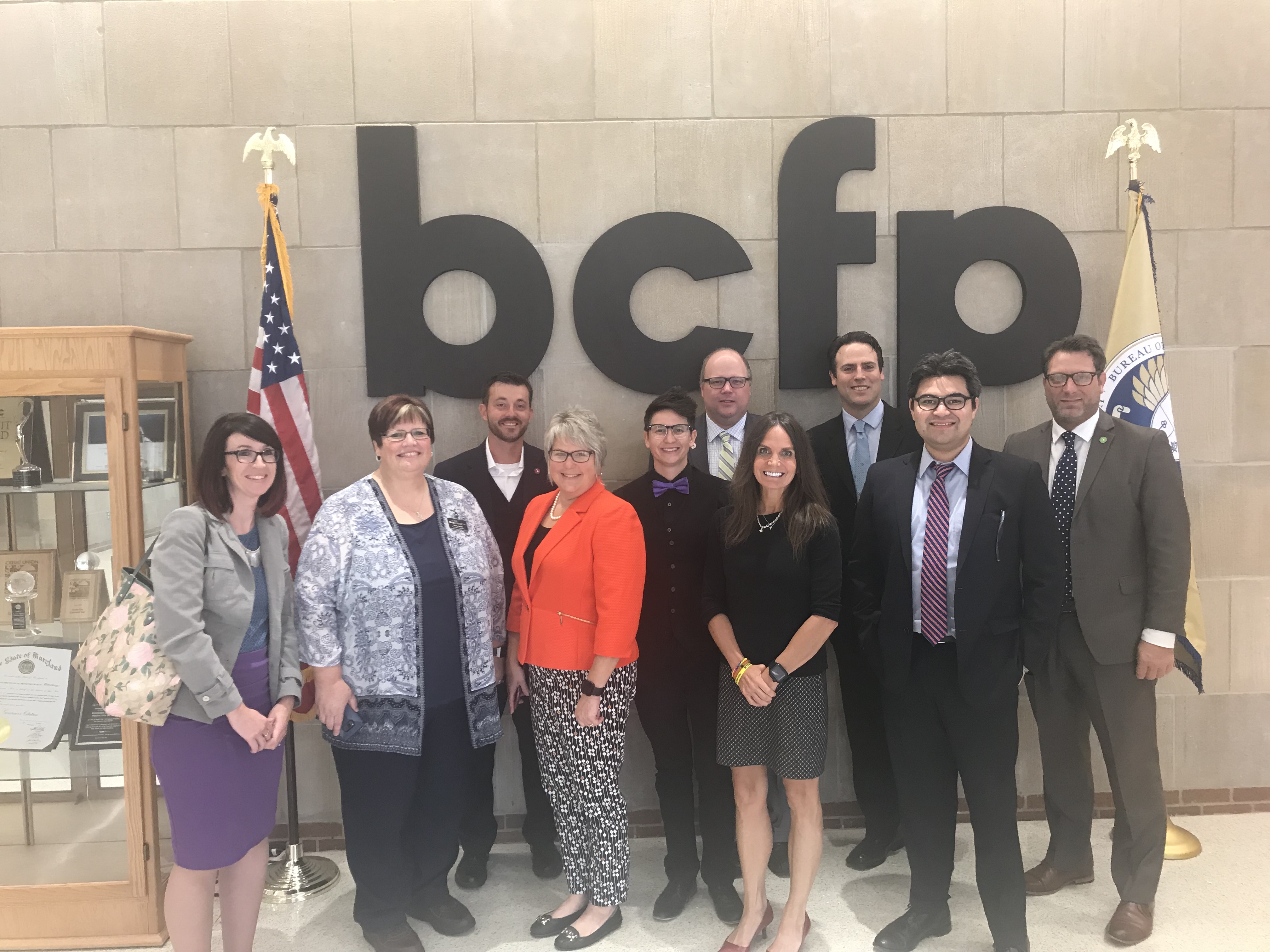 Starting with FinCEN's Beneficial Ownership Rule, the May 11 effective date came and went, and while it seemed that the rule would allow credit unions ample time to prepare with a two-year implementation period, credit unions have faced a number of issues. One particular provision caused a significant amount of frustration.
This provision required credit unions to collect beneficial ownership information every time a new account was opened or following a "triggering event." Exactly how credit unions could obtain this information every time a certificate was automatically renewed was the cause of consternation.
CUNA, MCUL and credit unions across the country repeatedly voiced the industry's concerns to FinCEN. After multiple extensions of the deadline, FinCEN finally announced in early September that the exemption for certain financial products, such as share certificate rollovers and loan renewals, would become permanent.
FinCEN's ruling highlights that while these types of accounts are exempt from the required collection of beneficial ownership information upon rollover, credit unions must still follow other requirements of the Customer Due Diligence rule.
Statutory Amendments to HMDA Pass as Part of S 2155
On Aug. 31, the BCFP issued a final rule implementing the statutory amendments to the HMDA, passed as part of S 2155. These provided exemptions to credit unions originating fewer than 500 closed-end mortgage loans or 500 open-end lines of credit in the preceding two calendar years from collecting and reporting on the excess data points added to HMDA.
Until the BCFP issued its final rule implemening these provisions, credit unions were left spinning their wheels trying to figure out what to do with the changes.
Resolution Reached on IRS 990
After weeks of coordination and quick work by Senator Debbie Stabenow's office, DIFS has received official notification from the IRS regarding the revocation of the 990-group exemption.
The letter addressed to John Kolhoff, DIFS Director of the Office of Credit Unions, indicates that the notices credit unions have continued to receive were sent erroneously and that the revocation of the group exempt status was an error by the IRS.
The IRS has started the process to correct the records and reinstate the correct exempt status. This may take up to 60 days to complete within IRS systems. Based on the letter from the IRS, MCUL and DIFS consider the matter resolved.
MCUL asks that you maintain a copy of the notification from the IRS for your records. Please contact MCUL's Director of Regulatory Affairs, Sarah Stevenson, with any questions.
CUNA, MCUL Continuing Work on ADA Compliance
MCUL has continued to work actively with credit unions in Michigan affected by ADA lawsuits. The League is working with CUNA to file joint briefs in two cases currently being litigated in federal court. In the meantime, MCUL encourages credit unions to monitor CUNA alerts related to websites and work with your website provider on these issues.
CUSG has an effective and affordable fix to ADA compliance issues with its Audio Eye partnership. The MCUL Government Affairs team, along with CUNA, has the issue of clarification of website standards under the ADA on its advocacy radar for next year.
Michigan Credit Union Foundation Grants Promote the CU Difference
Early this quarter, the Michigan Credit Union Foundation (MCUF) approved a grant in the amount of $40,000 to Diversified Members Credit Union for the purpose of expanding and creating opportunities for small business in the local food industry in southeast Michigan.
The funds will support two programs within the Eastern Market Corporation: the Grow Eastern Market, which connects small farmers to markets, and the Detroit Kitchen Connect, which provides food entrepreneurs access to equipment, training, mentoring and markets.
The grant will be utilized towards the purchase of a refrigerated food delivery truck and provide mini-grants to new businesses. Additional grant activities include financial education and financial services/business accounts at Diversified Members Credit Union.
With this grant, and two grants to Alpena Alcona Area Credit Union and CP Federal Credit Union totaling nearly another $40,000, MCUF has awarded more than $100,000 in nine Community Reinvestment Grants in 2018.
MCUF Community Reinvestment Grants are awarded annually to help credit unions address community problems, create sustainable solutions and increase the impact of their community reinvestment and financial education initiatives and partnerships. Learn more about MCUF's grants here.
CU Link Prepares for the 2019 Campaign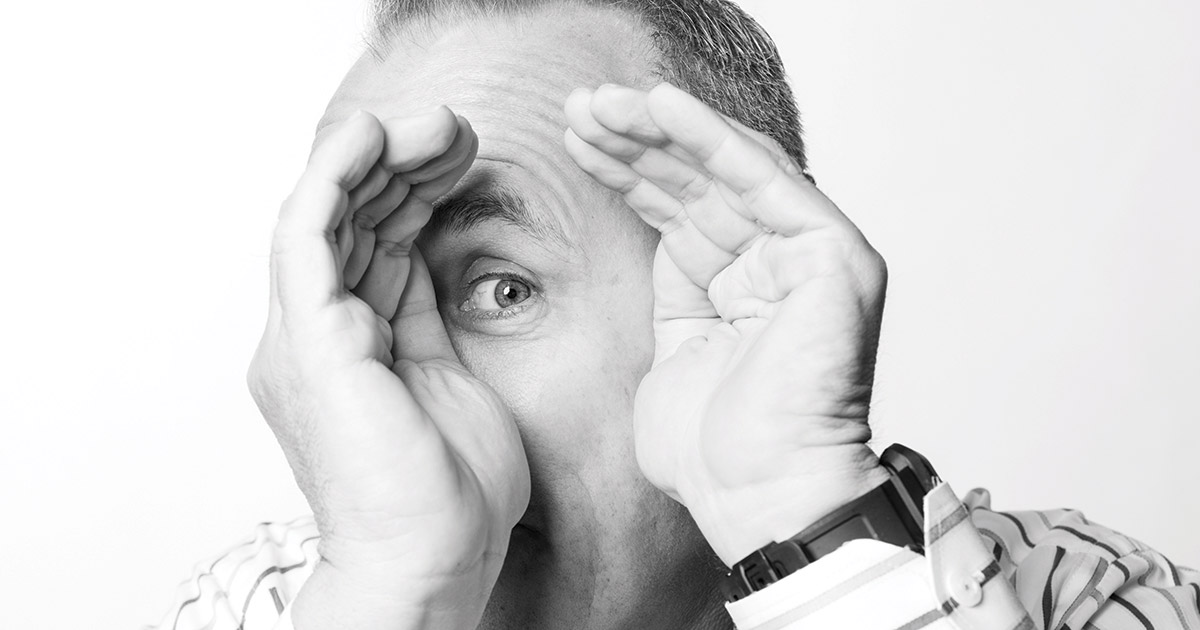 CU Link, MCUL's cooperative advertising campaign, is preparing for the 2019 media cycle as part of the League's strategic plans for the upcoming year. While CUNA spends the next couple of months preparing creative and media buys for the "Open Your Eyes" campaign, MCUL staff is collaborating with CUNA staff to expand reach by applying Michigan messaging in 2019 if possible.
Explaining the credit union brand promise is ever critical in consumer awareness. Highlighting this messaging not only tells consumers to "open their eyes," but explains the core reasons why credit unions are beneficial in their daily lives. Michigan messaging will cover topics such as trust and service, value and convenience and products that expand share of wallet.
Updated messaging will also focus on educating consumers about credit union misconceptions, including the ideas that they are too small, access to money is limited and that they lack up-to-date technology. Moving forward with CU Link in 2019, one thing is clear: emphasizing credit unions' brand promise to consumers debunks myths and clarifies their value.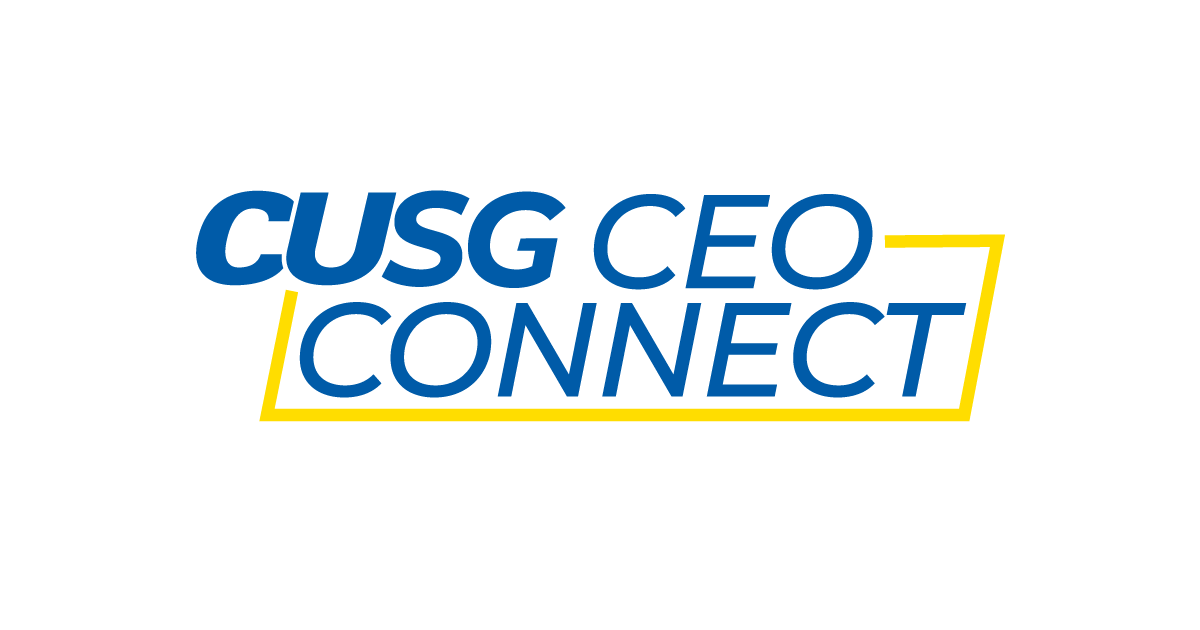 In Adams' CEO Connect article and video this month, he talked about the importance of the brand promise and how simplifying our message can help us channel the right message to consumers.
Starting in April 2019, CU Link will begin broadcasting the credit union brand promise throughout media venues. An April start date will allow adequate time to refine this messaging and saturate markets during the remainder of the year.
In the meantime, MCUL appreciates strong support for CU Link through campaign integration and contributions. The League looks forward to enhancing the campaign with CUNA's help to make the program even more valuable to the industry in the months ahead.
2019 Educational Priorities
As a result of this period of healthy economic growth, the national unemployment rate fell to a near 18-year low in the second quarter. Among other things, what this means for credit unions is that it can be difficult to recruit good workers and retain top talent. Because of this, it's important that credit unions are equipped to train their staff to the organization's needs, and that credit unions offer opportunities for internal growth and advancement as well as creating a culture that fosters a passion in employees to remain engaged and committed to the credit union where they work.
According to the Society of Human Resource Management's research, the average open position takes 41 days to fill and can cost an average of $4,000 to recruit. There's sound financial reasons to invest in training quality people who are already on the payroll and to develop the future talent you need from within.
MCUL and CUNA are positioned to help credit unions do just that, with a wide breadth of training opportunities ideal for credit union professionals from the C-suite, to the board room, through the back office and to the frontlines.
In 2019, MCUL & Affiliates will be offering a selection of events to develop leaders throughout the organization. Leadership development is crucial not only because it brings value to the organization, but it also fosters a sense of purpose and direction to those who attend. As 2019 draws closer, keep an eye out for more information on MCUL's education offerings and how they can help your credit union grow and retain top talent.
MCUL is proud to help credit unions to serve, grow and remain strong so they can impact people's lives. As our Q2 data proves, credit unions are needed by consumers and small businesses now more than ever and MCUL and CUNA are so honored to provide support for this great credit union movement.
2019 Affiliation Packets Coming Soon
The League's Member Net Assets grew in the first quarter by 0.5 percent, or $395,000, as our very low dues structure is complemented by MCUL's share of income from CUSG. The League derives less than 5 percent of its revenue from member dues.
Over the past two decades, the League has reduced its affiliation dues by more than 80 percent. The vast majority of funding for MCUL's operation comes from investment gains and its two-thirds share of income from CUSG. And, because of CUSG's strong performance, the association has the ability to offer our members the lowest league dues in the country, while still offering the highest level of service.
Before the end of the year, credit unions will receive 2019 affiliation packets. Please maintain support for MCUL and CUNA in the coming year as both associations continue our tireless efforts to helping credit unions serve, grow and remain strong.
CUSG Continues to Outpace Budget in Q3 2018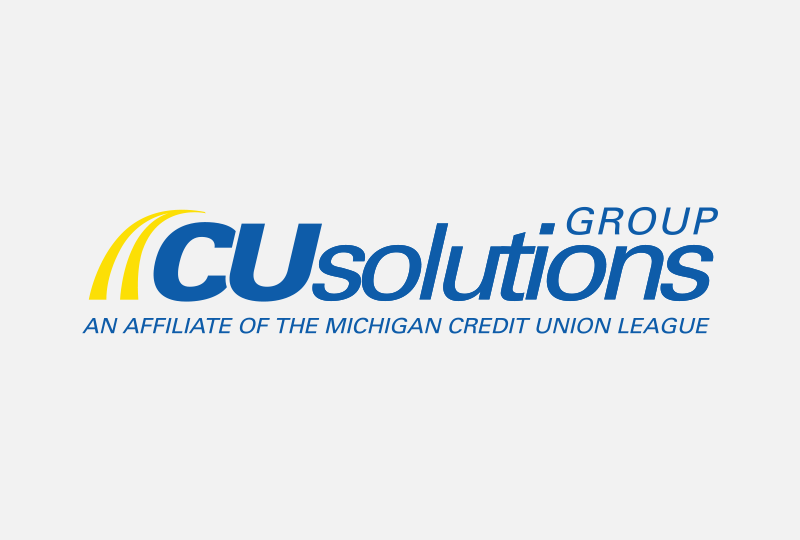 CUSG continues to outpace its budget through the third quarter of 2018. While CUSG's revenue of $33 million was just shy of budget, CUSG's net income of $5.3 million is ahead of budget. Heading into the final quarter of 2018, CUSG is projected to close 2018 exceeding budgeted net income and positioned to pay a good dividend to investors.
CUSG's balance sheet remains strong with assets totaling $89 million and sahareholders' equity of $74 million, up 9 percent year-to-date.
LifeSteps Wallet Celebrates a Successful First Year
Starting with LifeSteps Wallet, CUSG first announced the mobile application around this time last year. After officially launching and onboarding credit unions in early 2018, the all-inclusive app enjoyed a strong, positive reception from the credit union community. Bringing together mobile banking tools with resources built around home, auto, shopping and financial wellness, CUSG clients said that, in some cases, LifeSteps Wallet has replaced four or five applications.
CUSG continues to gather feedback to make this strong product offering even better. Through the third quarter of 2018, CUSG Technology Solutions is working toward the launch of LifeSteps Wallet version 2.0. The team is currently working with vendors like Access Softek, CU Answers and NCR to incorporate single sign-on access and is also making upgrades that improve the overall user experience, adding new consumer deals and building new means of data point collection and reporting metrics. The app's new version is slated for release in early 2019.
CUSG is starting to see credit unions large and small, in Michigan and across the nation, take advantage of LifeSteps Wallet as a "one app" strategy for enhancing the mobile channel. In fact, several multi-billion dollar credit unions have either signed contracts or are close to doing so. This is tremendous validation for this cutting-edge technology that is affordable and practical for credit unions of all sizes.
CUSG Technology Solutions Continues to Grow Core Offerings
In addition to enhancements with LifeSteps Wallet, CUSG Technology Solutions also continues to grow its base with core offerings like web design and hosting. This past quarter, the team published its ninth batch of content management system (CMS) updates for the year, which included enhancements to reporting and analytics, more back-end auditing features and secure form additions.
The Technology Solutions team also continues to leverage its relationship with AudioEye as CUSG strengthens its position as a tier-one provider of ADA web compliance solutions. Already approaching 100 mutual clients in less than a year, AudioEye helps produce detailed enhancements and reports more effectively. Through this service, CUSG runs a deep scan of a credit union's website and automates the majority of required ADA fixes so your site remains in compliance.
Love My Credit Union Rewards Continues to Outperform Metrics
The CUSG Marketing Solutions Love My Credit Union Rewards/Sprint program continues to outperform year-over-year metrics. Year to date, credit union members have activated more than 263,000 new lines compared to roughly 114,000 over the same period last year.=
With back-to-school sales and a large influx of holiday spending, Q4 is typically Sprint's strongest quarter of the year. As such, CUSG and Sprint are ramping up marketing and consumer engagement efforts for the remainder of 2018.
CUSG is eager to hear how the Sprint program is working for our credit unions, along with your ideas of how we can make it better. If you have any thoughts, feel free to send President/CEO Dave Adams an email.
GSTV Celebrates International Credit Union Day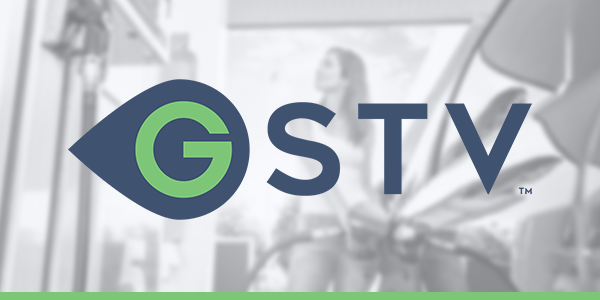 CUSG's relationship with GSTV also continues to move forward at a steady pace.
For the second consecutive year, CUSG and MCUL partnered with GSTV in celebration of International Credit Union Day. During the week of Oct. 12–18, nearly 16,000 gas retailers spanning 39 states promoted the benefits of credit union membership with GSTV video advertising at their gas pumps. Topping 31 million video impressions for an estimated value of $2.5 million, this promotion came at no monetary cost to credit unions nor the 27 participating credit union leagues including MCUL.
Save to Win Enjoys Strong Third Quarter
CUSG's Save to Win program enjoyed a strong third quarter with two pieces of very favorable news. Following a change in legislation permitting prize-linked savings, the Save to Win program is now available to credit unions in the state of Texas. Austin-based A+ Federal Credit Union will be the first credit union in Texas to launch the program, live on Nov. 1.
In addition to Texas, the California State Financial Code was also updated to allow prize-linked savings programs. In response, on Jan. 1, 2019, Save to Win will expand to California. The Cornerstone League and the California Credit Union League will both offer national- and league-level prizes to members participating in the program.
CUSG Performance Solutions Prepares to Launch Governease
CUSG's Performance Solutions division continues to move forward with a product vision focused on helping boards and CEOs navigate the challenges of governance and reporting. Preparing to rollout Governease in the fourth quarter, CUSG has worked with credit unions and industry experts to identify the barriers that impact governance most.
Based on these insights, the Performance Solutions team has developed a system that makes it easy to identify governance policies that suit a credit union's needs. CUSG currently has more than 40 comprehensive policies in a user-friendly and customizable format that address areas like CEO succession, the role and responsibility of the board, conflicts of interest, financial literacy and governance assessments.
Through the fourth quarter, CUSG will continue to make progress on new products like Governease and Planning Pro, while we also work toward the creation of a full board portal solution.
Performance Pro and Compease Continue to Improve
While adding new resources to its slate of offerings, Performance Solutions also continues to grow core solutions Performance Pro and Compease. This past quarter, the team completed a Performance Pro mobile app prototype.
The Performance Solutions and Technology Solutions teams collaborated on the design and development of a simple and intuitive user interface and are now working on a back-end infrastructure to present a seamless and quick-working application to clients. As performance evaluation season for many credit unions comes, Performance Pro clients will also notice new features like the ability to run concurrent appraisals, a third appraisal section, customizable alerts and the ability to calculate merit increases without Compease.
In Q4 2018, CUSG will launch a new dashboard enhancement for Compease that helps users better identify wage compression and pay equity blind spots. The team is also working on an integration with ADP and other human capital management systems.
CUSG expects that connecting Compease with additional human capital management systems will be a driver for future sales growth. Over the next six months, the team will be providing one-on-one training to human capital management organizations like Paycor, SyncHR, CheckWriters and PlanSource.
Helping Credit Unions Serve, Grow and Remain Strong
MCUL and CUSG's goal is to help credit unions serve, grow and remain strong to make an impact on people's lives. Moving into next year, CUSG will continue to collaborate with clients to ensure that the company is providing the right solutions to meet their needs.
If you have questions or suggestions on how MCUL and CUSG can better meet your needs, again, feel free to contact President/CEO Dave Adams or any member of our leadership team. We'll see you next month.