Welcome to the Priority Report, this is my chance to tell you about the most important issues facing Michigan credit unions and discuss the many ways that we at the Michigan Credit Union League & Affiliates are working to help your credit union serve, grow and remain strong.
In this edition we'll be sharing details on the dues choice issue, more information about our efforts to update the Michigan Credit Union Act, and we'll look ahead at upcoming education events – including next summer's AC&E.

As you know, the MCUL Board recently made the decision to allow credit unions the option of dues choice
In other words, starting in 2016, credit unions will have the choice to join just MCUL or both MCUL and CUNA. That decision was based on survey results from our credit union community here in Michigan, with 88 percent of Michigan CUs supporting having a choice here in Michigan.
Despite supporting dues choice, we continue to strongly advocate for the many benefits that flow from our alliance with CUNA. We believe the partnership between MCUL and CUNA represents the best option for credit unions – so much so that we've launched a new campaign to share that message. The Strength in Unity campaign focuses on the benefits of the CUNA/League system. We believe the interdependence of that system is the best bet for Michigan's credit unions as we work to remove barriers, promote the credit union difference and provide the best solutions in the marketplace for credit union members.
Dues Choice
Starts in 2016

88 percent of Michigan credit unions support

dues choice

Strength in Unity campaign

Encourages dual members

hip
Our top priority this year is to drive a bold, national advocacy agenda, and we believe working together with CUNA to achieve these goals provides us with the best chance for long-term success.
If you have any questions, know that you can always call or email me or reach out to your league representatives for more information.
Before I move onto association side news, I'd like to update you on the Michigan credit union industry's second quarter numbers.
Michigan credit unions reported impressive results in a variety of categories, including: Total assets at Michigan credit unions rose 5.1 percent compared to the same time last year, and membership grew 3 percent over the 12-month period. That's the largest 12-month membership increase in close to 30 years.
In addition, several regions across the state saw significant increases in loan growth categories, including very strong member business lending growth. For example, Detroit and Grand Rapids both saw credit union business loans increase more than 60 percent. Flint saw business loans grow more than 30 percent.
These numbers show credit unions across Michigan are continuing to enjoy success in serving their communities.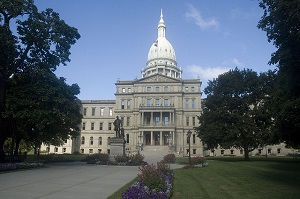 Turning our attention to advocacy, we have been hard at work preparing to take our legislation to update the Michigan Credit Union Act to the legislature. It's already been a dozen years since our last big amendment to the state charter. Think about that for a minute – the last time MCUA was updated no one had ever heard of iPods, Twitter or smartphones. A lot has changed in the last 12 years and we're working to make our state law even more user friendly.
Our team is working closely on this issue with House Financial Services Committee Chairman Tony Forlini to ensure that issues important to credit unions are included in the update. In addition to regulatory relief, we want to lock permissive interpretations currently found in informal guidance into state law, and make improvements in our exam processes. When it comes to examinations, first we need to make sure that exam reports are kept absolutely confidential. We also want to make sure DIFS isn't mixing so called "best practices" into exam findings or punishing credit unions that decide as a matter of business judgment not to adopt a best practice.
We are also looking for new powers, of course, including the ability for CUSOs to engage in trust administration services and to explicitly allow for loan promotion authority, much like what we currently allow on the deposit side.
As you know, MCUL can't do it alone; we definitely will need your help.
I can't underestimate the importance of grassroots advocacy in this process. There is nothing more effective in helping us fight banker arguments than a call or letter from a local credit union to their elected official explaining why these proposed law changes will help the credit union serve their local communities back home. Please be sure to take the time to reach out to your state house member and senator.
We've just had two hugely successful advocacy events – our Hike the Hill event in Washington and our Capitol Day in Lansing. Those events go a long way toward making sure legislators and regulators at the state and federal levels understand how important credit unions are in their communities and the real value of the credit union difference.
Lawmakers tell u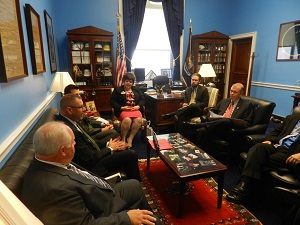 s again and again how important it is to hear personal stories from credit union advocates. It helps them put a face to the legislation they are considering. You can make a big impact by participating in a grassroots event.
Your help in telling the credit union story to our legislators makes all the difference. I encourage you to share your stories of how your credit union is helping people in the communities you serve to meet their financial needs.
Besides talking with legislators, there are other ways you can help the Michigan credit union industry. You can continue to support MCUL's advocacy efforts by promoting our PAC programs, including our Lapel Pin program and the Grand Raffle, which ends Oct. 23. There's still time to purchase tickets, so please order yours.
Let me now switch gears and talk for a minute about our Annual Convention. The 2015 event featured the wildly popular Watercoolers improv comedy group, who performed at our Honor Awards Breakfast. As you'll recall, there was singing, dancing and lots of laughs. Planning is well underway for the 2016 AC&E to be held in Detroit. The AC&E is MCUL's largest annual gathering. It brings together industry executives, volunteers, high-profile business leaders, quality entertainment and vendors from across the country for high-quality information offerings and lots of networking.
We are especially proud that our 2015 AC&E recently earned MCUL the Michigan Society of Association Executives' Diamond Award, for the best Large Association Conference in the state of Michigan.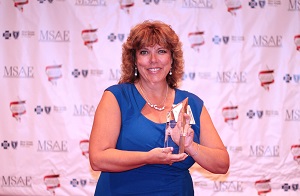 We promise to continue to strive for excellence when we see you next summer. So block off June 9-11,- and plan on joining your colleagues from across the state at MCUL's premier event at the Detroit Marriott at the Renaissance Center.
During our second quarter update, we mentioned a joint venture with full-service advertising and marketing agency, Duffey Petrosky. CU Solutions Group will leverage the agency's industry-leading expertise to enhance the marketing solutions delivered to existing and prospective credit union clients. FocusIQ was officially launched Sept. 1. Watch your inbox in the coming months as we announce the new service offerings and exciting promotions for credit unions.
Our new endeavors wouldn't be possible without the outstanding support from our Technology Solutions division which has worked diligently to provide both new web content for FocusIQ and campaign/voting functionality for Share the Love video contest I'll update you about a little later. Technology Solutions also launched over 30 new credit union websites this year in addition to bringing mobile banking to credit unions through Mobile Finance Manager and Orpheus. If you aren't getting the engagement you need through your mobile app, consider CUSG. Our product already has API integration with many core processors which greatly reduces ramp up time and expense. For more information, contact our technology team at info@cusolutionsgroup.com
Also, Love My Credit Union Rewards bid a fond farewell to the hugely successful GM Credit Union Member Discount program in September. And while we continue to see record growth in the Sprint program, our Lending and Operations teams are also seeing growth as credit unions diversify their portfolios with products like LoanPlus CMS, which allows credit unions to lend to younger, nonprime members without increasing their risk; and RapidAdvance, which helps credit unions say yes to more small business loans. HR Performance Solutions doesn't help credit unions say yes to loans, but Performance Pro and Compease both help your human resources team streamline the employee evaluation process and retain the best employees to make those loans. Visit our website, www.cusolutionsgroup.com, for more information.
All of these endeavors helped CUSG to continue to record strong financial results in 2015. Year-to-date and through Sept. 30 2015 net income was $6.1 million compared to budget of $5.1 million. Year-to-date revenue of $43.6 million exceeded budget by $2.9 million due primarily to increased partnership income from the Love My Credit Union Rewards program driven primarily by our Sprint partnership. Operating expenses and cost of products and services exceeded budget by $1.4 million due to higher partner reimbursements and royalty fees which follow increased revenue. As of Sept. 30, 2015, total assets are $77.1 million and have increased by $11.6 million from Dec. 31, 2014. The year to date net increase of $4.8 million in shareholders' equity resulted from adding $6.1 million in net income to retained earnings and $200,000 contributed capital from Focus IQ, to shareholders' equity offset by a decrease of $1.5 million in other comprehensive income, net of taxes, mainly as a result of decrease in the value of the equity portfolio due to poor stock market performance in Sept.
Overall, that's a strong showing thus far for CUSG in 2015.
I want to end on the topic of financial education and commitment to community.

As you know, these are two pillars of the Michigan credit union industry. Now, the Michigan Credit Union Foundation has found a way to support credit unions in helping more people.
The Foundation approved 26 grants to 24 credit unions and two chapters totaling $95,000. Financial education is a key component in many of the credit union initiatives, including fifteen financial reality fairs that help teens learn about spending and budgeting. This hands-on experience is reaching thousands of students, their families and teachers and increasing awareness of the credit union commitment to financial education at schools all over Michigan.
But our foundation grants can and have been used for credit union activities that have a tangible impact in their communities. CASE Credit Union will use its grant money to provide its low-income members with access to safe and affordable transportation with unique auto lending enhancements. Other grants target helping homeless veterans, retirees and underbanked residents.
I encourage all Michigan credit unions to become engaged with the Foundation; both by participating in financial education and grant activities, and by budgeting an annual financial contribution to the Foundation for 2016.

Speaking of community outreach, I can't think of a better way to highlight the credit union difference than through our Share the Love video contest.
The unique campaign has resulted in some inspiring videos that showcase how credit unions are making a real difference in the lives of people in the communities they serve.
The best part? It's all for charity.
Credit unions upload short videos to our Share the Love website for a chance to win a $10,000 to their charity of choice. The public votes to choose the winners, and by the end of the campaign we will give away more than $100,000
The response has been incredible.
To date, 95 credit unions across 29 states have submitted videos. I'm proud to say more than 30 of those videos are from Michigan. And let me tell you about the public buy in: More than 16,000 users have cast more than close to 60,000 votes! Those numbers are increasing as we speak.
Michigan credit unions have chosen charities such as the Kalamazoo Animal Rescue, the Frankenmuth Farmer's Market and the Old Newsboys of Flint to receive the money if they win.
A campaign that starts with highlighting good works and ends with a donation that will help improve the lives of a lot more people - isn't that what the credit union philosophy is all about? If you've haven't shown us some love, I encourage you to do so. You can upload your video through Dec. 23.
From all of us here at the Michigan Credit Union League, thank you for all you do for your communities and for your members, and thank you for watching.
And I'll be looking for your credit union's video!
Dave