Federal | State | Regulatory | CU Link | MCUF | Education | CUSG
November 2020
Welcome to the November 2020 Priority Report. This month, we have two key updates – election results for Michigan and our CU Link Campaign for 2021. Once again, we have broken out each section to its own video segment. I encourage you to navigate each department's section for thorough updates on everything I mention here.
Before I get to those two important updates, I want to briefly mention affiliation. Information is now available regarding 2021 affiliation, which, once again, is digital this year. We're proud of the value affiliation brings Michigan credit unions and as you know, our dues remain the lowest in the country. I'd like to ask that you maintain your support of MCUL and CUNA in the coming year. As always, we will remain dedicated to strengthening the credit union community, helping you serve, grow and remain strong.
Let's start with the election results. The Presidential election has been called in favor of former Vice President Joe Biden, who won Michigan by nearly 150,000 votes. Legal challenges are still expected regarding various aspects of the elections and vote-counting processes, along with potential recounts in some areas, and rhetoric is still high. However, most election experts would agree that even if there were some issues experienced in some areas, it will likely not be enough to sway the national election or the large margin in the statewide U.S. Senate race as decided here in Michigan.
Here at home, U.S. Sen. Gary Peters defeated challenger John James by more than 87,000 votes. Sen. Peters has long been one of our strongest allies, and we are confident he will continue to be a strong and effective voice for credit unions in Michigan and nationally. Our U.S. House of Representatives delegation welcomes two new members – Lisa McClain succeeding retiring U.S. Rep. Paul Mitchell in the 10th District, and Peter Meijer replacing outgoing U.S. Rep. Justin Amash in the 3rd District.

MCUL endorsed McClain in the general election and we are very excited about her depth of knowledge and background in financial services. We did not make an endorsement in the 3rd District, but we look forward to continuing to get to know and work with Meijer. All other MCUL-endorsed incumbent members won re-election, despite some surprisingly close races in a handful of districts. The U.S. House will remain under Democratic control, with Michigan's U.S. House delegation returning to an even 7-7 split. It appears the balance of power in the U.S. Senate will come down to runoff elections in Georgia after the beginning of the year.
The entire state House of Representatives also stood for election this year, with many seats open due to term limits. Republicans fended off challenges in several seats to retain their current 58-52 majority. MCUL endorsed in 83 of these races, losing only the two incumbent members' contests for another very high success rate.
Our credit union industry should be very pleased with the election results this year. Many credit union-friendly candidates were successful in their bids for office. In the coming weeks, we will be working to meet our newcomers and begin the education process with them, as well as new leadership in both caucuses of the State House, on the important issues facing our industry. Our team is extremely optimistic about what is to come in 2021.
Now, let's move on to another big announcement, CU Link.
---
In Consumer Awareness, as we plan for 2021, CU Link is focused on delivering Michigan-specific messages to engage consumers and demonstrate the credit union difference. Our decades-long cooperative advertising campaign has continued to re-invent and stay fresh with the times to increase credit union awareness. We know that 56% of the population are members of a credit union here in Michigan, which well exceeds the national average of only 35%.
While CUNA is continuing on with their "Open Your Eyes" campaign in 2021, we have chosen to move in a more Michigan-centric direction.
Starting in January, we will launch a new CU Link campaign that highlights financial topics that people are concerned with every single day. Our new campaign -- "Banking Built for People" – will showcase how everyday people, with relatable concerns during this financially uncertain time, can always count on their credit union. Our goal is to provide solutions to the issues your members face in a relatable and encouraging way. This campaign emphasizes a core message: credit unions care more about their members, and what makes us different, makes us better.
At this time, I'd like to show you a preview of our first "Banking Built for People" ad:
We are very proud of this theme and the messaging that speaks to the heart of each viewer. It's our not-for-profit model that creates an environment where we can show case not only financial support but for hope and security for each person we serve.
As you may know, one of the core audiences for demonstrating the real-life impacts of credit unions is our state and national legislators. CU Link serves as an advocacy tool to lift up all credit unions and highlight the differences we make in the lives of everyday people. We know that large engagement of a campaign catches the eye of our Governor and lawmakers. We strive to make the most impact as possible with this new campaign.
Here in Michigan, we are unique in having had a cooperative advertising campaign for over twenty years. During 2020 alone, CU Link has recorded 23.8 million completed digital video ads, resulted in more than 14.4 million social media engagements and served up more than 115.6 million impressions. Now more than ever, it's important that we maintain CU Link, not just for consumer engagement, but in support of advocacy and ensuring a credit union-friendly future.
In the past, reimbursement for integration has been heavily fueled by our subsidiary business resources, which have been financially challenged this past year. In the past, some of you have taken advantage of reimbursement dollars -- this program started seven years ago and was heavily fueled by our partnership with Sprint. This past year, Sprint merged and changed its business model which resulted in a substantial loss of revenue to CUSG, which supports MCUL. We, like you, have had to become creative during these times and we have decided to end to the reimbursement benefit as part of our restructuring.
While we cannot offer reimbursement with this campaign, MCUL will contribute 50 cents for every dollar raised to expand our media presence across the state. Additionally, our marketing team and creative agency partners are currently hard at work building out digital integration assets, data resources and additional benefits for full-share credit unions.
Michigan's cooperative advertising does something no one else has been able to sustain -- and we need your continued support. The legacy and benefits of cooperative advertising support all credit unions.
We hope you don't just consider this a marketing tool. Like I said before, decision makers and governmental leaders are also a target audience of our engagement strategy. CU Link has become a very strong asset for our advocacy efforts and tracking public support for credit unions in each corner of the state. This is why I ask you to consider funding CU Link from budgets other than just marketing.
I hope that you will continue to maximize your financial support for the state campaign as opposed to redirecting dollars to any campaign outside our state. Of course, if you see the value in a nationally administered digital campaign outside Michigan, such as CUNA's campaign, and wish to also fund that, those dollars will certainly help promote credit unions in other states, and that has value for the movement.
I encourage your continued support for CU Link. These ads reinforce our commitment to trust, service and convenience in communities throughout Michigan. CU Link ads broadcast the CU Difference to Michigan's nearly 10 million residents, including legislators. We're looking to each of you for continued support of CU Link. With this movement, the rising tide lifts all ships.

---
At the federal level, in October, the White House and Democratic leadership in the House of Representatives made modest progress on a Phase 4 stimulus bill but were ultimately unable to come to a complete agreement prior to the general election. Major sticking points continue to be the overall cost of the bill -- although they're getting close on this issue -- the amount of funding for state and local governments, COVID-19 liability protection for businesses and organizations and the appropriate amount of federal unemployment assistance.
it's clear we will have a new President in 2021 and Democrats will keep their majority in the U.S. House of Representatives, we won't know until January 5, 2021 which political party will hold the majority in the U.S. Senate for the next two years. Following the November 3 general election, there are two U.S. Senate seats from the state of Georgia that remain undecided, provided no candidate in either race was able to garner more than 50% of the vote. As a result, both Georgia U.S. Senate seats will be decided in runoff election in early January. This election looms large as it will ultimately determine the balance of power not only in the U.S. Senate but in Washington, D.C. overall. As it stands currently, Republicans hold 50 of the 100 U.S. Senate seats starting in 2021; however, provided incoming Vice President Kamala Harris would cast any tie breaking votes in the Senate, Republicans need to pick up at least one more seat to get to 51 so they maintain their hold on the Chamber.
In terms of Congress' agenda for the remainder of 2020, leadership from both political parties and the White House have expressed a desire to pass a Phase 4 stimulus bill during the lame duck session. That said, there are significant differences between Republicans and Democrats on several key issues, including state and local government funding, liability protections for businesses and enhanced unemployment benefits. With the outcome of the Georgia runoff election unknown until after the new year, it's likely we will see congressional leadership from both political parties try to leverage the situation in order to get the best possible deal for their respective sides. While much of the attention will be focused on Congress' ability to pass a stimulus bill, they will also need to pass another appropriations bill to keep federal programs and departments running. The short term spending bill passed by Congress and signed by the President in September expires on December 11. Finally, Congress is expected to pass a FY 2021 National Defense Authorization Act before the end of the year. As indicated in a previous priority report, the House version of this bill contains beneficial BSA/AML reform language that would, among other things, index the CTR threshold for inflation every five years going forward.
Please look for updates from MCUL's advocacy staff as Congress seeks to tackle these issues in the coming weeks.
Now on to state issues.

At the state level, MIOSHA and MDHHS have issued emergency rules that address social gatherings, mask usage and workplace safety requirements. DIFS also issued a bulletin to this end. Generally, the new rules that have been issued by these departments reinstate much of what was included in the Governor's executive orders, including the mandatory mask requirements. These rules have been summarized by our team and are available on our website along with other helpful COVID-19 resources.
The legislature retuned shortly after the Supreme Court ruling was handed down and codified a number of COVID-19 executive orders, including new legislation pertaining to the electronic and remote notarization procedures under the orders. Our team worked diligently with other interested stakeholders to ensure that transactions conducted following April 30 were still valid. We also worked to ensure that credit unions and others who were conducting notarizations based on the executive orders would be able to continue to conduct these transactions through the end of the year. The legislature also adopted legislation to extend the validity of expired drivers licenses through the end of the year.
COVID-19 legislation regarding employer liability was recently signed by the Governor (PAs 236-239 of 2020). The legislation provides ample protections for credit unions and other businesses from liability if a member or an employee contracts COVID-19 potentially linked to the credit union or business. The legislation creates a shield from liability as long as the employer is following all applicable regulations. It also aims to ensure that employers will not be subject to frivolous lawsuits related to a member or employees' potential exposure to COVID-19 while on the premises.
In Regulatory Affairs, our team continues to work with compliance professionals and the Compliance Network to host meetings with industry officials and relevant departments to address various topics related to ELT implementation, examinations amid the pandemic, net worth ratios and PPP loans and loan forgiveness, among other things. The first meeting will feature representatives from the Secretary of State's office to address questions surrounding the mandatory implementation of ELT starting in March of 2021. The second half of that first meeting will be with Denice Schultheiss and representatives from DIFS to talk about examinations amid the pandemic and other questions and concerns.
We are also tracking emerging regulations from the state Department of Health and Human Services (MDHHS) on mask and PPE requirements for businesses and Michigan Occupational Safety and Health Administration (MIOSHA) guidance on workplace safety. We had a successful meeting with Sean Egan, the Director of COVID-19 Workplace Safety at MIOSHA, who was able to address credit union concerns and provides some additional input on the subject. MIOSHA has also issued an FAQ to help address related questions, and a link to that FAQ is available on our website. Our team has partnered with various business and trade entities on a letter to address outstanding questions not answered by the FAQ. As more detail from MIOSHA and/or MDHHS is available, it will be updated on our COVID-19 response webpage.
---
Regarding the Michigan Credit Union Foundation, we recently welcomed this year's graduating class of 68 certified financial counselors. Along with providing 23 full curriculum scholarships, MCUF also funded the training enhancements for each of this year's participants. These include funding a live group training session, which was conducted virtually this year, and a new web portal stocked with training webinars and financial counseling resources. On behalf of all who will benefit from these counselors, I want to thank participating credit unions for their efforts to gain skills and knowledge through this program.
The Foundation's board of trustees met late in October to set the course for increased support for financial health initiatives and community enrichment grants in 2021. This also includes continued support and expanded opportunities for financial counseling training.
As you may know, the Foundation is funded entirely by donations from our credit unions and credit union partners. And while donations to the foundation have grown over the past several years in support of member and community financial health initiatives, total donations were understandably down this year due to the uncertainties of the pandemic.
Every year, we request your support for an annual donation to the foundation, and you will see this option in conjunction with your MCUL affiliation dues statement for 2021.
However, now that we have almost made it to the end of the calendar year, if you find room in your current year budget, please consider making your 2020 donation to the foundation if you missed it earlier this year, or you may find it comfortable to pre-fund your 2021 donation in this calendar year.
Contact MCUF Executive Director Beth Troost for more information about supporting the Foundation or participating in MCUF initiatives. Thank you for your support and engagement with our Foundation.

EDUCATION
Over to our Education team, after producing more than 40 webinars and converting multiple events into virtual delivery, our 2020 training lineup still hasn't finished.
We've been working hard to bring professionals a new Virtual HR Forum Conference in December, covering relevant issues for HR departments that have been working extra hard this year.
Our Education Team is also offering a new CU Supervisory Series in conjunction with Lansing Community College is held. These virtual sessions, this month and next, focus on managing crisis and improved team building and communication.
You can find more about all of this at MCUL.org alongside more information on what's ahead for 2021.
---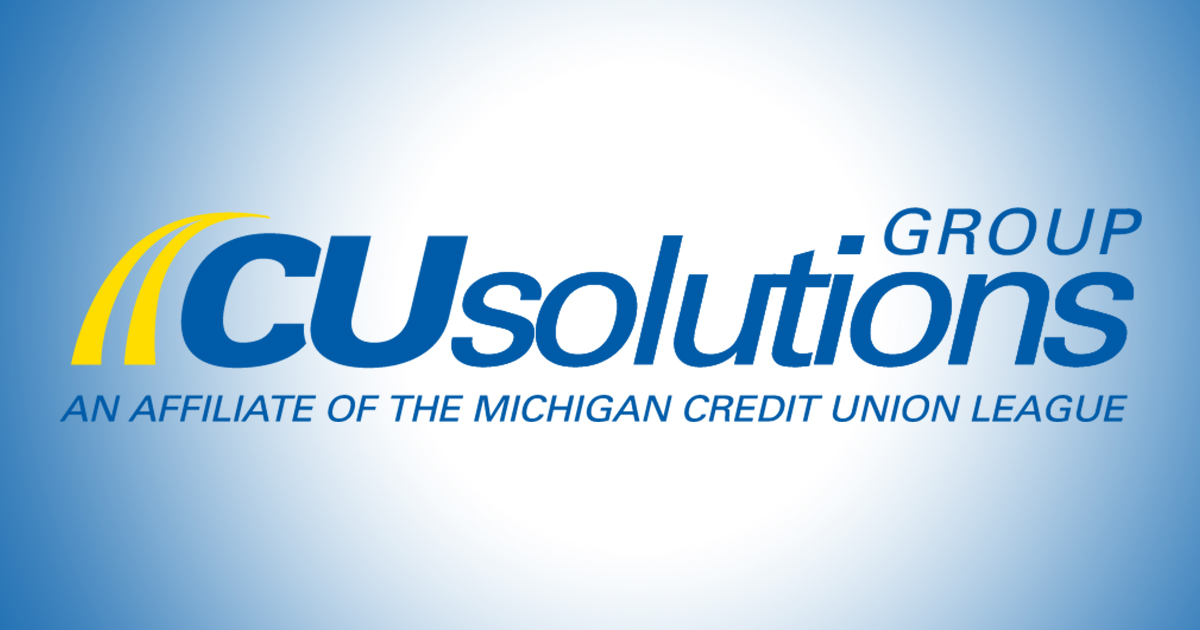 Hello and thank you for joining me for the CU Solutions Group November Priority Report. This month, I'll provide an update on timely and relevant member enhancements, industry insights on brand loyalty for credit union professionals and how credit unions can stay competitive with brands like PayPal and Venmo.
To start, our Technology Solutions team is helping credit unions stay mobile while extending their branch footprint with Payzur's person-to-person, or P2P, payment solution. Payzur's secure, real-time P2P payment service has an exceptional mobile app user interface and user experience, on par with other popular P2P apps like PayPal and Venmo. It's mobile services like this that can really keep credit unions front and center in members' lives as they use digital cash alternatives more and more.
Last month, Technology Solutions also announced continued growth in mobile-first and remote capabilities by executing on a new partnership with CalcXML. A premiere provider of highly customized financial tools including FIST – a comprehensive and proprietary financial wellness index – CalcXML leverages peer comparisons, online education and personal action plans so credit unions can help their members improve their financial health.
Our Marketing Solutions team is busy with pre–tax season meetings with credit unions who offer the TurboTax discount to their members. Pre-season preparations include our Marketing Best Practices Webinar, which highlights the importance of implementing key marketing tactics at critical times to grow member engagement. To sign up for this webinar or for more information about the TurboTax benefit to members, visit our Love My Credit Union Rewards Resource Center.
Also at the LMCUR Resource Center, credit unions can find more information on our new wireless discount on the TracFone family of brands. Early reception has been highly positive with credit unions excited at the prospect of offering their members the same wireless service on the same cellular networks – while paying a fraction of what they pay today. More webinars are being announced through the remainder of the year.
Our Marketing Insights Network is hosting a Brand Loyalty Webinar on November 19 to discuss and explore the importance of prize-linked savings programs, like Save to Win, for members in 2021. Speaking of 2021, our MemberXP specialists hosted a special Coach's Coffee at the start of November to discuss 2020 trends and how to set member experience goals for 2021. If member experience initiatives aren't already a part of your credit union's strategic plan, we'd be happy to chat.
As we've entered Q4 and the traditional season for performance reviews, the Performance Solutions division continues to help credit unions improve the performance evaluation process and even help create a more effective performance philosophy. Everything from intuitive dashboards and workflows to a framework of regular micro-reviews throughout the year are helping credit unions better connect with their employees and harness their talents. And of course, all of this can be found in our core performance solution, Performance Pro.
Performance Solutions has also worked to provide a stronger and more seamless integration between Performance Pro and Compease – our total employee compensation solution that provides you with the tools, information and consulting needed to manage salary administration. Fully integrated, Performance Pro and Compease create a comprehensive and user-friendly system proven to help credit unions attract, retain and develop top talent at every level of the organization.
Finally, in our Strategic Advisory division, the team is wrapping up a reinvention of the Compliance Helpline process. A resource overview video was added at a crucial user experience moment. Up next, the team will be testing an enhanced form capability to improve data reception and interpretation so we can better identify gaps in client resources and the potential for improved support.
The division also signed an engagement with CUNA to conduct an eSchool on Emotional Intelligence. We'll be able to share more details in the coming weeks. Until then, topics are set to include: The role of empathy in the workplace; Self-Awareness and Self-Regulation; EQ and Social Skills; Women in Leadership; Motivation and the Emerging Leader; and Culture of the People We Serve.
That's all for our November Priority Report. Thank you for making time to join me and hear about our latest developments and offerings. If you have questions about anything I've covered, please reach out to us. I'll see you in December with the final report of the year and what we're looking forward to in 2021.