Welcome to this month's Priority Report.

Throughout the year, you've no doubt heard me talking about our efforts to strengthen the Michigan Credit Union Act. I'm happy to say in the last month we've seen real movement on that front.
In early November, our six-bill package was unanimously voted out of the House Financial Services Committee.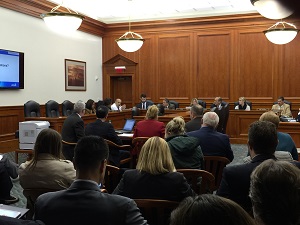 These bills would modernize credit union regulations for the first time in more than a decade by providing regulatory relief and putting more control in the hands of credit union boards and management. Our work here will help strengthen Michigan's state charter and solidify it as one of the strongest in the nation.
While we focused on improving field of membership flexibility in 2003, this time we are working to improve the examination environment and provide credit unions with new powers so we can remain competitive in a dynamic market.
While there isn't time to summarize each of the changes that we're seeking, to give you a better sense of what's in the package, let's go through some of the key items:
1) First, we are looking to restrict the use of examiner "best practices" by requiring that any of these suggestions be placed in a separate addendum—NOT in the exam findings. By putting items not required by law, regulation, or safety and soundness in an addendum, it helps clarify what is a requirement and what can be left up to the business judgment of the credit union's board and senior management.
2) We're also requiring DIFS to provide greater transparency to exam scoping and the appeals process. If credit unions disagree with an exam finding, they are entitled to know exactly what the process is for filing an appeal.
3) We are also proposing to create a credit union regulatory fund to protect our operating fees. Did you know that as an industry, credit unions are the second largest payer into the state regulator – paying over $7 million annually. We want to make sure those dollars are spent on credit union regulation.
MCUA Update
4) Building on a trend that we started in 2003, we want to also increase the number of areas where boards of directors can delegate routine matters to senior management. This is bread and butter regulatory relief and makes good public policy sense.
5) And in keeping with good sense, under this legislation, we're proposing that boards only be required to meet six times a year instead of nine. This would bring us in line with our banking counterparts here in Michigan.
6) Additionally, for credit unions doing member business lending, we are changing state law to allow pre-payment penalties for commercial loans, again bringing us in line with our marketplace competitors.
7) We also want to expand the fixed asset authority. Well-capitalized credit unions should have the flexibility to expand their bricks and mortar without being subject to arbitrary limitations under state law. The NCUA board recently deregulated this at the federal level, and we want to follow suit here in Michigan.
8) As an added benefit to credit unions and members alike, we're proposing something new – the ability to offer loan promotion raffles. Think of this like the Save to Win program, but for loans. This would allow credit unions to create incentive programs tied directly to prizes for members that close on loans. A program like this could encourage refinancing of higher priced bank loans, which will save your members money and increase your loan volume. It's a win-win for credit unions and for their members.
9) And as a benefit to the community, when this passes, state chartered credit unions will be able to offer charitable donation accounts. Currently, federally chartered credit unions can set aside funds with a third party who invests those funds in otherwise impermissible investments, with the proceeds benefiting designated charities. This new authority gives our credit unions additional flexibility to do good works around Michigan.
10) We also want to provide credit unions at the state level the ability to form CUSOs that could offer trust services to credit union members here in Michigan. Currently, CUSOs formed under federal law or in other states, can offer credit unions these services. We think it makes good sense to allow a home grown alternative, providing local jobs to our residents.
11) And finally, we provide new authority for senior management to terminate or suspend services for members that engage in abusive behavior or cause a credit union a loss, with a right of appeal to the Board.
These, along with so many other proposals, are just common sense items designed to let credit unions operate more efficiently. There are over 50 new changes contained within this package. And while we are happy to have gotten unanimous support in the House Financial Services Committee, bankers are pulling out all the stops to put the brakes on our efforts. We have to clear the Michigan House and then work our way through the Senate before we can get to the governor's desk. So there is definitely more work to be done.
Moving over to CU Solutions Group, in case you missed it, we recently announced a joint venture with a full service marketing firm called Focus IQ. The firm will provide Michigan credit unions' an unparalleled suite of services along with a strong digital marketing backbone. By implementing targeted advertising and big data solutions, Focus IQ gives members a sleek advantage and a sturdier foothold among the competition.
Now, I'd like to take a moment to update you on one of my favorite projects, CU Solutions Group's 1st annual Share the Love campaign. So far 108 credit unions in 31 states have submitted videos, and nearly 170,000 consumer votes were cast. Three charities have already received $10,000 donations thanks to this campaign. Michigan's own United Bay Community was one of our winners, sharing their love with the Ronald McDonald House of Ann Arbor.

When all is said and done, we will have donated more than $100,000 to charity, which makes everyone a winner.
With the new year just around the corner, I want to take a minute to look ahead at what credit unions can expect from MCUL in 2016.
I'm very excited that we'll soon be debuting the "Steps" campaign from CU Link, our cooperative advertising initiative. This campaign focuses on the many important steps we take throughout our lives and consumers that credit unions can be their lifelong financial partner. If you haven't seen the first commercial, I encourage you to watch it now.
Believe it or not, we're just a little more than six months away from our Annual convention & Exposition (AC&E). The 2015 event featured the wildly popular Watercoolers improv comedy group, who performed at our Honor Awards Breakfast. As you'll recall, there was singing, dancing and lots of laughs. MCUL staff is hard at work planning our 2016 AC&E, which will be held next June in Detroit. The AC&E is MCUL's largest annual gathering. It brings together industry executives, volunteers, high-profile business leaders, quality entertainment and vendors from across the country for high-quality information offerings and lots of networking.
We promise to continue to strive for excellence when we see you next summer. So block off June 9-11, and plan on joining your colleagues from across the state at MCUL's premier event at the Detroit Marriott at the Renaissance Center.
There are plenty of other great educational opportunities for credit unions between now and our AC&E, and one of those that we're most excited about is our upcoming workshop on how credit unions can attract, serve and retain young members—specifically Millennials. We're turning to an expert in this arena, Jim Kasch, CEO of Darden Employees FCU in Florida. Jim has first-hand experience with this market, since 90% of his members are in the Gen X and Gen Y demographic, making Darden Employees one of the youngest and largest fields of membership in the country. We'll have more details on this exciting workshop coming soon, so keep your eyes peeled—we know Jim will have a lot of best practices to share that you'll want to hear.
One other way credit unions can make themselves more attractive to younger members is through a robust mobile platform. But when members visit your website, does that site automatically reconfigure for the device the user is using to view it? One of the top priorities right now at CU Solutions Group is helping credit unions focus on custom response website development so your credit union's webpage automatically converts for viewing on a desktop, laptop, tablet or smartphone.
This isn't just about making sure our institutions are tech savvy, either. We need to be as up-to-date with our technology as possible if we want to attract younger members. Because when Gen Y consumers are considering where to do their banking, you can bet that they're doing that research on mobile devices.
For those of you that have dedicated apps for your credit union, CUSG is also working on new functionalities to improve your members' mobile banking experience. Your mobile banking apps today probably give your members the ability to do things like check balances, deposit checks, transfer funds and pay bills. Not every credit union out there offers these services, but we recommend that you do—it's a great way to increase the "sticky factor" with your membership.
One other "sticky factor" that reinforces why members join our institutions is the value we provide to them, and members continue to find value in the Love My Credit Union Rewards program. With the holidays already here, that means tax season isn't far off, and the Turbo Tax discount from Love My Credit Union Rewards remains an extremely popular benefit for credit union members. That's just one of a number of valuable member enhancements available through the rewards program, along with discounts on Sprint, Direct TV, ADT home security systems and more. And you can expect to see even more of that in 2016.
Before we wrap this up, let's talk about what you can do to help.
The number one thing you can do is get involved.
With Share the Love, that means creating a video. There's still time. Or go online and cast your vote. But more importantly, share the campaign socially. What better way to celebrate the season of giving than by sharing the love?
When it comes to the MCUA update, I strongly encourage everyone to contact your state legislators and ask them to support these bills. You'll find more information in the Advocacy area of our web site. With just a few minutes of your time, you can help us advance the cause of credit unions here in Michigan, and help us work towards a brighter future.
So on behalf of the Michigan Credit Union League and CU Solutions Group staff and board of directors, we all wish you a happy holiday season and a prosperous new year.