Jump to a section:
Federal | State | Regulatory | CU Link | MCUF | Education | CUSG
May 2021
Welcome to our May Priority Report.
To mask or not to mask, that is the question... We all saw a flurry of activity last week with the announcement that mask restrictions will be lessened for those people that are fully vaccinated. The President's announcement set into motion the need for agencies in Michigan to update and modify state policy on the issue of masks. As employers, and as credit unions serving their members, we all felt the same rumble and uncertainty on how to handle members and employees as restrictions ease. As of this report, we are still waiting for clarification or updates from MIOSHA. We have heard that while MIOSHA is reviewing updates to its rules, it will consider compliance with MDHHS's order good faith compliance when it comes to responding to employee complaints or conducting investigations on COVID-19. If you are able to join our Industry Update call this week, we will have MIOSHA Director of COVID Workplace Safety, Sean Egan, on the call to discuss the current situation and answer questions.
We highlighted research initiated by CUNA on women in credit union leadership this month. Learning from CUNA that credit unions far outpace banks nationally when it comes to women in CEO positions, we looked at how Michigan measured up and we were quite pleased, and not surprised, to see Michigan exceeding the national averages. Check out the article here: Michigan Credit Unions: How We Stack Up on Women in Leadership
Our CU Link Consumer Awareness Campaign – Banking Built for People – has launched its story contest t to encourage credit unions around the state to share stories of how they impacted a business or member over the last year. Two credit unions a month will be selected to receive a free, fully produced video by our CUBE TV team to feature the story. We know there are a lot of examples out there and we are looking forward to hearing them. Has your team shared a story yet? Check out the contest here: CU Link Story Contest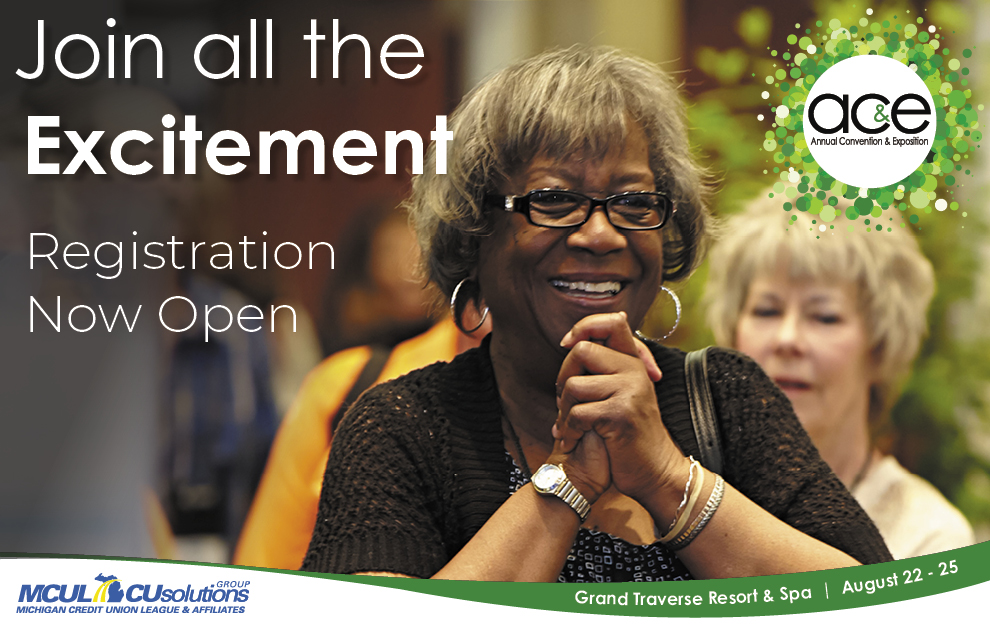 Big news from our Education team this month as we officially open registration for this year's Annual Convention in Traverse City from August 22-25. Also stay tuned for registration information for the Executive Summit and Fall Leadership conferences to take place in person this September. More information will be coming soon on these popular events and we hope to see you there.
Finally, watch out this month for information from our Advocacy team on State PAC fundraising as we kick off the plush animal sales. More information should be coming to your inbox soon.
As always, thank you for your support and continued engagement with our association.
---


---


EDUCATION