Federal | State | Regulatory | CU Link | MCUF | Education | CUSG
March 2021
Welcome to our March Priority Report.
As we approach conferences and events very differently during covid, hopefully, you were able to participate in some of this month's CUNA GAC sessions. Even more importantly, we hope you were able to join us on our virtual hike from home to visit with our Michigan Congressional delegation. Well we're in the midst of completing our CUNA GAC hike and are happy to report we've had hundreds of credit unions engage with us on this critical part of our advocacy mission. Thank you for helping us reinforce with our lawmakers the credit union difference as well as our continued effort to see real change on some of our important issues like cannabis banking, data security and other issues while protecting the services that our members value, such as courtesy overdraft protection and so many other things that are in the cross hairs with new CFPB leadership.
We are looking forward to the spring and summer months. Not only for the weather changes but also the hopeful improvement of the world-wide pandemic. We know each of you this past year has had to bear, at times, extremely stressful situations while navigating the personal safety of teams and your families. We know the loss brought on by COVID has been devastating for so many in our credit union community and we are holding you close in our thoughts during these challenging times as we see light at the end of the tunnel. As we look to the coming months, hope is around us with more and more vaccinations happening and the optimism that soon all those wanting a vaccine will have access to one as soon as early spring. And hopefully some degree or normalcy thereafter.
We would like to congratulate the 2021 MCUL award winners! We were able to announce those winners at the end of February and are excited to showcase some of the amazing credit union leaders and credit unions from Michigan. A complete list of winners can be found on our website. We will be honoring these individuals in person at our MCUL Annual Convention this August in Traverse City.
Also, as you know, our education team has continued to push the needle on virtual webinars. We are happy to be launching a Diversity Equity and Inclusion series as well as host another discussion on employer issues related to vaccines. Further, we are partnering with the League of Southeastern Credit Unions on some virtual events to expand networking opportunities and learn from those in other parts of the country. We hope you consider joining your colleagues from Michigan and those partner states in these sessions.
know most of you are aware of a recent Bulletin from DIFS (2021-12-CU) relating to business membership eligibility. understand that the interpretations made by DIFS in the Bulletin are troubling especially as it relates to your bylaws and geographic boundaries requiring the majority of business owners, majority of assets and business activities to be within your designated geographic boundaries. We have been working with outside counsel, Chuck Holzman, to do a complete review and statutory history of the relevant sections of the Michigan Credit Union Act and have a scheduled call with DIFS to discuss this Bulletin in detail. I have also personally reached out to Director Anita Fox and we will also be discussing the Bulletin in detail. In the short-term, we advise that, going forward, you work with your own legal counsel or work to adhere to the direction in the Bulletin. will update you as we continue to navigate this important issue.
Finally, on the association side, we are putting together a push through CU Link cooperative advertising campaign to reach small, minority businesses, especially in urban areas, that have yet to take advantage of PPP loans. We know that various barriers exist in reaching some of our small businesses and we are hoping to be a catalyst for connecting those small business needs with credit union PPP loans. Our CUBE TV team is working now on this initiative and we ask that you help us by proactively supporting the small businesses, especially these minority owned businesses, that are turned away from other lenders.
As always, thank you for your support and continued engagement with our the Michigan Credit Union League and Credit Union National Association.
Now onto regular League and CUSG updates.
At the federal level, approximately 160 Michigan credit union leaders attended CUNA's annual Governmental Affairs Conference in early March, and we were pleased to have most of those leaders participate in virtual meetings with our congressional delegation and NCUA Chairman Todd Harper. These meetings gave us an opportunity to hear from our federal lawmakers about the issues they're currently working on and to discuss our federal priorities and identify key credit union supporters and champions within the delegation.
On the Hill, President Biden has signed into law additional COVID relief legislation. Among the $1.9 trillion bill's big-ticket items, it provides $300 per week for unemployment benefits through September and sends direct payments of $1,400 to individuals making less than $75,000 and couples earning less than $150,000 per year. The bill also sends approximately $350 billion to state and local governments to assist with declining revenues, directs $130 billion to schools for re-opening and provides $160 billion for vaccine development and distribution.
Important to credit unions, the bill establishes a $10 billion housing assistance fund to help struggling Americans make mortgage and utility payments. This was a top priority for MCUL. It allocates $30 billion to assist renters and landlords hurt by the pandemic and, finally, the legislation renews the paid and sick leave payroll tax credits in last year's Families First Coronavirus Response Act. It also makes both state and federally chartered credit unions eligible for the credits.
Congress is expected to turn its attention quickly to a national infrastructure bill that could cost approximately $2 trillion and direct funds toward making improvements to our nation's roads, bridges, energy grid and broadband infrastructure. MCUL will keep you apprised of any significant developments related to this effort by the White House and Congress, as well as progress on our 2021 federal legislative agenda.

On the state side, the 2021 session is in full swing with the Fiscal Year 2022 budget being deliberated and committees meeting to review new legislation. Both leadership teams have several priorities that they are hoping to address this term, with many of them popping up in the early days of 2021.
Last month, MCUL gave a presentation to the House Financial Services Committee regarding the credit union movement. Patty Corkery and Chrissy Siders educated new committee members on the roles we play in their communities, highlighting how credit unions rose to the challenge during the early days of the pandemic and continue to do so today. The committee was impressed with our ability to make a difference in communities during this time and were thrilled to see the financial literacy initiatives you engage in throughout the year.
Payday lending legislation has been introduced by Rep. Matt Hall this term. We are currently working with a coalition of concerned stakeholder groups to oppose it. This has been a major focus in meetings with new legislators. In fact, we have been connecting with the Representatives that voted in support of this legislation last term to vocalize the alternatives that credit unions and others are offering.
Our advocacy team continues to closely monitor vaccine distribution and vaccine priority. The League is working with DIFS, the Governor's office and MDHHS to ensure that financial frontliners can get a vaccine during Phase 1c of the distribution plan. Additional information on this will be available in the coming months.

The advocacy team is continuing to collaborate with the Compliance Network to provide helpful and educational meetings with key leaders in the compliance space. For the Q1 meeting, the team is working with the Attorney General's office to address the new elder financial exploitation legislation that was enacted at the end of last year. There are a couple of new examination requirements for credit unions, so this meeting will be important to understand what the AG's office is looking for. We will also be working to secure a meeting with the Michigan Gaming Control Board to discuss the legalization of sports betting and online gambling in Michigan. This is a hot topic among compliance professionals in the industry.
At the state level, we continue to monitor COVID-19 orders coming out of MDHHS and MIOSHA and will be updating summaries on our COVID-19 response webpage as those continue to evolve and change.
At the federal level, Michigan credit union leaders recently had an opportunity to hear from NCUA Chairman Todd Harper about the direction the agency is headed under his leadership, and various initiatives being undertaken by the agency. Leaders were able to tell the Chairman our industry's position on a potential National Credit Union Share Insurance Fund premium increase, as well as our stance on net worth relief, prompt corrective action and the NCUA's CAMELS rating proposal.
The League, CUNA, the Compliance Network and local credit union leaders are following proposed regulatory changes and their impact on credit unions. When appropriate, we will submit comments to educate regulators on the impact of the proposed changes or work with members of the Compliance Network and local credit unions to draft their response to proposed regulations.
In 2021, we aim to maintain our growth and extended reach to consumers, legislators and business owners with the Banking Built for People campaign. The information we've gathered from past campaigns helps shape the course of cooperative advertising and messaging throughout the state.
As satisfaction with CU Link continues to grow year over year, I strongly encourage your full fair-share support for this program. We continue to see a strong correlation between the campaign's investment and the level of public awareness that it generates.
In early April, we are launching a new set of video ads on Snapchat to expand our current social marketing efforts and we're excited to see how they perform compared to our more traditional paid social efforts on Facebook.
In other social news, keep an eye out for the announcement of our new "Stories" contest. An exciting way for Michigan's credit unions to demonstrate to their membership, communities and lawmakers that they truly are "banking built for people."
With the help of cooperative donations, the Michigan Credit Union Foundation is a catalyst for impactful community enrichment and financial education initiatives. These activities help make credit unions unique and I would like to encourage your credit union to engage with the Foundation this year as a supporter and participant in MCUF impact activities.
More than half of our Michigan credit unions have already submitted an annual donation to the Foundation this year. Email communications have recently been sent to all CEOs with either a message of thanks for this support, or a request for a 2021 annual donation. This communication also extended an invitation to participate in current MCUF initiatives focused on helping increase your impact in member financial health and community enrichment.
Registration for the Foundation-funded Enhanced Financial Counseling Certification training is now open until April 2. MCUF funding provides free program enhancements to all participants and offers full curriculum scholarships for small credit unions. Staff in member service, branch management, lending, collections and community education will benefit from this knowledge and be better equipped to guide members toward increased financial security.
The Foundation is, once again, sponsoring the Money Smart Kids Read initiative this year on behalf of Michigan credit unions. 7,500 books will be given away to families participating in virtual pre-school story time events held in April, financial literacy month. 107 libraries across the state are participating in this initiative this year with 87% of these requesting to partner with a local credit union for financial education activities to supplement the storytime event.
To learn more about these current MCUF activities, or to inquire about MCUF community enrichment grants, please contact MCUF Executive Director Beth Troost. Thank you for your support and engagement with our Foundation.

EDUCATION
We've been regularly hearing from credit unions who are ready to expand diversity, equity and inclusion practices within their organizations. So, beginning in April, MCUL is offering four, one-hour sessions in a new series, Executive Insights to Make DEI Work in Credit Unions.
Led by Ayana King, CEO of Maximum Communications, the series is limited to 25 participants on a first-registration basis and is designed to leave credit union leaders with solutions to address the implementation of DEI practices for varied groups. The sessions are geared specifically for C-suite, management and HR professionals and will fill requests for solutions on taking DEI initiatives to the next level.
Find more information and register at MCUL.org. Registration is $549 per person for MCUL-affiliated members and all sessions take place from 10:00-11:00 am (ET).
Additionally, we'd like to share a quick update about the MCUL/CUSG Annual Convention & Exposition. The event has been moved from June to August 22-25 at the Grand Traverse Resort & Spa, which are Sunday-Wednesday dates. We continue to closely monitor CDC guidelines and executive orders during our planning process and are excited about how the event is shaping up. Be sure to save the dates and watch for more information that will be shared in the coming months.
---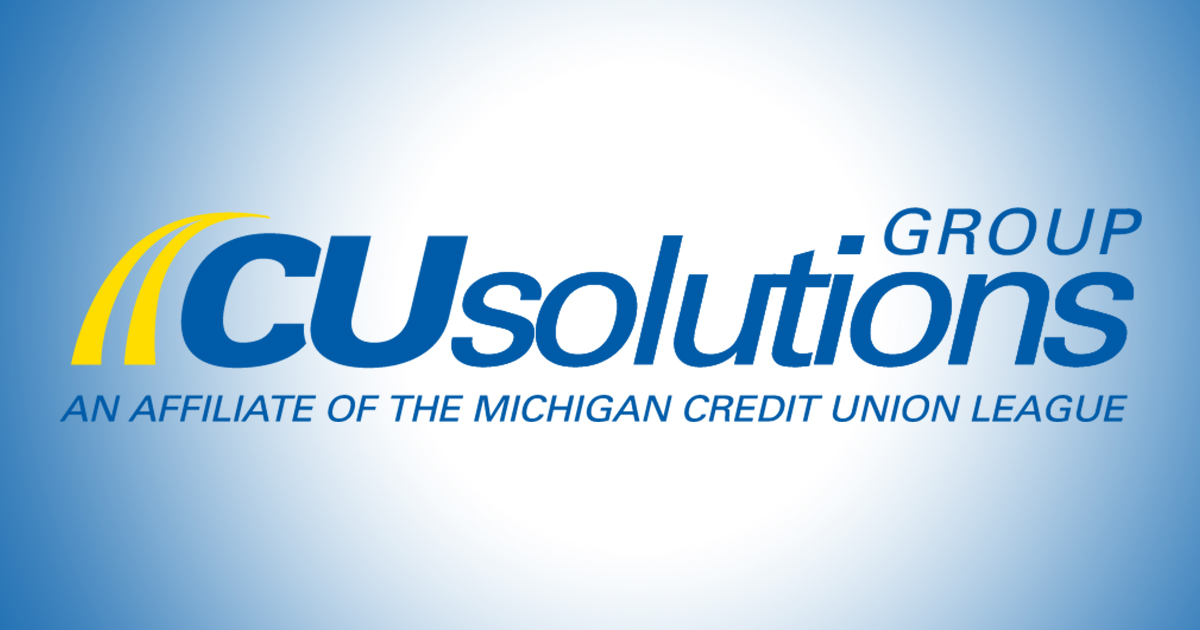 At the start of the year, we officially launched the new Love My Credit Union Rewards program offer from Carvana, the fastest growing auto retailer in the U.S. Carvana's multi-story vehicle vending machines, inventory of more than 20,000 vehicles searchable online, and array of no-cost, contactless delivery options make them a unique and compelling option in today's dynamic auto market. Credit unions enrolled in the LMCUR Carvana program will receive real-time loan leads through Carvana and their members receive a $100 cash reward, deposited directly into their credit union account.
At CU Solutions Group, we're excited about the expansion of Love My Credit Union Rewards program participation and the latest, time-relevant offers. Nearly 200 credit unions have enrolled in the new TracFone offer, giving their members access to wireless plans with no activation fees, no cancellation fees, unlimited free plan switching, no contracts and a credit union–exclusive discount. Additionally, for those credit unions who make promoting this offer a priority, there is a revenue share opportunity. So far, $1.1 million has been committed to participating credit unions.
And now is the perfect time to share this offer with members—tax season is one of the busiest seasons for wireless companies. Letting your members know they have access to discounted TracFone services could save them from getting tangled into an inflexible, multiyear contract.
Currently, there is an exclusive, limited-time offer for members of participating credit unions—they can get up to 25% off devices like the iPhone SE through April 15. If you're interested in learning more, you can join one of the upcoming TracFone webinars on March 17 and April 1.
For the 60 credit unions and counting who are offering the IdentityIQ discount through LMCUR, their employees can receive up to a 70% discount on identity theft protection. Members receive up to 35% off. And this is no small value add—the FTC received 1.4 million reports of identity theft in 2020. That's twice as many as 2019. We have two upcoming webinars to help you learn more about IdentityIQ on March 27 and April 7.
The rising popularity of fintech and the repercussions of the pandemic have highlighted how money management habits are changing among Gen X, millennial, and gen Z consumers. In the past year, many have looked for resources to create a financial plan for the first time. Our partner Pocketnest digs into the details in newly published material on their website, including their white paper The Saving Grace of Fintech: How Credit Unions Will Outlast COVID-19 and a helpful infographic, The 8 Faces of the Millennial. We've always been excited about Pocketnest's comprehensive financial planning tool that's designed for a mobile-first consumer base, and we'll be sharing more on the latest insights and how Pocketnest is perfectly aligned with the credit union mission.
Connect with us on Facebook and LinkedIn, if you haven't already, or register for a personalized demo on the CUSG Pocketnest webpage to see how this tool builds unique user profiles to create recommendations customized to each member's individual financial situation.
Understanding your members' needs and desires must be balanced with that same thoughtfulness toward your employees. I touched on this in last month's CEO Connect video, Five Strategies for Reinventing Your CU During the Crisis. Part of understanding how to deliver on your promises to both groups in the new environment is through strategy, planning, and employee engagement.
Planning Pro has always helped organizations—large and small—evaluate priorities as a unified team, keep everyone on the same page, and present progress to a board of directors and other leadership. In the current, widespread remote work and member engagement environment, we've seen our core strategic planning platform give organizations the guidance they need to execute on and measure the success of goals and KPIs.
Another pressing concern and challenge for organizations is how to deliver continuing education and professional development when traditional in-person events are still on pause. Two of our divisions, Performance Solutions and Strategic Advisory, have come together to address this need. Our Strategic Advisory experts have created content, including several leadership sessions, for The Learning Center, our learning management platform.
Planning for a virtual GRC Conference this spring is also underway via the eAdvisory platform. Sessions will focus on compliance education related to the NCUA Supervisory Priorities and will showcase speakers from our Strategic Advisory consultants. If you aren't already familiar with our eAdvisory virtual consulting, there are currently 20 resources for credit unions. These include templates, DIY event and training kits, hybrid training seminars, and required compliance training bundles and digital downloads. Content is continually being reviewed and updated.
That's all for this month's Priority Report. Thank you for joining me. If you have questions about anything I've covered, please reach out to us.