Priority Report: Here's How We Can Build on a Successful CUNA GAC
By David Adams
As my staff and I have just returned from the CUNA GAC in Washington, I wanted to offer a few perspectives with a specific call to action.
I want to thank the 120-plus Michigan Credit Union leaders who attended this year along with almost 5,000 people from around the country. What a great showing of grassroots lobbying clout.
There are many things that happen at a big event like this. And honestly, in the credit union industry, there is no other event that compares. There are passionate speeches, great networking, side meetings, a large vendor hall and a lot of day and night meetings. Actually, it can be pretty exhausting. But when the dust settles, it is the one great event of the year that brings credit union leaders together for the common cause of advocacy with federal lawmakers and regulators.
In our Hill visits, our credit union champions reinforced these themes:
We need reduced regulatory burden including exemptions from the Consumer Financial Protection Bureau and an update to the Federal Credit Union Act.
We need help with data breach responsibility for merchants.
We need to raise the member business lending cap.
We need to preserve the Credit Union tax-exempt status.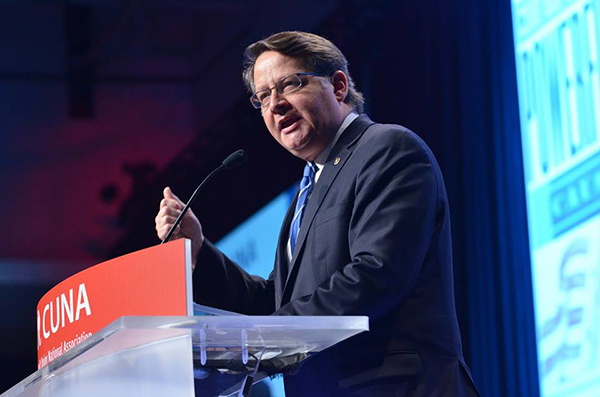 Sen. Gary Peters addresses the CUNA GAC after an introduction by MCUL & Affiliates CEO David Adams.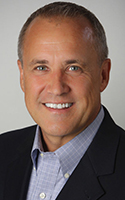 Nussle
Michigan's junior senator, Gary Peters, spoke passionately about his love for credit unions, his appreciation for their help in getting him to the Senate and his support for virtually every one of our issues. It was a proud moment for me to introduce him on that big stage. He will fight hard for us.
I was also impressed with new CUNA CEO Jim Nussle's passionate and very creative first speech on the stage. He called for help with grassroots lobbying by laying a foundation of readiness with our expansive army of staff and volunteers as well as being ready to ask our members for help on select issues. He also said that we will tackle the current issues of the day and gear up for a bolder agenda to update the Federal Credit Union Act and to ally with banks to seek broader regulatory relief from the regulations of the CFPB.
And possibly the most important speech of all that was delivered at the GAC was by Sen. Elizabeth Warren, D-Massachusetts, who was the author of the CFPB.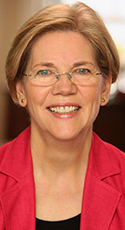 Warren
She said: "I want to be clear about regulatory changes. If credit unions and banks can show me regulations or supervisory practices that are unnecessary, then I'm ready to work together to find a better approach."
So, here is the ask:
Redouble your commitment to all facets of grassroots advocacy. Talk about it in your management meetings and boardrooms. Raise money for our state and federal PACs and our issue advocacy fund, "A Stronger Financial Michigan." Educate your team on the issues and stay engaged to help us with our lobbying as these bills get introduced.
Share with us those issues that are truly most important to you at the federal level. Let us know if you are with us on exempting credit unions from CFPB and what specific things you would like fixed in the Federal Credit Union Act.
Make plans to participate in local, state and national lobbying trips (including the 2016 GAC in Washington) and help us be ready for a multi-year process to advance a bold and impactful legislative agenda in Congress. We will keep you posted on the specifics to come.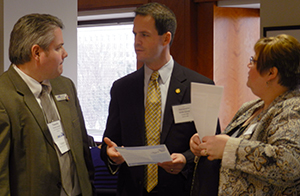 State House Speaker Kevin Cotter, center, talks with Credit Union leaders at the 2014 state GAC.
Finally, let me remind you that our state GAC is coming up soon in Lansing on April 21-22. There's still time to register and participate. We need you there to help us with the relationship building and messaging necessary for passing our planned updates to the Michigan Credit Union Act.
On behalf of my team here at MCUL, thank you for your support and involvement with what is our number one priority: Removing barriers in federal and state laws and regulations.
Have a wonderful spring and let me know what you think about this month's message.