January marks not only the start of a new year, but the beginning of many exciting things for us at the Michigan Credit Union League. In this edition of Priority Report we'll focus on four topics:
We'll look at some of the major advocacy issues in advance of CUNA's Governmental Affairs Conference, and how we're working to help credit unions remove barriers
We'll see how CU Solutions Group is using P2P mobile payments technology to provide credit unions with solutions for service excellence
We'll recap the final round of the Share the Love competition and how that helped to promote the credit union difference
And we'll discuss how the MCUL is helping to broaden credit union fields of membership to break down barriers and grow our industry.
We're just a few short weeks away from the biggest credit union conference of the year, CUNA's annual Governmental Affairs Conference. I hope many of you will join us in Washington, February 21-25. CUNA's GAC is not only a great opportunity to meet and collaborate with colleagues from across the country, but it's also a much-needed chance to interact with lawmakers and regulators who have a critical impact on our industry.
As you know, we're just ten months away from a major election. The presidential primary contests have dominated the news for months already, but it's important to remember that the campaigns that will have the biggest impact on CUs happen at the congressional level. As we have done in the past, this year MCUL plans to endorse candidates who support our industry and are willing to fight to protect the way we do business. That means continuing to fight for the credit union tax exemption, supporting legislation that limits or reduces the regulatory burden that credit unions face, and working to find ways to make it easier for our institutions to do business.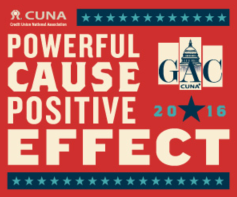 This year we expect to support a slate of both incumbent candidates and challengers, and GAC is one of your best opportunities to interact with those lawmakers currently in office. Additionally, CUNA this year has put a major focus on the credit union compliance burden, and attendees can expect several sessions on topics such as examiner expectations, the difference between "guidelines" and "best practices," the cost of compliance and more.
As we've said before, there's no stronger force for advocacy in our movement than the combined strength of the CUNA/league system, and CUNA's GAC is the best way to experience that first-hand.
As the result of your efforts and the CUNA/league partnership, we celebrated a legislative victory at the end of 2015. In early December, President Obama signed a highway bill that included an amendment to the Gramm-Leach-Bliley Act eliminating certain requirements on annual privacy notifications. Moving forward, if your institution does not make changes to its privacy requirements, you won't be required to send out an unnecessary communication. As a result of the CUNA/league partnership, we were able to see success at removing this barrier for credit unions.
Also at the end of 2015, the House Financial Services Committee passed a data-security bill supported by CUNA and the credit union industry, and it will be important to reinforce the message delivered by our DC-based advocates as we visit Washington for our industry's premier advocacy event.
As you probably recall, we're also in the process of working with leaders on Michigan's Senate Banking Committee to strengthen our state charter by updating the Michigan Credit Union Act. We're still confident that we can have this bill on Governor Snyder's desk for his signature by the spring, and a 90-day implementation timeline would put regulatory relief measures in place for credit unions by sometime this summer.
Now let's take a look at the latest from CU Solutions Group.
CUSG once again saw strong performance throughout the fourth quarter of 2015, and that means more than just financials. We pride ourselves on our ability to explore different products, to improve existing products and our willingness to continually reinvent, and our team was able to accomplish all of that very well.

One thing we're particularly excited about is the beginning of a new cross-marketing effort between CUNA and our own HR Performance Solutions team. Both organizations have launched direct mail and email campaigns to market Compease alongside CUNA's own online compensation analytics platform. Even with nearly 800 credit unions using these two applications, there are tremendous opportunities for growth.
This is a great example of how we're trying to leverage other system partners to help grow our business and provide service excellence for credit unions.
We're also pleased with the ongoing growth of our website and design hosting efforts. We launch websites for credit unions regularly, and in the last quarter we launched sites for Peninsula Federal Credit Union, Blue Ox Credit Union and Community Alliance Credit Union, along with several other sites for credit unions both here in Michigan and in other states. These new, modernized sites reflect responsive web design technology, which allows credit union the ability to reach members across all platforms. In fact, many of our credit union partners won awards last year for their responsive website designs.
We're doing more than just web design, though. Many Michigan credit unions have long offered mobile banking apps, and we continue to see increases in the number of credit unions implementing mobile payments functionality into these apps.
We've all heard of Apple Pay by now, and hundreds of credit unions now provide Apple Pay access for their members. But mobile payments means more than just payment at the point of sale. Michigan credit unions are also leading the way for our industry in adopting P2P payment solutions for their members.
CUSG's Mobile Finance Manager can provide credit unions with both security and the latest technology, enabling members to have one of the best P2P payment solutions on the market today.
P2P payments aren't just something that's nice to have in your mobile banking suite—it's become a must-have. As more and more credit unions add these functionalities, we're not only keeping pace with the competition, in many cases we're beating the competition. Features like mobile payments and P2P payments aren't optional in 2016—they're table stakes. And if a credit union hopes to compete for members with the big banks, our industry needs to show that we've got the technology that consumers are looking for. Every day, Michigan credit unions are advancing their product offerings to ensure that they're staying on the edge of technology with the solutions members require.
You've probably seen that we recently wrapped up the third and final round of our Share the Love campaign and we couldn't be happier with the results.

More than 130 credit unions submitted videos showing how they hoped to benefit charities within their communities, and more than 426,000 votes were cast during the three-month voting period. In the end, the grand prize winner was United Bay Community Credit Union from Bay City, Michigan, which not only won during the first round of voting, but won the overall vote count, earning it a grand total of $25,000 to be donated to the Ronald McDonald House of Ann Arbor. Congratulations to them and to all the credit unions that participated.
Share the Love may have ended, but our commitment to giving back has not. MCUL and the team behind Share the Love are already hard at work developing ideas to come back bigger and better for 2016. So stay tuned later this year for more information.
As you know, there's a lot going on in the realm of regulatory compliance, and MCUL is working on a number of fronts to ease that burden for credit unions.
At the federal level, our Government Affairs team is in the process of finalizing a comment letter to NCUA regarding the agency's proposal to modernize field of membership requirements. The regulator has proposed revisions to expand all three charter types—a move our league is strongly in favor of.
Broadening field of membership rules would allow additional members and growth for credit unions of all sizes, creating more opportunity for credit unions to serve consumers—particularly the underserved and underbanked—as well as boost lending. That, in turn, helps credit unions grow their businesses, add a greater variety of products and services to the mix and creates a stronger industry for all of us.
While NCUA's expansion would strictly be focused on federal credit unions, we're in favor of this because of what it would mean for Michigan. We want to continue to foster a strong dual-chartering system, and strengthening the federal charter through FOM expansion is a part of that. Once NCUA's comment period ends they'll review those letters before issuing a final rule. We don't know when that will happen, but we're expecting a quick turnaround, and our Government Affairs division will continue to monitor the issue closely.

Finally, I'd like to share the 2015 results from your trade association and CU Solutions Group. MCUL's share of CUSG's 2015 dividend was $2.3 million, and for the full year 2015, our League financials showed overall solid performance. As a result of that, we've been able to offer affiliated credit unions a 50 percent dues rebate. Thanks to MCUL's continued success and overall strong financial position, the Board felt that a more permanent fee reduction was needed, so this is the last year for a rebate. Starting in 2016, we will reduce credit union membership fees by 50 percent for all credit unions that make a minimum contribution to the CU Link campaign. This is a positive change for everyone and a reflection of our ongoing commitment to provide value to our credit unions by offering some of the lowest League dues in the country..
For 2015 we have been able to keep our Member Net Assets at $70 million, which is consistent with 2014. I am pleased to share that the strong performance of our subsidiary income offsets the unrealized losses on our bond and equity portfolio. With careful planning, our goal is to maintain a strong financial position regardless of market conditions and continue our mission to help credit unions serve, grow and remain strong.
For more information on everything we've discussed here today, I encourage you to visit our website, mcul.org, to read the written version of the Priority Report. While you're there, you can sign up for our weekly Monitor emails. And be sure to read the latest issue of Contact magazine for even more credit union news from across Michigan.
Thanks for reading, and keep up the great work.