Hello, and welcome to the February 2017 MCUL Priority Report.
Before giving you a preview of MCUL's upcoming year, I want to start by highlighting the big moves that have been happening in the area of regulation. President Trump recently issued an executive order that requires federal agencies to propose two regulations for deletion with each new regulation issued. In fact, the president went on to express his opinion on Dodd-Frank by calling it a "disaster", and has subsequently issued an executive order to review and amend Dodd-Frank.
While this doesn't guarantee an impact on our industry, it's still hopeful to hear. We welcome any steps toward easing regulation and removing barriers for our credit unions. For its part, the CFPB has indicated that – as an independent agency – they will continue business as usual.
The NCUA will continue its rulemaking process without delays, as an independent regulator and in conjunction with the regulatory freeze issued by the Trump administration. With the appointment of board member J. Mark McWatters to Acting Chairman of the Board, all pending NCUA rulemaking and regulations that provide federally insured credit unions with regulatory relief are approved and moving forward.
Last week, House leadership announced 2017 committee assignments. Serving on the House Financial Services Committee is the newly appointed chair, Representative Jason Sheppard, and freshman Representative Diana Farrington as vice-chair. Additionally, Representative Sherry Gay-Dagnogo is the committee's minority vice-chair. Out of the 9 members serving, 8 are new to the committee and 5 are freshmen.
Our government affairs team looks forward to working with these new leaders to advance MCUL's legislative priorities, including data breaches. Special work groups addressing data breach legislation are currently in progress.
With more than 40 freshman lawmakers in Lansing, it's extremely important that we have a strong showing of credit union leadership at our State GAC on April 25 and 26. This offers you an opportunity to speak with state lawmakers – including Lieutenant Governor Brian Calley and Representative Jason Sheppard – to highlight our priorities. We hope that you and others from your chapter are able to join us for this important event at our state capital.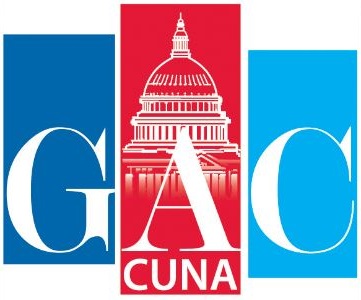 In February, we head to Washington D.C. for the CUNA GAC. This event highlights the importance of the CUNA/League advocacy partnership and illustrates our priorities to Congress. We are pleased to report Michigan now has 3 members serving on the House Financial Services Committee–Congressmen Bill Huizenga, David Trott and Dan Kildee. Congressman Trott was recently appointed to serve on the committee for the first time; Congressman Huizenga will return and serve as chairman of the Financial Services Subcommittee on Capital Markets, Securities and Investment; and Congressman Dan Kildee also returns, and was appointed to serve as Vice Ranking Member of the committee. MCUL and CUNA look forward to working with all members of our congressional delegation to advance our 2017 advocacy goals. We want credit unions to feel more freedom to focus on their members – not burdened by the overbearing distractions of the CFPB.
Another important component of advocacy is promoting the CU Difference. Creating awareness for our credit unions in the state is not just about gaining members and deepening the share of wallet for existing members. Our legislators are exposed to the good work you're accomplishing though the CU Link campaign. Our campaign reminds them that credit unions are in their communities, their downtowns and neighborhoods…and we're 5 million members strong.
In 2017, we are broadening our media coverage to include social media and we're building out additional product-based integration assets. Our goal is to increase share of wallet in the areas of homeownership, auto refinancing and small business. Expanded marketing pieces, such as turnkey videos, will be made available free of charge to our full share participants. I encourage you to visit the CU Link tab on the MCUL website to start utilizing campaign assets with your own brand.
The 2017 campaign refresh also includes a redesigned website that heightens the focus on credit union membership and incorporates GPS into the search functionality. We're currently vetting the new CU Link campaign through focus groups, and I look forward to rolling out the new campaign creative for the 2018-19 cycle at the AC&E, this June.
Hand-in-hand with the CU Link campaign, the Michigan Credit Union Foundation is promoting the CU difference across the state.
In 2016, the Foundation funded 22 grants totaling more than $88,000 in community reinvestment and financial education activities. As a result, communities across the state are positively impacted. Underbanked residents in Kalamazoo now have access to second-chance checking accounts. Saginaw is showing improvements by investing in revitalized houses found in low-income neighborhoods.
Michigan credit unions hosted 32 interactive Financial Reality Fairs last year, helping 2,600 teens learn about credit unions and the challenges of money management with the help of the Foundation. Never forget that your MCUF donations make an enormous impact!
This year, the Foundation is continuing to expand its impact on our state, and I ask you to consider participating in the Foundation's education and grant activities. MCUF has a 2017 goal of raising and distributing $150,000 for financial education, and with the impact we saw last year, it's amazing to think of the number of lives that could be touched by your help.

As we continue to plan for 2017, our education and events team is hard at work to design training opportunities to better enable your staff to sharpen their skills and gain the important information they need to keep up in a dynamic environment.
Registration is now open for the March 2017 Lending and Marketing Conference, in Grand Rapids. Board members and volunteers have an opportunity to network and gain new insight at the April Spring Leadership Development Conference in Mt. Pleasant. These 2-day events create great opportunities for peer-to-peer networking and offer sessions to further staff development and a wide variety of high quality education sessions.
I am also excited to announce that registration is open for the 2017 Annual Convention and Exposition, in Grand Rapids this coming June. Dan Schulman, president and CEO of PayPal, is presenting the Friday keynote address. Dan will be sharing his mission on simplified digital payment systems and offering his insights from a global perspective. Visit our website for a complete rundown of the events and activities we have planned.
In addition to these great events, I encourage you to explore some of our great new products and services offered by CUSG. First, I'd like to mention CU TrendScan; a new, digital publication that explores cutting edge issues in technology, marketing, and performance. CUSG launched CU TrendScan in January, and one subscription is available free of charge to each MCUL-affiliated credit union. Hot topics like the future of mobile banking, changes in performance management, and more are all covered in the January issue – I highly recommend checking it out.
We are currently finalizing our acquisition of CU Wallet, a product that will help credit unions adopt a mobile-first approach to meeting consumers where they are at, which is increasingly on their mobile devices. CU Wallet will offer credit unions a branded solution that dramatically helps members with a collection of tools and features that include payment methods, special offers, lifestyle apps–and more.
Growing our Sprint program continues to be a key priority for membership enhancements this year. The Sprint Credit Union Member Cash Rewards program was recently launched, backed by nationally running ads and GSTV, and it's our best Sprint promotion yet. A $100 cash reward for every new line is just incredible. There is new marketing material available in the partner center, and I strongly urge you to help your members make the most of this fantastic program.
As you plan your marketing efforts for 2017, I'd like to point out CUSG's expanded range of services powered by FocusIQ. These include everything from paid search advertising, to media purchasing, to social media, to media production, and more. Credit unions without in-house marketing resources can purchase individual options to execute turnkey marketing programs. Larger credit unions can partner with CUSG to strategize and supplement existing marketing efforts.

Finally, I'd like to update you on CU PlanningPro, a product we created by popular demand and announced at last year's AC&E. The beta testing with several credit unions in Michigan is currently being planned. We are excited about how CU PlanningPro will help with your strategic and operational planning framework and tracking, and I'm looking forward to the statewide rollout.
MCUL and CUSG remain focused on doing everything we can to protect your interests and provide you with quality services and solutions. We know as well as you do that our work in this industry is more than just "business". We belong to a movement with a longstanding history of putting people first, and we know that the credit union difference is one that positively impacts lives.
Thank you for watching.