Federal | State | Regulatory | CU Link | MCUF | Education | CUSG
December 2020
Welcome to the December 2020 Priority Report. We hope you and your family are getting ready for a nice holiday season. As we are winding down with our last Priority Report of 2020, we look forward with the promise of a better year ahead and are hopeful that the COVID vaccine will be available and distributed soon. While we limit our family interaction this holiday, I think we all look forward to a time when getting together in person with family and credit union friends becomes a normal routine again. Until then, we hope this report finds you healthy and safe. Once again, we have broken out each section to its own video segment. I encourage you to navigate each department's section for thorough updates on everything I mention here.
Before I get to our updates, I want to highlight that we are working with CUNA Mutual Group to help raise awareness of CDFI credit unions. As you may know, the U.S. Treasury Department's Community Development Financial Institution Program, referred to as "CDFI", is designed for qualifying financial institutions to build capacity in developing and delivering resources to underserved communities. In 2020, the CDFI fund provided over $45 million in grants to 111 CDFI credit unions. Future stimulus package proposals have $12 Billion allocated to the CDFI. Therefore, if you have not looked into obtaining a CDFI designation, we encourage you to do so. CUNA Mutual is offering weekly sessions to learn more about the program. If you are interested, you can find the link here to complete a form and register for more information.

You should have all received your 2021 Affiliation information. I'd like to ask that you maintain your support of MCUL and CUNA in the coming year. As always, we will remain dedicated to strengthening the credit union community, helping you serve, grow and remain strong. If you have any questions about the affiliation information, please reach out to your league representative or any of us at MCUL.
Also, last month we held our 2020 Grand Raffle! Congratulations to all the credit unions that sold winning tickets and especially to Genisys Credit Union which sold the $20,000 grand prize ticket! We are thrilled that despite slower traffic in lobbies this year we raised over $250,000 with this program to support our federal PAC. Thank you for your participation.
Lastly, be sure to check out the exciting update from CU Solutions Group for information on new additions to Love My Credit Union Rewards, Carvana and information on our recent partnership with TracFone. There are also new developments with a video banking platform partnership and additional information about what you can expect as CUSG heads into 2021.
---
Starting with Federal Advocacy, in D.C., U.S. Senate and House negotiators have reached an agreement on a Fiscal Year 2021 National Defense Authorization Act (NDAA). I am pleased to report this year's bill includes important MCUL- and CUNA-supported Bank Secrecy Act/anti-money laundering provisions that were previously passed by the House.
A key reform under the bill removes the burden on financial institutions to gather information to submit to FINCEN. Now, businesses will be required to submit that information on their own, cutting out credit unions from the equation.
We hoped the bill would include language that would index the currency transaction report threshold, but instead, the bill requires government agencies to provide proposals for revising the threshold in the future. While this isn't the result we hoped for, it's still a step in the right direction.
With only a few weeks remaining in 2020, Congress continues to work on a COVID-related stimulus bill. We expect it to include another round of PPP funding, continued federal unemployment, a moratorium on evictions, and $16 billion for COVID testing and tracing, along with vaccine development.
Two major sticking points are said to remain before a bill could be brought up for a vote: providing liability protections for businesses, and funding for state and local governments. Many believe with COVID cases escalating and with many in need of additional relief, Congress will compromise on the remaining issues and pass a short-term relief bill before Christmas.
MCUL's advocacy team will keep you apprised of developments surrounding a federal stimulus bill.

At the state level, the legislature has returned for the "lame duck" session prior to recessing for the remainder of 2020. Several of our legislative priorities are still moving and we are hopeful to send a few bills to the Governor's desk prior to the end of the year.
Data breach legislation passed in the Senate Regulatory Reform Committee and is awaiting a vote on the Senate floor. Payday lending legislation had an initial hearing, and our team is working with stakeholders to ensure that the legislation is not voted out of committee.
Also moving are bills that would extend the validity of drivers licenses in the state. Currently, expired licenses that have been deemed valid through the pandemic are set to become invalid early this month. Our team is working to get an extension of the provision to allow expired licenses into 2021. Additionally, we're working to extend the codification of electronic and remote notarization procedures through mid-2021. We believe that, given the current climate, these extensions are necessary and warranted.
In Regulatory Affairs, our team continues to work with compliance professionals and the Compliance Network to identify needs within the credit union space. Additional meetings and events will be held in 2021 to help compliance professionals tackle hot topics.
We continue to track emerging regulations from the state Department of Health and Human Services on mask and PPE requirements for businesses and Michigan Occupational Safety and Health Administration guidance on workplace safety. As more detail from these agencies are available, it will be updated on our COVID-19 response webpage.
---
Focusing on Consumer Awareness ? as we close out 2020, I want mention that despite the many hurdles this year has given us, the CU Link Campaign was able to continually adjust and achieve incredible reach.
As we move into 2021, CU Link is once again focused on delivering a Michigan-focused campaign, crafted specifically to consumer needs. Last month, I previewed our new 30-second ad – "Banking Built for People." This campaign showcases everyday people counting on their credit union as a partner. Our goal is to provide solutions to the issues your members face in a relatable and encouraging way. We emphasize a core message: credit unions care more about their members, and what makes us different, makes us better.
You can view our progress by visiting the CU Link hub on MCUL.org. Here in Michigan, we are unique in having had a cooperative advertising campaign for over twenty years. In 2021, MCUL will contribute 50 cents for every dollar raised to expand our media presence across the state. I encourage you to participate as a full share contributor. CU Link is more than a marketing campaign; it is an advocacy and engagement tool targeted towards decision makers and governmental leaders.
While the pandemic continues to disrupt schools and community events, and financially impact many small businesses and families, the Michigan Credit Union Foundation is focused on strengthening credit unions' ability to make a difference for those affected.
The Foundation board set the mission for 2021 of cooperatively empowering credit unions to increase financial well-being through financial education, community enrichment and credit union development support.
The goal this year is to raise and utilize $240,000 or more to boost credit union impact with support in three main areas: financial education and counseling; community enrichment grants; and credit union leadership development.
To do this, the Foundation is seeking the support of 65% or more of our credit unions with an annual donation. As you may know, MCUF is funded entirely by donations from our credit unions and credit union partners. This request for a MCUF annual donation is included on the MCUL affiliation dues invoice as an optional item with a suggested donation amount based on your credit union asset size.
If you missed adding your donation in with your affiliation invoice, you are welcome to make a separate donation directly to MCUF by contacting Executive Director Beth Troost.
Thank you for your support and engagement with our Foundation.
EDUCATION
The Education team is preparing a robust 2021 lineup of trainings, including three virtual conferences during first quarter.
The compliance, lending and marketing conferences are being conveniently scheduled to help participants reduce screen fatigue, build training continuity, create networking opportunities and introduce some unexpected fun.
Every event features a great lineup of popular industry experts. Also, registration to each includes post-event training to four additional webinars being held throughout the year.
Online registration is opening soon; watch MCUL.org for more information on what's ahead in 2021.
---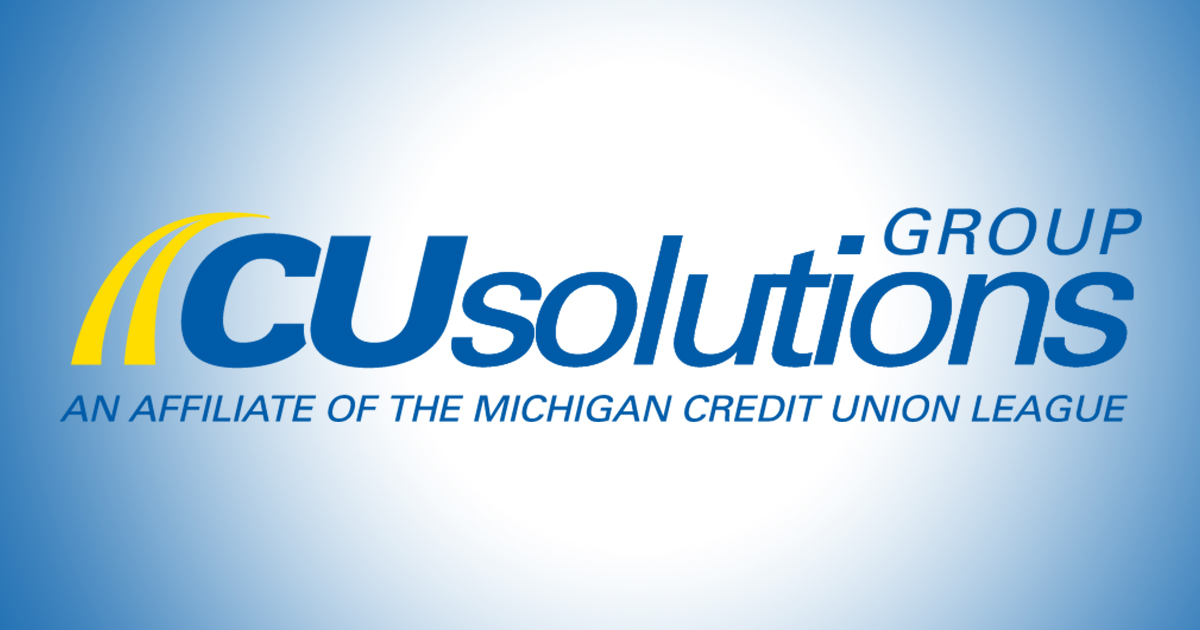 This month, for CU Solutions Group, I'll give a final look at important developments of our core products in 2020 and some of what we have planned for 2021. Together, these advancements will support both the current and future needs of credit unions.
Expanding and demonstrating the value of credit union membership is more important than ever as we leave a difficult year behind us and move forward into 2021. With new life habits in mind, our Marketing Solutions team is very excited about one of our largest and newest additions to the Love My Credit Union Rewards program, Carvana.
In a short period of time, Carvana has established itself as a disruptor in the auto industry. For those of you unfamiliar, they're an online-only, pre-owned retailer—one of the fastest-growing and most-used, in fact. Driven by a number of no-cost delivery options and contactless, multi-story vehicle vending machines, their model is game-changing in the current COVID environment and is likely to make a lasting impact on the industry. In addition to a cashback offer exclusive to credit union members, the LMCUR/Carvana partnership will deliver real-time auto loan leads to participating credit unions.
Many of you have likely heard about our new partnership with TracFone. Together with TracFone, we're focused on helping credit unions deepen member relationships by significantly lowering their mobile phone bill – a practically unavoidable annual expense. The TracFone family of brands – which also includes SimpleMobile, Total Wireless and Net10 – are designed to meet the unique needs of every member. They're able to do this by purchasing bulk wireless service on the AT&T, Verizon, and T-Mobile networks at wholesale prices. Then they offer that service, which is identical to what most of your members have right now, for a lot less. Each of these plans includes no activation fees, no cancellation fees, unlimited free plan switching, no contracts and, of course, a credit union–exclusive discount through LMCUR.
If you're interested in learning more about our special offers with TracFone or Carvana, visit the Love My Credit Union Rewards Partner Center for a list of upcoming webinars.
As credit unions seek alternative ways to deliver banking services online instead of in-branch, our Technology Solutions team is fast-tracking a partnershp with Enghouse to offer their cloud-based video service, VidyoCloud, as a secure video banking platform. Credit unions will be able to conduct on-screen banking interactions and help employees and members minimize in-branch visits without losing out on those important face-to-face interactions. We hope to launch this solution before the end of 2020, so stay tuned.
It might be the end of the year, but our Performance Solution division hasn't slowed down when it comes to enhancing our core HR performance products. This means major code updates and new software developments are continuing to roll out.
For Performance Pro, development highlights include full 360-review functionality and JazzHR applicant tracking integration. Compease received updated compensable factors for more accurate job and compensation evaluation. And Planning Pro is ready to meet the challenges and needs of remote teams with the expansion of task tracking tools within its project management functionality.
Those of you who use our learning management and professional development platform might have noticed that The Learning Center has an updated interface, with a look a feel that's in sync with Performance Pro. New email alert and reporting options have also recently been added. And finally, we're working on integration with Articulate, a leading course development tool, so we can continue to bring leading edge content.
Our Strategic Advisory team turned their expertise toward developing more resources for credit union leadership and management of all levels. They've worked with Performance Solutions to build more robust learning management content for mid-level managers. In addition, they've also partnered with MCUL Education to provide a series of board training courses on their eAdvisory platform.
For the current strategic planning season, our team has developed options for completely virtual, socially distanced in-person, and a hybrid approach to planning. Each option has proved a success and gives credit unions the flexibility they need to determine which option is best for them.
That's all for our December Priority Report. Thank you for your time. If you have questions about anything I've covered, please reach out to us.