As 2015 winds down, on behalf of our whole team here at MCUL & Affiliates, I wish our entire Michigan credit union community Happy Holidays and best wishes for a prosperous New Year!
In this December Priority Report, I'd like give you an overview of the unparalleled compliance resources available through the CUNA/League system. I'll also provide an update on our progress updating the Michigan Credit Union Act, and finally, I'd like to touch on a few of the innovative solutions that CU

Solutions Group is offering to help credit unions remain successful.
As we enter the New Year, we take our affiliation process very seriously. The Strength in Unity Campaign is about reinforcing the value that MCUL and CUNA provide together to 99 percent of Michigan's credit unions through your affiliation with both the state and national associations.
We often talk about the CUNA and MCUL three-pronged focus of removing barriers, promoting the credit union difference and providing solutions for service excellence. But we now need to add a fourth to this mix, because it is a significant area of focus for CUNA and MCUL. This fourth prong is our unparalleled regulatory compliance support.
As you probably know, CUNA and the Leagues have developed a comprehensive online compliance resource called InfoSight, which, in conjunction with CUNA's E-Guide, provides concise summaries of every federal and state regulation, along with compliance tools such as frequently asked questions, compliance checklists and links to key laws and regulations. InfoSight is offered to affiliated credit unions free of charge. I hope you use this product and consider it an important value for your dues dollars.
We've also developed an innovative self-assessment compliance audit tool called ComplySight, which is designed to streamline compliance management at your credit union by providing tracking, transparency and measurement all rolled into a single application. To make sure you stay compliant, ComplySight automatically provides you with regulatory alerts and updates. Here in Michigan, ComplySight is provided to affiliated credit unions under $50 million in assets, free of charge. This is yet another example of our commitment to support Small Asset Size Credit Unions. We also have an additional 50 larger credit unions in Michigan and over 220 nationwide who have purchased an annual license for ComplySight.
In addition to these powerful tools, we offer all affiliated credit unions a policy library called CU PolicyPro, which is comprehensive group of customizable policies for use in your credit union. This valuable resource is available to every credit union and is provided, once again, free of charge to affiliated credit unions. As regulators require more and more board and operational policies, this turnkey policy library is another great benefit of affiliation with CUNA and MCUL.
CU Solutions Group also offers on-site fee-based consultants that can be used to leverage your compliance resources. These consultants, working in conjunction with our compliance experts at CUNA, provide our credit unions with a powerful array of compliance resources unmatched by anyone.
These resources – Infosite, ComplySight,CU PolicyPro and our team of on-site consultants, provide our credit unions with a powerful toolbox of resources as they work to stay in compliance with an ever-growing list of new regulations issued by the CFPB, NCUA and other regulators.

In addition to all these great tools, MCUL and CUNA offer a wide range of high quality, affordable compliance education sessions on a wide variety of topics. MCUL provides popular in-person compliance sessions such as our annual compliance conference, along with a range of webinars and targeted conference calls on a wide variety of compliance hot topics. These Michigan education offerings are complimented by the extremely popular CUNA compliance schools, which offer an intense week-long training opportunity for credit union compliance professionals. CUNA also offers compliance certification programs that not only teach and test key concepts, but also provide an opportunity for continuing education.

These best-in-class tools were developed and brought to you by CUNA, MCUL and League InfoSight, a consortium of state leagues. This breadth of offerings isn't available from NAFCU or any other trade association. All these resources are available to our affiliated credit unions at no cost, or at a nominal cost—as a benefit of membership.
On top of everything that MCUL and CUNA offer on the compliance front, we also offer an unmatched value proposition in the area of advocacy. This includes both legislative and regulatory efforts.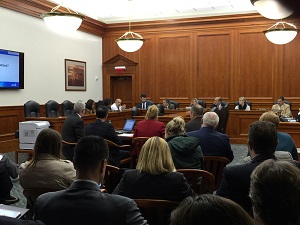 Here in Michigan, we worked with our legislature to modernize the Michigan Credit Union Act in 2003 in order to authorize new powers, and broaden fields of membership in an innovative way without unnecessary regulatory requirements. We also empowered boards, expanded investment authority and streamlined unnecessary regulations.
Now, a dozen years later, we are engaged in a similar process designed to further update our state credit union act. Our package passed out of the House Financial Services Committee unanimously over banker objections and out of the state House with a strong bipartisan, near unanimous vote in 2015. While we achieved field of membership reform in 2003, in 2015 we are focused on reducing regulatory burden, streamlining exam requirements and further empowering boards of directors.
We're also looking to enable credit unions to offer prize-linked promotions for loan balance transfers, designed to allow credit unions to offer an incentive to members that want to refinance out of higher cost bank loans, by entering them in a drawing to win a prize. This would be a program similar to the highly successful Save to Win program that uses prize-linked savings to incentivize smart savings habits.
In 2016, we will focus on the state Senate and hope to get the package to the Governor's desk in the Spring, possibly by Easter.
This package improves our state charter in over 40 different ways, including restricting use of examiner best practice suggestions, which have become an issue for credit unions across the state of Michigan. We also are looking to improve transparency regarding the scope of exams and the appeals process when disagreements with examiners occur. We continue the trend we started in 2003 to further empower boards of directors and are providing parity with federal credit unions in a number of ways. Finally, we are looking to expand powers and further reduce duplicative and unnecessary regulations.
On the national level, in 2015, CUNA and Leagues had a daunting challenge in defending our tax exempt status in Congress and trying to make headway on regulatory relief in a paralyzed Congress gripped by gridlock. While progress has been made in advancing proposals designed to provide credit unions some degree of regulatory relief in recent months, MCUL will continue to work with CUNA on a more aggressive, bolder agenda.
Rather than tinkering around the edges, we continue to believe that CUNA and Leagues should craft a bold agenda designed to modernize the Federal Credit Union Act and to exempt credit unions from rules and oversight of the CFPB---in part or in whole. We will keep pressing for CUNA to lay a comprehensive groundwork designed to set forth a vision that we can work toward over a period of years.
Looking ahead to November, MCUL is working to effectively leverage every tool at our disposal in support of credit union-friendly candidates. We are continuing to aggressively work to meet our PAC fundraising goals and we're doing this in order to strongly support credit union friendly candidates at the state and national levels.
As we always do, we encourage everyone to please consider making a personal donation to our state and federal PACs, and to make a corporate contribution to our issue advertising fund, A Stronger Financial Michigan. We've got a long way to go to meet our annual fundraising goals, and we can't get there without your help.
With an election on the horizon, this year's Governmental Affairs Conference from CUNA should be especially exciting! The GAC is the biggest credit union conference of the year, and it's set to take place in Washington D.C. February 21-25. Not only is this a wonderful credit union networking experience, but, more importantly, it's a chance to meet face-to-face with the lawmakers and regulators who are determining the future of our industry.
So be sure to visit CUNA.org to register.
Closer to home, I'm sure you'll want to join us for MCUL's own Governmental Affairs Conference, on April 20th and 21st. With the proposed changes to the Michigan Credit Union Act, it's an important chance to thank lawmakers for their hard work and give them a reminder of why they support credit unions.
This summer, our education team is planning another fabulous Annual Convention & Exposition, June 8-11 in Detroit. We are looking to build on last year's theme of reinvention, so look for more information throughout the year.
But before that, we'll kick off the year with back-to-back conferences at the Radisson Plaza Hotel in Kalamazoo. We'll start off with our annual lending and marketing conference on February 9-10, and our annual compliance conference follows immediately afterward, on February 11 and 12. One of the highlights of the compliance conference will be an entire day focused on cybersecurity, one of the most important issues credit unions face today.
Visit MCUL.org for more information and to register.
With the start of the new year, you may have already received your 2016 affiliation kit in the mail—and if you haven't received it yet, you can expect it soon. Take a moment to review your packet closely, because there are some important changes this year.
MCUL is proud to offer some of the lowest membership fees in the country. As you know, for the last several years we have been able to offer you a 50 percent rebate because of strong financial performance which is a direct result of your support of MCUL and CUSG. However, our board felt that a more permanent solution was needed. So, beginning in 2016, your credit union will automatically have access to the 50 percent lower MCUL dues so long as you make at least a minimum contribution to the CU Link Cooperative Advertising Campaign. Of course, we hope you will consider your full fair share.
We currently enjoy almost 70 percent participation in our CU Link campaign. That's wonderful. It's a testament to the value of the campaign and the belief that you all have in promoting the credit union difference. However, we'd like participation to be 100%. So, starting in 2016, by making a minimum contribution to the CU Link Campaign, your membership dues will reflect the 50 percent rebate. If you choose not to support the CU Link Campaign, you will be able to affiliate with MCUL at the already low, undiscounted level, like you have in prior years.

MCUL continues to match your CU Link contributions dollar for dollar. Last year, that meant $2.1 million dollars went directly to media buys for the campaign. Don't forget that full share credit unions get 50 percent of their contribution back when they integrate our campaign with their own advertising, further strengthening the message across the state.
From working with lawmakers to tell the credit union story to finding new ways to cater our member credit unions' needs, we've got a lot things to be excited about—and we're particularly excited about the latest developments over at CU Solutions Group.
A critical part of CUSG's success is adjusting to meet customers where they are - and that means mobile. Our Technology Solutions division continues to help credit unions launch new responsive design websites. Our clients recognize CUSG as a creative leader in this space.
Our Marketing Solutions division, including our new joint venture – FocusIQ – can build digital strategies around your site and help utilize big data analytics to develop targeted advertising to grow your member business. We can also help you maximize unique marketing solutions like Gas Station TV to strengthen media efforts and drive traffic into your branches or to your website.
We're also excited about a new exclusivity agreement with CUNA that is increasing the value of our online salary administration system, Compease. Along with CUNA's online platform, Compensation Analytics, Compease will be the only software application in the industry that features data from the 2015-2016 CUNA Staff Salary Report. Combined, these popular applications are used by nearly 800 credit unions.
Serving members means providing discounts and exclusive offers from Love My Credit Union Rewards. Our Sprint partnership continues to grow with new activations, as more and more members look to their credit unions for ways to save money and take advantage of these exclusive offers.
All of these endeavors helped CUSG to record strong financial results in 2015. Through November 30th 2015, net income was $7.9 million compared to a budget of $6.3 million. CUSG Revenue of $53.5 million exceeded budget by $3.6 million. That success is good for CUSG shareholders but also for MCUL member credit unions since MCUL owns two-thirds of CUSG and this model is what helps drive membership dues to incredibly low levels in Michigan.

Before I wrap up, I want to quickly mention the fact that two Michigan charities have received donations thanks to CUSG's "Share the Love" video competition.
The Ronald McDonald House of Ann Arbor and the Frankenmuth Farmer's Market each received a 10 thousand dollar donation thanks to the winning videos from United Bay Community Credit Union and Frankenmuth Credit Union. United Bay Credit Union also won the grand prize securing another $15,000 for charity.
The response to "Share the Love" has been tremendous, with credit unions nationwide submitting 132 videos. In fact, 46 of those submissions came from right here in Michigan, and all told viewers cast almost 427,000 votes!
By the end of the contest, we will have given $105,000 to credit unions' charities through the Share the Love program. I know it gives us all great pride to work in an industry that does so many unique things for communities and that contributes so much to charitable causes like those showcased by Share the Love.
So, thank you for all that you and your credit union do to support MCUL and CUNA and the solutions offered by CU Solutions Group. Together, we're building a stronger credit union movement in Michigan and across the nation.
Again Happy Holidays and best wishes for a successful 2016!