Federal | State | Regulatory | CU Link | MCUF | Education | CUSG
August 2020
Welcome to the August 2020 Priority Report. We hope that you are enjoying our last full month of summer and this report finds you and your family healthy. This month, we're holding the MCUL Annual Meeting. We know it's strange for all of us to not be in-person at the AC&E for this meeting, but we look forward to seeing you virtually as we celebrate a great year at the association and share our thoughts about the many opportunities that lie ahead.
We had a Michigan primary this month and hope you all exercised your right to vote. We summarize the primary results in this issue and, overall, we are pleased with the number of credit union supporters that made it through. Be sure to review our state summary for more details.
On the federal side, we are closely monitoring Phase 4 of the stimulus package. No doubt you have heard about the stalemate that seems to continue between the House and Senate proposed bills. We summarize the proposals in this report and continue to engage with lawmakers to press for support for housing assistance and streamlining of forgiveness in the Paycheck Protection Program, among other items.
We launched a new video podcast series – Friday Five with Dave Adams – this month. If you have not had a chance to see my interview with one of our longtime, highly respected CEOs, Cheryl DeBoer of Advia Credit Union, you can check it out on our website. We hope that you find the information shared by Cheryl and future guests helpful and interesting as we learn from leaders in our industry and take time to get to know one another and celebrate the credit union difference. As the name suggests, every Friday, I will have a taped conversation based on five questions that provide personal insights from our many great industry leaders.

Our Education team continues to shine and pivot during this unprecedented time. They put together a Reconnect Series for this month and September that we had to postpone in light of executive orders but we will continue to find creative virtual training solutions going forward. Our focus for the foreseeable future will be on short, relevant topics delivered remotely as opposed to in-person events.
Our CU Link campaign continues to have high engagement as we continue to connect with members and Michiganders, communicating how credit unions are here for them during these challenging financial times. The number of connections we have made with the campaign has been impressive. Thanks for your continued support and recognition of the importance of cooperative advertising.
On the CU Solutions side, I discuss a new partnership in Performance Solutions, growth with the Love My Credit Union Rewards program and exciting developments with MemberXP and AudioEye.

This month, we have broken each section out to its own video segment. I encourage you to navigate each department's section for thorough updates on everything I mentioned here. As always, thanks for watching this month's issue of Priority Report.
---
On July 27, the United States Senate introduced their version of the "Phase 4" emergency stimulus package. The proposal consists of 10 individual bills that would provide approximately $1 trillion in total spending on various programs, including federal unemployment insurance payment to individuals who have lost their jobs. The Senate proposal would continue the temporary federal unemployment payment but reduce it from $600 to $200 per week.
Absent from the Senate proposal are several credit union priorities, such as language establishing a $75 billion housing assistance fund, $1 billion in funding for CDFI and $100 billion for rental assistance. In addition, we are hoping to have language included in the proposal that would modernize e-commerce laws, creating minimum standards for electronic and remote notary.
President Trump's executive orders, while perhaps well-intentioned, aren't expected to provide meaningful economic relief. The Congress needs to get back to negotiating a stimulus package that is still badly needed for the millions of Americans adversely affected by this economy.
For more details on what's included in the Senate legislation and the President's executive orders, check out MCUL.org for our summary.
Before I wrap up federal advocacy, I do want to mention an important development regarding the Bank Secrecy Act relief. The U.S. House has passed a 2021 National Defense Authorization Act that includes language requiring the Currency Transaction Report threshold to be indexed for inflation every five years and would require a study on the impact of Suspicious Activity Reports. The House and Senate are expected to meet in the fall to negotiate and pass a final NDAA bill. MCUL will be urging members of our delegation to support keeping the BSA language in the bill.

In Lansing, before the legislature wrapped, the legislature and Whitmer administration were able to come together to patch the nearly $3 billion deficit in the current year budget, but absent federal assistance to states, will have to deal with the same level of deficit threatening next year's budget.
Within that process, our team continues to work on securing funding for small e-recording grants for counties that need to bring their recording processes online. We also continue to oppose House Bill 5097, which would expand payday lending products to include installment loans. We are hopeful that we will see renewed traction on data breach reforms in both the House and the Senate when the legislature returns this fall.
With 2020 being an election year, our team is continuing virtual meetings with candidates running for state representative. There are 85 seats with incumbents running for re-election while the remaining 25 are open seats. After review, our MCULAF Board of Trustees endorsed 45 of the 110 prior to the Primary Election. All 45 of these endorsed candidates were incumbents, and all were successful. The MCULAF Trustees will continue to review incoming candidates before the November General Election.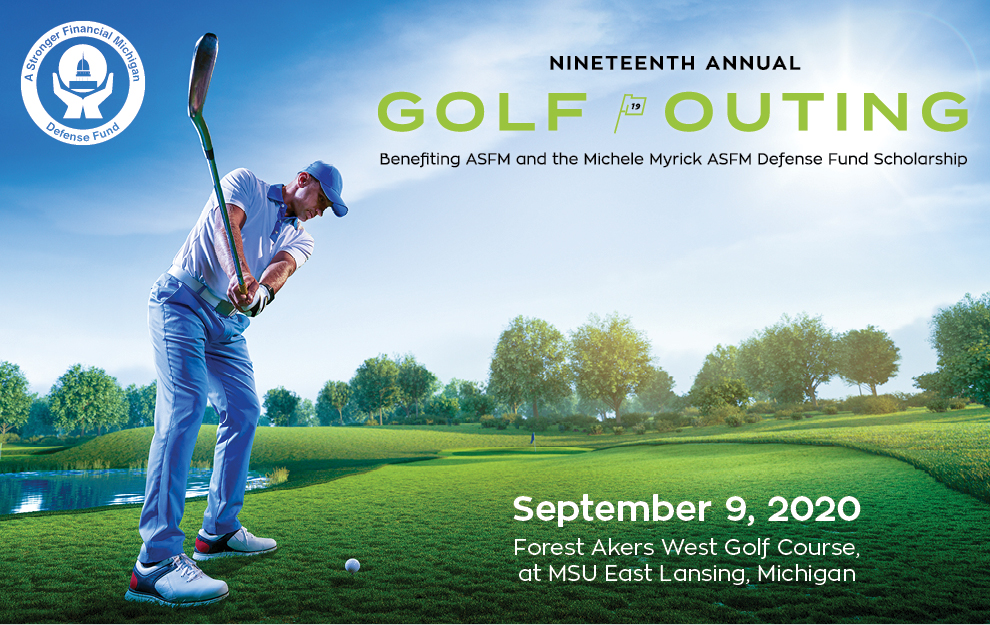 We recently announced that the annual ASFM Golf Outing will still be held on Sept. 9, at MSU's Forest Akers golf course in East Lansing. We are working with the course to hold the event in compliance with all executive orders and public health guidance. This event supports our critically important Michele Myrick Scholarship Fund, and when we are able to return to in-person grassroots events, we must ensure that we have the resources to help our credit unions engage. Thank you to those that have already pledged your support, participation or both, and please consider joining us if you haven't already done so.
On the Regulatory side, we issued a request for comment to members of the State and Federal Issues Committee seeking feedback on the NCUA's Virtual Examination request for information. Based on industry feedback from this, the NCUA intends to reduce burden on credit unions and increase the agency's efficiency by reducing onsite examination time, improve offsite supervision capabilities and provide more consistency and standardization for the examination and supervision process, among other things. Comments for this are due Aug. 31.
The NCUA Board also issued three requests for comment at its July board meeting regarding Fees Paid by Federal Credit Unions, Overhead Transfer Rate Methodology and the Phase-In of CECL. Each will have a 60-day comment period upon publication in the Federal Register.
We are working on scheduling virtual meetings with the NCUA Eastern Regional Supervisor, John Kutchey, for early September and will also be arranging meetings with NCUA Board Members.
Finally, we will be scheduling meetings with DIFS and NCUA to discuss the feedback received from the industry regarding examination concerns arisen as a result of COVID-19.
We will have more to share on these virtual meetings in the near future. And as always, you can find detailed information on all of these issues on our website, MCUL.org.
---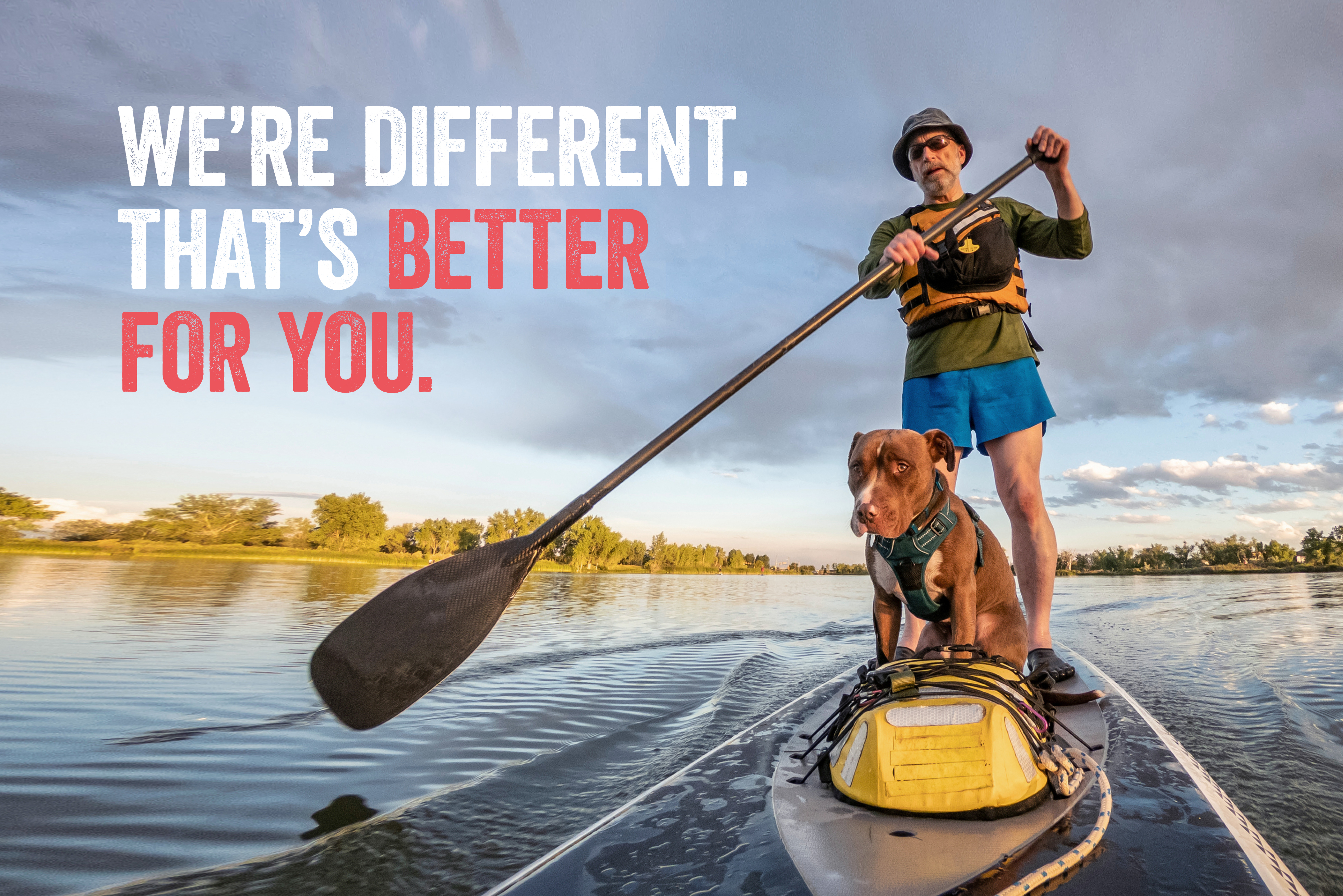 The MCUL CU Link campaign is in market through the end of 2020 with a focus on how credit unions are helping to address consumer financial hardships caused by the pandemic and the current recession. The messaging connects people with relief options paramount to our not-for-profit industry.
The Michigan-based campaign currently in media markets addresses these issues and encourages consumers to seek a helping hand from a credit union. We support that messaging with examples of credit unions' lower rates and fees, as well as a history of community support in the toughest times. In tandem with the campaign, we are currently tracking consumer-based financial distress trends associated with instability in unemployment benefits, as well as levels of delinquencies and repossessions.
Tracking with those issues, the CU Link website experienced a surge in visitors in July. The site saw nearly 250,000 visits to the home page, resulting in a 100% increase over a 30-day period. The MCUL team will continue to track engagement metrics as the COVID landscape continues to shift.
Additionally, the MCUL team is working in conjunction with CUNA to plan out the awareness campaign materials and messaging moving into next year. I look forward to sharing more details on how the campaign develops in future months.
---
This is the time of year when teachers and students gear up for the new school year, and so are the credit unions involved in youth financial education, with help from the Michigan Credit Union Foundation. Michigan credit unions typically have a large presence in schools with these activities, but due to COVID-related school disruptions, our credit unions are seeking to innovate and change delivery methods to continue to be leading providers of youth financial education.
An August Financial Education Connection networking meeting brought together about 50 credit union financial educators to share ideas and resources and to explore alternate delivery methods for youth financial education and alternate operational methods to conduct student-run credit unions. This incredible cooperative participation and problem solving is one of the reasons why credit unions are leaders in the state and the nation in youth financial education.
MCUF grants are also available to assist with new ways of reaching both youth and adults with financial health support. The personal economic toll of this disruption will place an even greater emphasis on this need.
Additionally, MCUF Community Reinvestment Grants can also be used to help expand and continue community financial health initiatives, especially those assisting underbanked, low income and underserved areas. Please contact us to discuss your impact ideas and this grant opportunity.
EDUCATION
In MCUL Education news, we were looking forward to a series of smaller in-person executive events known as the Reconnect Series, that were going to move around the state in August and September. The goal was to reconnect peers, hear from top speakers and address industry hot topics – all with proper socially distanced and healthy practices put into place. Sadly, as you have probably heard, we had to cancel these events due to the recent executive order limiting indoor meetings to fewer than 10 people.
But we still have great training planned to serve our members for the balance of the year, including the 'Lending School,' 'IRA: Essentials and Advanced' and "Mortgage Loan Originator" training – all being delivered virtually.
Plus, to assist Michigan credit union directors in fulfilling the important Bank Secrecy Act/Anti-Money Laundering training they require, MCUL has developed a convenient five-part series of short pre-recorded sessions that are ideal for self-study or to view during board meetings.
So, be sure to visit MCUL.org for complete details about these valuable resources being offered to support your teams and volunteers over the coming months.
---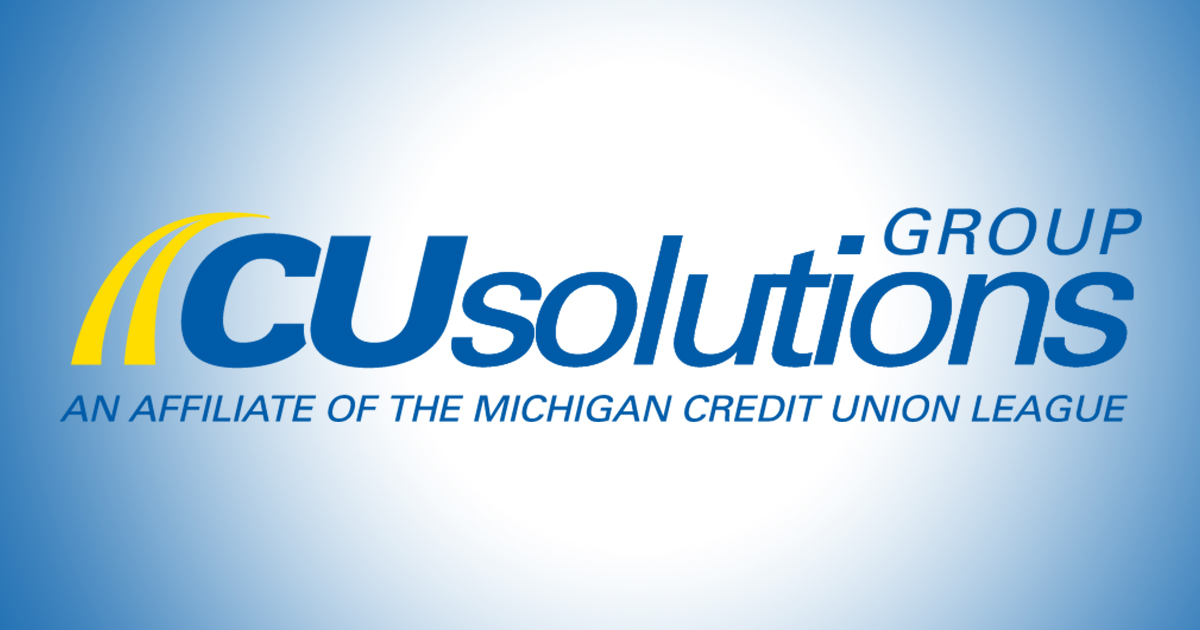 I'd like to start our CUSG report with an update from our Performance Solutions division. We recently partnered with Plansmith – a company that has been providing banks and credit unions with budgeting solutions for more than 45 years. Their budgeting software, Compass, is a powerful and dynamic application that can help you forecast the financial impact of current economic conditions on your credit union and help you make more informed decisions. Our Performance Solutions team is currently scheduling demos – please reach out to the team for more information.
Our Marketing Solutions division remains busy growing our Love My Credit Union Rewards program. Inside the LMCUR partner center, existing marketing assets are being refreshed and new assets are coming soon to help credit unions promote several upcoming and updated offers. One is from partner Rollick, who has exclusive offers on EZ-GO Golf Carts and Can-AM off-road and on-road vehicles. Another partner, Financial Lock, recently launched a new website and 30-day trial for all ID Theft products. And Rental Kharma, a partner that helps members build credit by proactively reporting rental payments, has already yielded valuable member data that has translated into real-time auto loan and mortgage leads for participating credit unions.
Also, in the area of marketing and member engagement, I previously mentioned a powerful new feature coming to CUSG's member experience platform, MemberXP. Piloting in August, the application's MemberView feature will now include enhanced reports providing automated sentiment data collected by both online and off-line member interactions. This feature captures and quantifies qualitative data – information that is critical to any operation but is often overlooked due to challenges of interpretation and reporting. Directly addressing this issue, automated sentiment grants credit unions richer insight into the member journey, allowing them to prioritize efforts for improvement.
Our CUSG Technology team and partner AudioEye have created a new bundled solution incorporating automated Search Engine Optimization and reporting services, Google and Bing analytics integration, and website monitoring services. This expanded solution is being offered at no additional cost to current clients – and for future clients, also comes with AudioEye's ADA digital accessibility certification.
Several weeks ago, we announced our partnership with Abrigo on its Paycheck Protection Program solution. Critical for SBA lenders, Abrigo arms credit unions with the accurate and up-to-date information they need to effectively administer SBA PPP loans. From initial understanding of program details and originating PPP applications, to focusing on the forgiveness and administration process, with this new partner, we can help you simplify and streamline all facets of PPP lending.
Finally, our Strategic Advisory Solutions team is expanding their eAdvisory solutions to meet the demands of the growing remote work environment. A new offering has been crafted for smaller credit unions to help with strategic planning and will be launched shortly through the eAdvisory portal. Other additions include "Strategic Planning in a Box," a CDFI Fund consulting solution, and several training topics unique to governance. Additionally, the team recently concluded several entirely remote BSA audits and created a video to highlight resources for credit unions nationwide.
That's all for this month's Priority Report. Thank you for joining us. We have much more to announce with new partners and product developments through the remainder of the year, so please make sure to join us again for next month's edition.