Hello, and welcome to the 2017, first quarter, MCUL Priority Report. In addition to my monthly Priority Report, each quarter, we provide MCUL members with an expanded update of our progress and accomplishments year-to-date, and look ahead to the future.
This report, we'll cover current issues and activities, as well as future priorities for MCUL and CUNA. Then, we'll have a brief update on CU Solutions Group, and finally, a short financial recap of MCUL.
I want to start by going over some highlights from the most recent NCUA Call Report data for the fourth quarter of 2016. You can find the full report on the MCUL website under the Industry Data and Analysis tab.
Michigan credit unions reported a 0.7% increase in total memberships in the fourth quarter – a bit slower than the 1.2% surge reported in the third quarter, but marginally higher than the 0.6% increase in the fourth quarter of 2015. The annualized 2.8% fourth-quarter increase in memberships greatly exceeded the state's 0.1% full-year 2016 population growth reported by the U.S. Census Bureau.
Memberships in Michigan credit unions increased by 3.6% in 2016. When compared to previous calendar- year results, this increase is the fastest seen since 1987 (when memberships increased by 4.5%). Michigan credit unions now report 5.05 million memberships – a total which is equal to just under half (49%) of the state's population.
So, our industry continues to have much to be proud of with regard to growing memberships and giving more Michigan consumers a helping hand.
Michigan credit union loan portfolios grew by 2.4% - a 9.6% annualized pace - in the final quarter of 2016. While a bit slower than the 3.3% third quarter increase, the result outpaced the fourth quarter 2015 increase of 1.8%. Overall, credit union loans in the state increased 11.5% in calendar year 2016. The last time full- year loan growth exceeded this pace was 1994 when the state's credit unions reported a 15.9% jump in loan balances.
Looking forward, CUNA expects solid loan portfolio growth for 2017 – even if short-term interest rates resume their modest march higher.
As for asset quality, Delinquency rates edged up marginally (from 0.73% at the end of September to 0.77% at year-end) and the net chargeoff rate inched up from an annualized 0.43% in the third quarter to 0.52% in the final quarter.
Clearly credit unions have a lot of untapped lending capacity and certainly, at least in aggregate, could afford to put more lending risk on the balance sheet.
Strong loan growth pushed the Michigan loan-to-savings ratio up from 74.3% at the start of the quarter to 74.6% by year-end.
Loan growth helped to ensure healthy earnings results in the state. Michigan credit unions reported annualized ROA totaling 0.66% in the period. That nearly matched the 0.68% standard in the year-ago period. Michigan credit union earnings averaged 0.60% over the past decade.
Strong earnings helped to keep the Michigan credit unions' aggregate capital ratio at 11.6% during the fourth quarter – a reading that is both a bit higher than the 10.9% national average credit union net worth ratio and well above the 7.0% threshold level at which regulators deem credit unions "well capitalized".
So, to sum it up for 2016, Michigan's credit unions continue their strong membership, asset and loan growth, leading to stready strong earnings and capital ratios. However, there continues to be great excess capacity for lending and more lending risk for most credit unions.
Before I turn to Ken Ross, our president/COO to give an update on MCUL's efforts in areas of advocacy, information, cooperative advertising and compliance support, I want to say that as we head into the second quarter of the year, we are happy with our high rates of affiliation and engagement by Michigan's credit unions.
We completed a successful GAC and have raised the funds needed for another successful cooperative advertising cycle. We look forward to seeing most of you at our upcoming Annual Convention in Grand Rapids in June and we're continuing to work hard on the CUSG side to deliver high-quality technology, marketing and performance solutions.
We've kicked off 2017 with a surge in grassroots advocacy events throughout Michigan, focused on key members of the state legislature and our entire congressional delegation. The UP Chapter of Credit Unions recently hosted a breakfast where several state lawmakers attended and heard the complete rundown of our 2017 legislative priorities. The Oakland Chapter of Credit Unions also had Congresswoman Brenda Lawrence (pictured left) at their annual chapter meeting as a guest speaker.
Our team, as well as credit union leaders, have had the opportunity to meet with Congressman Dan Kildee and Dave Trott – both members of the House Financial Services Committee. These local events allow the League and our members the chance to promote legislative priorities with key lawmakers.
All these individual meetings in Michigan were in addition to those we held in Washington, D.C. during the CUNA GAC, where we had 137 credit union advocates joining 5,000 more from around the nation to make our voices heard on Capitol Hill.
Looking forward, the League has meetings scheduled with Congressman Bill Huizenga and freshman Congressman Jack Bergman at our State GAC, at the end of this month. We look forward to this event every year, as it presents the League and our members important grassroots interactions with key state lawmakers including members of the Financial Services Committee. This year, we're looking forward to featuring both freshman Financial Services Chair Diana Farrington and Lieutenant Governor Brian Calley.
The MCUL GAC also provides Michigan credit unions a platform to educate their lawmakers on important issues — like data breaches — and how they're impacting their institution. The issue will be a hot topic of discussion, this year, as MCUL-supported data breach legislation is currently being drafted by Senate Banking Committee Chairman Darwin Booher. This legislation will be introduced because MCUL decided it was time for Michigan to focus on finding a state solution to the data breach issue after years of congressional inaction. Credit unions have been hammered by Home Depot, Target, Wendy's, and now Arby's, and we're hearing loud and clear that enough is enough!
We're also focused on a number of other issues such as tow truck lienholder notification and electronic notarization. In the coming months, MCUL will be watching the payday lenders closely as they, once again, try to get legislation introduced and passed to allow for bigger loans, over a longer term, with triple digit interest rates.
At the federal level, in Congress, health care reform is still in the mix, as is tax reform, and pulling together an infrastructure package is on the horizon. We've received several statements from members of our congressional delegation supporting our not-for-profit tax status.
And as you know, the ultimate shape of any regulatory relief is being debated in the U.S. House Financial Services Committee. While the exact contents of legislation is still unclear, MCUL and CUNA are focused on providing credit unions relief from CFPB oversight and rulemaking through the Campaign for Commonsense Regulation. We're also strongly backing legislation that would allow loans made on 1-4, non-owner occupied residential units, to be classified as residential loans. This would allow credit unions to treat these loans the same way that banks do, and take these loans out from under the credit union's member business lending cap.
As the League focuses on these priorities in the second quarter of 2017, we'll be asking credit unions to help us communicate these issues with every member of Congress. I hope you consider joining us in September for Hike the Hill as we carry these issues to D.C.
Shifting to Regulatory Affairs ‒ Over the past two quarters, MCUL, together with DIFS and the NCUA, have hosted four Regulator Roundtables across the state. These meetings provide credit union attendees the opportunity to ask questions of their regulators in an informal setting. DIFS and the NCUA also provided updates on what they're looking for and seeing in credit unions from every corner of the state, and what their exam focus will be over the next 12-18 months. Attendees have been very pleased with these meetings and appreciate the opportunity to ask questions freely.
Our Regulatory Affairs staff continues to work with CUSG on revisions to Destination Compliance, the total compliance solutions incorporating League InfoSight, CU Policy Pro, ComplySight, CUNA's Compliance Resources and Compliance Consulting. A workgroup has met with a number of Michigan credit unions to obtain their feedback on what they would like to see in an all-in-one compliance resource. A number of enhancements are being made based on the focus group input, including a robust search feature, and the creation of a forum for Michigan credit unions to ask questions and share information and resources. Site layout enhancements are also in the works based on credit union feedback.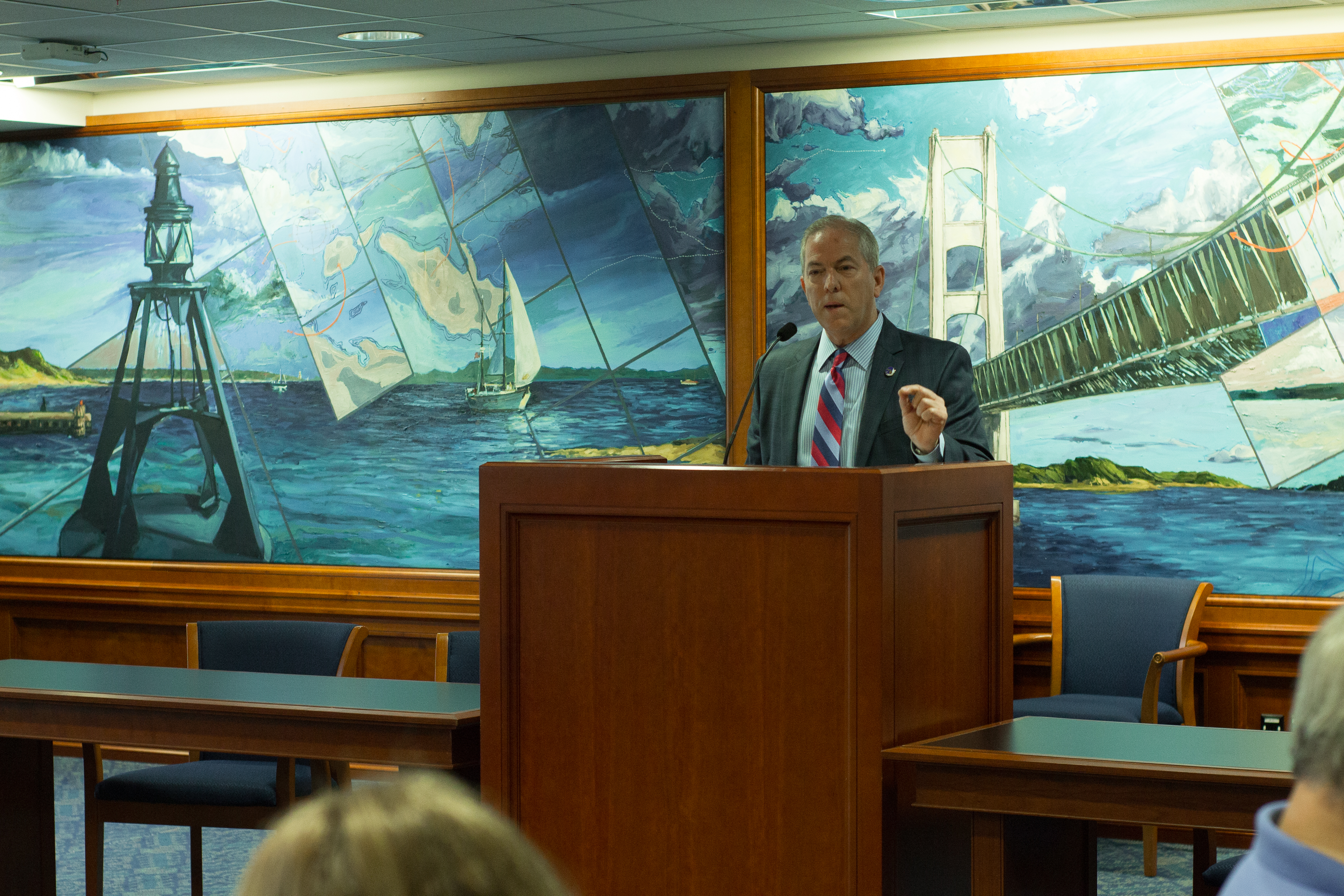 Looking ahead, following a successful update to the Michigan Credit Union Act, we're working on a modernization of the Michigan credit union bylaws for state chartered credit unions. Our next step will be to meet with DIFS to discuss proposed amendments to the bylaws including removing redundancy and duplicative requirements already stated in the Michigan Credit Union Act, as well as other areas of key importance identified by the committee.
As you may know, the Michigan Credit Union Foundation's fundraising efforts have been successful so far this year, but the Foundation is still looking for more credit union and chapter support to help fund community reinvestment and financial education grants and activities. These include the Financial Reality Fairs and individual grants that help people, families and communities feel the credit union difference. So far, about 44 percent of Michigan credit unions and six chapters have made donations and we've raised just over $91,000. The goal is to raise and distribute $150,000 this year to help credit unions.
And while spring is upon us, before we know it, June will be here along with our Annual Convention & Exposition. MCUL and CUSG are focused on our largest annual event, which is now just over a month away. The event promises to be three days of education, networking and entertainment–a celebration of the great work you do all over our state. We have a pretty incredible line-up, including the founder and CEO of PayPal, Dan Schulman, and one of CNN's Ten Visionary Women in the World, Veronika Scott. Alongside our dynamic guests, MCUL will announce new and upcoming MCUL and CUSG products and initiatives, such as the 2018 CU Link campaign. I want to once again encourage you to register and join us June 7th through the 10th at the Amway Grand Plaza Hotel & DeVos Place in downtown Grand Rapids. I hope to see you there.
We're proud at MCUL to be a part of helping credit unions to serve, grow and remain strong so that we can have an impact on people's lives. That's our vision statement and we work hard to achieve it every day. As our Q4 data proves, credit unions are needed by consumers and small businesses now more than ever and MCUL and CUNA are so honored to provide support for this great credit union movement.
With credit unions here in Michigan seeing so much financial success, I'm pleased to share that MCUL, thanks to the strong performance of CU Solutions Group, is also reporting strong financial results of its own, which in turn benefits our member credit unions and other CUSG shareholders.
The League's Member Net Assets grew in the first quarter by 2 percent as our very low dues structure is complemented by the MCUL's share of income from CUSG. As you know, the League derives less than 5 percent of its revenue from member dues. The vast majority of funding for MCUL's operation comes from investment gains and its two-thirds share of income from CUSG. So as CUSG's financial performance goes and as the investment markets go, so go MCUL's financial results.
That wraps up the MCUL section of the report, but there are a lot of great things happening at CU Solutions Group as well.

We've all witnessed changes to the financial services industry brought on by technology. These changes tend to happen in small, incremental shifts. But at some point, when we stop to look back, these small shifts have completely changed the landscape of our industry.
This is why CU Solutions Group has been focused on reinvention the past several years – so that our technology, marketing and performance solutions are not only capable of keeping credit unions relevant, but to make sure that they're capable of helping credit unions become the preferred financial institution of our members.
With that in mind, we have some exciting developments to share. As many of you may already know, CUSG acquired a majority share of CU Wallet during the first quarter of 2017. We've been working with the Los Angeles-based tech team, and together, we've created a new company with a new strategic vision: LifeStep Solutions™.
Led by our Product Development and Technology Solutions teams, we're in the process of designing the LifeSteps™ Wallet mobile application. The app is designed to enhance your credit union's mobile offerings while matching your products and other relevant solutions with major life events happening in your members' lives. The first release in development focuses on shopping, home, auto and consumer protection resources. It'll include functions like mobile payments, card-linked offers, exclusive discounts on products and services, merchant locators and other useful tools.
This app will also aggregate a whole host of functionality already popular with consumers. When branded for your credit union, the app is designed to keep you top-of-wallet and top-of-mind. Dave Adams will be sharing specifics during a major launch at this year's AC&E in Grand Rapids, but in the meantime, you can visit LifeStepSolutions.com for more details.
Our Marketing Solutions division also made progress this past quarter with its digital advertising capabilities. The FocusIQ marketing team has developed a sound formula that combines strategy development, media purchasing, online advertising and social media. They've been working with credit unions across the country and have had a great deal of success engaging consumers.
This quarter the Love My Credit Union Rewards team launched its new and improved Sprint Credit Union Member Cash Rewards program. Through March, more than 75,000 lines were added to the program, and it's plain to see why. Members receive $100 cash rewards for every new line activated through Sprint, as well as $50 annual loyalty rewards every year for every line. Credit union reception has also been positive because of new sales and activation tracking, and a wholly simplified process.
During the first quarter, our Performance Solutions division placed a great deal of emphasis on creating new resources for credit unions. Developing HR content centered on compensation and performance management, the team has been developing a library of quick and easy-to-absorb videos, articles and tutorials. If your credit union's HR team would benefit from new insights in employee engagement, benefits, pay, or human resources in general, connect with HR Performance Solutions on LinkedIn, Facebook and Twitter. The division is sharing new content on a regular basis.
Finally, as always, our Michigan Solutions team has been hard-at-work, on-the-road engaging credit unions across the state. In addition to leading discussions at February's Compliance Conference and March's Lending and Marketing Conference, the team toured Michigan with their always-popular lunch & learn sessions.
The first quarter lunch & learns focused on lending, and featured CUSG partners Spireon, MeridianLink and Auto Financial Group. While all of our lending partners were well-received, Spireon's GoldStar Lender generated a great deal of interest with credit unions. GoldStar Lender is a collateral management system that uses GPS technology to protect your credit union's assets. It allows you to expand your portfolio by lending to members with less-than-ideal credit, it mitigates risk and provides consumers with an alternative to predatory lenders — all in one device.
Again, our goal is to help credit unions serve, grow and remain strong so that we can make an impact on people's lives. As we move through the year, we'll continue to collaborate with our clients to ensure that we're providing the right solutions to meet your needs. If you have questions or suggestions on how we can better meet your needs, feel free to contact me or any member of our leadership team. Thanks again for joining us.
I know we covered a lot of ground in this report, but I hope you've found this quarterly update valuable. It is part of our continued effort to be transparent to our members about our priorities and focus, moving forward.
We have a very dedicated team of staff and board directors working on your behalf, and we remain positive as we look to the future, working with CUNA to remove barriers, promote the credit union difference, provide solutions for service excellence and provide you with a total compliance solution through Destination Compliance.
Thank you for watching.