April 2015 Priority Report
By David Adams
After a very successful first quarter for Credit Unions in Michigan and for MCUL & Affiliates, we're delighted to share this first quarter progress update.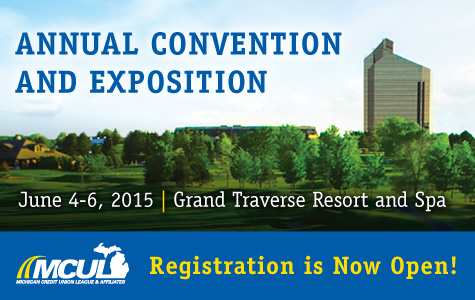 It's springtime, and at MCUL & Affiliates, that means planning for our Annual Convention, which is just around the corner. As we prepare a great conference experience, we hope you are making your plans to join us. The event will be packed full – with advocacy, information, solutions, entertainment, awards and plenty of time for networking. I challenged my staff to rethink this event, so this year and in the future, you will see an agenda packed with plenty of new ideas and opportunities. There's more about the AC&E a bit later in this report, but I hope to see all of you in beautiful Traverse City in June.
And we were all excited by the news this month that Pat McPharlin, long-time CEO of MSUFCU, would be our new DIFS Commissioner starting May 18. Pat brings a wealth of knowledge, and great perspective to this role and we are particularly elated that a credit union professional will take the reins at DIFS, which also regulates the insurance, banking and consumer finance industries in Michigan. Gov. Rick Snyder made a great choice and we look forward to working with Pat in his new role.
This month, CUNA reported on the fourth quarter results for 2014, and Michigan Credit Unions saw their strongest post-recession results on most key operating metrics. With the highest membership and loan growth seen in years, Credit Unions are truly making headway as demonstrated by a number of key metrics. Full-year loan growth was 10.5 percent in 2014, the fastest calendar-year increase since 1994. Memberships increased by 2.6 percent, which is the fastest rate recorded since 1998 and about 20 times faster than the state's population growth. We also enjoy improved asset quality, strong earnings and higher capital ratios. All of these are reasons to stay optimistic for the future of Credit Unions in Michigan!
MCUL & Affiliates is also working toward the future, and looking for innovative ways to help Credit Unions serve, grow and remain strong. To highlight key initiatives, some of our key executives will provide updates about the priorities they are working on this year. First up is Drew Egan, president and COO of CU Solutions Group.
Drew Egan, CU Solutions Group
We started off 2015 very strong, improving our offerings to Credit Unions by expanding our marketing and technology expertise, developing dynamic products and services and cultivating partner relationships to benefit Credit Unions.

With each solution that we launch within the new Lending and Operations Solutions division, we move closer to helping Credit Unions say "YES!" to more loans, deposits and members. We are very excited to announce that we have entered into a partnership with RapidAdvance to provide a business-lending alternative to help members who don't meet traditional business lending underwriting requirements. Instead of saying no, you can refer those business owners to one of the nation's most-respected and innovative sources of unsecured business credit. With RapidAdvance, you retain the member and business relationship with no fees, no risk and retain the ability to earn to noninterest income. And your member obtains the capital they need in as little as five days.
Last month, we also took our Governance & Compliance Consulting and Custom Training national. The consulting and training staff have assisted more than 100 Credit Unions in filling needs for governance, planning, compliance, management and net worth restoration consulting.
Within Membership Enhancements, the growth trend continues for our Sprint, GM and TurboTax member discount programs. In February, GM authorizations and sales were up 189 percent and 192 percent year over year, respectively. The GM program had its second-best February ever and the fourth-best month since inception. TurboTax was up 104 percent year over year through mid-March. Sprint had a banner January and February, increasing total lines by more than 97,000 to more than 1.5 million – a new program milestone.

Also in February, Love My Credit Union Rewards launched its newly revamped e-newsletter – LMCUR Monthly – and saw an immediate increase in readership. Our objective was to create a resource for our partner Credit Unions that will help reduce the need to send individual emails about program updates and current promotions.
Love My Credit Union Rewards has posted some great numbers. There are 3,390 Credit Unions participating in the program, saving members more than $1.2 billion. Through February, the program can take credit for more than 389,000 Credit Union auto loans valued at more than $9.2 billion.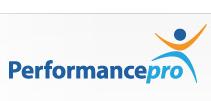 Our Performance Pro product continues to get even better. HR Performance Solutions is working on projects that will allow Performance Pro to be integrated with different core HR systems. This integration will mean that Performance Pro users won't have to input employee data into Performance Pro that was already entered into the core HR system. In some cases, the integration will also allow for a single point of sign-on, so if an administrator is logged into the core HR system – they will also already be logged into Performance Pro.
In addition to integration and single sign-on, more Credit Unions are benefiting from the multiple appraiser feature. This feature allows employees to hear feedback from multiple points of view. Based on this feedback, employees get a broader perspective and can work to improve in areas that would otherwise be unknown to them. Multiple appraisers also act as a good motivator for employees since their sense of accountability and support is expanded beyond the traditional one-on-one relationship. For more information about how to implement these benefits within your Credit Union, reach out to the HR Performance Solutions team.

The Michigan Solutions team is also off to a great start in 2015. Through our partnership with Richardson Business Solutions, a Michigan-based company, Credit Unions are able to produce a plastic card on the spot, eliminating the wait time for members to receive a card, allowing them to activate and use their card immediately. This service is becoming a qualifier for millennials when choosing their first primary financial institution.

While our Marketing Solutions division has many innovative products like Save to Win and Financial Resource Center, I want to focus today on efforts to bring Credit Unions targeted advertising and big data solutions that are affordable and easy to implement. One of the biggest value-adds is spending your marketing dollars where they will count most. Gas Station TV, for example, is an excellent example of geo-targeted marketing; where Credit Unions can take the billboard approach to a new level – with sight, sound and motion – and play ads to a captive audience right at the gas pump. GSTV got a great deal of attention in the CUNA GAC Exhibit Hall as a cutting-edge service, and you can learn more on our website at cusolutionsgroup.com.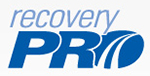 Our Technology Solutions division has also completed development work and released RecoveryPro, a new online product in our Web Enhancement Solutions area. This private cloud-based disaster recovery and business continuity system helps your Credit Union work through plan development all the way to the point of implementation. Most important, your disaster recovery manual is housed on our servers with best-in-class security.
CU Solutions Group is here to support you with everything from targeted marketing to increasing auto loans and gaining member loyalty. Contact your business consultant or league rep today and we'll help your Credit Union take full advantage of all the solutions available.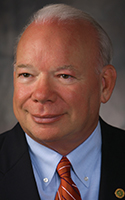 McPharlin
Ken Ross, MCUL & Affiliates
As mentioned earlier, the biggest recent news in Michigan concerns the appointment of Pat McPharlin as the new DIFS director. This comes at a particularly critical time for MCUL, as we look to update our state credit union act this session. We are all excited by the prospect of having someone intimately familiar with the credit union community as the DIFS director and look forward to continuing to work closely with Pat in his new role as director.
I'm happy to report that MCUL had a very successful CUNA GAC in Washington, and this was followed by an equally successful MCUL GAC April 21-22 in Lansing. Our annual Lansing GAC brings together credit union professionals from around the state to meet with their local elected officials to talk about the hot issues of the day. We had the chairmen of both the House and Senate Banking Committees stop by to meet with their local credit union leaders and provide us with their perspectives on the current legislative session. Additionally, our state and federal regulators gave their take on hot topics and upcoming issues facing the industry. We also took the opportunity to honor state Rep. Mike Callton, our previous House Banking chairman, as the legislator of the year.
While our government affairs team has been hard at work laying a foundation for the upcoming effort to update the state credit union act, we also have been focused on a number of other important bills this session. For example, we have continued the effort to obtain the principle residence exemption on foreclosed properties for credit unions. Championed by Sen. Jack Brandenburg, the bill sailed throughout State Senate, and after MCUL staff and Mike Loucks from LAFCU testified in support of legislation, it passed out of the House Tax Policy Committee and is currently awaiting action on the House floor.
On the federal regulatory front, the RBC 2 capital proposal has been a main area of focus for the last several months. MCUL submitted comments to the NCUA making our case for why credit unions need access to supplemental capital and detailing our objections to the new capital adequacy plans required by the proposal. While the RBC 2 proposal was certainly an improvement over the first version, there were still substantial challenges with the draft rule. In addition to the more regulatorily friendly messages that we heard from Chair Debbie Matz at the CUNA GAC, the inclusion of the supplemental capital questions in the RBC 2 proposal was welcome news for credit unions and we hope to see quick action on that front in the coming weeks and months.

You know that the CU Link cooperative advertising program is one of our major undertakings every year. This year's campaign is on the air now, with more than $2.4 million of media planned over the rest of the year. Radio, cable and billboards are already running, with digital radio to start soon, on May 4. These major media tactics will run until October, with advertising on Google, Bing and Yahoo! continuing all year. The campaign aims to teach consumers about the benefits of credit union membership – including lower rates on auto loans and credit cards and how those savings add up when you do more business with a credit union. MCUL is also supporting credit union integration with this campaign by providing $400,000 for credit union marketing in their own communities. To learn more, visit mcul.org/culinkadvertising.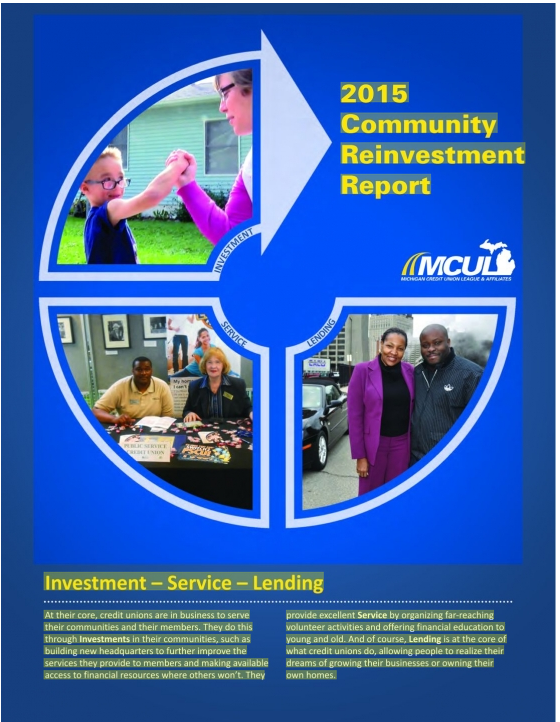 In March, we were very proud to accept the American Association of CU Leagues' Communicators Blockbuster Award for Best League Publication/Magazine for Contact magazine. This recognition follows Dave Adams recently being awarded the 2015 Eugene Farley Award for League Leadership. I'm proud that our efforts have received public notice and I congratulate Contact Editor Bryan Laviolette and all those who have contributed to make Contact such a high-quality magazine.
I am pleased to announce that our Education Department is now offering a new workshop focusing on Frontline Fraud Prevention. We have scheduled four of these half-day sessions this year in Auburn Hills, Lansing, Saginaw and Ishpeming. Visit mcul.org and click on the Education and Networking tab for more information.
And coming on May 14, we are again collaborating with the Collections Consortium to deliver Collector's Training School. Tim Paulsen, an internationally known training specialist and author of "Paid in Full," will lead this one-day session at the Troy Marriott. You can learn more about the Collector's Training School on our website under the Education and Networking tab.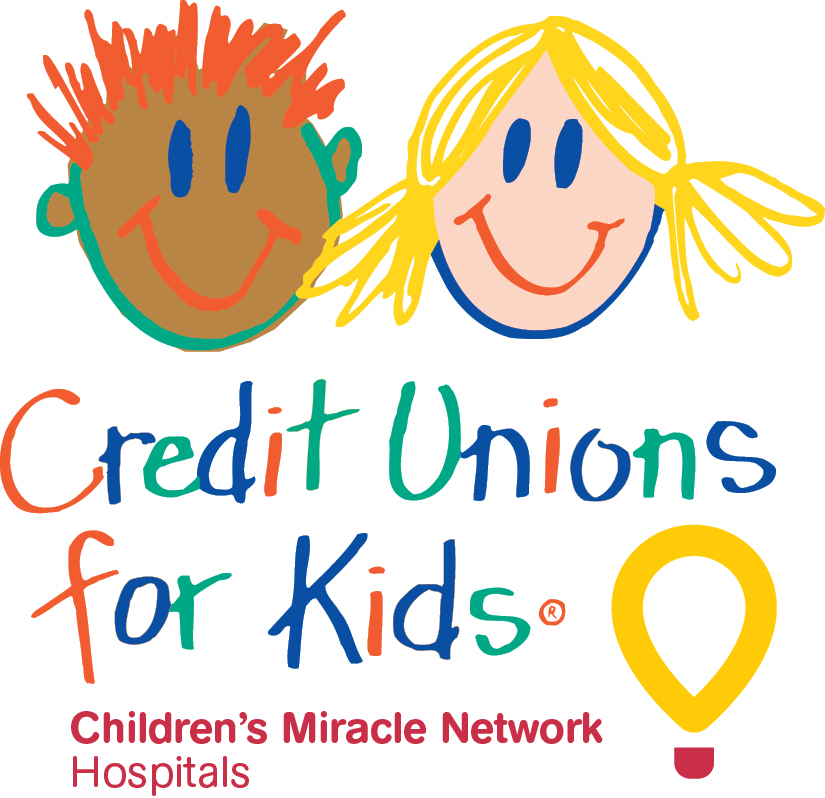 Additionally, plans are being finalized for the 2015 Annual Convention and Exposition. We are encouraging everyone to arrive on Wednesday, June 3, to enjoy an afternoon of golf to benefit Children's Miracle Network Hospitals, followed by an evening of beer and wine tasting outside under the big yellow tent at the Grand Traverse Resort and Spa.
| | |
| --- | --- |
| Payton | Segall |
Thursday will have a full program, featuring keynote address by Theresa Payton, a former White House chief information officer, who will focus on protecting your Credit Union from cybercrime. Then on Friday, discover how to put the Power of Simple to work at your Credit Union. Ken Segall, the man who named the iMac and contributed to Apple's 'Think Different' campaign, will be on hand with a memorable keynote and anecdotes about working with Steve Jobs.
This year's AC&E promises to deliver great training, delicious food, memorable experiences and unique opportunities. And of course, you are welcome to bring along your guests. We have a lot planned for everyone, including an exciting closing event featuring the comedy of Tom Wilson – the bully everyone loved to hate in the Back to the Future movies.
Hundreds of attendees are already registered, so plan now to be there, too. Just visit mculace.com/2015-ace for complete details.

I'd also like to give you an update on how the Michigan CU Foundation is helping Credit Unions and chapters with community reinvestment and financial education initiatives. Funding is available to help implement outreach programs that assist underserved community members with Credit Union services, financial counseling and education. Contact the MCUF to investigate initiatives and funding assistance for activities such as Credit Union alternatives to high-cost nonprime auto loans, payday loans and check cashing services; or to help implement second-chance checking and savings products for low-wealth households.
Dave Adams
As we wrap up here, I'd like to give a final plug for the AC&E. As part of our efforts to reinvent every area of our business, our biggest annual conference gets a complete makeover this year. We have a new, expanded schedule, new conference features and exciting entertainment to make the conference even better. I invite you to watch Monitor for a continuing series titled "AC&E Reinvention" and to visit mcul.org to register to attend.
Thanks for watching and we look forward to seeing you at AC&E.