There is nothing better in support of our advocacy efforts than to share and promote stories of our credit unions impacting communities around the state. Thank you to the credit unions that submitted amazing stories of your impact in your community for our CU Link Stories contest. We know there are hundreds of examples of how our credit unions supported their members and it was really a challenge for the selection committee to narrow it down to 16 winners.
We are happy to announce the winners of the CU Link Banking Built for People stories:
You can see a list of the winners here.
CUBE TV Studios is currently working with the selected credit unions to create some amazing videos. Once all the videos are complete, we'll share a link where you'll be able to watch them.
Thank you to everyone who has helped make this such a successful and fun campaign so far.
---
July 2021
Enjoy Michigan and Remember to Breathe
Our summer is well under way here in Michigan! While the weather has certainly kept us on our toes from flood waters, high humidity and a big variation in temperatures, it is so nice to have a "normal" summer again. It seems like last year people forgot to take off vacation time – whether it was because they were too overwhelmed with work to do so or felt like they were already home during their workday, there is no doubt that everyone in our industry worked a lot last year.
I actually enjoy getting the "out of office" response to emails this month, seeing that people are taking much needed time to refresh and recharge. Vacation is important. I have read that most creative ideas come when we aren't busy thinking or working – just being. We all know there is something to the down time in the shower where we get great ideas or when we crawl in to bed and just breathe.
So, instead of jumping from one thing to the next, take some time and relax; breathe in and enjoy this amazing Michigan summer. If you have not taken some time off yet this summer, what are you waiting for?!
---
July 2021
This is the final week to submit your nominations for the 2021 CUNA Awards. Michigan credit unions have a strong history of making a difference in the communities they serve. The CUNA Awards showcase all of the great accomplishments and hard work credit union employees have invested into our cities and state over the last twelve months.
These annual award winners are an inspiration, embodying the credit union difference and illustrating what our industry is all about. In 2020, five Michigan credit unions shined with national award recognition (with many more receiving state-level awards):
One Detroit Credit Union - Louise Herring Award
MSU Federal Credit Union - Louise Herring Award
CP Financial Credit Union - Desjardins Youth Award
Mid-Michigan Chapter of Credit Unions - Dora Maxwell Award
North Central Area Credit Union - Dora Maxwell Award
The Louise Herring, Dora Maxwell and Alphonse Desjardins awards are an opportunity for CUNA to annually recognize the significant contributions credit unions make to their members and communities across the country.
The Louise Herring Philosophy-in-Action Member Service Award recognizes model credit union efforts to materially improve members' lives through programs such as special loan modification programs, wealth-building or debt-reduction incentive programs, outreach to underserved populations and student-run in-school or campus branches.
The Dora Maxwell Social Responsibility Award promotes social responsibility among credit unions by formally recognizing their community service achievements through projects like charity fundraising, building low-income housing or loaning employees a few hours a week to work in hospitals, retirement homes or schools..
The Alphonse Desjardins Adult and Youth Financial Education Award honors leadership within the credit union movement on behalf of youth and adult financial literacy done through education seminars, initiatives catered to at-risk populations, individual financial counseling, teen financial reality fairs, youth outreach or in-school credit union branches.
Applying for the CUNA awards is free and easy. Visit MCUL.org/cuna-awards and consider submitting an application today for any or all of the community and financial education efforts your credit union has been involved in over the past year.
Your hard work and dedication is changing lives. We look forward to shining a light on your latest efforts during the 2021 CUNA Awards.
Patty Corkery, President/CEO Michigan Credit Union League
---
June 2021
Welcome to MILeague Minute, the Michigan Credit Union League's latest source for League news. After taking a look at our publications and evaluating how we deliver updates to our members, MCUL decided to introduce MILeague Minute, a twice-a-month newsletter filled with everything you need to know about current and future League priorities, events and offerings.
This newsletter will be taking the place of our previous monthly publication, Priority Report. The same important information will be found in MILeague Minute, but in a format that's both easier to navigate and digest.
Simply put, MILeague Minute readers can expect to stay up-to-date on all things MCUL. That means you'll never miss recaps of important advocacy meetings, the latest in compliance news, registration for an upcoming education event or an opportunity to apply for Michigan Credit Union Foundation grants or Financial Reality Fair materials.
On top of all that, we will also routinely include happenings from around the Michigan credit union community, such as classifieds, chapter events, community fundraisers or great individual credit union initiatives.
You can expect MILeague Minute to hit inboxes on the first and third Tuesdays of each month.
Happy reading!
Patty Corkery, President/CEO Michigan Credit Union League
---
June 2021
Over the last year, I have had the privilege of serving as a member of the MCUL/CUSG's Diversity, Equity & Inclusion (DEI) team. This group is responsible for getting conversations started and creating opportunities for our team to support DEI initiatives in our community. Our team is small and meeting each week for the past year – and participating in intimate and open conversations – has taught me so much about myself and what others unlike me face in their daily lives.[1] Thank you Herman, Renuka, Olywn, Brad, Ariel and Amanda for showing your true selves and helping me become a better person.
Becoming involved in our DEI group has been the impetus for me to dig deeper this month as we all think about Pride Month and what it means. If you are like me, you see the social media posts from friends and companies and see the Pride t-shirts at Target, as well as a bunch of other retailers selling Pride swag. You hear the word "Ally" and believe you are one, but you remain on the surface and don't really lean in to find out what it all means. Sometimes, you're not sure if you're saying the right thing or doing the right thing. That's where I found myself as I contemplated what to say during this month of Pride, and I am certain I am not alone with my uncertainty.
If you Google "what is pride month" you will see a host of articles and videos about gay pride and how the June celebration was started. You can read about the Stonewall Uprising of 1969, which was a series of events between LGBTQ+ protesters and police that lasted a week. Police raided a gay bar and people fought back. In 1969, homosexuality was considered a criminal offense and as such, many establishments, like the Stonewall Inn in NYC, operated without a liquor license, which provided an open door to police brutality and raids. Several people were arrested at the Stonewall Inn after a police raid in June of 1969, resulting in mass protests around the country and translating into the birth of the gay liberation movement. The first Pride march was held on June 28, 1970, marking the one-year anniversary of the Stonewall Uprising. [2]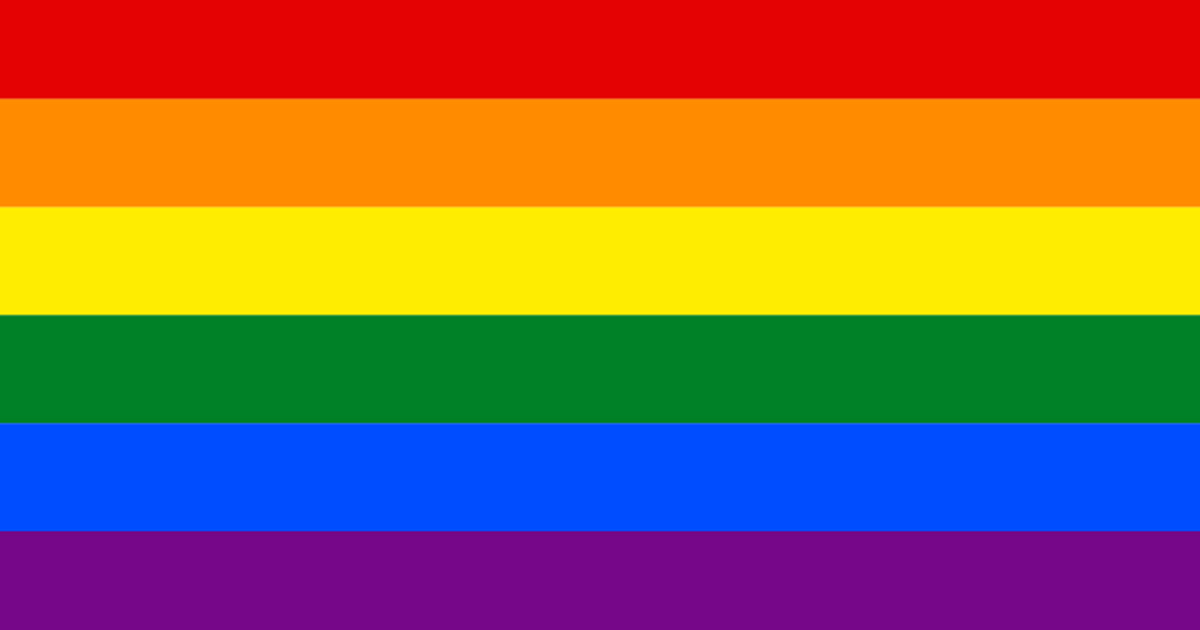 Coming back to current times, we all observe this month's Pride parades, marches and rainbow flags as well as companies issuing support statements for the cause. I love seeing credit unions in Michigan and around the country share their messages about Pride and supporting their communities of people who have traditionally been excluded. We all know that credit unions support everyone, regardless of race, sex, identity, ability or nationality. During the month of Pride, it is nice to see a reminder of this mission that is focused on people that have been left out and behind. And as your association, we celebrate your commitment to embracing this month and what it stands for.
So, what does it mean to be an ally? Is it simply to learn about the origins of Pride and declare your support for the movement? I believe this is only a part of what it means to be an ally. As my work in the DEI space has taught me, there is a lot of sadness, fear, embarrassment and rage when a group is marginalized and left out and treated as less than.
Simply put, it is a struggle that some people live every day — sometimes so much that many queer people never feel safe enough to come out. They face discrimination and persecution from employers, co-workers, classmates, friends and even family. I do not know what this is like. But figuring out how I can help and support people who are facing these realities will help me be a better ally.
Answering the question of what it means to be an ally will take time as I am still learning and understanding. I have spent some time researching groups that support the queer community and found Equality Michigan[3] which is a political advocacy organization that connects victims of bias, discrimination, harassment and violence with services to receive support and achieve justice. To support Pride month, I donated money to this group. I felt that, for me, this was the best way to show my allyship this year.
One of our team members shared their thoughts on Pride. Crystal Carmack said it best: "Pride is living every day, true to who you are. It's being an encouragement to others who may be struggling with acceptance or understanding who they are. It takes a lot of courage to walk in this world, masks off, speaking and living your true self. Pride is proclaiming that love is love, not only within the LGBTQ+ community, but expanding throughout all races, religions, ethnicities and all walks of life. Love always wins."
To all my friends, family, team members and members of our credit union community that have struggled to be accepted as your true self, I stand next to you in support and will continue my efforts to show up, for you and with you. Happy Pride.
Patty Corkery, President/CEO of the Michigan Credit Union League
---
[1] If you have been thinking about starting a DEI group and would like to hear from us on how we got started and our initiatives, please let me know.
[2] https://www.loc.gov/item/today-in-history/june-28/ Accessed June 4, 2021.
[3] Equality Michigan: https://equalitymi.org/?fbclid=IwAR27DeS48WTLp_5iFu2JQXQSi3IenQ56du87FGKvbED_7ByCh5l648sGdew
---
June 2021
"Women belong in all places decisions are being made." We have all heard this pronouncement on gender equality from Justice Ruth Bader Ginsburg. In meeting with our credit unions around the state, I know the spirit of this statement lives strong in Michigan. With that foundation, I was not surprised to see that Michigan credit unions are surpassing the national average at credit unions and banks regarding women in leadership positions.
CUNA recently published a report comparing women leadership numbers in credit unions to banks around the country.[1] Reading the comparison made me curious how we stack up in Michigan; are we better, worse or on par with the national landscape when it comes to women representation at the CEO and board level?
When you look to the S&P 500, women currently hold only 30 (6%) of the CEO positions at these large companies.[2] Clearly, the road to equality at our largest corporations is still fraught with detours, though the financial services industry is much further along. Within our industry, specifically, credit unions are ahead of banks, and Michigan credit unions have even more women at the top position than the national average.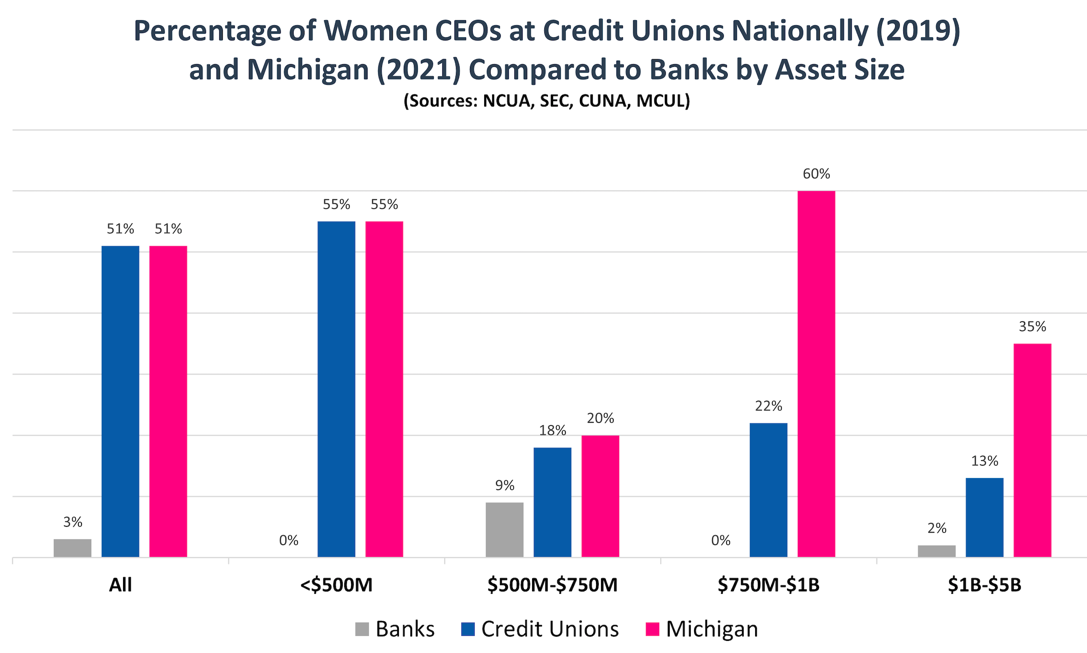 Nationally, women run 51% of credit unions overall compared to only 3% at banks. At credit unions under $500 million in assets, the percentage of women leaders is even higher at 55% for both Michigan credit unions and credit unions nationally. As asset size increases, female representation at the CEO level decreases for credit unions but increases for banks as shown in the chart above.[3]
Michigan credit unions are also ahead of the country's credit unions and banks when it comes to women leaders at large-asset-size institutions. Sixty percent of credit unions in Michigan with assets between $750 million and $1 billion are led by women. At the $1 billion to $5 billion asset size, Michigan credit unions have more than double the number of women CEOs than credit unions nationally with 35% being led by women.
Michigan State University Federal Credit Union, with assets exceeding six billion, is led by CEO April Clobes.
"As reflected in the data, our industry has been working to grow the number of women and people of color in leadership in credit unions," said Clobes. "At MSUFCU, we have a variety of leadership programs to ensure that every person has an opportunity to be prepared to move into a leadership role. We have several women on our board and supervisory committee, and the majority of our managers and leaders are women. Creating an inclusive environment for women and people of color makes our organization stronger and more successful."
In the boardroom, CUNA reports that a board member of a credit union is "twice as likely to be a woman relative to a board member of a bank," with 33% of credit union board seats held by women compared to 16% at banks. Looking at the top 20 credit unions in Michigan (in asset size), our state is better than the national average, but not by much, with only 37% of the board seats held by women.[4]
The Michigan Credit Union League (MCUL) has also helped advance the representation of women in the industry when it selected its first woman president/CEO in May of this year. Out of the 35 state credit union leagues around the country, Michigan is only one of five leagues with a woman president. Further, the MCUL Board is led by Chairperson Heather Luciani, CEO of Marshall Community Credit Union.
"Our credit unions, membership and communities benefit from the gender diversity that we bring to our board rooms and decision making," said Luciani. "The data reflects our commitment to overall diversity and inclusion for credit union stakeholders and I am proud to be part of, and help to represent, an industry that recognizes and elevates women in leadership roles."
While this article does not address women holding other c-suite positions, nor does it address general representation of women of color in the industry, it does show that credit unions are scoring better than banks at hiring women leaders. We also learn that Michigan's large-asset-size institutions rate higher than the national average.
As with any data, you can choose whether you focus on the positive or negative. As an industry, we should be proud that 51% of credit unions nationally are led by women – a significant difference between credit unions and the dismal S&P 500's only 6% women leaders.
"United Federal Credit Union values different perspectives at all levels of our organization, including the board and leadership team. With 33% of our board of directors and 43% of our senior leadership team being women, we see the positive impact that gender diversity brings and are making investments credit union wide to embed a larger focus on Diversity, Equity and Inclusion (DEI) across the organization," said United CEO Terry O'Rourke. "Working with a DEI consultant as our partner and guide, we recently launched a Diversity Council that includes employees from several locations and all levels of our team to incorporate and embrace DEI in everything we do."
There are several reasons to celebrate credit unions, and strong female representation and DEI initiatives are chief among them. Kudos to our Michigan credit union boards and the MCUL board for setting the standard for women leadership moving forward. While we have some progress to be made, not only on female representation but also diversity in general, we are heading in the right direction.
Patty Corkery, President/CEO of the Michigan Credit Union League
---
1. CUNA article published in CU Today, May 11, 2021.
2. Catalyst, Women CEOs of the S&P 500 (April 1, 2021).
3. It should be noted that CUNA is reporting CEO data from 2019 and the Michigan data is as of March 2021. Therefore, the comparisons may have changed slightly.
4. NCUA 3-31-21 Profile data at www.ncua.org
---
May 2021
Welcome to our May Priority Report
To mask or not to mask, that is the question... We all saw a flurry of activity last week with the announcement that mask restrictions will be lessened for those people that are fully vaccinated. The President's announcement set into motion the need for agencies in Michigan to update and modify state policy on the issue of masks. As employers, and as credit unions serving their members, we all felt the same rumble and uncertainty on how to handle members and employees as restrictions ease. As of this report, we are still waiting for clarification or updates from MIOSHA. We have heard that while MIOSHA is reviewing updates to its rules, it will consider compliance with MDHHS's order good faith compliance when it comes to responding to employee complaints or conducting investigations on COVID-19. If you are able to join our Industry Update call this week, we will have MIOSHA Director of COVID Workplace Safety, Sean Egan, on the call to discuss the current situation and answer questions.
We highlighted research initiated by CUNA on women in credit union leadership this month. Learning from CUNA that credit unions far outpace banks nationally when it comes to women in CEO positions, we looked at how Michigan measured up and we were quite pleased, and not surprised, to see Michigan exceeding the national averages. Check out the article here: Michigan Credit Unions: How We Stack Up on Women in Leadership
Our CU Link Consumer Awareness Campaign – Banking Built for People – has launched its story contest t to encourage credit unions around the state to share stories of how they impacted a business or member over the last year. Two credit unions a month will be selected to receive a free, fully produced video by our CUBE TV team to feature the story. We know there are a lot of examples out there and we are looking forward to hearing them. Has your team shared a story yet? Check out the contest here: CU Link Story Contest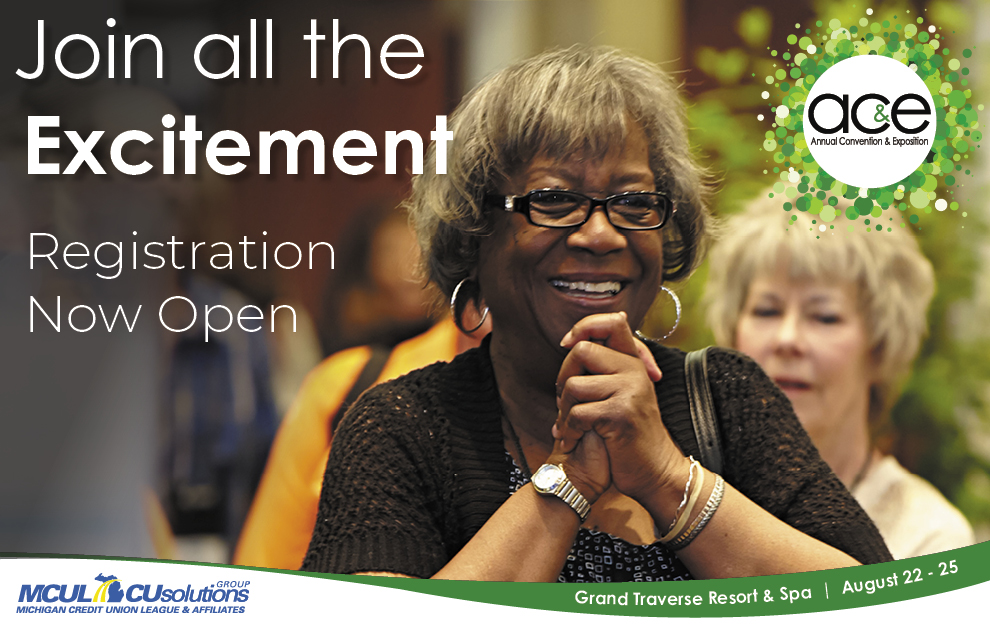 Big news from our Education team this month as we officially open registration for this year's Annual Convention in Traverse City from August 22-25. Also stay tuned for registration information for the Executive Summit and Fall Leadership conferences to take place in person this September. More information will be coming soon on these popular events and we hope to see you there.
Finally, watch out this month for information from our Advocacy team on State PAC fundraising as we kick off the plush animal sales. More information should be coming to your inbox soon.
As always, thank you for your support and continued engagement with our association.
Patty Corkery, President/CEO of the Michigan Credit Union League
---
May 2021
Go to main navigation