Collaboration Rules!
Happy fall, y'all! What a summer! I hope you were able to get out and enjoy some sunshine this season, perhaps on one of Michigan's great lakes. Those who attended last week's MCUL Executive Summit were rewarded with some amazing Michigan weather up in Petosky.
In hearing the feedback from attendees at the event, far and away, the comments on our exit survey show that attendees love hearing from other credit unions. This is something that we doubled down on during the pandemic – reaching out and listening to one another. The more credit unions share with each other, the more we grow. All of you are the experts and sharing what you're working on and how you're meeting obstacles and challenges, whether it be hiring, rising rates and member growth, is the way we help one another.
I enjoy being the connector of people and experts, and time and time again, the experts are you. I was excited to not only see that the spirit of cooperation lives on, but also happy to hear this is what people value at our events. It happened at this year's human resources event as well as our executive event. So please, keep attending and sharing. I know this is of help to our up-and-coming leaders, who are always looking for ideas on how to better serve their members. Hope to hear from you at an event soon!
---
September 2022
Credit Union Labor
This blog post will come to you the day after Labor Day, the federal holiday to take a day off and celebrate American workers. I hope you enjoyed the long weekend! The holiday triggered me to remind myself of the origins of the day and reflect on our credit union teams.
Back in the late 1880s, at the height of the Industrial Revolution, the average American laborer worked 12-hour days and seven-day weeks! Children – as young as 5 and 6, worked in mills, mines and factories across the country. The very poor and recent immigrants worked in dangerous and grueling conditions. Workers began to organize and protest such conditions leading to several marches – the most significant one being in 1882, when 10,000 workers took unpaid time to march from City Hall to Union Square in New York City. That event marked the first Labor Day Parade. Ultimately, Labor Day became known as a "working man's holiday" and in 1894, Pres. Grover Cleveland signed into law that Labor Day was a legal holiday. All this history can be found on history.com.
When I travel internationally, especially to places like Italy, I am reminded how much Americans work. Where some workers in Italy and Spain, for example, take really long lunches to relax and nap, we are often found eating at our desks. I was talking to a new, young lawyer this year and he was thrilled that all court hearings are now online and he does not have to drive to court. Don't get me started on how much he is missing out on with digital hearings, but his comment that he can now be even more productive without the drive time had me shaking my head. I was like, "Yep, so great that you can log even more billable hours." Sigh.
Labor also has me thinking about our teams when we are short-staffed. Our team members are hustling to make up for the fact that we are down in numbers. I just came from a hospital lab where they were clearly short staffed, and I profusely thanked the woman who was there frantically trying to make our wait time as short as possible. She seemed to appreciate the acknowledgement.
So, while I would like to say that it is unfortunate that our culture is driven to work so hard, I want to remind you all to stop and smell the roses, it seems like with the lack of support we are enduring, smelling the roses is a fantasy now. For those of you reading this that are working double-time to serve members in a place of employee scarcity – THANK YOU. You are the true heroes of the current labor movement. To all the baristas out there at my favorite Starbucks, THANK YOU for working and hanging in there despite the nasty comments and stares from annoyed customers. To the Amazon drivers delivering packages on a Sunday morning – THANK YOU! To my drive-thru teller listening to honking horns while we wait in a long line, THANK YOU for all you do to support the members. For the rest of us, instead of smelling the roses, let's make sure we are pausing to thank our credit union labor movement and others that are hanging in there and hustling. Thank you for reading!
---
September 2022
Our Amazing HR Teams
This month, I attended MCUL's HR&R conference in Traverse City, which was marketed as a wonderful networking, educational and fun conference for the amazing human resources teams serving at our credit unions.
The two-day event was filled with networking, eating, drinking and kayaking. The most interesting session for me was the "Say it in Seven" session, where we asked your HR professionals to say a few words about how credit unions are tackling this new environment of hybrid work and other challenges.
There were several interesting discussions in this session, but a few stood out to me. Ellen Davis of Gerber Federal Credit Union cautioned us that we may be missing new employees that are "right under our nose." She talked about passing out her business card when she has a great server at a restaurant. Ellen also talked about engaging FSRs and member service team members to scout new employees when they're meeting with a member that has an impressive application or great attitude.
Silvia Dimma from MSU Federal Credit Union walked us through the change in employee expectations. She reminded us that, in the 20th century, there was a "loyalty contract" with employees where their basic needs were pay, benefits and security, and their focus was on retention. Looking to current times, she talked about the new phase we're in with the workforce, which she dubbed the "lifestyle contract." This contract is where employees are focused on their wellbeing – physical, mental, emotional and financial – with a need for sustainability and healthy experiences. Silva then walked us through various competency models deployed at MSUFCU that focus on continuous learning, coaching and development and a series of several micro-courses for employees to develop in their careers.
We also heard from Jennifer Tange of Allegan Credit Union. Jennifer shed light on various engagements at her credit union to retain team members and address the fact that their team has grown quickly in number. For example, Allegan formed the Good Human Committee, which meets to brainstorm ways to engage the team and talk through DEI issues. She also talked about the "Share the Love" bonus, which is when an employee leaves, and as their salary has been budgeted already, the credit union takes a portion of those dollars and gives a bonus to the people who remain. Love it!
Very inspiring efforts happening around our state to attract, retain and develop our teams!
---
August 2022



Overdraft Task Force's Best Practice Guidance
For the past handful of months, I know issues and general uncertainty around the future of overdraft and NSF fees have become an increasing point of anxiety for our credit unions. We know this is key not only because of the value members place on overdraft protection, but also non-interest income that supports various areas of your credit unions.
As a response, MCUL put together an Overdraft Task Force, made up of nearly 20 credit union professionals and a few MCUL representatives. This group developed a two-part mission – to create and send a survey to all Michigan credit unions to gauge current overdraft and NSF practices and, in using those survey results, develop some best-practice guidance. Thanks to the credit unions that responded, we were able to see what the majority of our credit unions were doing or considering in this area.
I want to thank the wonderful group of individuals that made up the task force and thank them for their time and commitment. The task force has put together a document of Overdraft Best Practices, which can be downloaded here:
MCUL's Overdraft Best Practices
These best practices set forth guidance on how to consider ongoing and plan potential changes to your programs during this time of uncertainty.
The task force couldn't have done this without the responses we received from our recent survey about the topic. I was happy to have a 67% response rate from credit unions. Thank you for all of your thoughtful feedback!
Please take a few moments to download and read through these best practices. On behalf of the Overdraft Task Force, I hope it helps you navigate this volatile area of your everyday operation
---
August 2022



Say 'Hello' to Our New Careers Page
Happy mid-summer! As always, it is a great time to live in our beautiful state.
One of the top three issues we are currently hearing from our credit unions, large and small, is staffing issues – finding candidates to fill open positions. As an association, we craft what we do for our members in line with member needs. For years, our website has had a "Classifieds" page, wherein we posted available credit union jobs. It was lackluster and, really, was just a long, running list of positions. We took on the challenge to better support you in this area and I am really pleased with the result.
We rebranded the page to be "Michigan Credit Union Careers" and have made the page a lot better. Job-seekers can now search by position type, region, city – including remote – and even by credit union. Each listed job will show position details and how to apply or find more information.
Another new feature is that the information can be uploaded directly by our credit unions. You no longer have to wait for it to be posted, but can do it at your own convenience!
Our plan is to take this page public-facing. We have created a site – MyCUcareer.com – for the public to get to this page as well. This site will host not only positions but industry news as well. This page will be featured in an upcoming consumer awareness ad that will be shared on TikTok and SnapChat for people to see. We are really looking forward to making an impact and driving new people to our industry.
Check out our new page here: MyCUcareer.com.
Thanks for reading and enjoy your day!
---
July 2022
Ode to Ryan Donovan
Like most of my peers in advocacy, I was saddened by the news that our own Ryan Donovan was leaving the Credit Union National Association (CUNA) in early September. If you do not know Ryan, he is currently the EVP and Chief Strategy Officer at CUNA.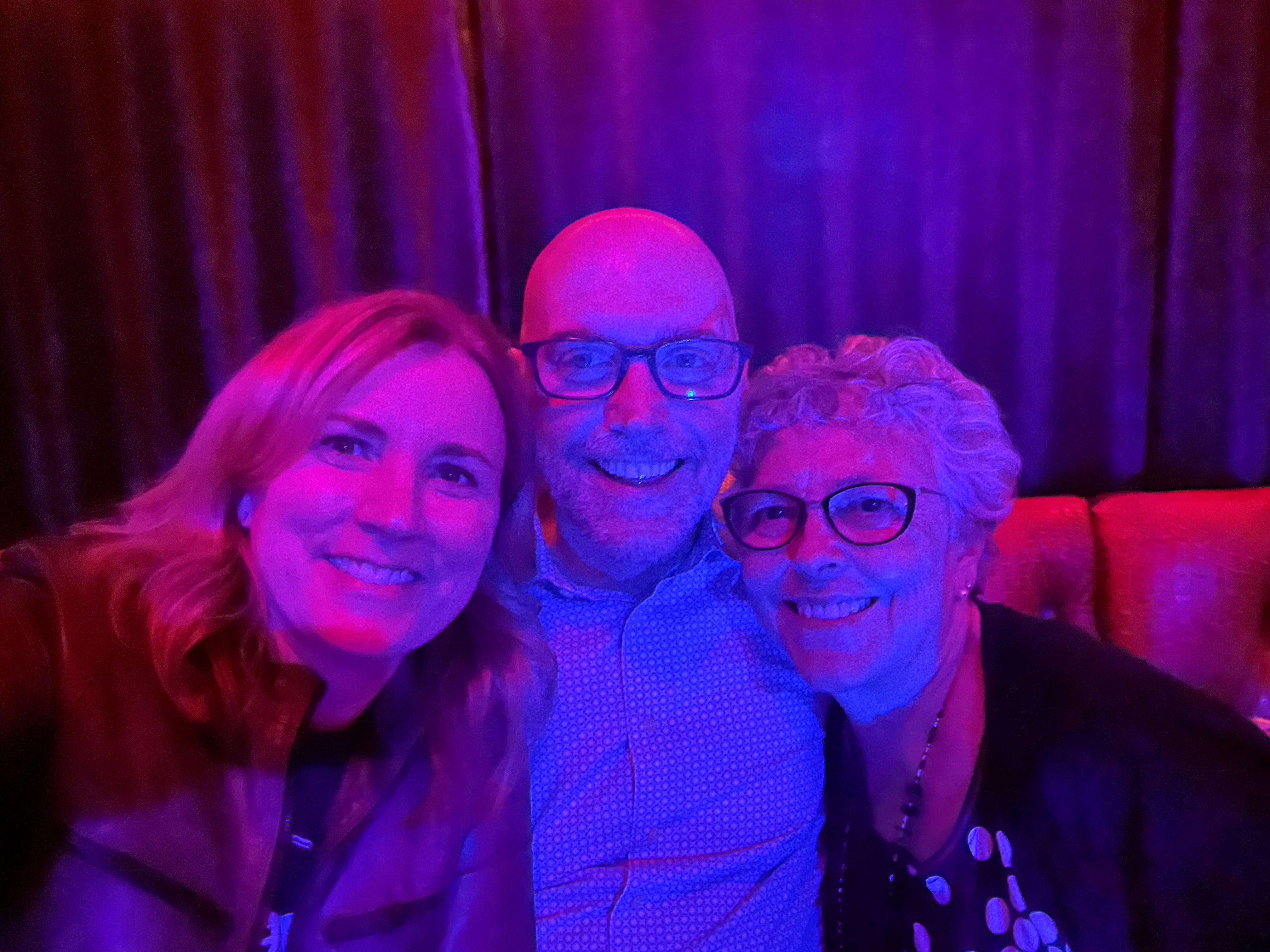 While this blog is incorrectly titled an ode, it is not exactly a poem. It is, however, praise for my friend and colleague, Ryan. Like a lot of states, in Michigan we are seeing several of our long-time CEOs retire this year. While it's exciting to see new CEOs take over the reigns, just like I am happy for my friend Ryan to take over as the President/CEO at the Council of Federal Home Loan Banks, there is sadness there when the person you have established a relationship, and friendship, with over the years departs for another chapter.
Since I first met Ryan in 2018, he has been so patient and informative while I learned the world of federal advocacy in my role at the Michigan Credit Union League. As League President, I mostly interact with Ryan at AACUL meetings and various other events. Despite the fact he bears a striking resemblance to my ex-husband (a fact I never shared with Ryan!), it is always great to see him and listen to Ryan present. Ryan is always approachable and present in our conversations. He gets fired up and passionate when needed, and slow and deliberate when it is appropriate. There is no issue he cannot talk about, and his passion for our credit unions shines through every time we meet.
During our interactions, I have also enjoyed hearing about his Peloton obsession -- his passion for getting up early enough to beat us to the solo Peloton at a hotel and his patience in waiting for his wife to allow him to purchase one for his home. He sent me a link to find a Peloton at any hotel around the world ... Uh, thanks Ryan! I enjoy seeing Ryan's daughters on Facebook and it's clear to me that he dotes on them like any good dad should. And who knew he was also a good salsa dancer, which he demonstrated at a recent League President outing?!
Ryan, I wish you luck on your new endeavor. They are lucky to have you. I am not sure how I feel about you leading an organization with "bank" in the name, but that's okay. I know they play an important role in our system and you may hear from me down the road when I am looking to have more credit unions on the board! Thank you for your passion and commitment to our industry and I have no doubt we will meet again. Whether our encounter is me waiting for you to get off the bike at some hotel gym or seeing you at a lobby bar watching your Cardinals play, I look forward to seeing you soon.
Thank you for your service.
---
July 2022
Proud in the Month of Pride
A lot of us have been focusing on the "I" in DEI lately. Very basic DEI training has taught us that it is not enough to just make space, but efforts must be made for people that have been traditionally left out to be included; to be part of; to be embraced and welcomed even though they have been there all along. In Michigan we have witnessed several examples of credit unions making efforts of inclusion for everyone. Inclusion, to me, means to notice and to embrace. Inclusion is the long game in DEI.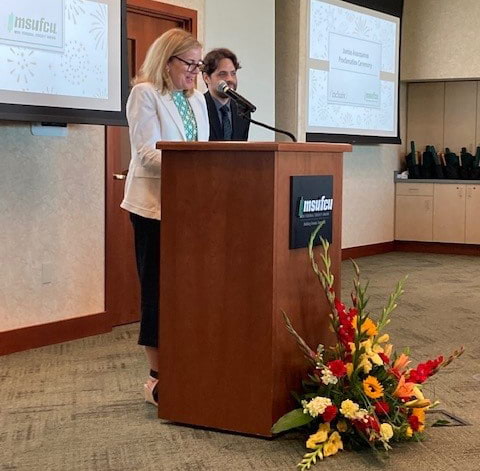 I attended my first, and I feel safe in saying not my last, Juntos Avanzamos —Together We Advance — proclamation honoring MSU Federal Credit Union this month. This designation, bestowed by our friends at inclusiv, recognized MSUFCU's efforts to include and support the Latino community. At the ceremony in East Lansing, the efforts by MSUFCU to embrace this community, which has traditionally been underserved and left behind, was moving. What really stood out to me were the remarks from the Latino community on how important it was for them to have a place to bank that they are a "part of" instead of "left out." The Latino community knows that at MSUFCU that they can find Spanish speaking representatives, Spanish forms and products and services with their needs in mind. The community was so moved, and emotions were so deep that some had a hard time speaking. I was honored to witness this declaration of inclusion.
Pride events happened around the state, and the world this month. Our league Facebook feed was full of our Michigan credit union team members showing their pride and allyship at events around the state. I was proud to see our community shine.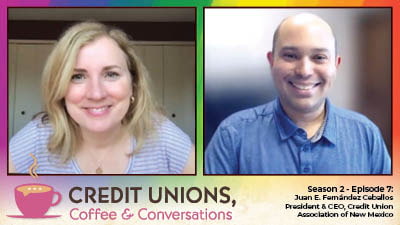 Also this month, I had the pleasure of sitting down with the President of the Credit Union Association of New Mexico, Juan Fernandez, for an interview on our league's podcast. Juan talked about his state's efforts to support a LGBTQ+ employment group – CU Shine. This group, who met for the first time in April, is made up of New Mexico credit union employees that are part of the LGBTQ+ community or are an ally. Juan detailed the first gathering and how much it meant to this group that, prior to the event, felt left behind. I wish I had been able to witness that gathering. I know I would have looked around at smiling, proud faces that felt seen and heard.
Credit Unions, Coffee and Conversations
Juan E. Fernández Ceballos - President & CEO
Credit Union Association of New Mexico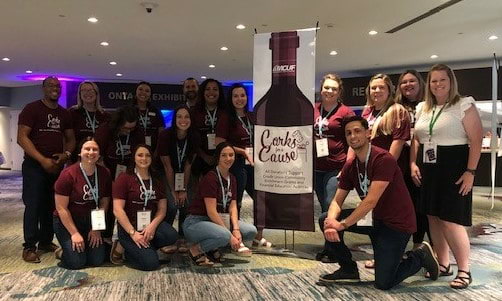 Another source of inclusion took place at our league's annual convention in June where we held space and recognized our industry young professionals. We support two groups – FUEL and 906hYPe – both made up of young professionals from credit unions around the state. If you are a regular attendee of credit union conferences, you may have noticed that the audience is often made up of C-suite employees or board volunteers. Sometimes we carve out time and budget only for seasoned employees. But creating space and including our up-and-coming leaders has several benefits, least of which is helping educate them to advance in their careers. Including YP's and shining light on them gives them the feeling of being seen and heard. I am proud of our industry's commitment to the YP movement.
Finally, through a mentoring program that I have been so proud to be part of, I was asked this month to write a recommendation letter for an African American credit union professional looking to advance her career. If not for this program, we would never have met, and I would not have come to know her over the last several months. By devoting the time to take part in a program that got me out of my comfort zone and let someone else into my professional circle, I was able to write several detailed reasons why her credit union should advance her to be included in the ranks of management. I hope she gets the job. For me, it was so nice to be asked to support her and be her advocate. Together, we advance.
There are so many ways to be inclusive and so many people who have been serving our industry with open arms for years. This is one of the many reasons I am proud to be part of this credit union family. My hope is that even more people step out and make the time to embrace those in our community that have not been traditionally part of their circle or footprint. Serving the underserved isn't easy as traditional ways do not work. However, not only is such service in our DNA, expanding your footprint and circle to let others in has so many rewards. Least of which is pride.
---
June 2022 - Originally published on CUInsight.com
Credit Union Family
Our Michigan credit union family was the theme of my presentation at the 2022 MCUL Annual Convention & Exposition this past week in Detroit. I talked about how much the AC&E is like a reunion with our credit union family and how we all enjoy connecting and learning together. To add to that conversation, I elaborated that my actual family is also a credit union family. I invited my parents – Dave and Julie – to attend our opening session and asked them to stand and be recognized. My dad worked in credit unions from 1970 until his retirement 15 years ago. They really enjoyed being at the convention! I then reminded the group that my brother, Chris Corkery, is the CEO of Advantage One Credit Union! So, I have quite the internal, and external, credit union family.
I had no idea during my remarks that our credit union family would be hit with tragic news shortly after our opening session when we learned we lost a valuable member of our family. Jordan Kingdon, long-time MCUL employee and friend, passed away during the event. As the news rippled through our team, there were a lot of tears and shock. We rallied together to talk about how we were going to let our broader credit union family know, but also we were very sensitive to the fact that his family needed to hear first. As many of you know, Jordan left behind two children, Jillian, who is starting her sophomore year in college this fall, and Ethan, Jordan's teenage son. Our hearts break for Jordan's children and his entire family.
In true credit union fashion, we started a collection for a fund for Jordan's children that is continuing to grow thanks to your generosity. Those funds will be put into a trust for their benefit. Thank you to everyone for contributing and for those would like more information can visiti our Kingdon Memorial Fund page. As I said during my remarks on stage, when hard times happen, we come together.
Overall, the AC&E was a success. We had great speakers and, thanks for our sponsors and vendors, some fabulous parties. Seeing our credit union family come together, embrace and celebrate Jordan's life and another year in our industry was inspiring. We know all too well that we need to live each day and be grateful for our time. I am grateful for my time with each of you and my heartfelt thanks to you all for your support, engagement and commitment to this fabulous, enduring family.
---
June 2022
You do not need me to tell you times are tough and they have been for some time. When tragedies happen, we all feel them differently and yet also similarly. When politics gets in the way, tragedy brings anger and debate. Removing politics, the recent tragedies that result in the murder of innocent children at school or people buying groceries who are gunned down because of the color of their skin, have brought immense sadness, confusion and has us all desperately asking "why?"
People that take a tragedy and turn it into action are people that should have light shined on them. They should be talked about and lifted up. Shellee Mitchell is one of those people. As you will learn in my recent podcast recording, where I sit down with Shellee, she felt she was at a crossroad following the murder of George Floyd and in insurrection at our nation's capital. So, she took action. She turned her anger and sadness into action and created a program designed to break down systemic racial barriers and gender biases.
Listen to Credit Unions, Coffee and Conversations
Shellee Mitchell - Founder, Sapphire Dimension
In our conversation, you will learn about the one-to-one woman mentoring program where Shellee facilitates a group of white credit union professional women paired with and mentored by African American women who seek to advance their careers. The discussion focuses on what it's like to be a woman in our industry and the commonality, as women, we all have with one another regardless of the color of our skin. I thank Shellee for creating this program and continuing to connect and lift up women in our industry. And when I say lift up, I mean she is lifting up both the mentor and mentee.
Our conversation does not stop there. Shellee shares her personal fears and anxiety in raising two, young, African American sons. She is a single mom and along the way, has had to teach her boys something white moms often don't have to teach their boys - how to act when you get pulled over, not to wear hoodies and other ways she had to parent differently. It is tough to hear but it is important to listen.
As our industry continues to push forward with inclusion and education in these difficult times and with challenging topics, we embrace change-makers who help us along the journey. I am so grateful to have taken part in the mentorship program created by Shellee. I am a better leader and person because of it. Shellee - thank you, my friend. And I wish you much success and peace in your journey. Please listen in on the podcast.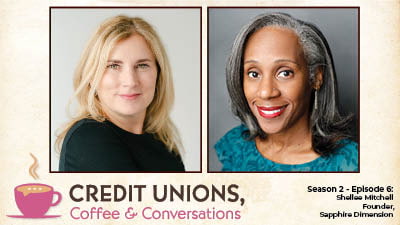 ---
May 2022
Taking the Podcast to the AC&E
In just three weeks, we're taking the Coffee, Credit Unions & Conversations podcast on the road! At this year's Annual Convention & Exposition, we will be recording mini interviews for a special podcast episode.
Who are the guests? You are!
Any AC&E attendees are welcome to come to the podcast-branded table outside the expo hall to discuss pressing credit union issues, what our movement means to you and more. No matter where you are in your credit union career journey, we want to hear what's on your mind.
The Coffee, Credit Unions & Conversations table will be open right outside the fourth floor expo hall, Renaissance Ballroom, at the following times:
Thurs., June 9: 1:45 p.m. - 4:00 p.m.
Fri., June 10: 8:00 a.m. - 9:30 a.m.
If you plan on taking part in the mini interviews, use the following short form to let us know:
Join Credit Unions, Coffee and Conversations at the AC&E!
---
May 2022
Fun Time in da' UP!
Did you know that more than 20 credit unions in over 15 counties make up the UP Chapter of MCUL? That is a lot of territory! Every year (except during Covid), the UP Chapter puts on a party around its annual meeting. The chapter typically hosts more than 500 people over a three-day event north of Escanaba at the Island Resort & Casino. This is also a time that they host a legislative breakfast for the attendees, along with a packed agenda.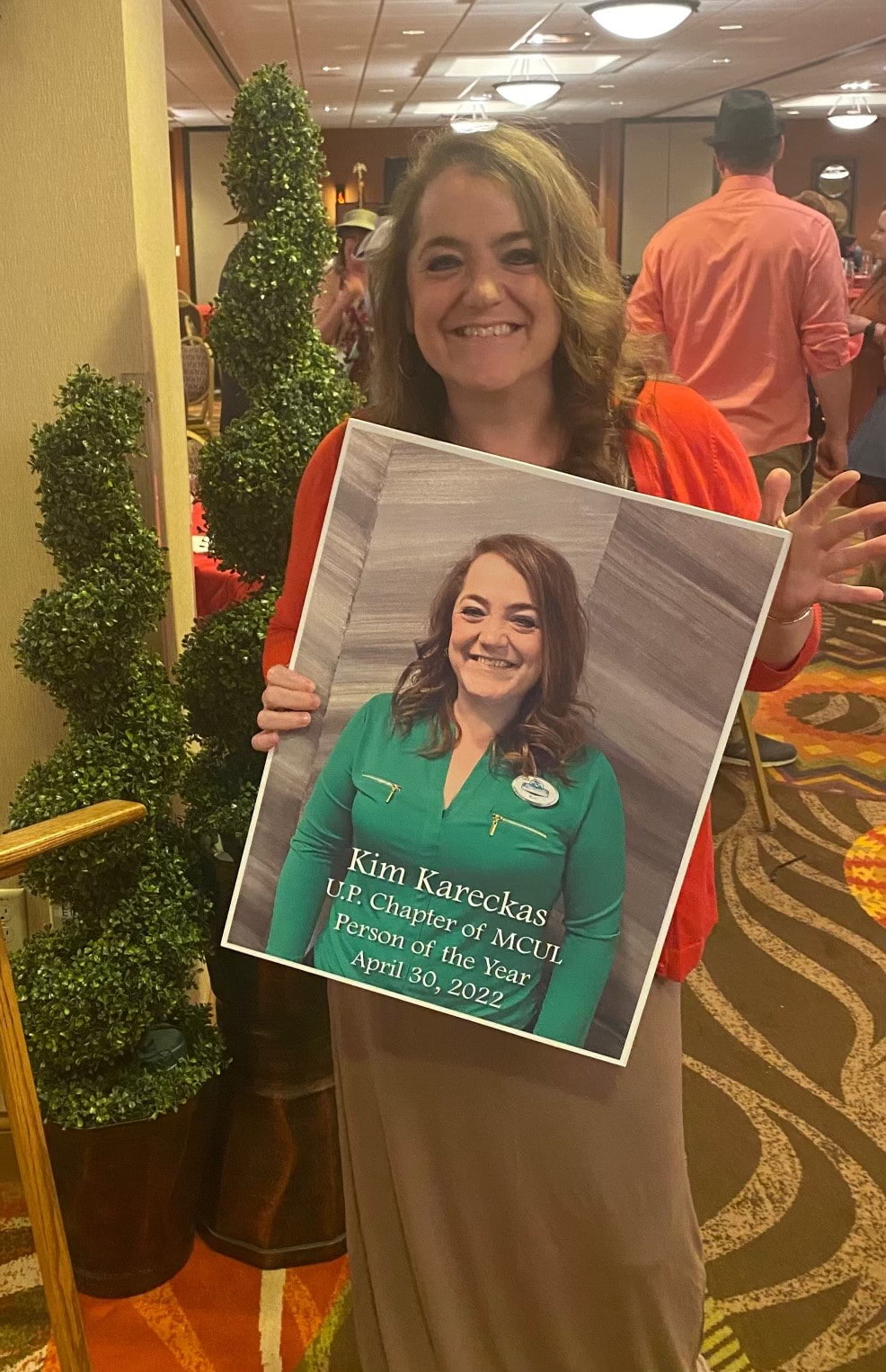 Their 2022 conference, held last week, was their 74th annual. I can only imagine what they plan for the 75th, because they know how to party! This annual event stands as one of MCUL's best examples of credit unions working together on their common mission, helping people and their communities. The passion of the attendees at the event is palpable. The credit unions are joined by vendors and speakers to meet with and educate the crowd. The event also recognizes those that stand out in the U.P. with an award. Kim Kareckas of Peninsula Federal Credit Union was honored with the UP Chapter Person of the Year and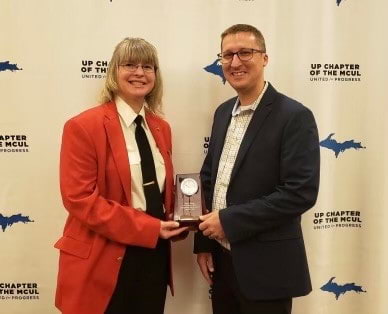 Tracey Tippett of Tru North Federal Credit Union received the UP Chapter Distinguished Service Award. Each year, the chapter also rewards a young professional with the Pat Ruecker Memorial Scholarship to attend MCUL's Annual Convention. Be sure to look for Emily Cassel from Soo Co-Op in Detroit this year as the 2022 scholarship recipient. Congratulations to these amazing women.
In addition to a top-notch award ceremony, the chapter hosts a CEO gathering, has their own young professional "crashers" from 906 Hype and brings in a theme for the party. This year the theme was Kentucky Derby!
Highlights for me included spending some time with MCUL Board Director Connie Toensing and Alternate Director Jim Venesky. Due to the distance, I do not often have the opportunity to see them other than on Zoom. I was also happy to thank outgoing Chapter Chair Chris Ison, CEO of Tahquamenon Area Credit Union, for his service and welcome in David Rautiola, CEO of Michigan Tech Employees Federal Credit Union, as the new chapter chair.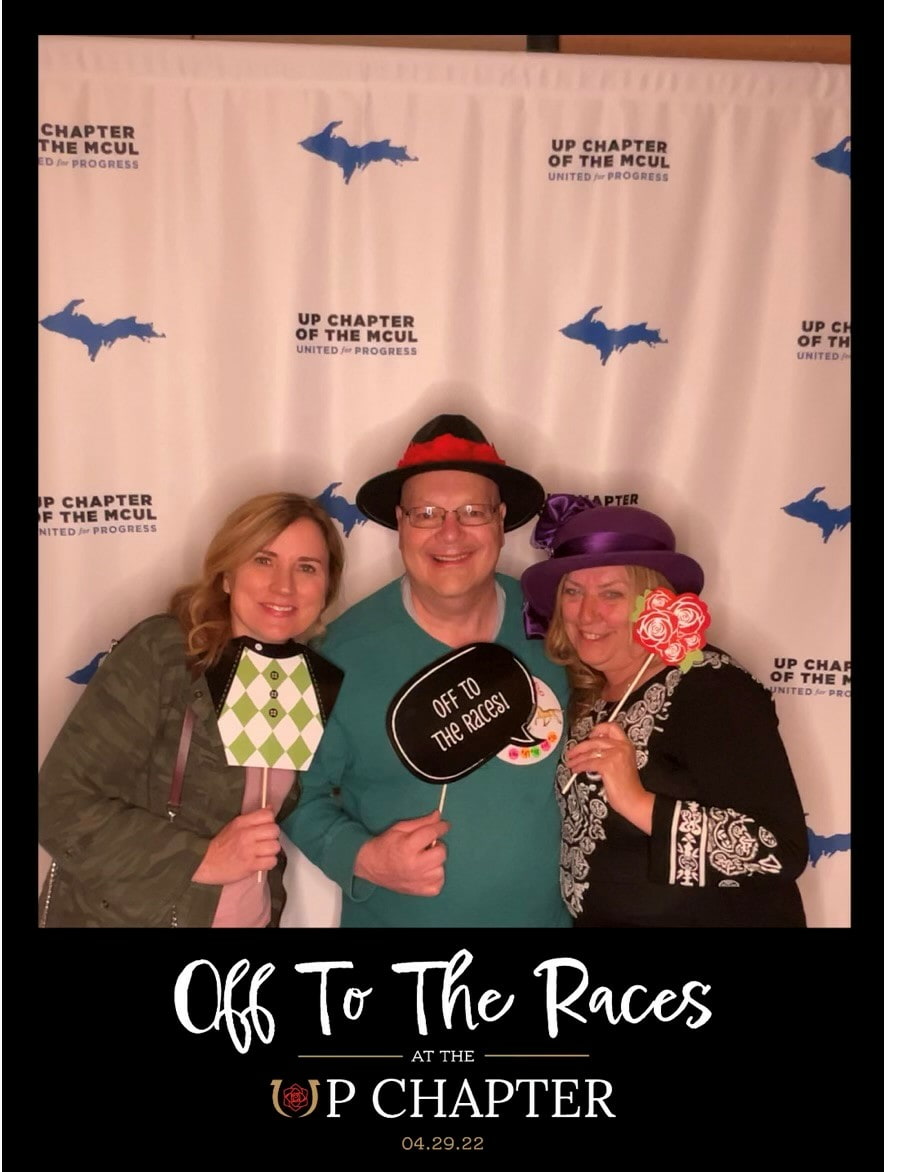 I was also honored to sit down with the young professional group, 906 Hype, and ask them questions, such as why they chose the credit union industry over another employer and where we need to be better as an industry. I enjoyed hearing from Valerie Miotke of Limestone Federal Credit Union, who had the courage to leave the study of medicine in pursuit of her true passion – the credit union industry. Chelsea Orr, of Soo Co-Op Credit Union, spoke with delight about her credit union's efforts and member engagement with technology. The event was not all work though and I had a great time hitting the dance floor with Ashley Edwardsen and Abby Runkel of Peninsula Federal Credit Union! (Notice there are no photos of this!) There were definitely some great insights from this group and the future of credit unions in the UP looks bright.
It was fun to spend time with this thriving chapter and listen in on the stories of community engagement, cooperation and enrichment that is alive and well with our northern friends. Cheers to the UP Chapter of Credit Unions! Our team was happy to take part in the festivities. Already looking forward to next year's event in da' UP!
---
May 2022
The Numbers Are Looking Good In Michigan!
NCUA Q4 2021 Report: Michigan Credit Union Memberships See Three-Year High in 2021
Omicron continues supply chain disruption but doesn't slow Michigan credit union memberships, now at 5.8 million.
The fourth quarter of 2021 looked all too familiar to the previous quarter with the rise of a new COVID-19 variant, Omicron. While this new variant continued Delta's disruption of the global supply chain, it had little effect on the growth of the national economy and credit union financial performance, which was largely mirrored in Michigan.
Memberships in Michigan rose 0.8% (3.2% annualized) in the quarter — nearly 10 times faster than U.S. population growth. The state's membership growth in 2021 came at a three-year high of 4.2%, pushing total Michigan credit union memberships to 5.8 million.
Membership growth by region (for trailing 12 months):
Grand Rapids: 5.3%

Traverse City: 4.6%

Flint: 2.4%

Muskegon: 1.6%

Lansing: 1.5%

Marquette: 0.9%
Michigan credit union loan portfolios increased 10.2% over the past year. This average is well above the national rate of 7.7%.
Q4 loan growth (by type):
Member business loans: 23.8%

First mortgages: 13.6%

Used auto: 11%

Credit cards: 3.1%

New auto: 2.7%
The end of the fourth quarter also marked approximately one year out of the COVID-19-induced lockdown. While the year saw the dangerous breakthroughs of two variants of the virus, Michigan's credit union memberships continued to rise, and at the fastest rate we've seen in a few years. After nearly two years of this pandemic, it's clear to me that the membership our state has seen is not unrelated to the virus. During times of difficulty or general uncertainty, finding a trusted financial partner is a top priority. Last year, that's exactly what we saw consumers do in Michigan, where membership growth outpaced population growth.
CUNA's Q4 Member Benefits Report for 2021 shows that Michigan credit unions contributed to a total of $556 million in direct financial benefits to Michigan's 5.8 million members over the previous twelve months. This total is equal to $83 per member or $174 per household.
These figures are calculated based on average savings differences between credit union and bank pricing. They result from financial benefits, such as higher CD rates and fee-free checking, as well as lower rates and fees on products like home, car and auto loans.
Find the complete Q4 2021 NCUA Call Report Data here.
You can also find more Q4 data on Michigan credit unions' low rates and high dividends in the CUNA Q4 Member Benefits Report.
---
April 2022
Are You There, Crypto? It's me, Patty
Several times, I have picked up a book, article or conducted a Google search trying to better understand the basics and general culture of cryptocurrency and blockchain. I'm sure I'm not alone in finding this universe confusing, exciting, risky and complicated all at the same time. The crypto world is yet another area that makes me feel old and behind, as do so many other technological advances. But, attending a recent conference and hearing people that are older than me talk about their digital wallet and bidding on an NFT (non-fungible token), I knew I needed to roll up my sleeves and get up to speed. Even the title of the Sunday Business section of the recent The New York Times called its section on crypto, "The Latecomer's Guide to Crypto." So much of the article was full of new financial vocabulary. Uh oh, it's official; I am late.
But what is a credit union's role in crypto? Even after getting a basic education of the who, what, and when of it all, what is the "where" for credit unions? Where does crypto live in our world?
From a credit union league perspective, our role is to provide our member credit unions education in the crypto space, as well as to remove any barriers prohibiting credit unions from safely entering this space, provided they have the desire.
We can view it almost like cannabis banking — while now legal in Michigan, it's an area that not everyone wants to participate in but still needs serious changes in the legal and regulatory space. While cannabis has a vastly complex tracking system and sample policies, procedures and tested oversight, the same cannot be said about crypto.
A recent whitepaper published by Cornerstone Advisors, "What's Going On In Banking 2022: Rebounding from the Revenue Recession," tells us that 25% of credit unions plan to offer cryptocurrency investing/trading by the end of 2023, and 17% of the 300 community financial institution executives say they plan to offer custody/safekeeping of crypto by the same timeframe.
Like it or not, crypto is everywhere. You see it on Venmo, watching the Superbowl, the Academy Awards and, if you are in LA, you might have been to the Crypto.com Arena.
Whether crypto is here to stay or not, I would like to see our credit unions get to a place where they safely explore their cryptocurrency options. We're often trying to dispel the myth that credit unions are not tech savvy; what better way to distinguish ourselves as tech players than offering crypto education by a financial advisor or surveying investment options?
Are you one of the many credit unions looking to find some non-interest income? Maybe this technology can deliver.
While you will not find me looking to buy into the Bored Ape Yacht Club (Google it) anytime soon (or ever), I am excited to continue my education and to explore options for our Michigan credit unions in blockchain. Join me.
---
April 2022 This article was originally published on CUInsight.com.
This April, Kids Learn about Money, Credit Unions Shine!
The Michigan Credit Union Foundation (MCUF) not only supports our Michigan community by providing community enrichment grants and financial education to credit union professionals, its overall impact shines light on all of our Michigan credit unions in programs like Smart Money MI Kids Read. This program, through public libraries around the state, supports story time initiatives during April's Financial Literacy Month.
Over 8,000 Michigan families will receive Count on Pablo, this year's book. MCUF's partnership with Michigan libraries, Michigan credit unions and the Michigan Financial Wellness Network makes this possible.
Again this year, we thank a team of financial educators from Community Financial Credit Union for volunteering at the Novi Public Library to sort, pack and distribute the books to participating libraries.
This is an initiative of the Michigan Financial Wellness Network, dedicated to providing Michigan residents with non-solicitous information, education and resources, to become better stewards of their money. Partners come from all sectors, including credit unions, social service, business, government, education, not-for-profit, media and more.
Each Count on Pablo book is stamped that it is brought to the reader from Michigan credit unions. This effort, along with so many other great MCUF initiatives, is possible thanks to the generous donations to the Foundation from credit unions, chapters and business partners.
Thank you for those who donated.
---
March 2022
---
CUNA GAC 2022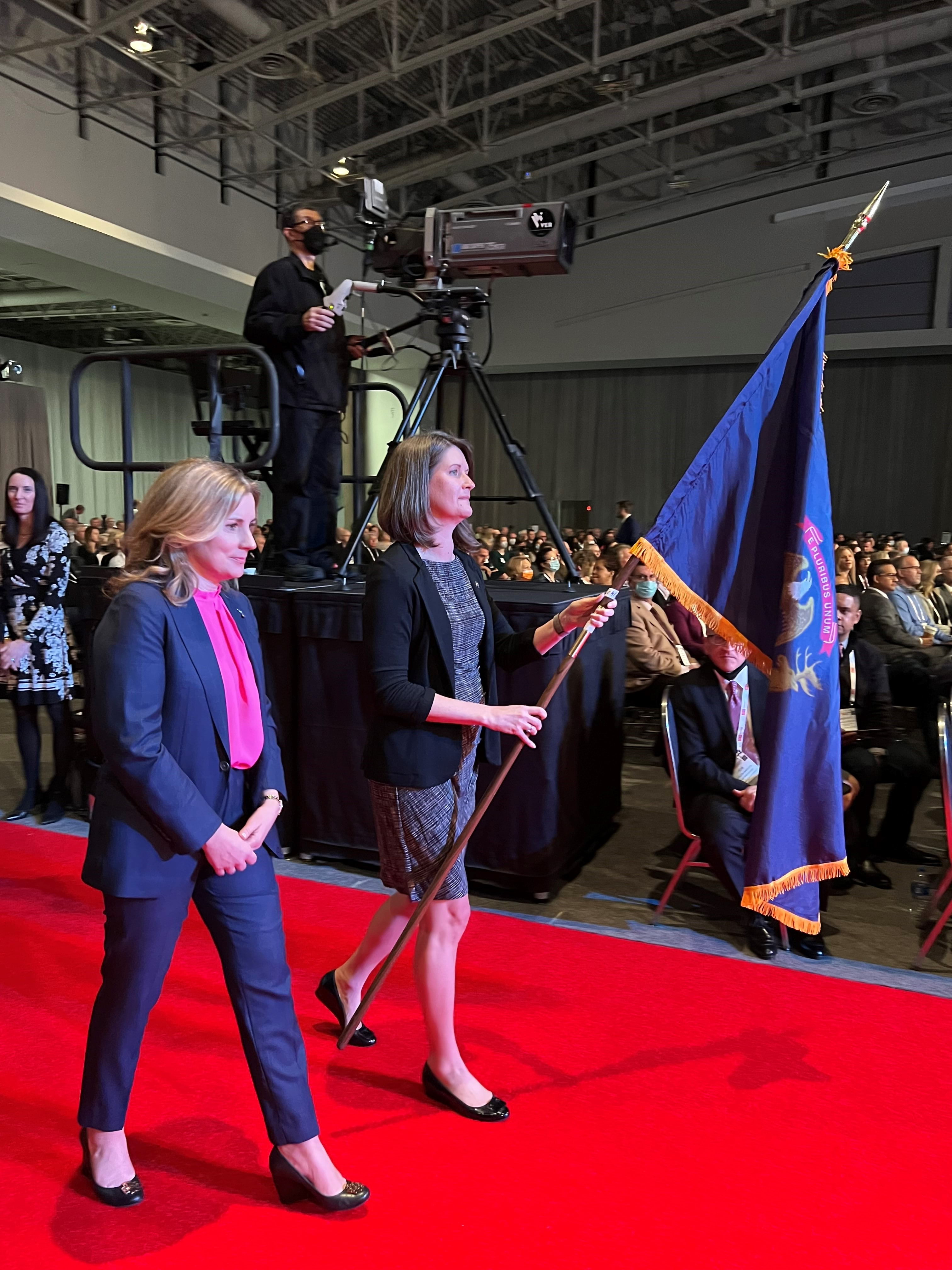 Last week, I had the great pleasure of attending the CUNA GAC in D.C. along with more than 100 fellow Michigan advocacy leaders. We had great weather and a wonderful experience at the convention. Our MCUL advocacy team set us up for in-person visits with our Michigan congressional delegation. While virtual visits have worked well, nothing beats meeting in person and interacting with the delegation face-to-face.
We were also happy to be joined by Andre Vygnanski, president/CEO of the Ukrainian Selfreliance Michigan Federal Credit Union. All our visits touched on the current crisis in Ukraine, and it was helpful to have Andre's perspective and input. Please check out our MCUL Facebook page for ways you can help during this terrible time in Ukraine.
Most of our hill visits took place at the Credit Union House. If you're not aware, for 20 years, credit unions have invested in and supported a house on Capitol Hill. It's a great testament to the strength of credit unions and our fierce support for advocacy. Be sure to check it out next time you're in D.C. You're welcome to take a tour! Visit the Credit Union House.
For me, the highlight of the event was walking into the opening ceremony with our MCUL Chair, Heather Luciani. This was my first GAC as your league president and carrying in the Michigan flag was thrilling. I was proud to represent our Michigan credit unions alongside Heather and celebrate all you do in our industry. If you have never gone to the GAC, please keep it in mind for next year. MCUL has scholarships available, and I believe everyone should go at least once!
---
March 2022
Advocacy Wins!
As a state credit union trade association, our primary focus is to advocate on behalf of all credit unions in Michigan. We take our mission, to support and protect the cooperative credit union movement in Michigan, very seriously and advocacy runs through every division and every member of our team.
That is why, when preparing to Hike the Hill in Washington as part of the CUNA GAC, we spend a lot of time preparing and researching the most important issues affecting credit unions today and in the future. Our team burns the midnight oil scheduling visits with our congressional delegation. These visits are moving targets as schedules are constantly changing. We also, along with CUNA, develop issue briefs so our Michigan attendees are prepared to discuss what we care about as credit unions with our Michigan delegation. But it is not all work! We plan receptions and make social time to gather and network. This year, we will be toasting to a long-awaited return to the Hill since visits were canceled during the pandemic.
One thing the pandemic taught us, was the value of virtual advocacy. More credit union leaders were able to engage with our PAC Trustees, meet with our Forum reps and talk state and federal issues with our committees. Virtual visits with our delegation have also been successful. With the positive results we've seen, all these efforts will continue to, on occasion, be virtual.
But, there is nothing like going to DC to network and meet up to 5,000 credit union advocates. I am looking forward, even more so this year given our pandemic separation, to donning my PAC lapel pin and reminding lawmakers who we are, what we do, and why our cooperative spirit, and structure, must be preserved.
Thank you for all you do to support advocacy, through your fundraising, visit participation, lawmaker meetings, story sharing and hiking the hill!
---
February 2022
I thought it was a great month – being Black History Month – to announce that MCUL is sponsoring a mentoring program to take place early Spring. This engagement will pair 10 Michigan credit union industry professionals with 10 up-and-coming African American credit union team members for six weeks of mentorship. Our mentors have been selected and are excited to begin.
I took part in this same program, which was sponsored by the Montana Credit Union League, and have been so inspired meeting with my mentee – a branch manager from Schools First Credit Union in California.
We are excited to bring this opportunity to Michigan and work with Shellee Mitchell who will manage the program. Ms. Mitchell started Sapphire Dimension, which focuses on the development of African American females' professional, educational and economic development. Her vision is "[f]or African American females to live in economic empowerment; the financial abundance of their education and skill; with fulfillment in their personal lives and contribution to humanity." MCUL is proud to support Ms. Mitchell's business and bring her vision to our Michigan credit union community.
When I was asked to become a mentor to a young, African American professional, I did not really think I had that much to offer. I knew that my experience in the workforce, while similar as we are both women, was vastly different than that of an African American. I knew that my mentee would have to work even harder than I did to make it.
As part of the 1-to-1 Mentoring Program, as Shellee calls it, she provides both mentors and mentees with a copy of The Memo – What Women of Color Need to Know to Secure a Seat at the Table by Minda Harts. I found this book so enlightening and, at times, hard to read. It goes into detail on what women of color experience in the work force and what holds them back. My mentee and I read it together and it generated powerful discussions.
I encourage you to get a copy. I am not proud to say that this was my first leadership book written by an African American woman, but it will not be my last.
I hope you are finding a way to contribute this month to honor the Black history that has been overlooked and, sometimes, forgotten or ignored.
---
February 2022
Hitting the Ground Running
We are well underway at the Michigan Credit Union League (MCUL) implementing our strategy for 2022. Currently, we are gearing up for the CUNA GAC. While visits with lawmakers may look a bit different with Covid restrictions, we are excited that over 100 credit union professionals are attending with us. With it being a big election year in Michigan at the state level as well as the federal districts changing, our advocacy team and PAC Trustees are very busy. We appreciate your engagement and sharing your credit union stories with our lawmakers.
During our January industry call, we spent some time discussing overdraft programs and what our Michigan credit unions are considering with their programs. Some shared that they are decreasing their fees and considering alternative income sources. We have assembled an overdraft task force to dig into issues and report to our industry on the findings. More to come in the months ahead.
This month, I had the privilege of sitting down with One Detroit Credit Union CEO, Hank Hubbard, to discuss his years with the credit union and engaging in our industry. Hank has a lot of insights to offer with his years of experience in overseeing a credit union under $100 million in assets as well as becoming one of the first CDFI credit unions in Michigan. Check out the Credit Union, Coffee and Conversation episode and enjoy.
---
January 2022
We have all learned over the last couple of years, many of you well before then, the importance of diversity, equity and inclusion in the workplace. Some credit unions are fortunate enough to have the means to hire employees who oversee DEI efforts as their sole role at the organization, while most do what they can to incorporate the principles of hiring and supporting a diverse team.
I recently had the pleasure of being asked to participate in a mentoring program that partners women executives with up-and-coming female minority credit union employees. The program is called "1to1Woman" and was initiated by the fabulous Shellee Mitchell of Sapphire Dimension, LLC. As part of the program, Mitchell provided mentors with a copy of the book The Memo by Minda Harts.
I am embarrassed to admit that The Memo is the first executive leadership style book that I have read from the perspective of an African American woman. I suppose if I had seen the book on the shelf that, on its cover, purports to tell women of color what they need to know to secure a seat at the table, as a white woman, I may have not picked it up. That would have been my mistake. Not only is the book helpful to women of color in developing their career, it offers a lot of insight into what their experience is like, which can, in turn, really help all of us understand hurdles or barriers that we may not have faced in our own careers.
Reading The Memo and working with my amazing "mentee," who has likely taught me more than I have taught her, has confirmed for me that I have a lot of work to do on the inclusion part of DEI. Part of the book talks about what happens "After 6" and the social part of the workplace where people gather for cocktails and after hour events. The author recounts that countless women of color she has talked to just want to do their jobs and go home. Harts encourages women readers to put themselves out there and interact and get to know their white colleagues in a casual setting. In talking with my mentee, she confirmed also that social situations outside of the office were a challenge for her.
We know that in our industry, sans a pandemic, social time happens on a regular basis! As a former credit union vendor, I know all about the after conference social time. After reading The Memo and engaging with my mentee, I will look at these events differently going forward. Not only will I observe who is at the social events, but I will also consider who is not, and what I can do to try and encourage people of color to attend. This is a reminder to me, a reinforcement to focus on inclusion. The "I" in DEI takes more time and thoughtfulness than the other efforts. Focusing on what we can do to encourage people of color to network and engage after hours is one small part. To really get to know our teams and make sure they are all included is something we should all be striving for.
I still have so much to learn in this space. But learning is a lifelong pursuit. It is not just reading a book or putting out a statement about commitment to DEI. I do not claim in any fashion to be a leader in this space and know that I can do much more. But I can say that I am committed to not letting the topic of DEI fade into the background. I encourage you to pick up a copy of The Memo and share it with your team. I know my mentee really found a lot of value in the book as she is navigating her career in our industry as a woman of color. If you are still looking for a New Year's resolution, maybe this article can help.
---
January 2022 - Originally published on CUInsight.com
Happy Holidays From MCUL!
---
December 2021
Oxford Strong
All our hearts are heavy with the past week's devastating news from our own Oxford High School. It is impossible to make sense of the gun violence that has plagued our country, and the loss suffered by the families and community in our own backyard is unthinkable.
As credit unions do, our industry rallies during times of suffering and the Oxford High School tragedy is no exception. Credit unions around our state have been active on social media to support the community, especially those credit unions with branches in and around the Oxford area. Genisys Credit Union quickly set up an account to collect funds to support the impacted families, and our own Michigan Credit Union Foundation is matching contributions up to a total of $5,000 with a community crisis grant in hopes of being able to send $10,000 to the cause.
Vibe Credit Union is also holding a fundraiser with employee contributions and a corporate gift to the North Oakland Community Coalition for physical and mental health resources. Members First Credit Union is also contributing to the cause in a big way. We know other credit unions are doing what they can, so please share your efforts with us on our MCUL Facebook page.
We stand with Oxford and hold the community in our thoughts and prayers. #OxfordStrong
---
November 2021



Giving Thanks
In our credit union industry, community and giving thanks are at the heart of who we are. Last week, I had the privilege to present a check to the Children's Miracle Network for $70,000, thanks to the generosity of credit union employees and volunteers engaging in fundraising with us this year. This was just one example of all you do for your community throughout the year. Giving to your communities and demonstrating the cooperative spirit is the hallmark of our industry.

This week, as I suspect the same for you, I am reflecting personally on my gratitude and thankfulness. As I find myself getting close to wrapping up the first year serving as MCUL's league president, I am full of gratitude for my new role, which has brought me challenge and excitement. Two things that some professionals, three months shy of their 50th birthday, may find lacking in their chosen careers.
I must first start by offering thanks to my dad, Dave, and my brother, Chris. My dad retired from the credit union industry about 10 years ago. He was a credit union employee for most of his professional life. And my brother Chris, who serves as the CEO of Advantage One Credit Union. Both have taught me, and continue to demonstrate, how awesome our Michigan credit union family truly is. I am grateful to them both for encouraging me to step in to this industry.
I am also thankful for some of my mentors. Attorney Chuck Holzman showed me how to represent with passion credit unions in court and advise our clients with care. Thankful also to Dave Adams, who I met several years ago when I interacted with the MCUL, for sharing his knowledge and taking a chance on me. Also, very thankful for my daughter, who for years I was her example of what courage and hard work is and now she is shifting in to be mine.
Finally, I am thankful for my credit union clients over the years. Some of them are reading this now. They trusted me to advise and argue for them in stressful times. Sometimes, I prevailed and sometimes I didn't. By allowing me to fight for them, they gave me the chance to grow my confidence and learn about the industry. I saw in them the passion for their employees and members. A passion I now hold as well.
I encourage you all to share with those in your life your gratitude this season. I wish you all a healthy and joy-filled Thanksgiving.
---
November 2021
Help Us Celebrate You!
Since my first days at the Michigan Credit Union League (MCUL), I've always looked forward to this time of year. During the fall, we open nominations for the MCUL and Michigan Credit Union Foundation (MCUF) Awards. This is a chance for you to nominate a friend, colleague, credit union or chapter that is making a difference.
You would think this would be exciting and we would be flooded with nominations given our amazing credit union supporters in Michigan! Right?! For some reason, however, we seem to find ourselves always having to extend the nomination time and come up with creative ways to get people to nominate their peers. We scratch our heads at why nominations slowly trickle in when we know there are so many of you deserving recognition. And, we know for a fact, that we put on a phenomenal awards event at our Annual Convention & Exposition. I mean, it is top-notch!
Check out this page to see some highlight reels from our last ceremony.
So, why is it with so many deserving people and credit unions, and with such a great awards event to pass out the awards and give recognition, that we do not seem flooded with nominations? We thought maybe it was the fact that the nomination process was too involved. Guess what?! We made it super easy. We even have a QR code to get you started. So – what are you waiting for? Stop what you are doing (after you finish reading the MI League Minute), and nominate someone or a credit union or chapter that deserves to win and be celebrated at our annual convention in June. You will not regret nominating. You could really make a difference for someone. Trust me, we see and hear every year how great it is to be recognized. So, come on! Get that nomination in today. We cannot wait to celebrate with you.
Click here to start your nomination!
---
November 2021
For the better part of a year now, I have been talking with Michigan credit union leaders about how they're planning to transition from the pandemic-induced home office to in-person work. It has been interesting to hear unique perspectives on how credit unions are answering the question: to stay remote, bring team members back to the office or something in between?
I have heard responses from across the spectrum. Some are very proud to have maintained in-office work when possible. Others are keeping their back-office team remote with very little face-time required, and have even started hiring out-of-state employees for certain positions. Then, there are some credit unions that fall somewhere in the middle of these two, experimenting with a hybrid model.
A common refrain from teams that prefer remote work claims consistent high production throughout the pandemic's mandatory remote work era. There's no doubt that most people are productive from home and it cuts out a commute, allows for more flexibility with kids and pets and several people prefer the remote work environment. However, there are others who find work-from-home distracting, isolating and hard to separate the lines of work and home.
Where is the balance? Just because something works, because it yields high production, is that enough reason to settle on that one model as the solution?
One Michigan credit union, Christian Financial Credit Union, with over $800 million in assets and a team of 175 employees, has adopted a hybrid approach for its back-office teams. Support employees work remote on Monday and Friday and are in the office the rest of the week.
"Teams are highly encouraged to work together, in-person, fostering strong collaboration in the unique spaces they built in our new headquarters, which opened in Fall 2019," said President/CEO Patty Campbell, regarding the three in-office days. "The heads-down approach on Mondays and Fridays is aimed at giving the team time to focus, generally free of meetings, allowing for accelerated launch of new initiatives, fostered by the ability to manage their quiet time to accomplish self-directed goals and tasks."
Campbell said the team has been thriving under this model, giving employees Monday to plan their week and Friday to wrap up projects following a few days of collaboration. The credit union found what works for them.
I think we're selling ourselves short if we think productivity is all we should look for from our teams. Gathering together as a unit allows us to be creative, to brainstorm, to learn from one another and to teach each other. In-person work fosters interpersonal relationships and broadens professional networks in a way that technology can only compliment, not replace altogether. Our credit unions and leagues benefit from these aspects of in-person work, and our movement, as a whole, becomes stronger.
Of course, time will reveal all the pros and cons of remote work — the ones we've considered and the many we probably haven't yet. But I'm encouraged that many of the credit unions I've talked to here in Michigan still believe, as I do, that there are many reasons why we should continue to embrace in-person collaboration.
It may have taken a pandemic to get us there, but I believe the future of a prosperous company is a hybrid workforce — a perfect balance of productive work and collaborative culture.
---
October 2021 - Originally published on CUInsight.com
An Autumn of Advocacy
Hard to believe it is already almost mid-October. Fall is definitely upon us as we see the beautiful colors change and feel the weather get a bit crisp. I hope you are settling into the final quarter of the year.
This is a big week for our advocacy team as we welcome the Michigan credit union movement to Lansing for the state's 2021 Government Affairs Conference. The event kicks off on Tuesday with our first ever PAC the Pub fundraiser, while the actual conference will give me the honor of recognizing our credit unions that have met and exceeded their fundraising goal. Thank you so much for all of your grassroots efforts and recognizing the importance of engagement.
Shortly, we will be asking you to attend our virtual Hike from Home visits with our congressional delegation and regulators. That event takes place next week, on Oct. 21. Please be sure to join us; it is your engagement and participation that makes these events successful.
I hope you are enjoying your pumpkin spice lattes and long walks in the woods. Thank you, again, for all of your engagement and support.
---
October 2021
Fall Into Strategic Planning
While kids are getting back in the groove at school, we are all rolling up our sleeves in budget and strategic planning season. It is not quite the same as the smell of sharpened pencils and school pictures, but there is something exciting about the strategic planning process.

This if the first season of planning for me as CEO. It is exciting to think about the ways we can push MCUL further in support of our credit unions. Evaluating our mission and priorities has brought a new vigor to the team. We had a very engaging session with our board and it is inspiring to hear what is happening at their credit unions, where they could use support and how we can support all credit unions.

If you are reading this and have gone through several years of planning in your career, you may think my excitement about the process is overstated! Or, perhaps it reminds you of your first planning session and the excitement you had working with your board and a clean slate of ideas. Either way, I hope your sessions go well and you feel as excited as I do about the year ahead!
---
September 2021
"Come Together," the famous song by The Beatles, might not make a lot of sense when you really listen to the lyrics. But, this season, coming together has significant meaning for me.
I am writing this piece on the 20th Anniversary of Sept. 11, 2001. The day that brought America to its knees. This precise time twenty years ago, I was on maternity leave and was holding my two-week old daughter while watching The Today Show. Watching The Today Show during the week back then was a luxury for me because my mornings mostly consisted of rushing around, putting on a suit, downing coffee and racing to my office. But on this particular day, I was enjoying watching Katie Couric and Matt Lauer on my couch, in my pajamas with my baby girl.
Then, the first plane hit the World Trade Center. Then the second tower was hit and we all know how the day got worse from there, with the Pentagon attack and the heroic efforts of passengers overtaking the plane that crashed in Pennsylvania. Twenty years ago, I held my baby wondering what kind of world I just brought her into.
We all have these "where were you?" stories. Over the weekend, I had a chance to exchange them with friends as we all reflected on the 20th anniversary of the terrorist attacks.
Remember after 9-11, how we all came together as a country against hate and terrorism? That day changed our world, but now, each anniversary, we come together united in our determination to never forget.
For our MCUL family, this season is also a "coming together" as we recently reunited at our Annual Convention and will reunite again over the next week with the Executive Summit and Fall Leadership Conference. These events have been so rewarding as I read the comments from attendees that are so grateful to come together and see their friends and colleagues following a year locked away by the pandemic.
While there can be so much division in our country, especially over this last year, I wanted to take this time to reflect on how special it feels when we come together. It would be great if we did not need a tragedy or a pandemic to do so. But I chose to be grateful for my friends, my family and all of you who show daily support for this amazing credit union industry and our credit union family.
May this week and upcoming holiday season find you coming together with friends, colleagues and family. Let's cherish how good it feels when we can link arms in a united mission instead of focusing on the divide. I am grateful for our credit union community, and even though we each bring different ideals and experiences to the table, those differences make us better and nothing is better than when we come together and celebrate what makes us strong.
---
September 2021
We did it! We had our first in-person event since February of 2020 and it was a big one! Our team was thrilled to host the Michigan credit union community at the 2021 Annual Convention and Exposition in Traverse City during August 22-25. With attendees, guests, the MCUL team, vendors and sponsors, we had more than 800 people at the resort.
Everyone was happy to reconnect with people they may have not seen in person for over a year. We felt the same way. I was very excited (and a bit nervous!) to host my first AC&E as your President/CEO and I think it was fabulous – if I do say so myself! For me, the highlight was reconnecting with attendees and presenting to them how the last 18 months has shown us that our industry can do hard things. I was happy to recognize the front line workers, human resource professionals, IT teams and CEOs and managers as groups that dealt with, and continue to deal with, huge burdens and new challenges. Together, we can do hard things!
Another personal highlight was the MCUL Awards ceremony. It is so wonderful to highlight our community for the good work they do and their professional achievements – it's all so deserved. I was especially proud of our Distinguished Service Award winners, Patty Campbell and Bill Lawton, and our Young Professional of the Year, Kyle Gurzysnki. It is powerful to recognize rock stars in our industry, so please take the time to nominate someone for 2022 – nominations are open: www.mcul.org/awards.
We are now looking forward to our Executive Summit and Fall Leadership event. As these events will be in-doors, we are looking at safety measures to best protect attendees. We will be sending out notices to those registered.
Stay safe and enjoy the last few weeks of our beautiful Michigan summer.
---
August 2021
Q1 Report Shows Steady Membership and Business Loan Growth Amidst Vaccine Rollout
The National Credit Union Administration's recently released Q1 2021 call report data shows an uptick in Michigan's economy as the COVID-19 vaccine became accessible to the broader population. As vaccination rates reached 4 million doses per day by the end of March, the year's first quarter saw a decline in virus infections and unemployment rate.
More importantly, the Q1 data shows a Michigan credit union industry that is resilient and persistent in finding ways to meet members where they need to be met.
State credit union results mirrored these national trends for Q1: strong earnings and membership gains, fast (stimulus-induced) savings growth and high asset quality. Michigan credit union memberships now stand at 5.69 million.
CUNA's Member Benefits Report for the quarter shows that Michigan credit unions, despite the pandemic, continued to contribute an increasing amount of direct financial benefits to its members. The quarter's total was $567 million, equal to $101 per member or $212 per household.

While we are still struggling to combat COVID-19, the beginning of the vaccine rollout gave us all hope that we can turn the corner on the virus. And, as we continue to navigate current variants, the Michigan credit union community has given its 5.69 million members a reason to trust that our industry will continue to provide for them.
Read our full Q1 report here.
---
August 2021
Introducing MCUL's New Podcast: Credit Unions, Coffee and Conversations
Introducing MCUL's New Podcast: Credit Unions, Coffee and Conversations
I'm so excited to announce the launch of MCUL's new podcast, Credit Unions, Coffee and Conversations. This monthly series travels the State of Michigan as I sit down with credit union leaders to share a cup of coffee and have a casual conversation about the credit union industry. I also talk to each guest about their professional credit union journey, as well as anywhere else the conversation takes us.

The purpose of this series is to have fun, casual and informative conversations that allow the Michigan credit union movement to get to know each other better and share ideas from our industry's top leaders.

During the past couple months, I've had a chance to travel around and chat with some of my brightest colleagues, including Christian Financial CEO Patty Campbell, Financial Plus CEO Brad Bergmooser and Michigan Legacy CEO Carma Peters.
These first three episodes are now live and available on Apple Podcast, Spotify and our website. I hope you like what you hear! Please rate and subscribe to get the latest episodes as soon as they are released.
---
July 2021
There is nothing better in support of our advocacy efforts than to share and promote stories of our credit unions impacting communities around the state. Thank you to the credit unions that submitted amazing stories of your impact in your community for our CU Link Stories contest. We know there are hundreds of examples of how our credit unions supported their members and it was really a challenge for the selection committee to narrow it down to 16 winners.
We are happy to announce the winners of the CU Link Banking Built for People stories:
You can see a list of the winners here.
CUBE TV Studios is currently working with the selected credit unions to create some amazing videos. Once all the videos are complete, we'll share a link where you'll be able to watch them.
Thank you to everyone who has helped make this such a successful and fun campaign so far.
---
July 2021
Enjoy Michigan and Remember to Breathe
Our summer is well under way here in Michigan! While the weather has certainly kept us on our toes from flood waters, high humidity and a big variation in temperatures, it is so nice to have a "normal" summer again. It seems like last year people forgot to take off vacation time – whether it was because they were too overwhelmed with work to do so or felt like they were already home during their workday, there is no doubt that everyone in our industry worked a lot last year.
I actually enjoy getting the "out of office" response to emails this month, seeing that people are taking much needed time to refresh and recharge. Vacation is important. I have read that most creative ideas come when we aren't busy thinking or working – just being. We all know there is something to the down time in the shower where we get great ideas or when we crawl in to bed and just breathe.
So, instead of jumping from one thing to the next, take some time and relax; breathe in and enjoy this amazing Michigan summer. If you have not taken some time off yet this summer, what are you waiting for?!
---
July 2021
This is the final week to submit your nominations for the 2021 CUNA Awards. Michigan credit unions have a strong history of making a difference in the communities they serve. The CUNA Awards showcase all of the great accomplishments and hard work credit union employees have invested into our cities and state over the last twelve months.
These annual award winners are an inspiration, embodying the credit union difference and illustrating what our industry is all about. In 2020, five Michigan credit unions shined with national award recognition (with many more receiving state-level awards):
One Detroit Credit Union - Louise Herring Award
MSU Federal Credit Union - Louise Herring Award
CP Financial Credit Union - Desjardins Youth Award
Mid-Michigan Chapter of Credit Unions - Dora Maxwell Award
North Central Area Credit Union - Dora Maxwell Award
The Louise Herring, Dora Maxwell and Alphonse Desjardins awards are an opportunity for CUNA to annually recognize the significant contributions credit unions make to their members and communities across the country.
The Louise Herring Philosophy-in-Action Member Service Award recognizes model credit union efforts to materially improve members' lives through programs such as special loan modification programs, wealth-building or debt-reduction incentive programs, outreach to underserved populations and student-run in-school or campus branches.
The Dora Maxwell Social Responsibility Award promotes social responsibility among credit unions by formally recognizing their community service achievements through projects like charity fundraising, building low-income housing or loaning employees a few hours a week to work in hospitals, retirement homes or schools..
The Alphonse Desjardins Adult and Youth Financial Education Award honors leadership within the credit union movement on behalf of youth and adult financial literacy done through education seminars, initiatives catered to at-risk populations, individual financial counseling, teen financial reality fairs, youth outreach or in-school credit union branches.
Applying for the CUNA awards is free and easy. Visit MCUL.org/cuna-awards and consider submitting an application today for any or all of the community and financial education efforts your credit union has been involved in over the past year.
Your hard work and dedication is changing lives. We look forward to shining a light on your latest efforts during the 2021 CUNA Awards.
Patty Corkery, President/CEO Michigan Credit Union League
---
June 2021
Welcome to MILeague Minute, the Michigan Credit Union League's latest source for League news. After taking a look at our publications and evaluating how we deliver updates to our members, MCUL decided to introduce MILeague Minute, a twice-a-month newsletter filled with everything you need to know about current and future League priorities, events and offerings.
This newsletter will be taking the place of our previous monthly publication, Priority Report. The same important information will be found in MILeague Minute, but in a format that's both easier to navigate and digest.
Simply put, MILeague Minute readers can expect to stay up-to-date on all things MCUL. That means you'll never miss recaps of important advocacy meetings, the latest in compliance news, registration for an upcoming education event or an opportunity to apply for Michigan Credit Union Foundation grants or Financial Reality Fair materials.
On top of all that, we will also routinely include happenings from around the Michigan credit union community, such as classifieds, chapter events, community fundraisers or great individual credit union initiatives.
You can expect MILeague Minute to hit inboxes on the first and third Tuesdays of each month.
Happy reading!
Patty Corkery, President/CEO Michigan Credit Union League
---
June 2021
Over the last year, I have had the privilege of serving as a member of the MCUL/CUSG's Diversity, Equity & Inclusion (DEI) team. This group is responsible for getting conversations started and creating opportunities for our team to support DEI initiatives in our community. Our team is small and meeting each week for the past year – and participating in intimate and open conversations – has taught me so much about myself and what others unlike me face in their daily lives.[1] Thank you Herman, Renuka, Olywn, Brad, Ariel and Amanda for showing your true selves and helping me become a better person.
Becoming involved in our DEI group has been the impetus for me to dig deeper this month as we all think about Pride Month and what it means. If you are like me, you see the social media posts from friends and companies and see the Pride t-shirts at Target, as well as a bunch of other retailers selling Pride swag. You hear the word "Ally" and believe you are one, but you remain on the surface and don't really lean in to find out what it all means. Sometimes, you're not sure if you're saying the right thing or doing the right thing. That's where I found myself as I contemplated what to say during this month of Pride, and I am certain I am not alone with my uncertainty.
If you Google "what is pride month" you will see a host of articles and videos about gay pride and how the June celebration was started. You can read about the Stonewall Uprising of 1969, which was a series of events between LGBTQ+ protesters and police that lasted a week. Police raided a gay bar and people fought back. In 1969, homosexuality was considered a criminal offense and as such, many establishments, like the Stonewall Inn in NYC, operated without a liquor license, which provided an open door to police brutality and raids. Several people were arrested at the Stonewall Inn after a police raid in June of 1969, resulting in mass protests around the country and translating into the birth of the gay liberation movement. The first Pride march was held on June 28, 1970, marking the one-year anniversary of the Stonewall Uprising. [2]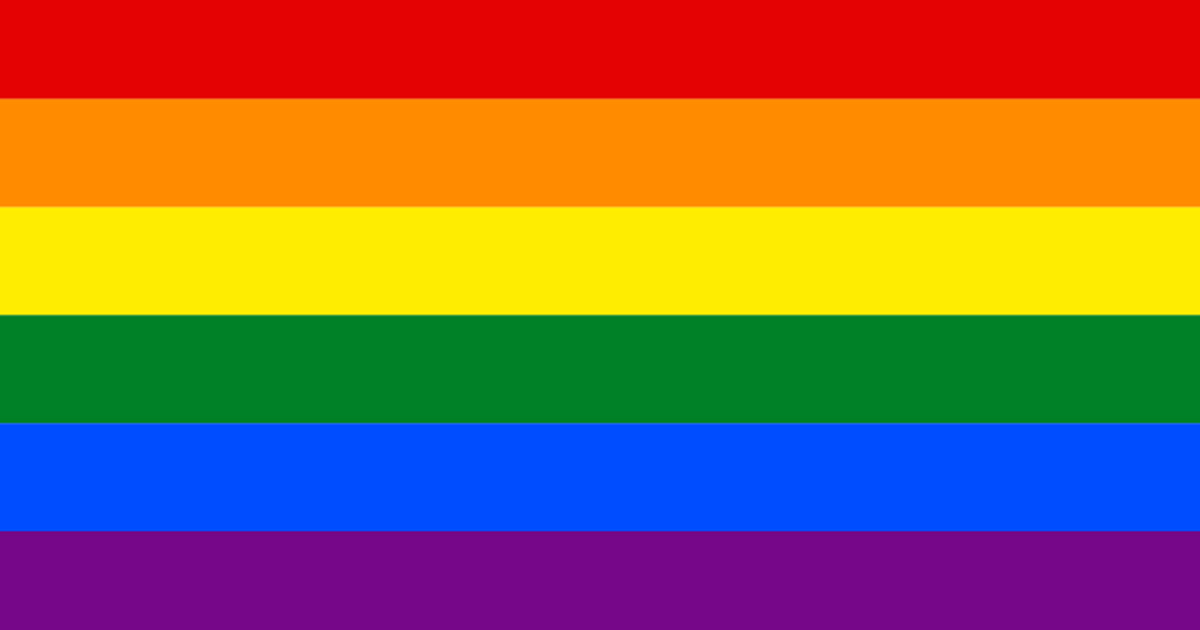 Coming back to current times, we all observe this month's Pride parades, marches and rainbow flags as well as companies issuing support statements for the cause. I love seeing credit unions in Michigan and around the country share their messages about Pride and supporting their communities of people who have traditionally been excluded. We all know that credit unions support everyone, regardless of race, sex, identity, ability or nationality. During the month of Pride, it is nice to see a reminder of this mission that is focused on people that have been left out and behind. And as your association, we celebrate your commitment to embracing this month and what it stands for.
So, what does it mean to be an ally? Is it simply to learn about the origins of Pride and declare your support for the movement? I believe this is only a part of what it means to be an ally. As my work in the DEI space has taught me, there is a lot of sadness, fear, embarrassment and rage when a group is marginalized and left out and treated as less than.
Simply put, it is a struggle that some people live every day — sometimes so much that many queer people never feel safe enough to come out. They face discrimination and persecution from employers, co-workers, classmates, friends and even family. I do not know what this is like. But figuring out how I can help and support people who are facing these realities will help me be a better ally.
Answering the question of what it means to be an ally will take time as I am still learning and understanding. I have spent some time researching groups that support the queer community and found Equality Michigan[3] which is a political advocacy organization that connects victims of bias, discrimination, harassment and violence with services to receive support and achieve justice. To support Pride month, I donated money to this group. I felt that, for me, this was the best way to show my allyship this year.
One of our team members shared their thoughts on Pride. Crystal Carmack said it best: "Pride is living every day, true to who you are. It's being an encouragement to others who may be struggling with acceptance or understanding who they are. It takes a lot of courage to walk in this world, masks off, speaking and living your true self. Pride is proclaiming that love is love, not only within the LGBTQ+ community, but expanding throughout all races, religions, ethnicities and all walks of life. Love always wins."
To all my friends, family, team members and members of our credit union community that have struggled to be accepted as your true self, I stand next to you in support and will continue my efforts to show up, for you and with you. Happy Pride.
Patty Corkery, President/CEO of the Michigan Credit Union League
---
[1] If you have been thinking about starting a DEI group and would like to hear from us on how we got started and our initiatives, please let me know.
[2] https://www.loc.gov/item/today-in-history/june-28/ Accessed June 4, 2021.
[3] Equality Michigan: https://equalitymi.org/?fbclid=IwAR27DeS48WTLp_5iFu2JQXQSi3IenQ56du87FGKvbED_7ByCh5l648sGdew
---
June 2021
"Women belong in all places decisions are being made." We have all heard this pronouncement on gender equality from Justice Ruth Bader Ginsburg. In meeting with our credit unions around the state, I know the spirit of this statement lives strong in Michigan. With that foundation, I was not surprised to see that Michigan credit unions are surpassing the national average at credit unions and banks regarding women in leadership positions.
CUNA recently published a report comparing women leadership numbers in credit unions to banks around the country.[1] Reading the comparison made me curious how we stack up in Michigan; are we better, worse or on par with the national landscape when it comes to women representation at the CEO and board level?
When you look to the S&P 500, women currently hold only 30 (6%) of the CEO positions at these large companies.[2] Clearly, the road to equality at our largest corporations is still fraught with detours, though the financial services industry is much further along. Within our industry, specifically, credit unions are ahead of banks, and Michigan credit unions have even more women at the top position than the national average.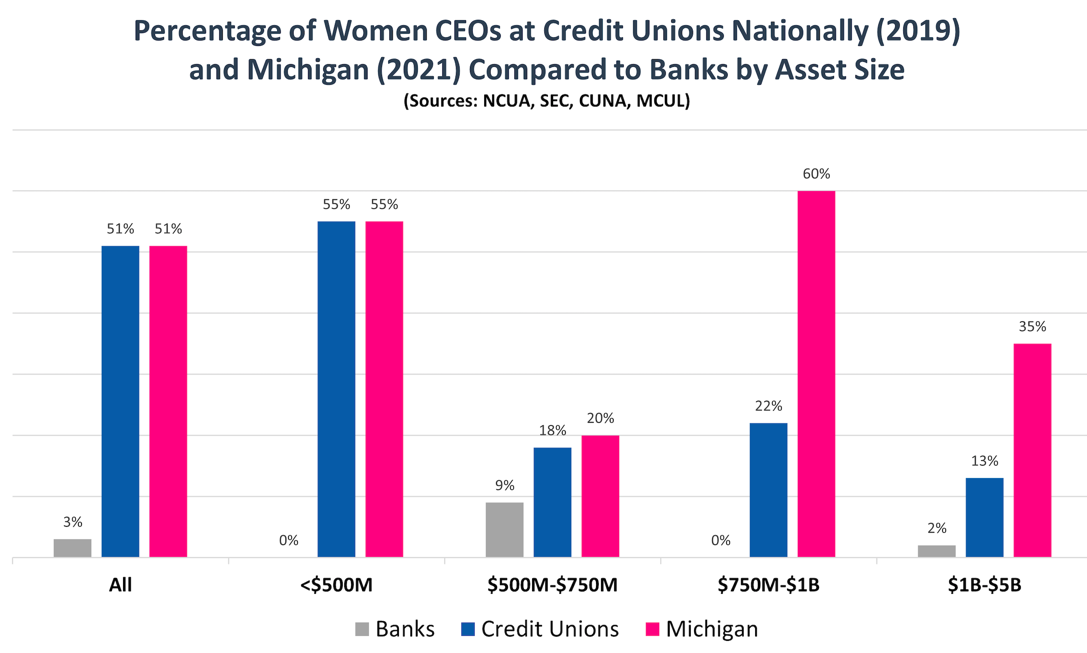 Nationally, women run 51% of credit unions overall compared to only 3% at banks. At credit unions under $500 million in assets, the percentage of women leaders is even higher at 55% for both Michigan credit unions and credit unions nationally. As asset size increases, female representation at the CEO level decreases for credit unions but increases for banks as shown in the chart above.[3]
Michigan credit unions are also ahead of the country's credit unions and banks when it comes to women leaders at large-asset-size institutions. Sixty percent of credit unions in Michigan with assets between $750 million and $1 billion are led by women. At the $1 billion to $5 billion asset size, Michigan credit unions have more than double the number of women CEOs than credit unions nationally with 35% being led by women.
Michigan State University Federal Credit Union, with assets exceeding six billion, is led by CEO April Clobes.
"As reflected in the data, our industry has been working to grow the number of women and people of color in leadership in credit unions," said Clobes. "At MSUFCU, we have a variety of leadership programs to ensure that every person has an opportunity to be prepared to move into a leadership role. We have several women on our board and supervisory committee, and the majority of our managers and leaders are women. Creating an inclusive environment for women and people of color makes our organization stronger and more successful."
In the boardroom, CUNA reports that a board member of a credit union is "twice as likely to be a woman relative to a board member of a bank," with 33% of credit union board seats held by women compared to 16% at banks. Looking at the top 20 credit unions in Michigan (in asset size), our state is better than the national average, but not by much, with only 37% of the board seats held by women.[4]
The Michigan Credit Union League (MCUL) has also helped advance the representation of women in the industry when it selected its first woman president/CEO in May of this year. Out of the 35 state credit union leagues around the country, Michigan is only one of five leagues with a woman president. Further, the MCUL Board is led by Chairperson Heather Luciani, CEO of Marshall Community Credit Union.
"Our credit unions, membership and communities benefit from the gender diversity that we bring to our board rooms and decision making," said Luciani. "The data reflects our commitment to overall diversity and inclusion for credit union stakeholders and I am proud to be part of, and help to represent, an industry that recognizes and elevates women in leadership roles."
While this article does not address women holding other c-suite positions, nor does it address general representation of women of color in the industry, it does show that credit unions are scoring better than banks at hiring women leaders. We also learn that Michigan's large-asset-size institutions rate higher than the national average.
As with any data, you can choose whether you focus on the positive or negative. As an industry, we should be proud that 51% of credit unions nationally are led by women – a significant difference between credit unions and the dismal S&P 500's only 6% women leaders.
"United Federal Credit Union values different perspectives at all levels of our organization, including the board and leadership team. With 33% of our board of directors and 43% of our senior leadership team being women, we see the positive impact that gender diversity brings and are making investments credit union wide to embed a larger focus on Diversity, Equity and Inclusion (DEI) across the organization," said United CEO Terry O'Rourke. "Working with a DEI consultant as our partner and guide, we recently launched a Diversity Council that includes employees from several locations and all levels of our team to incorporate and embrace DEI in everything we do."
There are several reasons to celebrate credit unions, and strong female representation and DEI initiatives are chief among them. Kudos to our Michigan credit union boards and the MCUL board for setting the standard for women leadership moving forward. While we have some progress to be made, not only on female representation but also diversity in general, we are heading in the right direction.
Patty Corkery, President/CEO of the Michigan Credit Union League
---
1. CUNA article published in CU Today, May 11, 2021.
2. Catalyst, Women CEOs of the S&P 500 (April 1, 2021).
3. It should be noted that CUNA is reporting CEO data from 2019 and the Michigan data is as of March 2021. Therefore, the comparisons may have changed slightly.
4. NCUA 3-31-21 Profile data at www.ncua.org
---
May 2021
Welcome to our May Priority Report
To mask or not to mask, that is the question... We all saw a flurry of activity last week with the announcement that mask restrictions will be lessened for those people that are fully vaccinated. The President's announcement set into motion the need for agencies in Michigan to update and modify state policy on the issue of masks. As employers, and as credit unions serving their members, we all felt the same rumble and uncertainty on how to handle members and employees as restrictions ease. As of this report, we are still waiting for clarification or updates from MIOSHA. We have heard that while MIOSHA is reviewing updates to its rules, it will consider compliance with MDHHS's order good faith compliance when it comes to responding to employee complaints or conducting investigations on COVID-19. If you are able to join our Industry Update call this week, we will have MIOSHA Director of COVID Workplace Safety, Sean Egan, on the call to discuss the current situation and answer questions.
We highlighted research initiated by CUNA on women in credit union leadership this month. Learning from CUNA that credit unions far outpace banks nationally when it comes to women in CEO positions, we looked at how Michigan measured up and we were quite pleased, and not surprised, to see Michigan exceeding the national averages. Check out the article here: Michigan Credit Unions: How We Stack Up on Women in Leadership
Our CU Link Consumer Awareness Campaign – Banking Built for People – has launched its story contest t to encourage credit unions around the state to share stories of how they impacted a business or member over the last year. Two credit unions a month will be selected to receive a free, fully produced video by our CUBE TV team to feature the story. We know there are a lot of examples out there and we are looking forward to hearing them. Has your team shared a story yet? Check out the contest here: CU Link Story Contest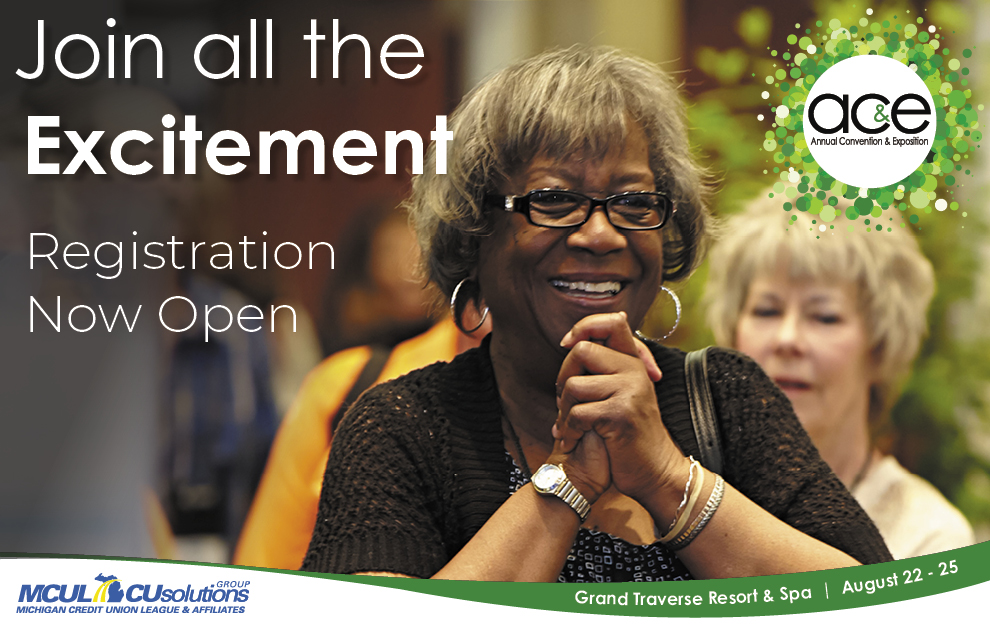 Big news from our Education team this month as we officially open registration for this year's Annual Convention in Traverse City from August 22-25. Also stay tuned for registration information for the Executive Summit and Fall Leadership conferences to take place in person this September. More information will be coming soon on these popular events and we hope to see you there.
Finally, watch out this month for information from our Advocacy team on State PAC fundraising as we kick off the plush animal sales. More information should be coming to your inbox soon.
As always, thank you for your support and continued engagement with our association.
Patty Corkery, President/CEO of the Michigan Credit Union League
---
May 2021
Go to main navigation