In Brief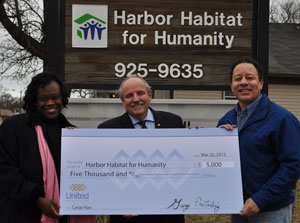 UFCU President and CEO Gary Easterling, center, stands with Erin Hudson, left, Harbor Habitat for Humanity executive director, and Director of ReStore Operations Jay Haynes
... United FCU presented a $5,000 donation to Harbor Habitat for Humanity to help purchase a cargo van that shuttles volunteers and building materials. The nonprofit organization that promotes homeownership through partnership with families to provide safe, decent, affordable places to live has been without a reliable van since fall when their 15-passenger van required more money to fix than the van was worth. Habitat's mission is to eradicate sub-standard housing in Benton Harbor and neighboring Benton Township. "We learned about Harbor Habitat for Humanity's need for a new van and stepped in to help out this group that depends so much on its volunteers," stated United President and CEO Gary Easterling. "For an organization that uses 2,000 volunteers a year, we didn't want transportation to be a limitation." Erin Hudson, Harbor Habitat for Humanity's executive director, said the van serves many purposes. It is used to transport volunteers from its ReStore location and construction office to home building sites. ReStore accepts then sells gently used furniture, appliances, and building materials, where proceeds go to Habitat. The van transports groups of volunteers and in consideration of neighbors, picks up groups from a location when there is not enough room for parking several cars. Hudson said the van also transports items such as windows, cabinets, appliances, furniture, carpet, and flooring when deconstructing houses, then re-selling these items at ReStore. Habitat also owns a box truck for transporting large items from a deconstruction site. Churches often lend their vans to Habitat when they have big groups of volunteers. "Volunteers are the driving force of our organization," Hudson said. "This donation from United Federal Credit Union will allow us to maximize volunteer opportunities, which enables us to give someone an $85,000 mortgage vs. a $120,000 mortgage. Donations, volunteer hours, and our partner families' sweat equity enable us to change our community one family at a time."

… MSUFCU was recently recognized as one of West Michigan's 101 Best and Brightest Companies to Work For by the Michigan Business and Professional Association. The companies chosen for this honor practice innovative strategies and represent best practices in human resources throughout West Michigan. "Companies that recognize that their employees are the key to their success, achieve staying power. Our 2013 winners style their business standards to ensure employee satisfaction and they set standards for every business to aspire toward," said Jennifer Kluge, MBPA President. "We are very impressed by the commitment that they have demonstrated to their employees." MSUFCU President and CEO Patrick McPharlin said treating employees right is a core value for the credit union. "At MSUFCU, our mission starts from the inside out, and that is to provide superior service while assisting members and employees to achieve financial security, their goals, and ultimately, their dreams," McPharlin said. "By providing our staff with many challenging and rewarding opportunities for growth, we lay a solid foundation for success that helps to best serve our growing membership. We are very proud to be recognized as one of West Michigan's 101 Best and Brightest Companies to Work For by the MBPA."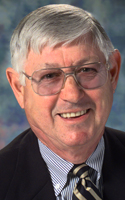 Coyne
… William (Bill) Coyne, former board chairman and director of Credit Union ONE, passed away March 28. He was 78. Coyne had a long and distinguished tenure from 1989-2009 as a member of the Supervisory Committee and also as chairman of the board. Throughout his years of volunteerism at Credit Union ONE, he also participated in many sub-committees of the board. No matter the circumstance Coyne always put the credit union, its employees and members first. To quote Mr. Coyne, "I see the epitome of credit union history of 'people helping people' everywhere I turn. It's not just a saying, its reality." Credit Union ONE is grateful for his long years of service and dedication. He touched the lives of everyone at the credit union in ways he could not have imagined and will be sadly missed. In his professional life, Coyne had a long career with Ferndale Schools, culminating in the position of superintendent of the district. In retirement he also served as superintendent of Carsonville-Port Sanilac Schools for about 15 months. He is survived by his wife Gail, two married sons, six grandchildren and one great grandchild.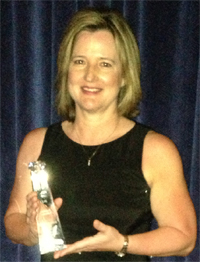 Amundson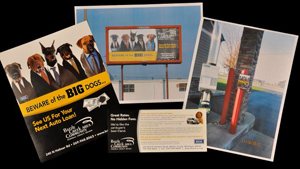 … Battle Creek Area Community FCU was recently honored with a Diamond Award, which recognizes outstanding marketing achievements in the credit union industry. The award was presented by the CUNA Marketing & Business Development Council, a national network comprised of over 1,100 credit union marketing and business development professionals. Awards are given in each of 33 categories ranging from advertising to community events and beyond. BCACFCU won the "complete campaign" category for its entry, entitled "Beware of the Big Dogs." The campaign encouraged members to obtain their financing from the credit union and to beware of unscrupulous lenders. "The Diamond Award competition is the most prestigious competition for excellence in marketing and business development in the credit union industry," said Michelle Hunter, chair of the CUNA Marketing & Business Development Council, and senior vice president of marketing and development at Credit Union of Southern California. "Credit unions that receive these awards should be extremely proud of their accomplishments and know that their work represents the very best examples of creativity, innovation, relevance, and execution. The Diamond Awards are not easily earned and the CUNA Marketing & Business Development Council is proud to honor those who are deserving of this recognition." Award winners were recognized at the council's 20th annual conference held March 24-27 in Anaheim, Calif.. "It was a team effort of which all of us at BCACFCU are very proud," CEO Liz Amundson said.
Jeans for Financially Fit Day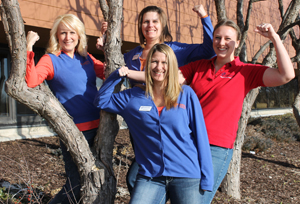 Catholic FCU
staff sported jeans on April 3 to support the National CU Foundation's Financially Fit Day. More than $130 was raised for financial literacy. Catholic FCU is a full-service financial institution offering loans, savings accounts and checking accounts. From left are Row: Kelly Prast, Ann Lagalo, Theresa DeLong and Leslie Fall.
… MSUFCU sponsored Race for the Place 5K run on April 14. The race is the largest annual fundraiser for Michigan State University's on-campus domestic violence shelter and advocacy services provider, MSU Safe Place, and allows the program to continue to provide vital services to the MSU and Greater Lansing communities. MSUFCU has sponsored the Race for the Place for more than 15 years. The Race for the Place 5K kicked off the 2013 Playmakers Greater Lansing Race Series, with a course that begins and ends at Jenison Field House on MSU's campus.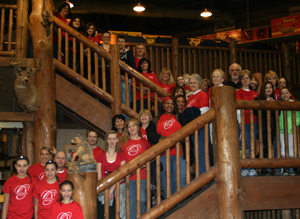 Members of the Oakland County CU team take a break from the Walk for Warmth at Great Lakes Crossing Outlet in Auburn Hills.
… More than 40 Oakland County CU staff members, family and friends teamed up to raise more than $500 for the recent Walk for Warmth at the Great Lakes Crossing Outlet in Auburn Hills. "We've participated in this special event for many years and it's great to know so many unfortunate people are being helped with this collaborative effort," OCCU President/CEO Allan McMorris said. Each participant was responsible for generating pledges to help support community members facing potential electrical shut offs during the winter season. "The credit union is close to raising $100,000 for local charitable organizations in the last 10 years and that's completely through the support of our employees," McMorris said. "It's a remarkable figure. Our staff has a huge heart."

… Marshall Community CU's CU In School branch at Wattles Park Elementary School recently celebrated its first year anniversary. The WPE branch has more 20 student members whose savings have reached more than $1,600 since its opening in January 2012. MCCU's CU In School program consists of a student-run credit union branch, open weekly at the school for all first- through fourth-grade students, teachers and staff members. The WPE branch is open each Wednesday morning and is run by fourth grade student volunteers. Current volunteers, Carter M., Blake M. and Zach R., say that they enjoy working for CU In School because they like helping people save their money. Interested fourth grade students can sign up to volunteer for CU In School by filling out and returning a Student Volunteer Application available at marshallcommunitycu.com. Applicants are then interviewed and "hired" for positions ranging from branch manager, assistant manager, bookkeeper and teller. CU In School members earn incentives for saving and meeting goals and are invited to all MCCU youth events. To sign up for CU In School, parents must fill out and return a CU In School application available on MCCU's website and in the school office.

… Renting an apartment, buying or leasing a car, purchasing your first home, applying for a credit card … so many things rely on a single number: your credit score. But what exactly is this powerful number and what factors go into determining what your credit score is? To answer these questions, Michigan Schools and Government CU has partnered with Experian, one of the country's three major credit bureaus, to bring you a new workshop all about your credit score. "Nearly half of adults in the United States don't know their credit score," Consumer Education Specialist Colleen Godfrey said. "There are multiple factors in determining an individual's credit score and that number can affect employment, loan approvals, and even interest and insurance rates." The workshop, "Learning to Live Credit Smart: Credit Report and Score Basics that Will Help You Get the Credit You Need," will be facilitated by Peggy Ruthven of Experian and will take place on Thursday, April 30, at 6 p.m. in the community room of the credit union's main branch, located at 40400 Garfield Road, just south of 18 Mile Road, in Clinton Twp. "Learning to Live Credit Smart will explain some terms and conditions of a credit report so that attendees can better understand what is in a report and how that report can impact their lives," said Godfrey. Registration is required for this event and seating is limited, so call (586) 263-8800, option 0, or email workshops@msgcu.org.
AAACU's Lincoln Branch Raises Money for Needy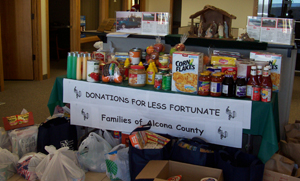 The Lincoln branch of Alpena Alcona Area CU raised $1,202 and collected several pounds of food for needy families in Alcona County. Every year brings new challenges to families in the community. During the fourth quarter of 2012, the Lincoln branch chose to focus their efforts on these needy families. The Lincoln branch provided food for 17 children and 9 adults, a total of 4 families. This certainly brought a lot of joy to their homes for the holidays. The Lincoln branch raised funds by having a bake sale and selling ornaments. Members and staff of AAACU were able to bring in food and monetary donations. Candy bars were also sold at teller windows and staff could donate $2 on Fridays to dress down in jeans and sneakers.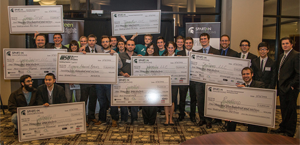 Winners of the Greenlight Business Model Competition hold their checks after the competition.
… The 2013 Greenlight Business Model Competition, created by Spartan Innovation and MSUFCU, was an opportunity for entrepreneurs from all over Michigan to come together to pitch their business ideas. There were over $50,000 in available prizes, with the chance for participants to win the grand prize of $25,000, sponsored by MSUFCU. During the first round of the competition, participants were asked to complete an application and business plan. Then, 25 finalists pitched their business ideas in front of a panel of seven judges. Prizes were awarded based on best pitch, fastest growth potential, best idea for Michigan, most creative and most needed in the marketplace. Three endowments were designated for undergraduate students. The grand prize of $25,000 went to Kymeria Advanced Materials, created by Cameron Smith, Vincent Alessi, Dave Hatfield and Reed Shick. Kymeria Advanced Materials is currently developing new chemistry for ceramics, which brings the benefits of existing advanced ceramics to new parts and markets. "MSUFCU was proud to sponsor the Greenlight Competition this year and invest in a program that will bring new businesses to Michigan to help improve our economic conditions statewide," said panel judge April Clobes, MSUFCU's executive vice president and COO. For additional information about the Greenlight Business Model Competition, visit www.greenlightmichigan.com.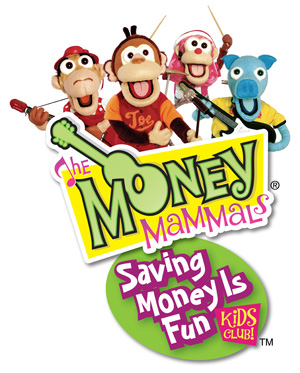 … Knowing how important it is to start teaching children about money from an early age, Credit Union ONE has debuted the Saving Is Fun Kids Club, a youth account geared to children eleven years and younger. With an easy sign-up for new or existing memberships, children will join club mascots, the Money Mammals to learn about saving and spending, while earning prizes and incentive rewards, playing games, and watching their money grow. A special website, cuone.org/youth has been designed especially for "club members" with fun activities, contests, promotions and discounts. The site also has tools for parents and teachers to help these young members along the way. "Children need to be educated on financial basics as they go through life, and a youth account is a great way to expose them to this education in a fun, interactive way, said Swami Seetharaman, Credit Union ONE senior vice president and chief marketing officer. "We are excited to be able to offer this to our youngest members."

… National CU Youth Week is celebrated nationwide during the week of April 21. This year's theme at TLC CU is "Find out why kids MUSTACHE their CASH." TLC promotes the value of saving money so children can build financial strength for the future. TLC's goal is to help kids and their parents build a strong, healthy relationship with money through financial literacy. During Youth Week, parents are encouraged to open a youth account for their child or grandchild. An account can be opened with as little as $5. With every new account opened, children will receive a piggy bank or special gift for making a deposit into an existing account. On April 17, WLEN Radio had a live radio remote at Lincoln Elementary School in Adrian, one of TLC's student-run credit union branches in Lenawee County. Students from Lincoln participated in the broadcast. Through TLC's Youth Financial Literacy Program, student members are encouraged to set savings goals, make wise spending choices and create a plan for their future. Students who participate find it is a great way to learn about financial responsibility and have fun at the same time.

… During March, American 1 CU raised money for The John George Home, a home for elderly gentlemen, headquartered in Jackson. The home provides a safe and independent living environment for men of the Jackson community. Employees made donations to the charity account so they could take part in fun activities. American 1's home office and North Street branches also had fresh popped popcorn and bottled water available for a donation for members, every Friday. A total of $694 was raised for The John George Home. For more information on The John George Home visite www.johngeorghome.com.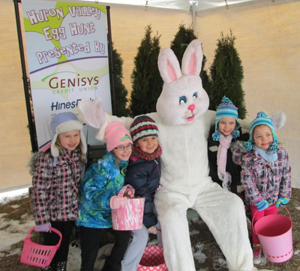 Avery Vogel, Addison Vogel, Kadence Connolly, Genevieve Connolly, and Braiden Scheffler visiting with the Easter Bunny.
… Genisys CU was recently the presenting sponsor for the Annual Huron Valley Egg Hunt, at Duck Lake Pines Park in Highland Twp. The event, hosted by The Huron Valley Chamber of Commerce, attracted several hundred children from the Huron Valley School District along with their parents. Families were able to visit the Easter Bunny, have their face painted and participate in multiple activities. "It's great to see how excited the kids are when we start the Egg Hunt," said Laura Bolyard, events manager for the Huron Valley Chamber of Commerce. This is the fifth year that Genisys has been the presenting sponsor of the Egg Hunt. "This is one of the many wonderful events that Genisys sponsors for the children," Genisys President/CEO Jackie Buchanan said. "We are glad to be a part of something that brings smiles to many children in the Huron Valley community."



… Recently, Lake Trust CU announced the establishment of its Lake Trust CU Foundation and is now planning the foundation's inaugural event, its first annual Golf Outing, set for June 17 at Eagle Eye Golf Course near Lansing. The event, in alignment with the foundation's mission, will bring people and organizations together to create strong connections in Michigan's communities, which in turn creates diverse and vibrant neighborhoods. Lake Trust's golf outing, sponsored by Glenn Buege Buick GMC, NCR, Mortgage Center and Creative Benefit Solutions will give back to the credit unions' lake-to-lake community. For golfers, the outing includes a breakfast, lunch, dinner, reception, entertainment and more. "We're excited to launch our foundation's first event," Lake Trust President and CEO David Snodgrass said. "This is a magnificent opportunity for us to work together to support those Michigan communities that mean so much to us." Snodgrass and Team Lake Trust are excited to see the foundation come to life and are looking forward to the positive impacts it will have in Michigan. Click here to visit the golf outing page for sponsorship information, to sign up for a golf package, and any questions about the Lake Trust Credit Union Foundation.

… During the month of March, each of the six Affinity Group CU branches did something different to help promote reading month. Many employees volunteered at the Operation: Kid Equip's Teachers' Annex in Troy to help sort incoming product donations, stock shelves and create displays, greet and assist teachers, keep the free store organized and tidy, and help teachers during the check-out process. In addition, each employee who volunteered was able to help put books in the hands of kids. Besides distributing books to children at each of the branches, and having reading activities at every branch, a few branch managers have taken the time to read to groups of kids either in the branch, or at a local school. "I was read to as a child and today, it is my way to complete relaxation," Highland branch Manager Korey Tague said. "I enjoy reading to any child, simply for their reaction to the story. Reading is the single most important skill necessary for a happy, productive and successful life. A child that is an excellent reader is a confident child, has a high level of self esteem and is able to easily make the transition from learning to read to reading to learn." Warren branch Manager Brenda Molinar said reading to children is a good way for the credit union to introduce itself to the youngsters. "Reading to the children at Oakbrook and Siersma Elementary Schools not only shows that the community encourages education and reading, but introduces them to AGCU and how important it is to save," Molinar said. "I especially loved giving the children an easy-to-understand overview on saving and borrowing with a credit union."

… CUNA Mutual Group presented a $135,000 check to the National CU Foundation to support the organization's general fund and for Credit Union Development Education. As the movement's charitable arm, NCUF funds projects that support industry-wide development initiatives, including financial education to consumers of all ages, disaster assistance, greater access to affordable financial services, and empower more consumers to save, build assets, and own homes. The contribution was part of CUNA Mutual Group's ongoing support of the credit union industry, including CUNA, the NCUF and credit union leagues. In 2012, the company invested more than $36 million into the credit union system.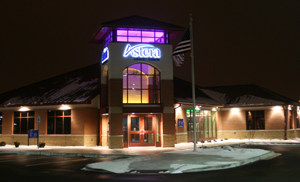 … Astera CU recently celebrated the grand opening of its new Saginaw Highway location. Astera opened its newest branch on Jan. 22. The new branch represents a significant transformation of the member experience and market positioning for Astera. "From the ground up, this branch was designed to enhance the members' experience and to raise awareness of our full product offering," Vice President of Marketing Jeff Croff said. "The exterior was designed to take advantage of our high-visibility location and draw potential members, day or night. Plus we've been able to expand our services to include a three-lane drive-up, 24-hour ATM and Saturday hours." "We're most excited about the transformation of how our services will be delivered," President/CEO Margo Kleinfelt said. "We've moved from a traditional teller line to a concierge model. Now, the person helping members with basic transactions is the same person that can help them apply for a loan or credit card. Serving our members' needs has always been our focus. We hope the open and welcoming environment encourages the member to stay and possibly find out more about his or her credit union."


… In response to feedback from their members, Credit Union ONE recently launched a new member contact center in order to provide a higher level of service to their members. The MCC is staffed by 21 agents with specialized skills who either focus on service requests or new account requests. The goal of the MCC is to deliver first call resolution meaning members' needs are met when they make their initial call eliminating the need to call back. The key to achieving first-call resolution is empowerment. "The empowerment of our staff to make decisions has a direct, positive impact on member service. In addition to enhancing the member service experience, empowerment also contributes to having satisfied and engaged employees," Executive Vice President Stephen Grech said. With the availability to handle traditional calls, online chats and emails, the early response from members has been extremely positive. In their first month of operation, the MCC received more than 20,000 phone calls and approximately 2,800 emails and chats. Agents are available Monday through Thursday 7:30 a.m. to 5:30 p.m., Friday 8:30 a.m. to 6 p.m., and Saturday 9 a.m. to 1 p.m.

… Since Team One CU first introduced its Mobile Banking feature in 2011, thousands have taken advantage of this convenient service which provides fast, mobile account access anytime, anywhere. Now Team One has launched another innovative banking tool to make managing personal finances easier – Mobile Deposit. Mobile Deposit is perfect for today's busy on-the-go lifestyle because it allows users to deposit checks from anywhere, using an iPhone® or Android® device and Team One's Mobile Banking App available at the App Store or Google Play. Users can simply take a picture of the front and back of their endorsed check with their mobile device and submit it for deposit into their Team One account. "Team One strives to provide members with the most effective tools available to make managing their finances easier," President/CEO Gerald Hutto said, "and Mobile Deposit is a welcome addition to Team One's current remote services including Mobile Banking with ATM locator, e-alerts, online banking, text banking and online bill pay."
Help for Our Furry Friends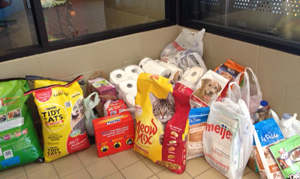 American 1 CU's Resource Center which consists of human resources, training, accounting, and IT, recently had an item drive for the Cascades Humane Society. Employees collected items for two weeks and had a great response from staff. The items were dropped off to Cascades Humane Society, and the staff at CHS was very excited to receive the donation.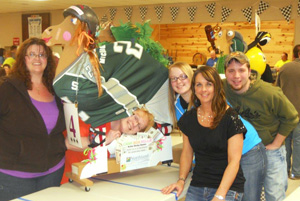 Northland Nellie didn't win any races, but she had many devoted fans who showed up to offer her their support. From left are Janelle Tambling, Theresa Snider, Heaven Snider, Christine Killinger and Matthew Shaw.
… Northland Area FCU participated in the sixth annual Camel Race fundraiser at the K of C Hall in West Branch. The West Branch Optimist Club, which raises money to support youth in the West Branch community, hosted the event. Thirty local businesses participated and sponsored a camel for the races. Attendees wager on each race with Camel Bucks. Between the races, they also had a 50/50 raffle to raise funds. About 300 people from the local community attended.




… Generations Family FCU had its 76th Annual Meeting at the Trillium Banquet Center in Saginaw. Guests were treated to hors d'oeuvres, desserts and drinks. Three lucky members were the recipients of one of three $50 Restaurant Gift Cards. Four board members were up for reelection: Incumbents, James Grzesiak, Kenneth Gawlak, Daniel Wilhelm and James Heroux. All were reelected to serve another term. The Board of Directors for 2013 is made up of Chairman James Grzesiak, Vice Chairman Timothy Bissonnette, Secretary Jesse Abesamis, Treasurer Richard Kusowski and directors James Finkbeiner, Russell Cronkright, Kenneth Gawlak, Daniel Willhelm and James Heroux.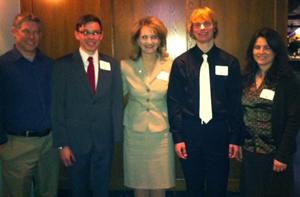 From left are Aaron Donaghy, Lee Cleaveland, Michelle Imbrunone, Craig Marshalek and Amy Brown, who were honored at the banquet.
… Genisys CU recently sponsored the 2013 Excellence in Education program at The Palace of Auburn Hills. The Excellence in Education program was developed by the Auburn Hills Chamber of Commerce to promote the link between business, education and the community. More than 100 guests attended this year's event, which honored 30 students and teachers in Auburn Hills. Students were selected on the basis of community service, academics, and extra-curricular involvement. Students also named a teacher who has made a difference in their lives. A dinner banquet was provided by the Palace of Auburn Hills for those being honored and their families. "This is a huge achievement for these students," President/CEO Genisys Jackie Buchanan said. "We wish them the very best in their future academic endeavors."
| | |
| --- | --- |
| Hoskins | Makley |
… The Board of Directors of Portland FCU announced the selection of Harvey Hoskins as PFCU's new CEO/President and Michele Makley as its new executive vice president. Hoskins, formerly executive vice president, has been with the credit union for 24 years. Hoskins will take over for retiring CEO Gary May on April 27. "PFCU's board of directors has every confidence that Harvey Hoskins is the right person to lead PFCU in today's environment," PFCU board Chairman Mike Ward said. "Harvey has helped direct the operation of this credit union and has already proven himself to be a leader who has built an exceptional management team." Hoskins and his wife Deb live in Portland. They have three children; Josh, Nikki and Kory and five grandchildren. "I look forward to continue working with the staff and all of our loyal members," Hoskins said. "There are a number of exciting new programs coming in the next several months, so stay tuned." Makley has worked at PFCU for 19 years, formerly as PFCU's loan/loss prevention manager. "I am committed to ensuring our organization continues the long-standing reputation of success by providing the best products and services to the communities we serve, while looking for opportunities to assist our organization in bringing more convenience to our members and exceeding expectations every chance we get." Makley and her husband, Jason, grew up in the Lake Odessa community where they are raising their family. "We're excited about the new appointees," Ward said. "They both have the expertise and vision that complements PFCU's commitment to providing exceptional service."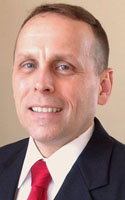 Hamilton
… Ed Hamilton has been appointed as a director on the United FCU board. "Ed has extraordinary business expertise and his diverse experience will bring a fresh perspective to United Federal Credit Union's Board of Directors," United board Chairman JB Hoyt said. Hamilton is the CEO at Modineer Co. of Niles, a metals manufacturing firm serving the defense, automotive and commercial markets. He began his tenure at Modineer in the sales department in 2001, and has since grown and managed operations to double its annual revenue. A veteran of Operation Iraqi Freedom (2003-05), Hamilton served in the U.S. Army and Michigan Army National Guard as a Long-Range Surveillance team leader in the Airborne Infantry 1990-2006. Hamilton is a member of the National Defense Industrial Association, the Association United States Army, and is a life member of the Disabled American Veterans. He earned a bachelor's degree from Western Michigan University and master of business administration degree from the University of Notre Dame where he graduated cum laude. Hamilton resides in Granger, Ind., with his wife Raenelle and their four children.

… Design One Creative welcomed the addition of Lake Trust CU in Lansing, Mayo Employees FCU in Rochester, Minn., and CoastHills FCU in Lompoc, Calif., as clients "Technology has made photography more accessible than ever. We're looking forward to partnering with Design One to enable our cardholding members the ability to easily personalize their financial experience," Lake Trust President and CEO David Snodgrass said. Card personalization, through Design One Creative has shown to grow credit and debit card portfolios, increase usage among card holders and generate additional income for financial institutions big and small. This secure, web-based program can be customized to seamlessly fit the current look and feel of an existing website. Individuals are able to upload a favorite photo from their computer, Facebook, Instagram, Picasa, Flickr, Dropbox, and Skydrive to the card personalization website to customize their credit or debit card. The recently introduced Design One Creative PMC Mobile App allows individuals to personalize their ATM, Credit Card or Check/Debit Card directly from their Android or iOS device. Cardholders can select a standard image, or upload from Facebook, Instagram, Flickr, Picasa, device camera, or photo library. The Picture My CardTM mobile app is an enhancement to the already easy to use, secure online web-based version used by financial institutions. Design One is a wholly owned subsidiary of Team One CU in Saginaw.


Go to main navigation