Print
In Brief...
Advantage One Credit Union Hosts Pallets for Paws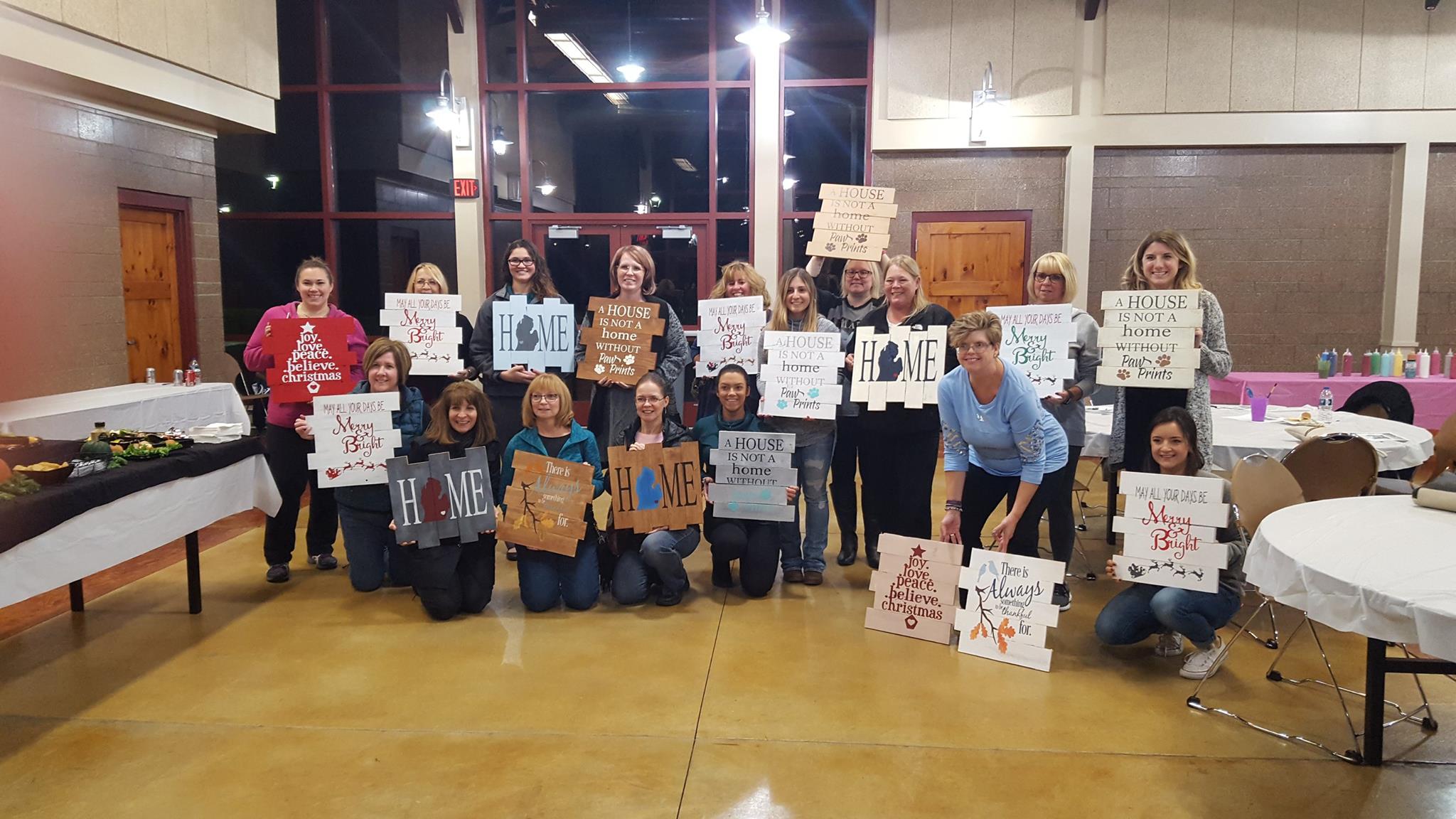 In support of the Brownstown Animal Shelter, Advantage One Credit Union and the Brownstown Downtown Development Authority co-hosted a Pallets for Paws painting party at the Brownstown Event Center.

During the event, attendees were given their pre-selected stencil, supplies and instructions. While creating some beautiful masterpieces, attendees enjoyed refreshments and snacks, got into the holiday spirit with Christmas music and shared many laughs.
Thanks to consultant Leah Guy, $20 from every pallet was donated, along with 20% of her commission on pre-made wood signs that were for sale. Altogether, the event raised nearly $700 for the animal shelter.
Advantage One was invited to the Brownstown Board of Trustees meeting for a check presentation on Dec. 4, 2017. A representative from the Brownstown Animal Shelter was there to graciously accept the check. They were very appreciative of the money raised for their furry friends and thanked Advantage One for all the support throughout the year.

TLC Student-Run Branches Open in 13 County Schools

TLC Community Credit Union student-run branches recently opened in 13 county schools. The student-run branches are open weekly to accept and process deposits from student members. More than 1,000 local students are active members of TLC and the number is growing as the new school year begins. The students are encouraged to set savings goals and are inspired to start thinking about their future finances.

Honor Credit Union Announces Results From Annual Free Community Shred Days
Honor Credit Union is proud to announce the success of its 2017 Free Community Shred Day campaign. As part of its green initiative, Honor was able to recycle 50,240 pounds of paper in 2017, the equivalent weight of more than 12 large cars.

Honor held eight shred day events throughout its communities in the upper and lower peninsulas. During the free event, the community was invited to bring all their sensitive documents to the branch for a chance to shred it on the spot. This promotes the protection of personal information and a chance to recycle all unused papers. With the community's help, each branch recycled over a ton of paper. Here are the results from each branch:
Dowagiac: 8,930 lbs.
Plainwell: 3,420 lbs.
Paw Paw: 4,940 lbs.
Berrien Springs: 5,700 lbs.
Battle Creek: 3,800 lbs.
Coldwater: 5,130 lbs.
St. Joseph: 14,820 lbs.
Gwinn: 3,500 lbs.

Honor is dedicated to going green by providing its members with online and mobile banking, the opportunity to sign up for e-statements and offering paperless transactions. The 2018 Free Community Shred Day schedule will be released in February.
Submissions to Monitor should follow the
submission guidelines
and may be
emailed
. Shawn Glinis is the editor of Monitor and can be reached at 800-262-6285, ext. 449. The newsletter of the Michigan Credit Union League is published Monday mornings or Tuesday mornings when Monday is a holiday. There is no Monitor the week after Christmas and the week after the Annual Convention and Exposition. MCUL reserves the right to edit submissions for clarity and space.